Looking for ideas for day trips from Los Angeles?
The City of Angels has tons of fun things to do, but if you feel like you want to escape the concrete jungle for a day, you'll find charming beach towns, lovely lakes, wine country destinations, and dramatic deserts all within day trip distance of LA.
So whether you are looking to laze on a sandy beach, hike a hilltop trail, go rock climbing or birdwatching, savor local wine and food, or enjoy water activities, you can find day trips from LA to suit.
Ready to head out for a day of fun? Here are some epic day trips from Los Angeles to consider!
Joshua Tree National Park
Driving Distance: 131 miles
Best Time of Year to Visit: Fall through spring
Arguably the most unique of California's national parks, Joshua Tree National Park sits on two deserts: the Colorado and the Mojave.
A mecca for outdoor enthusiasts, the park is known for its gigantic masses of boulders and Seussian Joshua trees.
With three beautiful fan palm oases, dark skies made for stargazing, and a number of historical sites harking back to early cattle ranching and mining days in the region, Joshua Tree has something to offer every visitor.
There are many exciting things to do in Joshua Tree!
On a first-time day trip, do the scenic drive through the park, plus a few short Joshua Tree hikes (our favorite is the one-mile Hidden Valley Nature Trail, which lets you get up close to the boulders and Joshua trees).
Enjoy a guided tour of Keys Ranch or a visit to Barker Dam, and take in the sunset panoramas from Keys View. Stroll the picturesque Cholla Cactus Garden.
If you have visited before, perhaps you'll want to do some guided rock climbing, photograph some of Joshua Tree's epic landscapes, or go mountain biking on dirt roads in the park.
Or try one or two of the more challenging trails in the park, such as the Ryan Mountain hike for impressive panoramic views, or the Lost Horse Mine trail to see what's left of one of the richest producers in the region.
Pack your cooler with lots of water, snacks, and lunch fixings: food and drinks are not available for purchase inside Joshua Tree National Park.
There are eateries in the towns of Twentynine Palms and Joshua Tree, north of the park.
The Huntington Botanical Gardens
Driving Distance: 12 miles
Best Time to Visit: Any time of year
Enjoy strolling through gorgeous gardens? Just a scant few miles from downtown Los Angeles, you can lose yourself for the day in the beauty of the Huntington botanical gardens in San Marino.
A complex that includes a library and an art museum, The Huntington showcases more than a dozen themed gardens with over 15,000 varieties of plants as well as living collections such as bonsai and orchids, scattered through the grounds.
A must-visit is the Desert Garden, which features one of the world's biggest collections of cacti and other succulents in an outdoor space. We visit the Desert Garden every time we are at The Huntington, because the collection is so stunning.
Other impressive gardens in the complex include the Japanese Garden with its moon bridge and teahouse, the Chinese Garden with its lake and lovely pavilions, the Shakespeare Garden, where you can look for plants from his plays and sonnets, and, if you visit during bloom, the Rose Garden, which features well over 1,000 varieties.
The Corpse Flower has bloomed at The Huntington several times in the last few years, so if you read about this rare occurrence, plan a visit to see the enormous (albeit stinky) flower!
Picnics and food are not allowed on the grounds, but there are several eateries in the complex, including a Tea Room at the Rose Garden, where you can have afternoon tea (at any time of day).
Big Bear Lake
Driving Distance: 97 miles
Best Time to Visit: Any time of year
You'll find recreational opportunities at Big Bear Lake year round, and the mountain lake, one of the most beautiful lakes in California, is a super popular Southern California resort getaway.
With beautiful leaf color in the fall, wildflowers in the spring, lots of water activities on the lake in the summer, and snow sports in the winter, Big Bear Lake is enticing in every season.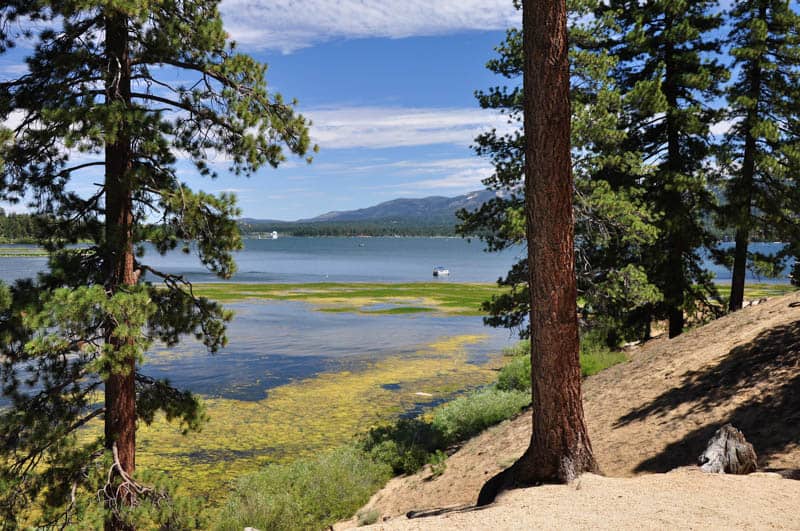 Hiking and mountain biking are popular in the summer. You can pick from a variety of trails of varying length and difficulty. Many trails are scenic and family friendly, and a couple are accessible as well.
And more seasoned hikers will find intermediate and difficult trails like Castle Rock Trail, which features a waterfall in the spring and beautiful leaf colors in the fall.
Get out onto the water in the summer! You can rent a variety of water craft at Big Bear Lake, from pedal boats and kayaks to pontoon boats.
Go stand-up paddleboarding or jet ski! Take a cruise, fish, wakeboard or waterski. There are swim areas at Big Bear Lake as well.
In the winter, Big Bear turns into a snowy wonderland. Go skiing, snowboarding, or snowtubing, or put on snowshoes and go for hikes through the forest. The alpine lake looks beautiful surrounded by snow clad trees.
There are numerous restaurants at Big Bear Lake.
San Diego
Driving Distance: 120 miles
Best Time to Visit: Any time of year
If you have a plan of action and you are willing to focus on two or three things to do, San Diego can make for an exciting day trip from Los Angeles.
Our perfect day out in San Diego consists of a morning spent at Cabrillo National Monument enjoying the beautiful views and doing a bit of tidepooling, afternoon strolls through the gardens at Balboa Park and perhaps a museum or two, and dinner and an evening walk in Little Italy or the Gaslamp Quarter.
You could spend the whole day at Balboa Park: with over a dozen museums and a number of themed gardens (as well as the San Diego Zoo, which could be a day trip by itself), you won't run out of things to do.
The Botanical Building (and other Balboa Park gardens) are a must-visit, and strolling the park to admire the beautiful architecture is fun.
The San Diego Harbor is another fabulous place to spend a morning or afternoon.
Do a harbor cruise, visit the fabulous USS Midway Museum (the aircraft carrier is our favorite museum in the city), admire the Star of India at the Maritime Museum of San Diego, and just stroll the waterfront.
Want to experience some of California's early history? Visit the San Diego Mission, the first ever built by the Spanish missionaries, or visit Old Town San Diego State Historic Park, where you can learn about life as it existed here in the 19th century.
Crystal Cove State Park
Driving Distance: 50 miles
Best Time to Visit: Any Time of Year
With more than three miles of beautiful Pacific coastline, more than 2,000 acres of wilderness, and a large offshore underwater area, Crystal Cove State Park is a fabulous destination for a day out from LA.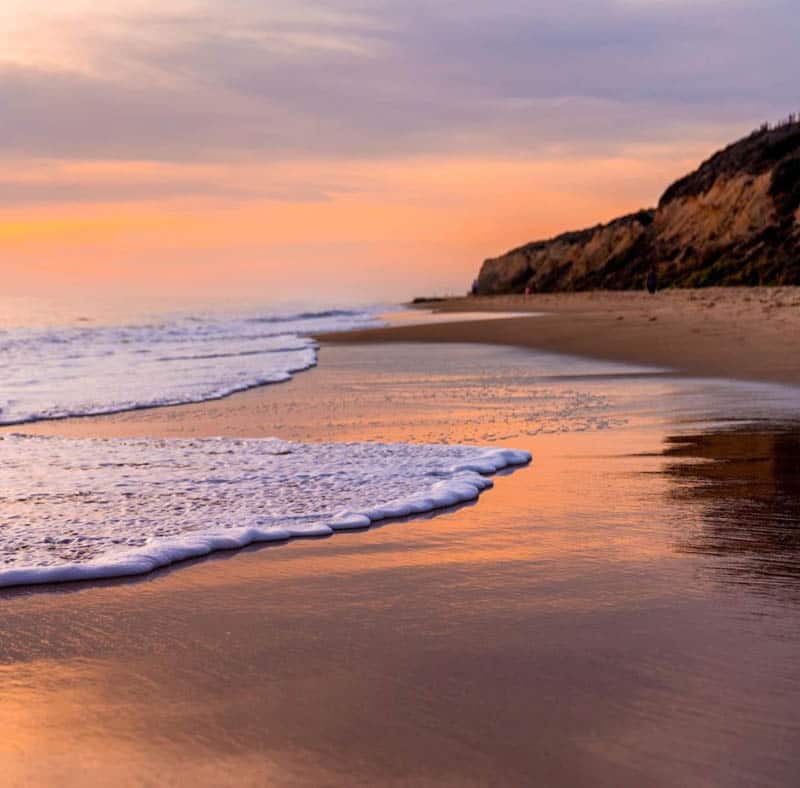 Moro Beach is a stunning beach where you can walk by the water, take a kayak out, or go bodyboarding or stand-up paddleboarding.
Or take the short trail at Reef Point down to Scotchman's Cove. Or walk the Pelican Point coastal bluff trail: enjoy the water views and look for wildlife.
There are swim and dive areas at Crystal Cove: Moro Beach and Muddy Creek are excellent swim spots. You will find several tidepooling spots at Crystal Cove as well.
Or bring your wetsuit and go snorkeling or scuba diving in the protected underwater area.
The wilderness at Crystal Cove State Park contains 18 miles of hiking trails, ranging from easy to strenuous. The lower elevation trails wind through woodlands and along the seasonal Moro Creek. If you enjoy birding, bring your binoculars!
The higher elevation hikes offer a great workout. You will be treated to beautiful ocean views and expansive views of the surrounding hills. Enjoy wildflowers in the spring and look for birds and wildlife.
You can also go mountain biking or horseback riding in Crystal Cove State Park.
Pack a picnic lunch to eat on the beach, or eat at The Beachcomber Café in the Historic District.
Temecula Valley
Driving Distance: 85 miles
Best Time to Visit: Any time of year
While you will definitely want to go wine tasting at the beautiful vineyards in Temecula Valley, you can enjoy a day out in Temecula even if you aren't a wine lover.
Visit the beautiful Santa Rosa Plateau Ecological Reserve or Vail Lake, where you can hike and look for wildlife and birds. You can also go biking or horseback riding, and, if you arrive before sunrise, you can go ballooning over the valley.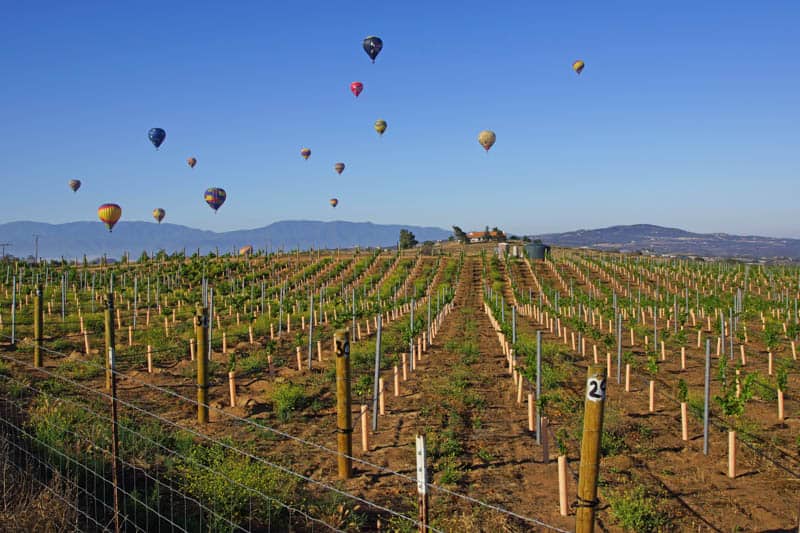 Up for an epic (nearly all day) hiking adventure? Try the Dripping Springs Trail through the Agua Tibia wilderness. The trail is 13.2 miles long, with close to 3,000 feet of elevation gain. Hike it in the spring for wildflowers and in the fall for leaf color.
If you visit on a Saturday, stop by the Old Town Temecula farmers' market to pick up some goodies: along with fresh fruit, flowers, and veggies, you'll also find vendors selling prepared foods.
If you visit in the summer, pick up some strawberries to snack on: California farmers' market strawberries are a truly delectable treat.
Stroll Old Town Temecula. With its beautiful old time decor and ambience, Temecula's shopping district is a joy to stroll even if you do not want to shop.
Plus, this is the place to have lunch: you will be spoiled for choice here when it comes to great eateries.
If you want some pamper-me time, book an appointment at a spa to close out your day in Temecula.
Spa Pechanga is a luxury spa in a beautiful location offering a range of pampering treatments. GrapeSeed Spa, set in the midst of vineyards, has a heated outdoor saltwater pool…heaven!
Castaic Lake State Recreation Area
Driving Distance: 41 miles
Best Time to Visit: Any time of year
One of the largest water reservoirs in the Golden State, Castaic Lake is also a sought-after recreation spot, with lots of activities to enjoy both in and out of the water.
The Upper Lake at Castaic offers two boat ramps. Sailboats are power boats are permitted at the Upper Lake, and you can rent boats. You can also wakeboard or jet ski on the lake. The Lower Lake allows non-motorized boats, kayaks, and canoes.
Fishing is a popular activity at Castaic Lake: it is stocked with trout, catfish, and bass, and you will find a tackle bait shop at the lake. Swim beaches are open at the Lower Lake in the summer. Picnic areas are also available along the shore.
On land, go hiking, horseback riding, or biking on one of the many trails around the lake. Some trails offer fabulous views of the lake from above.
If you enjoy birding, you will definitely want to bring your binoculars: there are several dozen species you can see at Castaic Lake.
Pack a cooler with drinks, snacks, and a picnic lunch and have a fun day at Castaic Lake!
Coronado Island
Driving Distance: 126 miles
Best Time to Visit: Any time of year
Set directly across the water from downtown San Diego, Coronado Island is a great day trip choice for quality beach time, with the option to throw in a few other fun activities. I love the drive over the stunning Coronado Bridge!
Coronado Central Beach is known for its gorgeous silver sand and its location close to the historic Hotel Del Coronado. After your time at the beach, snap some photos of the Victorian facade of the hotel and then relax with a drink at the hotel.
Stroll downtown Coronado to view the historic homes: one of the homes you will see belonged to L. Frank Baum, who wrote The Wonderful Wizard of Oz. Bayview Park, with its views of the water and the San Diego skyline, is another great place for a stroll.
Take a kayak out onto the water, or go for a bike ride around the island: you'll find rentals near the ferry landing or in downtown Coronado.
There are many great eateries in Coronado, many featuring fresh seafood. And don't forget to have ice cream at Moo Creamery before you leave!
Channel Islands National Park
Driving Distance (to Oxnard for ferry): 62 miles
Best Time to Visit: Any time of year
One of the lesser visited national parks in California, Channel Islands National Park is known for its rich diversity of flora and fauna, and the opportunity to be in an unspoiled marine environment close to the mainland.
It's perfect for a day trip from the mainland!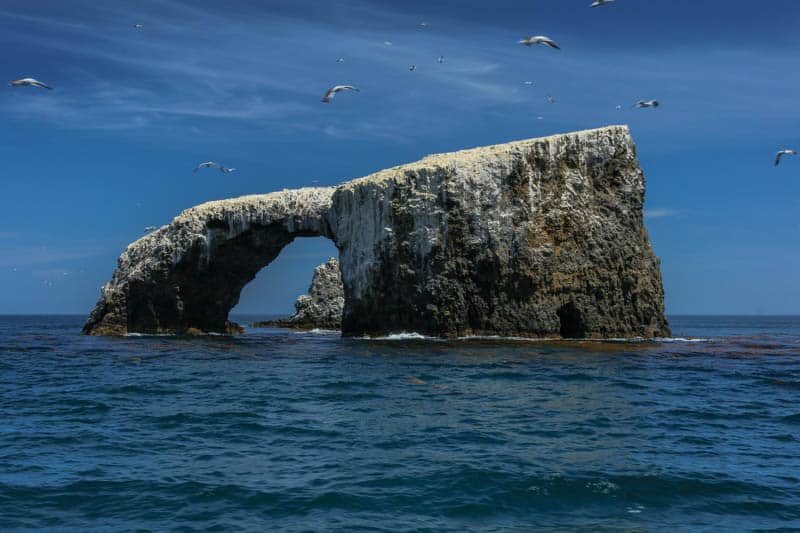 Of course, a visit to Channel Islands National Park requires some advance planning.
You can only get to the islands by ferry from Oxnard or Ventura (Anacapa and Santa Cruz can be visited year round, and Santa Rosa, Santa Barbara, and San Miguel have varying schedules). You can also fly from Camarillo to Santa Rosa Island.
Each island offers unique experiences, and which one you choose depends on your interests. Wildflower viewing, birding, hiking, wildlife viewing, kayaking, snorkeling, and swimming are some of the many activities on offer at Channel Islands.
Hiking is the best way to enjoy the spectacular views the islands offer, along with close looks at the beautiful local flora and fauna.
Hikes range from easy to strenuous, so research what you are comfortable doing before you sign up for a specific island.
There are no services on any of the islands, and a limited supply on the ferry boats. Bring adequate food and drinking water.
Laguna Beach
Driving Distance: 58 miles
Best Time to Visit: Any time of year
With seven pristine miles of coastline, Laguna Beach makes for a wonderful beach getaway, but it also offers other opportunities for outdoor exploration.
So if you love a day out in nature, head to Laguna Beach!
Laguna Beach has more than two dozen beaches and coves from which to choose, so you can find the perfect beach for swimming, surfing, snorkeling, diving, stand-up paddleboarding, or tidepooling.
With names like Thousand Steps and Treasure Island, the beaches of Laguna Beach invite exploration and play.
Hiking trails abound in Laguna Coast Wilderness Park, ranging from easy to strenuous. The 3.6-mile round trip Laurel Canyon hike, which leads to a seasonal waterfall, is popular. Enjoy wildflowers in the spring, and look for wildlife!
At the Alta Laguna Park, try one of the trails that start at the Top of the World parking lot, from where you get beautiful water views. If you enjoy mountain biking, there are lots of off-road tracks to explore.
And if you love street art, you will love wandering around the town of Laguna Beach to admire the more than 100 public art installations ranging from murals to sculptures to signs.
Santa Barbara
Driving Distance: 95 miles
Best Time to Visit: Any time of year
With its stunning Mediterranean red roofs, beautiful beaches, and great gastronomy scene, Santa Barbara is a popular getaway destination on the Pacific Coast.
You'll be spoiled for choice on things to do in Santa Barbara on your day trip from LA. Take the elevator to the top of the Clock Tower at the County Courthouse for amazing views in every direction. The interior of the courthouse is beautiful and worth exploring.
Visit the beautiful Santa Barbara Mission, known as the Queen of the Missions because of its beauty.
Walk (or bike) Cabrillo Boulevard, the waterfront boulevard with the super tall palm trees. We walked a bit of it at sunrise: it was a wonderful experience.
Stroll State Street, with its numerous boutiques, cafes, and restaurants. It's a great place for lunch: we love the pizza at Olio Pizzeria. And of course you must stop for ice cream at McConnell's.
Paseo Nuovo is a must-visit for a photo on the colorful Spanish steps.
Drive to nearby Montecito and tour the stunning Lotusland gardens (reserve your spot ahead of time). It's one of the best botanical gardens in California!
Head to Butterfly Beach for some quality beach time to close out your day: sunset is an especially beautiful time to be at this stunning beach.
Have 2 or 3 days to spend in Santa Barbara? Check out our ultimate Santa Barbara weekend itinerary!
Don't want to drive? Check out this day trip to Santa Barbara from LA by Amtrak train! You'll ride the Coast Starlight, enjoying the beautiful scenery en route: the Cascade Mountains, forests, and valleys offer endless vistas.
Union Station in LA is beautiful, a sight in itself.
In Santa Barbara, you'll visit major sights such as the Santa Barbara Mission, the harbor, and the County Courthouse.
Check price and availability for this Amtrak day trip from LA to Santa Barbara now!
Catalina Island
Driving Distance (to Long Beach for ferry): 24 miles
Best Time to Visit: Any time of year
If an island getaway sounds appealing, plan a day trip to Catalina Island!
Lying just over 20 miles off the coast of Southern California, the town of Avalon on Catalina Island can be accessed via an hour-long ferry trip from Long Beach.
On the ferry ride, keep your eyes peeled for whales or dolphins.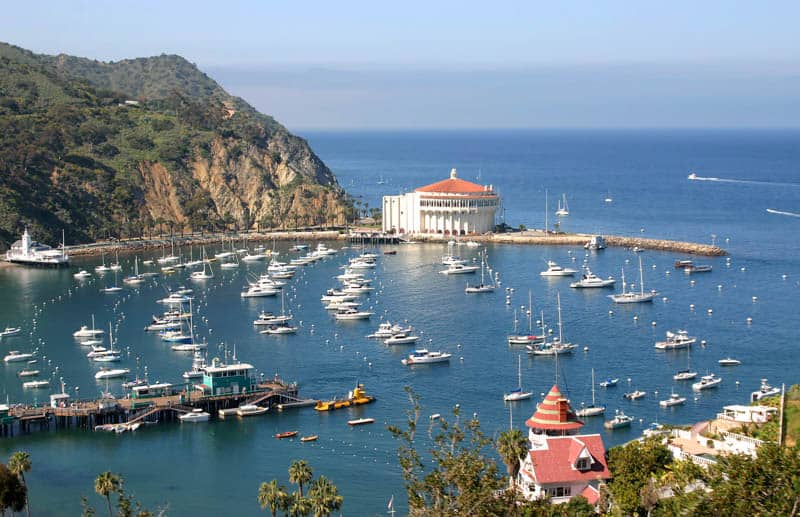 Near the ferry landing spot in Avalon, catch the trolley up to the Wrigley Memorial & Botanic Garden. Or you can rent bikes or a golf cart, or walk up the hill.
The island once belonged to William Wrigley Jr., of chewing gum fame, and the memorial is the centerpiece of the garden.
From the Wrigley Memorial, you get fabulous views of the water. The garden, with its focus on plants endemic to California islands, is a joy to stroll.
Tour the Catalina Casino, which is not a gambling arena but "a gathering place." Housing a movie theater and a gigantic ballroom, the beautiful Art Deco/Mediterranean Revival building is the most recognizable structure on Catalina Island.
If you enjoy hiking, there are several trails on the island from which to choose. To see the wild buffalo that roam free in the more remote parts of the island, take a helicopter tour.
And of course, you can choose from loads of water activities: go kayaking or stand-up paddleboarding, or take a tour in a semi-submersible.
Mount San Jacinto State Park
Driving Distance: 109 miles
Best Time to Visit: Any time of year
Mount San Jacinto is the highest peak in the San Jacinto Mountains. Located in the namesake park, the peak provides a challenge for avid hikers.
The park itself is one of the most spectacular state parks in California and a fabulous day trip destination.
You can arrive at Mount San Jacinto Park by road via the town of Idyllwild, or you can take the aerial tramway from Palm Springs. From the top, you get spectacular panoramic views on clear days.
The high country wilderness area contains a network of trails ranging from easy to strenuous, and you can walk around to enjoy the beautiful scenery all around you.
Look for birds and wildlife, stare in awe at the granite faces of the mountains around you, and enjoy wildflowers in the spring and summer.
For a moderately strenuous uphill hike that allows for stunning views of high country meadows and wildflowers in season, try the 4.3-mile Round Valley Loop.
Hiking permits are required and can be obtained without charge at the ranger station near the tram terminal.
You can hike shorter scenic trails at the top as well. In the winter, you can go snowshoeing and cross-country skiing, and take in the winter wonderland views in the park.
The aerial tram mountain station features a snack bar and a restaurant, but you can also bring a picnic lunch to enjoy at a scenic overlook or one of the picnic areas at the top.
Ojai
Driving Distance: 112 miles
Best Time to Visit: Any time of year
The serene town of Ojai and the surrounding wilderness make for an attractive day trip from LA. Just driving through the Ojai Valley, with its acres of olive trees and citrus orchards, is a lovely experience.
Visit the Ojai Olive Oil Company, to taste the three types of olive oil made from the local trees, along with other olive oils and balsamic vinegars.
If you visit between March and May, taste the ultra-sweet Ojai Pixie, the local tangerine that has its own month: April.
Downtown Ojai is very strollworthy, with cute one-of-a-kind shops. Don't miss Bart's Books, which features book cases on its exterior facade.
And you'll be spoiled for choice when it comes to picking a place for lunch. For dessert, opt for the strawberry shortcake at Boccali's!
With the Matilija Wilderness, the Sespe Wilderness, and Lake Casitas all nearby, outdoor recreational opportunities abound. Hike, bike, fish, and enjoy water activities at the lake.
Malibu
Driving Distance: 33 miles
Best Time to Visit: Any time of year
Malibu's beaches are the stuff of picture postcards…and there are so many from which to choose!
Start early on your day trip to Malibu if you plan to visit during whale migration: early in the day, you are more likely to see them from shore. Plus, watch for dolphins!
If it's your first visit to Malibu, check out the super popular Zuma Beach, where you can swim and laze on the sand. To explore caves and arches and rocks, head to El Matador State Beach. Point Dume is a popular whale watching spot in season.
Given its plethora of beaches, Malibu is a mecca for all things water sports. Take a surfing lesson, snorkel or scuba dive, go stand-up paddleboarding, or enjoy a whale watching excursion.
Most evenings, you will have the opportunity to photograph blazing skies over the water at sunset.
On land, you'll find a variety of hiking trails to enjoy. The Solstice Canyon hike is 6 miles round trip, but scenic and shaded.
Along with fabulous water views, you'll see a small waterfall, and the remains of the oldest stone building in Malibu. Need a more challenging hike? Try the Mishe Mokwa trail to Sandstone Peak.
For a meal to remember, splurge on lunch with a view at Nobu! Want something casual? Try fish and chips at Malibu Seafood!
Santa Ynez Valley
Driving Distance (to Solvang): 128 miles
Best Time to Visit: Any time of year
The rolling hills of the Santa Ynez Valley make for a beautiful drive, and the dozens of vineyards in the area offer tastings in an intimate, congenial setting.
With loads to do in the small communities, the Santa Ynez Valley is a fun day trip from LA any time of year.
In Solvang, stroll the streets to gawk at the giant windmills and Danish architecture. Visit the Old Mission, established by Spanish missionaries in 1804. Stop in at one of the many Danish bakeries for some sweet treats.
In Buellton, visit the Santa Ynez Valley Botanic Garden and taste Andersen's famous split pea soup. Buellton is also famous for its moonshine!
In Ballard, snap a photo of the Little Red Schoolhouse, in daily use since 1883! Santa Ynez, Los Alamos, and Los Olivos offer excellent wine tasting and great eateries.
Lake Cachuma offers the opportunity for boating and fishing.
Go horseback riding, join a bike tour, or hike one of the many beautiful trails in the area. The Santa Ynez Falls trail is a 2.5-mile out and back trail that leads to a beautiful waterfall. In spring and early summer, you'll see lots of wildflowers.
The Santa Ynez Valley boasts a number of lauded eateries featuring local in-season ingredients.
Palm Springs
Driving Distance: 107 miles
Best Time to Visit: Fall through spring
Long a getaway to Hollywood stars and celebs, Palm Springs is still a great desert day trip destination.
With a multitude of resorts, spas, and golf courses, Palm Springs is the place to go for a relaxing day out, but it also offers lots of choices for an active break.
If you are a first-time visitor to the city, tour its mid-century modern architectural gems. You can obtain a map at the visitor center to do a self-guided tour.
Love desert gardens? The Moorten Botanical Garden features lots of cacti and other succulents.
Stroll Palm Canyon Boulevard, with its many shops, art galleries, and restaurants. Check out the Walk of Stars, where you'll find golden palm stars honoring a number of luminaries. The Museum of Modern Art houses an impressive collection.
If you enjoy hiking, head to Indian Canyons: the Murray Canyon trail is 3.7 miles out and back, and leads to a lovely waterfall.
The 2-mile Andreas Canyon trail is also beautiful: it follows a stream and features wildflowers in season. A little ways out of the city, the Coachella Valley Preserve offers a number of hiking trails.
Lounging by the pool is de rigueur when you visit Palm Springs. Get a vacation rental with pool access, or pick one of the many resorts in the area.
Planning more than one day in palm Springs? Check out our itinerary for 3 days in Palm Springs!
Torrey Pines State Reserve And La Jolla
Driving Distance: 105 miles
Best Time to Visit: Any time of year
La Jolla and Torrey Pines State Reserve make for a wonderful day trip from LA, with stunning scenery, great eateries, lots of fun shops, and beautiful beaches.
Stroll La Jolla Village Square, with its many boutique stores and art galleries. Walk the cliffs above La Jolla Cove to watch the sea lions and seals. You'll see lots of sea birds on the cliffs as well. The cove is a great place to swim, scuba dive, or snorkel.
The stunningly beautiful Torrey Pines State Reserve protects the Torrey pine tree, an endangered and rare species of pine that only grows in this reserve and on Santa Rosa Island off the coast of California.
The Reserve features eight miles of trails of varying lengths and difficulty. The Razor Point Trail, about 1.7 miles round trip, offers stunning views of badlands, and ends at a lookout with fabulous water views.
Be sure to hike the easy Guy Fleming Trail, a 0.7 mile loop that offers spectacular water views. Enjoy wildflowers in the spring and possible whale sightings in season. Bring your binoculars and look for birds!
Anza-Borrego State Park
Driving Distance: 151 miles
Best Time to Visit: Fall through spring
One of our favorite California state parks, Anza-Borrego State Park features dramatic desert vistas, very cool slot canyons, and lots of interesting flora and fauna.
If it's your first time, start your visit in Borrego Springs, a town that is completely surrounded by the park.
At the Borrego Springs Visitor Center, you can walk an interpretive trail through the desert garden to familiarize yourself with local plants.
Don't miss the sculpture of the Aiolornis incredibilis, an extinct bird (found here among other places) that was 4 feet in height!
There are over 100 miles of trails at Anza-Borrego, so you have a wide choice when it comes to hiking.
The Palm Canyon Trail, which starts near Borrego Springs, is the most popular hiking route in the park. Keep your eyes peeled for bighorn sheep and check out the pupfish pond at the start of the trail.
There are scenic driving routes through the park, some through unpaved roads, and you can also go biking. If you enjoy photography, you will want to seek out the enormous metal sculptures of prehistoric creatures by Ricardo Breceda.
Spring is an especially popular time to visit Anza-Borrego, because of wildflower bloom. If the preceding winter was wet, expect carpets of pink, purple, white, and yellow: it's a spectacle you will not soon forget!
The Getty Villa
Driving Distance: 21 miles
Best Time to Visit: Any time of year
If you are looking to spend your day out in the midst of fabulous art, architecture, and gardens, head to the Getty Villa in Pacific Palisades!
The Getty Villa was built to look exactly like the Villa dei Papiri, a noble residence from the first century A.D.
The original villa stood in the ill-fated town of Herculaneum, buried by the eruption of Vesuvius. You will be awed by the beautiful facade, with its graceful white columns, and the rich detail inside.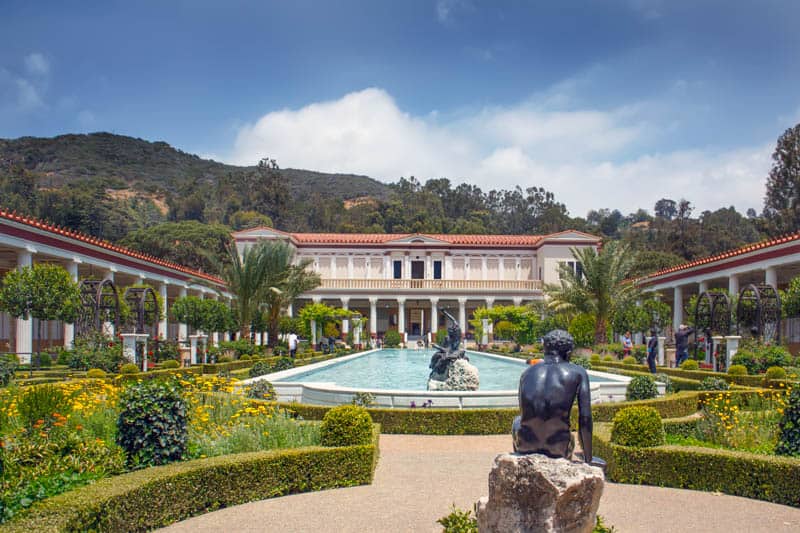 Tour the fabulous art collection in the villa: its emphasis is on Greek and Roman antiquities from the Stone Age until the fall of the Roman Empire, and you'll see sculptures, glass, and jewelry.
The gardens at the Getty Villa are my favorite reason to visit. If you enjoy plants and gardens, you can spend hours admiring the gardens here.
With several hundred varieties of Mediterranean plants, an herb garden, sculptures, frescoes, and water features, the gardens are a joy to stroll.
You can wander the gardens on your own, but you can also take a guided tour to learn as you walk. Don't miss the little East Garden with its exquisite fountains and tranquil ambience.
There is a cafe on-site that serves Mediterranean fare. You can also enjoy afternoon tea, inspired by the fruits, vegetables, and herbs grown in the villa gardens.
San Gabriel Mountains National Monument and Angeles National Forest
Driving Distance: 51 miles
Best Time to Visit: Any time of year
Encompassing all kinds of terrain from mountains to forest, the San Gabriel Mountains National Monument and Angeles National Forest offer a huge natural playground for outdoor enthusiasts.
Drive the Angeles Crest Scenic Byway, a 60+ mile drive offering superb vistas of mountains, valleys, and forests. It's one of the most scenic drives in California! On weekends, you can take a guided tour of the historic Mount Wilson Observatory.
You can also drive to Mt. Baldy, the 10,064-foot peak that looms over the landscape. In the winter, the Mount Baldy Resort offers skiing and snow play.
In the summer, you can take the ski lift to the top and hike the epic 6.6 mile round trip trail to the summit.
There are numerous hiking trails in the Angeles National Forest, of varying lengths and difficulty levels. The epic Pacific Crest Trail passes through the forest. You can also go biking or horse riding.
Jackson Lake, near Wrightwood, offers fishing opportunities. You can also take a canoe or kayak out onto the water. Picnic spots are available, and you can hike around the lake as well.
Pack a cooler with food, snacks, and drinks: there are lots of picnic sites perfect for a meal in nature.
Huntington Beach
It goes without saying that Surf City USA is where you'd want to go if you love to surf. The almost 10-mile long sandy beach at Huntington Beach is a super popular surfing destination.
But there are other fun things to do in Huntington Beach besides surfing. The Huntington Beach Pier, one of the longest on the West Coast at 1,850 feet, is a must-visit, especially if you enjoy sunset photography.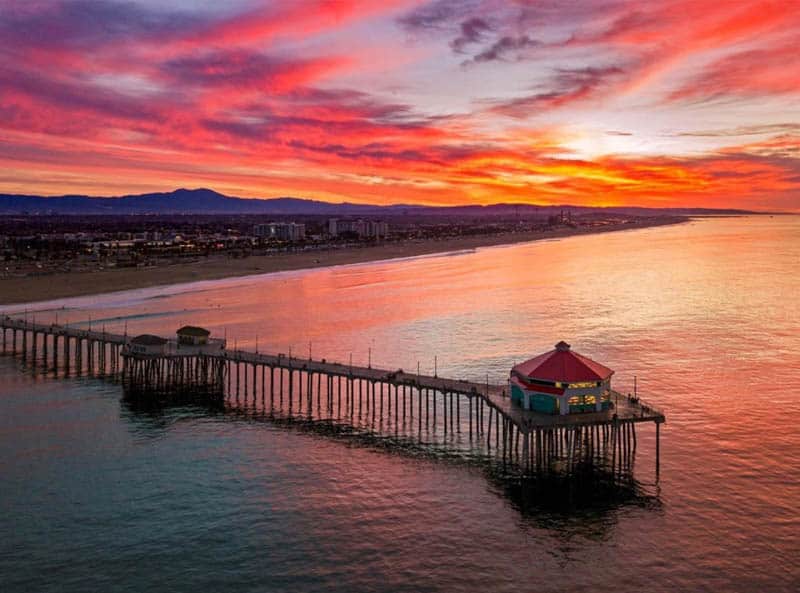 If you enjoy birding, a visit to the Bolsa Chica Ecological Reserve should definitely be part of your day trip itinerary for Huntington Beach: more than 200 species have been spotted here.
Walk the trails through the reserve and be sure to bring your binoculars.
Shipley Nature Center, inside Huntington Central Park, is another awesome place to explore if you love plants and nature. With redwood trees, wetlands, meadows, and themed gardens, the 18-acre oasis is a great place to spot wildlife and birds.
Did you know you can go for a sunset gondola ride in Huntington Beach? Cruise the calm canals and inlets in Huntington Harbor in an authentic Venetian gondola piloted by an experienced gondolier. You bring the wine or champagne, they provide blankets, ice, and glasses!
Stroll Old World Village, with its cobblestone streets and myriad boutique shops and restaurants. Downtown Huntington Beach is another great option if you enjoy retail therapy.
Did you find this article informative? Pin it for later reference!