Visiting Palm Springs? If you have time to spare, consider one or more of these exciting day trips from Palm Springs!
From mountains to coasts and lakes to desert there's a lot of natural beauty within day trip distance of Palm Springs. Plus, there are several vibrant cities and charming towns nearby to explore!
When planning a visit to Palm Springs, most visitors tack on a day trip to Joshua Tree National Park. And understandably so, because it's an iconic desert park and so close to the desert city.
But if you enjoy day trips, there are many more destinations around Palm Springs to check out.
Best Day Trips from Palm Springs
We've visited Palm Springs several times, and on each trip, we've done a couple of day trips to explore the surrounding areas.
From the desolate but beautiful Amboy Crater and the Historic Route 66 scenic drive, to the charming mountain towns of Idyllwild and Julian and beautiful lakes like Big Bear and Arrowhead, you will be spoiled for choice when it comes to Palm Springs day trips.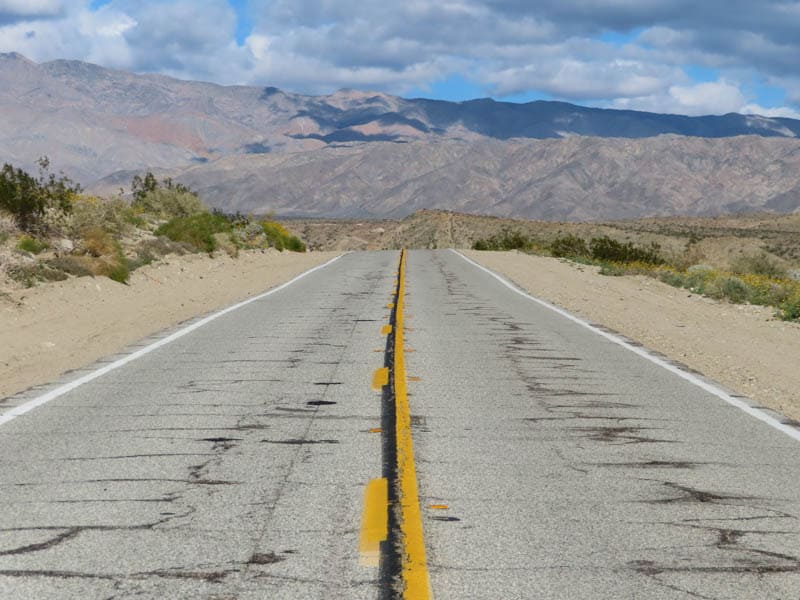 Some of our favorite getaways from Palm Springs are listed in our round-up below.
We have noted driving time, based on Google maps, but depending on your exact start point and the time of day you travel, drive times will vary.
Start as early as you can, to get the maximum time at your day trip destinations of choice, and to avoid traffic.
Excited? Let's dive in to discover all the exciting day trips from Palm Springs to add to your itinerary for the city!
Joshua Tree National Park
Why go: The most popular day trip from Palm Springs is to Joshua Tree National Park, a mecca for hikers and rock climbers.
The park sits atop two deserts, the Colorado and the Mojave, and is famous for its gigantic boulders and the Seussian trees that give the park its name.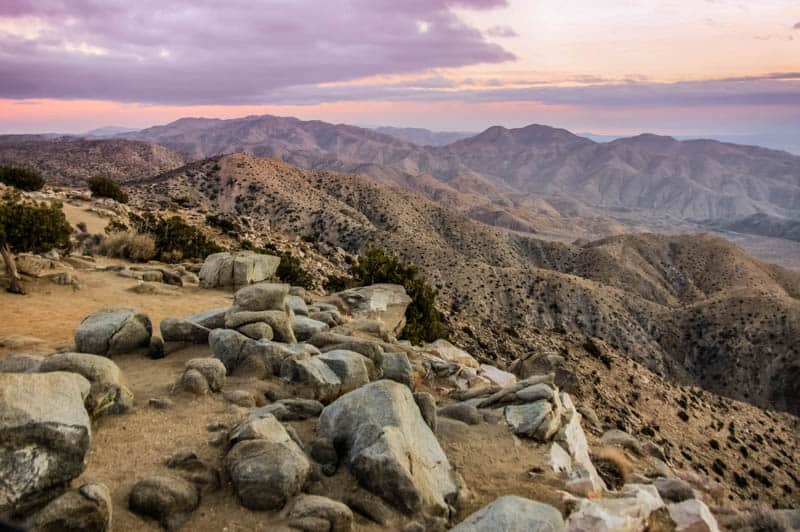 What to do: There are a variety of hiking trails in Joshua Tree to enjoy, from the short and scenic Hidden Valley Trail to longer, more challenging hikes.
Walk to Barker Dam to look for wildlife and birds. Ascend the Ryan Mountain Trail for epic views. The super short walk through the Cholla Cactus Garden is scenic, especially at sunset.
Take a beginner rock climbing lesson, or just enjoy scrambling on the rock formations. Do the scenic drive through the park. Explore some of the many historical sites. Take in the beautiful panoramic views from Keys View.
If it's your first visit to Joshua Tree, get this self-driving auto tour guide for information as you explore the park.
If you do not have a car, book a guided van tour of Joshua Tree, or explore the park backcountry on an offroad tour!
Driving time: About 50 minutes to the West Entrance Visitor Center in Joshua Tree.
Best time to visit: Late fall through spring for pleasant temperatures. Visit in the spring for wildflowers and for cactus and succulent bloom.
Visiting Palm Springs as a couple and looking for the best hotels for your trip? We've got a round-up of the most romantic hotels in Palm Springs you can browse!
Anza-Borrego Desert State Park
Why go: Anza-Borrego Desert State Park offers gorgeous desert landscapes in 600,000 acres of wilderness setting.
From badlands to canyons, and palm oases to tall rocky ridges, the vistas are breathtaking.
For adventurers and nature lovers, California's largest state park makes for a fabulous day trip from Palm Springs.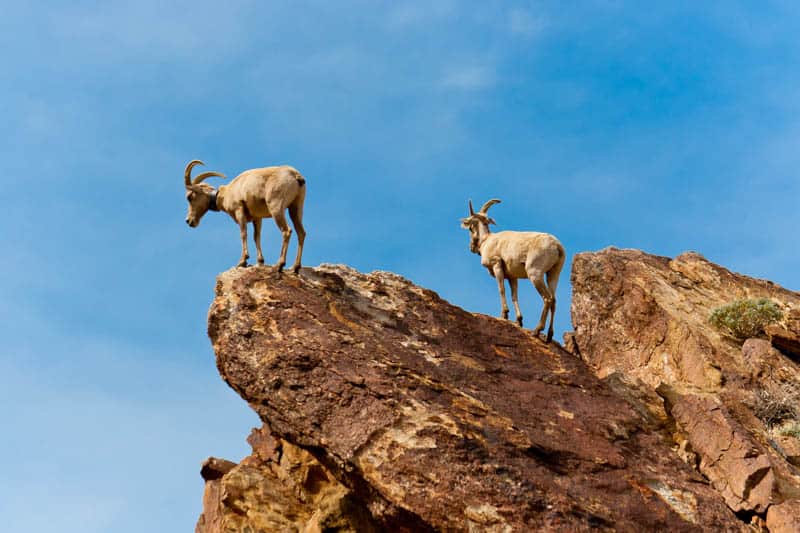 What to do: At the Visitor Center in Borrego Springs, learn about the park and stroll the desert garden.
Also near the town are the huge sculptures of prehistoric creatures you may have seen on Instagram: created by Ricardo Breceda, the sculptures make for great photos.
Come in a 4WD vehicle to explore the many dirt roads in the park.
Hike the famous slot canyon, or opt for the easier 3-mile Borrego Palm Canyon loop. Look for bighorn sheep and birds at the oasis.
Sunset at Font's Point is a must if you have a 4WD! The views of the badlands from the viewpoint are mesmerizing.
Driving time: About 90 minutes to the Visitor Center in Borrego Springs.
Best time to visit: Late fall through spring for reasonable daytime temperatures. Spring for spectacular wildflower displays, especially after a wet winter.

Big Bear Lake
Why go: A beautiful mountain lake located in the San Bernadino National Forest, Big Bear Lake is a very popular all-season resort.
The scenery is splendid, and there are lots of things to do, no matter what the season.
Enjoy wildflowers in the spring, leaf color in the fall, and snow in winter. Big Bear is one of the best lakes in California to visit for recreation.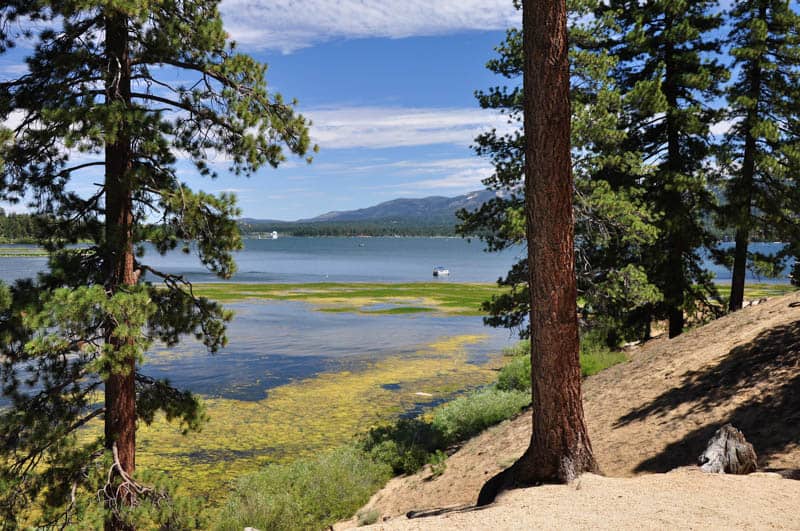 What to do: From spring through fall, enjoy hiking, mountain biking and adventure activities like ziplining.
Visit the marinas to rent a variety of watercraft, from pontoon boats to kayaks and canoes.
Go paddleboarding, tubing, or wakeboarding, or jet ski! Stroll the village, with its boutique shops. You can even pan for gold!
In the winter, enjoy a wide variety of winter sports.
Big Bear is a super popular Southern California skiing destination, but you can also go cross country skiing or snowshoeing, or enjoy snow play. There are events and festivals all through the year, including during the holidays.
Driving time: About 1 hour and 50 minutes.
Best time to visit: Any time of year, depending on your interests. Winter driving may require snow tires and chains.
Looking to rent a car for your Palm Springs trip? Discover Cars offers you the ability to compare availability and prices across many major car-hire companies. Pick the car that best meets your needs!

Book your car with Discover Cars now!
Greater Palm Springs Cities
Why go: If you've limited yourself to the city of Palm Springs so far, the other desert communities of the Greater Palm Springs area are also worth exploring! From public art to hot springs and desert gardens to shopping, you will find a lot to do in the 8 neighboring cities.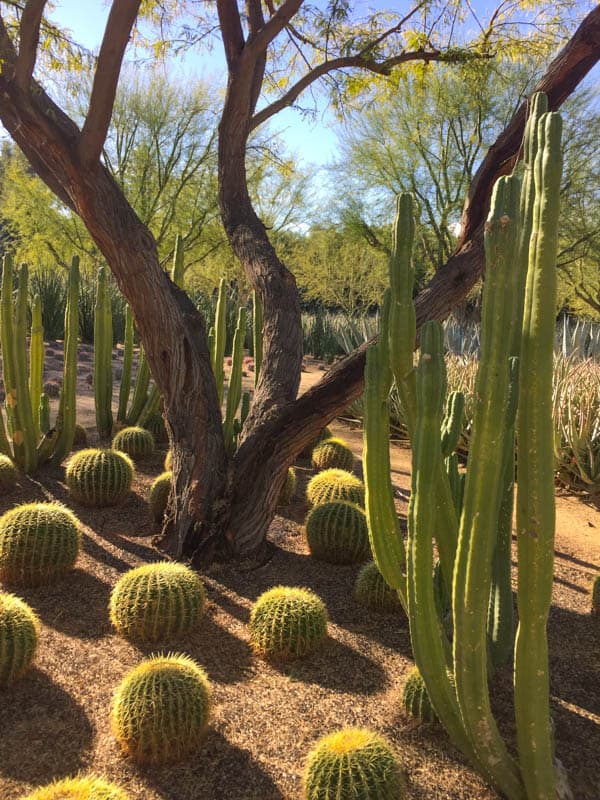 What to do: Pick 1 or 2 cities to enjoy in a day.
Palm Desert, the desert playground of the rich, offers upscale shopping and the Living Desert Zoo and Gardens.
In Rancho Mirage, the Sunnylands Desert Garden is gorgeous, and the Observatory features a super powerful telescope for stargazing.
Looking to soak in a mineral spring? Head to Desert Hot Springs, famous for its relaxing hot and cold springs.
In Cathedral City, enjoy the beautiful public art installations. Indio is famous for its multiple famous festivals (music and food), and it's also home to the Shields Cafe, where you can go for a date shake.
Driving time: Varies, but most of the cities are 30 minutes or less.
Best time to visit: Fall to spring for reasonable outdoor temperatures, any time of year if you will mainly be indoors.
The Huntington, San Marino
Why go: A large complex featuring over a dozen themed gardens, a library with rare books, and an impressive art collection, The Huntington will take you a full day to explore, so it's perfect for a day trip.
The Huntington Gardens is among the best botanical gardens in California.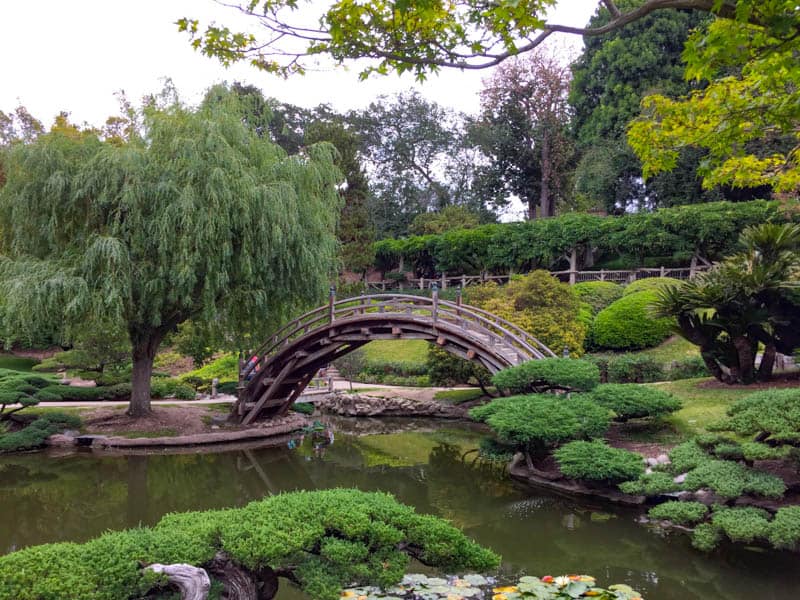 What to do: While all the themed gardens at The Huntington are gorgeous, do not miss the Desert Garden, which has one of the largest collections of cacti and succulents in the world. The Japanese Garden features a beautiful moon bridge and tea house, and the Chinese Garden includes a beautiful lake with water lilies.
The Huntington Library contains a Gutenberg Bible, one of only 48 that survive today. And the museum includes beautiful paintings, glass, and sculptures from all over the world. You'll see statues on the grounds as well.
There are eateries in the complex for lunch and snacks. You can even have afternoon tea in the tea room by the Rose Garden!
Driving time: About 1 hour and 40 minutes.
Best time to visit: Most of the complex looks gorgeous any time of year. The rose garden looks its best between April and October.
San Diego
Why go: With its beautiful beaches, vibrant neighborhoods, and lively waterfront, San Diego offers a lot, whether you visit for the day or for a longer time.
On a day trip, we recommend picking 3 or 4 activities, so you are driving less and enjoying the city more.
No matter what your interest, you will find things to do in San Diego that will make for a memorable day.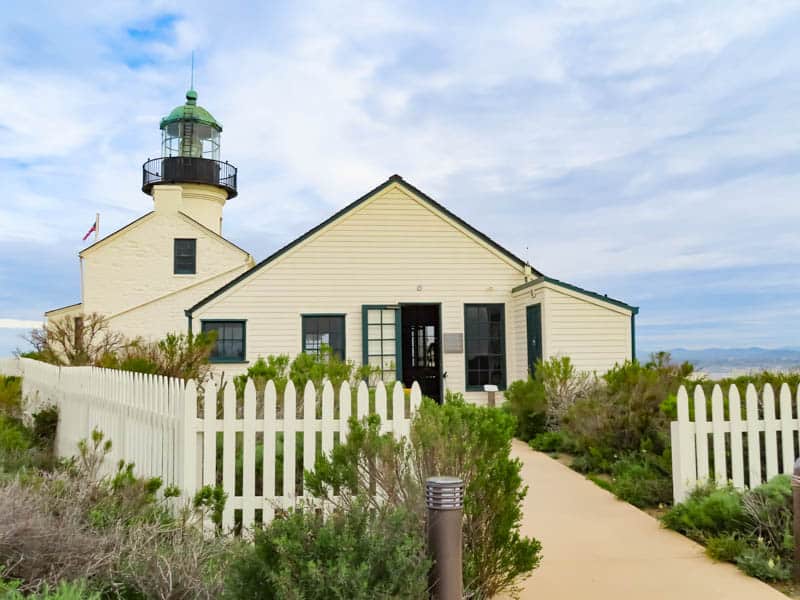 What to do: If you love gardens and museums, you could spend the entire day at Balboa Park.
The Balboa Park gardens look stunning when in bloom, and you can pick from more than a dozen museums from art to model railroads. Kids will want to visit the world famous zoo.
If you enjoy the outdoors, visit Cabrillo National Monument in the morning, laze on the beach in Coronado in the afternoon, and enjoy a harbor cruise in the evening.
San Diego's neighborhoods are also worth wandering, from Little Italy to the historic Gaslamp Quarter.
Nearby La Jolla offers another alternative for the day, with hiking at Torrey Pines State Reserve, visiting with the sea lions at La Jolla Cove, and some retail therapy in downtown La Jolla.
Driving time: About 2 hours.
Best time to visit: Any time of year!
Temecula Valley
Why go: Southern California's wine country boasts several dozen wineries featuring internationally acclaimed wines.
But you don't have to be a wine lover to enjoy the beautiful Temecula Valley, with its rolling hills and picturesque old town.
What to do: If you enjoy public art, there's lots to see in Temecula, from mosaics to murals and sculptures.
Architecture buffs will love strolling the boardwalks of Old Town Temecula to view its rustic Old West buildings.
And if you enjoy music, there are live performances year round in Old Town Temecula, plus at many area wineries.
Nearby, the Santa Rosa Plateau Ecological Reserve offers miles of hiking and biking trails, as well as opportunities for wildlife viewing. You can also enjoy bike trails through the rolling hills of Temecula, enjoying vineyard views.
Love shopping? In Old Town Temecula, browse quality artisan handmade goods, produced locally. You can go antiquing here as well.
Driving time: About 1 hour and 20 minutes.
Best time to visit: Any time of year. Enjoy lush green hills in the spring, festivals in the summer, harvest and changing colors in fall, and the serenity of off-season in winter.
Amboy Crater + Kelso Dunes
Why go: If you enjoy nature and the outdoors, this day trip combines two epic natural attractions.
Amboy Crater is a National Natural Landmark. The volcanic cinder cone lies on historic Route 66, and is a fascinating and starkly beautiful place to explore.
Kelso Dunes is part of the Mojave National Preserve, and the sand dunes are a massive 45-square-mile playground, with the tallest dune rising 650 feet high.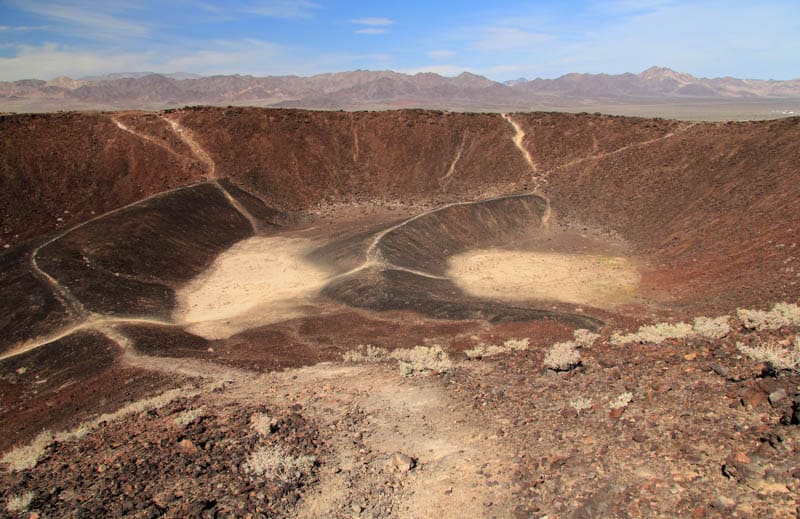 What to do: There is a trail that leads to the top of Amboy Crater. The hike is classed as moderately strenuous, and is about 3 miles round trip. There is also a path at the top, to walk around the crater rim for panoramic views.
You may see desert lizards, and wildflowers in the spring.
If you do not want to hike, there is a shaded area from where you can view and photograph the crater.
Kelso Dunes is one of the most popular attractions in Mojave National Preserve.
The road to the dunes is somewhat rough, with potholes, but considered passable in a sedan.
From the parking area, you can walk the flat trail to the bottom of the dunes to appreciate their majesty up close.
You can also hike to the top of the highest dune for great views: a much harder trek since the sand is loose when dry.
Driving time: About 1 hour and 50 minutes to Amboy Crater and another 45 minutes to Kelso Dunes.
Best time to go: Between November and March, provided daytime highs are 70 degrees or lower. These areas are desert and volcano wilderness and can get extremely hot. Go prepared with lots of drinking water and food, and sun protection.
You don't need to hike to enjoy these two iconic places: just walk around on the flat easy parts, take photos, and enjoy the desert landscapes.
Julian
Why go: Located in the Cuyamaca Mountains, the charming town of Julian makes for a lovely day trip from Palm Springs, with its Gold Rush era buildings, beautiful Main Street, and all things apples.
There are also natural areas nearby to enjoy, including Cuyamaca Lake and the Volcan Mountain Wilderness.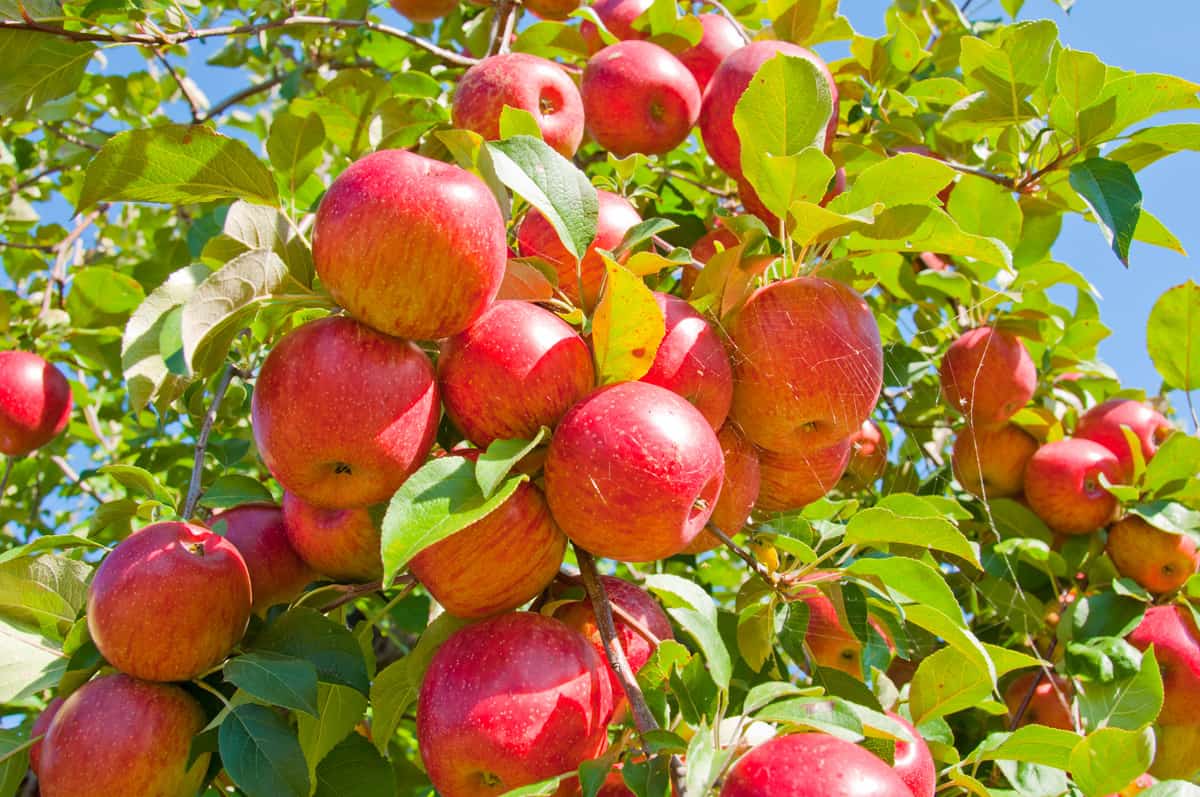 What to do: Walk the Main Street, to browse the stores and galleries. Tour a gold mine, or pan for gold.
Walk through beautiful fruit orchards, and in season, pick your own fruit!
In the fall, you can learn how to make apple cider. Enjoy tastings of cider in town as well.
Julian hosts special events and festivals through the year, so check to see what's on when you plan to visit. Don't forget to eat apple pie!
At Lake Cuyamaca, you can go boating or tubing in a beautiful setting ordo some hiking or birdwatching.
You can also hike at the Santa Ysabel Preserve, or the Volcan Mountain Wilderness Preserve. Both areas feature trails that take you through local flora, and some trails offer fabulous views of the desert and the ocean on clear days.
Driving time: About 2 hours and 10 minutes.
Best time to go: Julian is a great destination any time of year. Go in the spring for wildflowers, and in the fall for apple harvest! You will find Julian's delicious apple pie year round in town.
Los Angeles
Why go: Whether you pick the beaches of Santa Monica or the glamor of Hollywood or the museums and gardens around the city, there is no doubt that you will find plenty to do in one day in the Los Angeles area.
Just focus on attractions in one part of the city and keep driving to a minimum for a pleasant day out. Or stow your car upon arrival and do a guided day tour.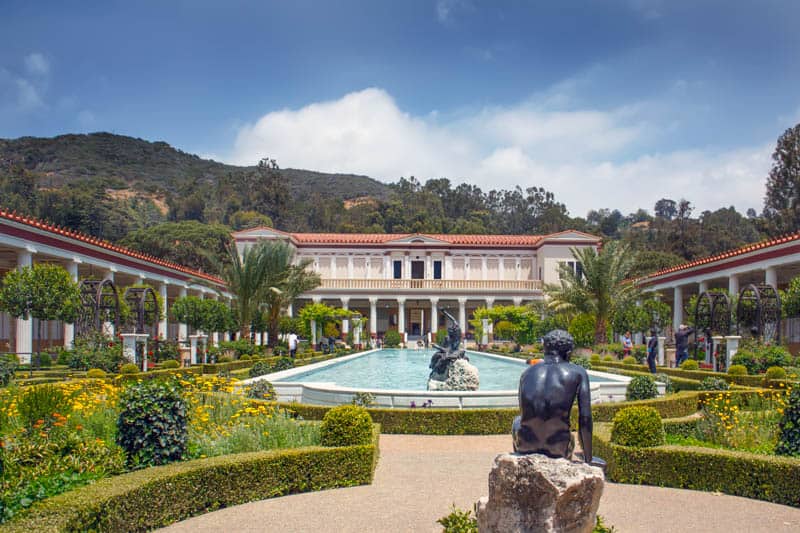 What to do: In downtown Los Angeles, you can visit Hollywood and Beverly Hills, and the Los Angeles County Museum of Art with its fabulous outdoor installations.
If you enjoy museums, you can also spend the day touring The Getty (Museum) and The Getty Villa, which are within 15 miles of each other and both absolutely fabulous places to visit.
In Santa Monica, visit the pier and view the famous Ferris wheel (or take a ride on it!). Then stroll the bluffs of Palisades Park, for spectacular ocean views.
Santa Monica State Beach is long and sandy. Walk away from the pier to find a less crowded area if you want to sunbathe here.
Enjoy the boardwalk at Venice Beach: you'll almost always find street performers here and the people watching is awesome!
Driving time: About 2 hours to the Santa Monica Pier.
Best time to go: Any time of year!
Mount San Jacinto State Park
Why go: Accessed either via the fun Palm Springs Aerial Tramway, or by road from Idyllwild, Mount San Jacinto State Park is located among the upper reaches of the mountain, offering stunning views of the desert floor and surrounding mountains.
If you love nature, you will definitely want to put this day trip from Palm Springs on your itinerary.
What to do: Hiking is the most popular activity in the park, with trails ranging from easy to super challenging.
You can even hike to the summit of Mount San Jacinto. Keep in mind that some trails in the park require permits, available at the Idyllwild at the Ranger Station.
For a moderate and scenic trail, consider the Desert View Trail, a 1.5-mile loop that features several overlooks.
If you visit in the winter, you can go cross country skiing or snowshoeing. Enjoy snow play and gorgeous views of surrounding snow-capped peaks. You can rent gear at the Winter Adventure Center at the top.
Driving time: None if you take the tramway. About 1 hour to the Idyllwild entrance.
Best time to visit: Any time of year, depending on your preference for activities at the top.
Pasadena
Why go: Known for its lively downtown, Pasadena makes for a fun day trip from Palm Springs if you enjoy art, museums, history and culture, and shopping.
Downtown Pasadena is walkable, and you will also find many great eateries and cafes here. An overall wonderful day trip destination!
What to do: Visit some of Pasadena's excellent museums. The Norton Simon Museum has a magnificent art collection and a garden worth strolling.
The USC Pacific Asia Museum showcases the art and culture of Asia. The Pasadena Museum of History is a fun visit to learn about the city's past.
Walk downtown Pasadena and explore the shops and galleries. You'll find brands here, but also unique stores that carry quality artisan products and antiques.
Admire the architecture, from City Hall to the Gamble House and the Wrigley Mansion. Take a guided tour of the Rose Bowl Stadium, a National Historic Landmark.
Eat: there are lots of great restaurants from which to pick.
Driving time: About 1 hour and 35 minutes.
Best time to visit: Any time of year!
Palms to Pines Scenic Byway Road Trip
Why go: The 67-mile Palms to Pines drive between Palm Desert and Banning is stunning.
The route takes you from the desert floor into the mountains and the charming mountain town of Idyllwild before bringing you back down.
The drive only takes 2 hours, but there are plenty of things to do along the way to make this one of the best day trips from Palm Springs you can do.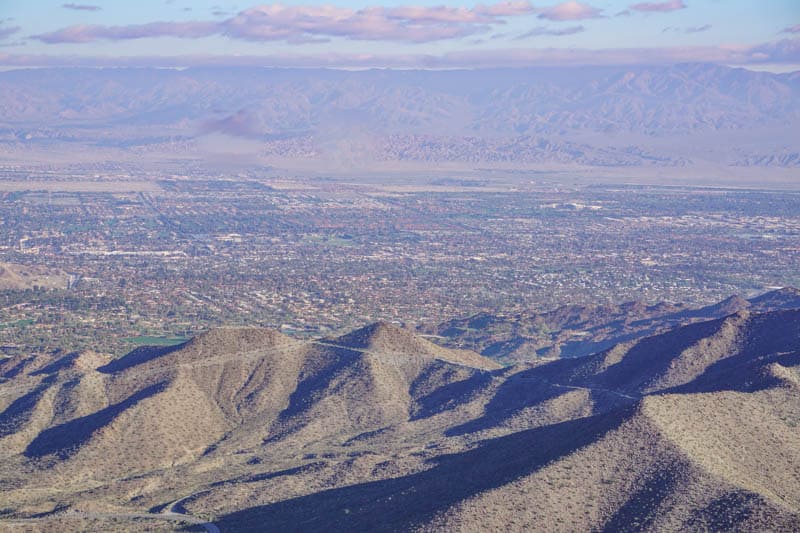 What to do: Start in Palm Desert and drive up Highway 74. The road climbs into the mountains via a series of switchbacks, offering beautiful views.
Stop at the Santa Rosa and San Jacinto Mountains Visitor Center for a map.
The Coachella Valley Vista Point is a must-stop. The viewing area offers stunning panoramas of the cities of the desert below.
Head onto Highway 243 at Mountain Center.
Idyllwild is a great spot for lunch and to stretch your legs. There are one-of-a-kind shops to browse, and the little town makes for a quick wander. Look for birds and wildlife.
Further along the route, stop at the Indian Vista Viewpoint for panoramas over the valleys below. Pines give way to palms again as you meet Interstate 10 at Banning.
Return to Palm Springs via the freeway.
Driving time: About 2 hours up to Banning.
Best time to go: Spring to fall. If you plan to go in the winter, check for road closures, and note that snow tires and chains may be required. We drove the route on a sunny, good weather day in late February with no issues.
Lake Arrowhead + Lake Gregory
Why go: Nestled in the San Bernadino mountains, the charming village of Lake Arrowhead sits around the lake of the same name.
And 20 minutes away in Crestline, is Lake Gregory, another gorgeous lake in an alpine forest setting.
Together, the two lakes make for a fabulous day out from Palm Springs.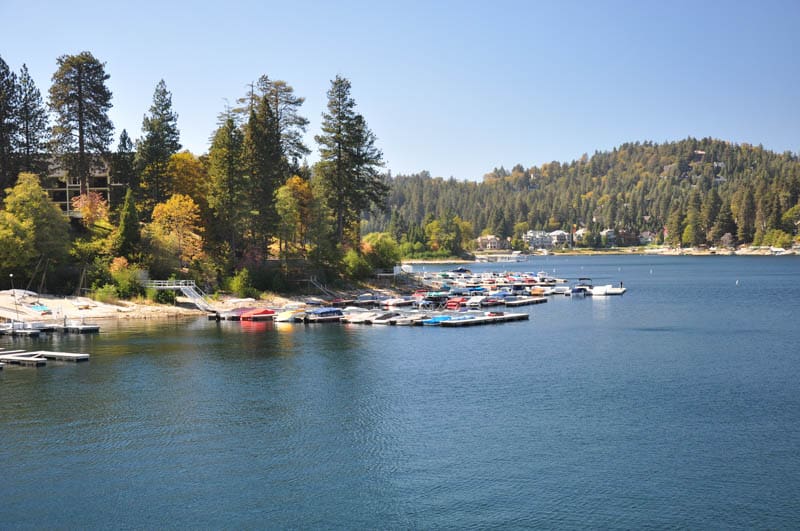 What to do: At Lake Arrowhead, stroll the village and browse the many shops. Events are held through the year, and concerts in the summer or weekends.
Cruise the lake on the Arrowhead Queen to enjoy the beautiful scenery (and all the celebrity homes on the shore!).
Skypark at Santa's Village offers hiking, bike trails, roller skating, and other adventures in the summer.
All manner of winter sports can be enjoyed at Lake Arrowhead in the winter.
You can spend all day in Lake Arrowhead, but the beaches are private.
Nearby Lake Gregory offers swimming, fishing, kayaking, and boating. You can also walk the shore around Lake Gregory or do other hikes into the surrounding forest. Kids will enjoy the water slides on the floating aqua park.
Driving time: About 1 hour and 15 minutes to Lake Gregory and another 20 minutes to Lake Arrowhead.
Best time to visit: Any time of year, but summer is the most popular time to visit. In winter, enjoy winter sports and Alps-like scenery.
Route 66 Scenic Drive
Why go: Driving historic Route 66 is a bucket list for many roadtrippers, and you can conveniently do a part of this scenic drive from Palm Springs.
With its famous kitschy roadside attractions, and the epic desert vistas, the section of route you can cover on a day trip runs from Amboy (with a detour to Chambless) to San Bernadino, from where you can return to Palm Springs.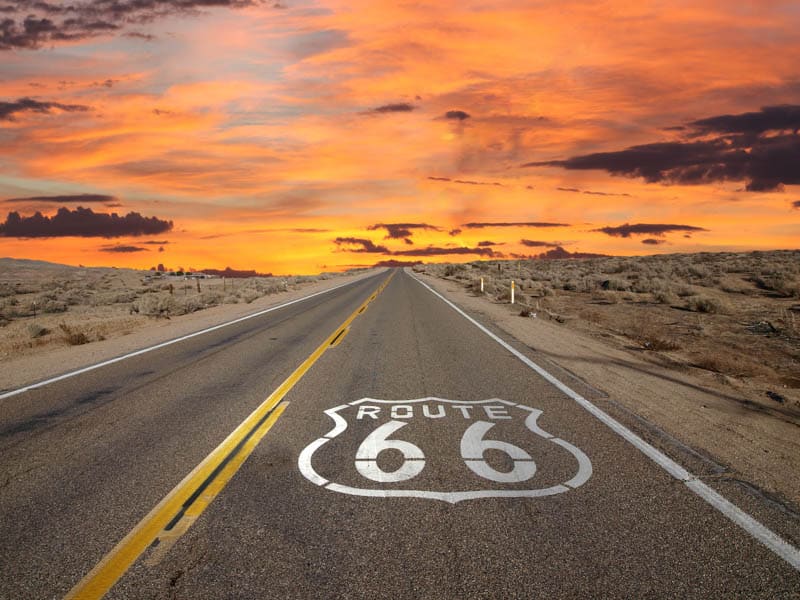 What to do: There's a lot to see and do along this stretch of Route 66.
In Chambless, snap a photo of Graffiti Corridor.
In Amboy, pose for a photo beneath the famous Roy's Motel & Cafe sign, and enjoy the stark beauty of Amboy Crater from the shaded viewing area.
Also in Amboy, look for the Shoe Tree, another Route 66 classic, and the Lions of Amboy.
Explore Pioneer Cemetery in Daggett, and walk the nearby Old West Town of Calico.
In Barstow, a couple of museums are worth exploring: the Route 66 Mother Road Museum, and the Mojave River Valley Museum.
In Oro Grande/Victorville, Elmer's Bottle Tree Ranch is a stunning sight, with the multi-colored bottles hanging from steel tree branches. Try a burger at Emma Jean's Holland Burger Cafe.
Driving time: About 6 hours and 30 minutes with detours to sights along the route.
Best time to go: We recommend doing this drive in the cooler months of the year, from late fall to early spring, so you can get out of the car and explore comfortably.
Coachella Valley Preserve
Why go: Located close to Palm Springs, the Coachella Valley Preserve protects the Coachella Valley fringe-toed lizard, and includes the beautiful Thousand Palms Oasis.
The flora and fauna are very interesting and a variety of guided walks are available if you want to birdwatch or learn more about the plants in the area. The San Andreas Fault is nearby.
What to do: The main activity in the preserve is hiking, and guided nature walks to enjoy wildflowers in season, look for birds and wildlife, and learn more about the desert.
The boardwalk trail through the palms at the Visitor Center is gorgeous, so don't miss it. In places, it feels like you are walking through a tunnel of old palm fronds.
The McCallum Trail is one of the easier trails at the preserve. It links two oases and is particularly good for birding and seeing pupfish and other wildlife.
The Pushawalla Palms Trail is for hikers who like a challenge. At six miles round trip, the trail follows an uplifted section of the San Andreas Fault system to a lush oasis in the heart of a canyon in the Indio hills.
Driving time: About 25 minutes.
Best time to visit: We recommend visiting between late fall and early-ish in the spring for reasonable daytime temperatures for hiking.
The oases are, of course, cooler than the open desert, but most trails cross the open desert. Sun protection and lots of drinking water are essentials.
Castaic Lake State Recreation Area
Why go: With two beautiful lakes set in the midst of mountains and the opportunity for a wide variety of water activities, Castaic Lake State Recreation Area is a fabulous day trip from Palm Springs.
There are several trails for hiking and biking as well.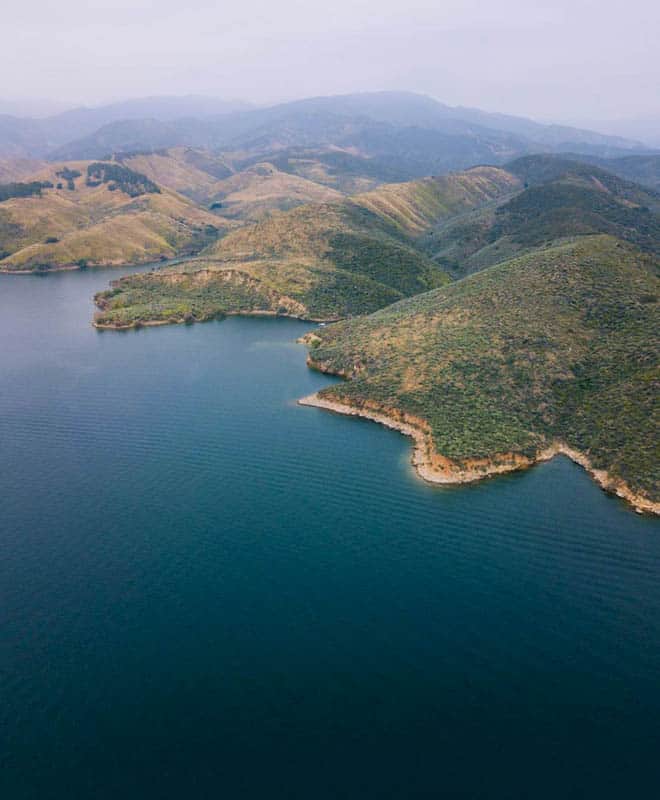 What to do: Take in the majesty of the 425-foot-tall Castaic Dam.
Head to Lower Castaic Lake (also called the Lagoon) for non-power boating, stand-up paddleboarding, and canoeing.
You can also swim at Lower Castiac Lake from mid-May to mid-September. At Upper Castaic Lake, you can enjoy power boating, water and jet skiing, and sailing.
Hiking trails lead up into the hills for great views of the lake from above. Bring your binoculars and look for birds as you walk: from several species of hawks to finches and sparrows, you'll see lots of birds around the lakes.
Driving time: About 2 hours and 10 minutes.
Best time to visit: Summer is the most popular time to visit. The lake may be closed to water activities in the winter.
Pioneertown and Joshua Tree Town
Why go: If you enjoy the strange and the quirky, you will love the town of Joshua Tree, located north of the national park.
The town, a bohemian enclave, features several attractions and is fun to visit separate from the park.
Pioneertown was built as a movie set, and is super fun to stroll if you love cowboy movies!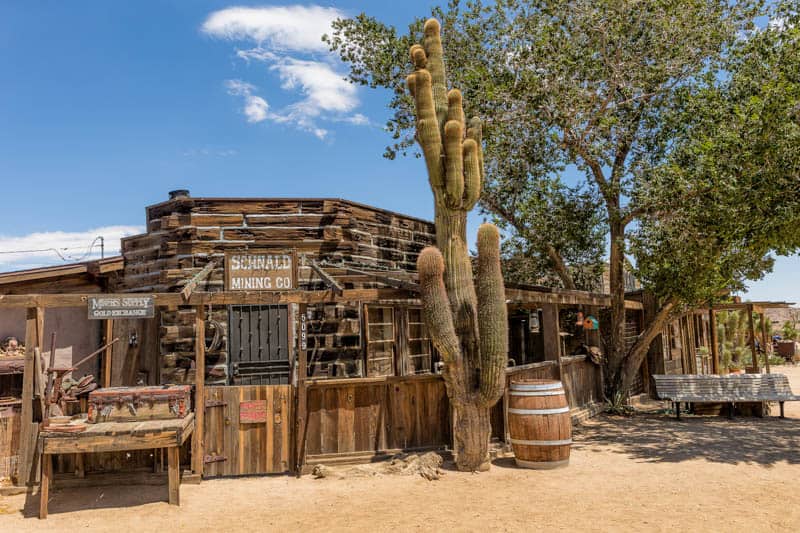 What to do: In Pioneertown, walk around and take in the buildings built for the movies. Numerous movies have been filmed here in the last several decades.
Many of the structures in town are functioning businesses, and if you visit when the town is open, you will find a lively scene, with shops, restaurants, and saloons. Don't miss dining at Pappy and Harriet's!
In Joshua Tree, the town center makes for a fun stroll, with one-of-a-kind boutiques. In addition, go sound bathing at The Integratron, or tour Noah Purifoy's Outdoor Sculpture Park, where you will find structures built from found objects.
See the stuffed crochet animals in the World Famous Crochet Museum, or visit Krblin Jihn Kabin, an art installation that is supposed to be a connection between our world and the parallel universe of Kcymaerxthaere.
Super quirky and very cool!
Driving time: About 40 minutes to Pioneertown and another 20 minutes to the town of Joshua Tree.
Best time to visit: Visit in the cooler months so you can walk around at outdoor attractions comfortably.
Whitewater Preserve
Why go: Beautiful Whitewater Preserve, surrounded by the San Gorgonio Wilderness, is a must visit for nature lovers and outdoor enthusiasts.
A rich birding and wildlife viewing area, the preserve includes Whitewater River, woodlands, canyons, and sand dunes.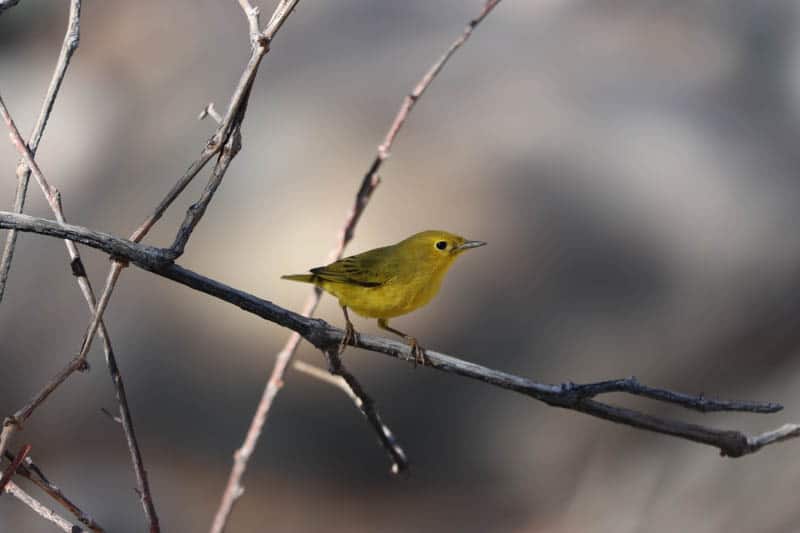 What to do: Hiking is the main thing to do in the preserve: the Pacific Crest Trail, which runs between Canada and Mexico, passes through the preserve.
The Red Dome Trail is a 4-mile round trip hike, where you actually hike on the iconic Pacific Crest Trail for a good part of the way.
The Canyon View Loop Trail is very scenic, and crosses the Whitewater River at one point. Guided hikes are offered, so check prior to your visit.
Birding is another fun thing to do in Whitewater Preserve, so bring your binoculars and zoom lens. The riparian habitat attracts numerous species of water birds, including geese and ducks, grebes, sandpipers, gulls and terns, and land birds, including raptors, wrens, vireos, quail, and flycatchers.
Driving time: About 25 minutes.
Best time to visit: Visit in the cooler months for pleasant daytime temperatures. If you want to see lots of birds, arrive early in the day or depart late: more birds are generally visible around sunrise and sunset.
Anaheim (or Carlsbad)
Why go: If you are traveling with kids, Disneyland in Anaheim is not too far away! If you think that you might not have enough time to enjoy Disneyland on a day trip, another nearby theme park option is Legoland in Carlsbad.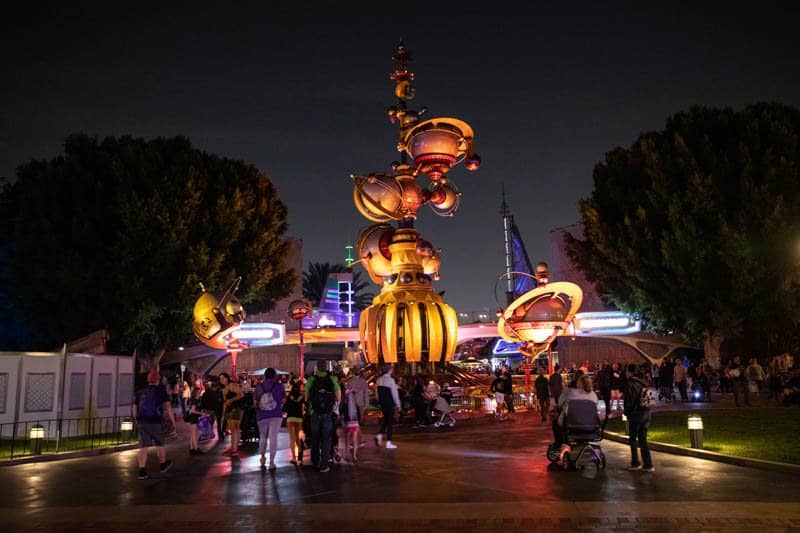 What to do: The rides at Disneyland will keep you engaged all day long. Adults may enjoy some of the more adventurous rides such as Pirates of the Caribbean or the Jungle Cruise. Frankly, we have enjoyed all the rides at Disneyland as adults!
You can also shop in New Orleans Square, stroll Main Street USA, and enjoy all the dining options.
At Legoland, you will enjoy several dozen rides and attractions as well, and you can take a tour to see how a Lego brick is made! There's also a water park to enjoy.
Carlsbad also features great beaches, and, in season, the colorful Flower Fields.
Driving time: About 1 hour and 15 minutes to Anaheim and about 2 hours to Carlsbad.
Best time to visit: Any time of year.
Laguna Beach
Why go: With a number of beautiful sandy beaches, opportunities to enjoy water sports, and tide pooling for kids and adults, Laguna Beach is a top-notch beach town, perfect for a day trip.
But Laguna Beach also has art galleries, a marine center, and great hiking trails, so you have things to do other than the beach.
What to do: Enjoy the pristine beaches. Crystal Cove State Park offers a number of beaches for sunbathing and swimming, and tidepools where you can look for colorful sea creatures.
Visit the Pacific Marine Mammal Center, where marine mammals are rehabilitated and then released back into the wild. Go snorkeling, scuba diving, or surfing.
Tour the public art on display along the waterfront.
Visit the Laguna Art Museum, which is exclusively devoted to California art.
Walk the bluff trail at Crescent Bay Point Park. There are miles of trails on the land side of Crystal Cove State Park as well, if you want a longer, more challenging hike.
Driving time: About 1 hour and 50 minutes.
Best time to visit: Any time of year!
Map of Best Day Trips from Palm Springs, California
Did you find this article informative? Pin it for later reference!