A California road trip is at the top of the bucket list for most visitors to the state. And no wonder!
California's spectacular natural beauty, its wonderful weather, and its vibrant cities and towns make it the perfect road trip destination.
Read on to discover the ultimate itinerary for a road trip through California!
Located on the Pacific Coast, California is the third-largest state in the United States and covers close to 164,000 square miles.
Its landscapes are legendary, spanning the gamut from mountains to deserts and forests to coast, and a leisurely road trip is by far the best way to experience the Golden State.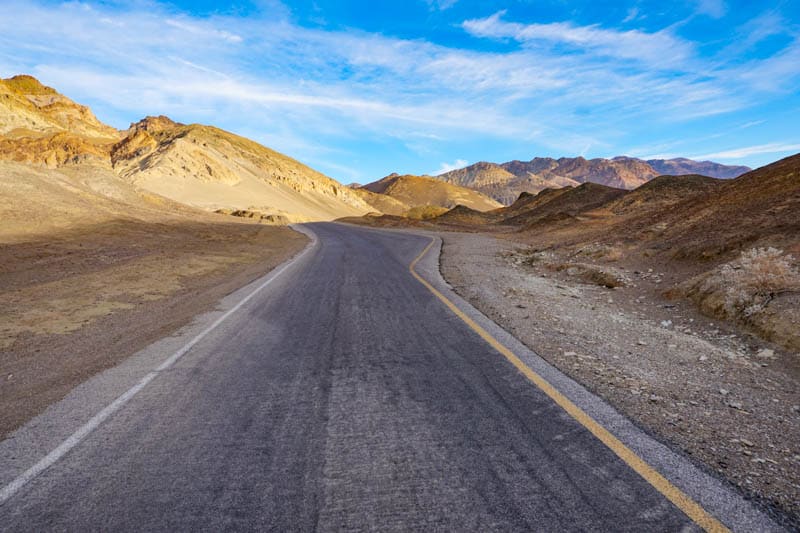 With more national parks than any other state, hundreds of miles of beautiful beaches, some of the most famous theme parks in the world, and dozens of famous landmarks, California has so much to offer that planning a California road trip can seem daunting.
That's why we have created this epic 4-week California road trip itinerary that takes you through all the best parts of the state in four weeks. Excited? Let's get started!
Planning a shorter California road trip? Check out our detailed 2-week California road trip itinerary!
California Road Trip: Basic Information
We have built this California road trip itinerary to include what we think are the highlights, must-see cities and towns, and major landmarks in the state.
Of course, there is so much to see and do in California that you could not possibly fit everything into one trip, even if it is four weeks long!
Our California road trip map below shows all the major stops on the itinerary, but we have included additional stops and detours in our text.
Use our itinerary and map as a guide to build your own unique road trip, tailored to your interests and preferences.
Even though our giant itinerary encompasses four weeks of adventure on the road in California, it is still a fast-paced trip, with lots to keep you engaged every single day.
If you like a more leisurely pace, or if you have less time to devote to the trip, modify the itinerary accordingly.
Want to rent an RV for your California road trip? Check out the great RV rental options at Outdoorsy!
What's the best time of year to do a California road trip?
California is spectacular year round, and you can find a fabulous road trip to do here no matter when you visit.
If you choose to follow this itinerary in full, summer and fall are ideal. You'll have the best driving conditions during these times.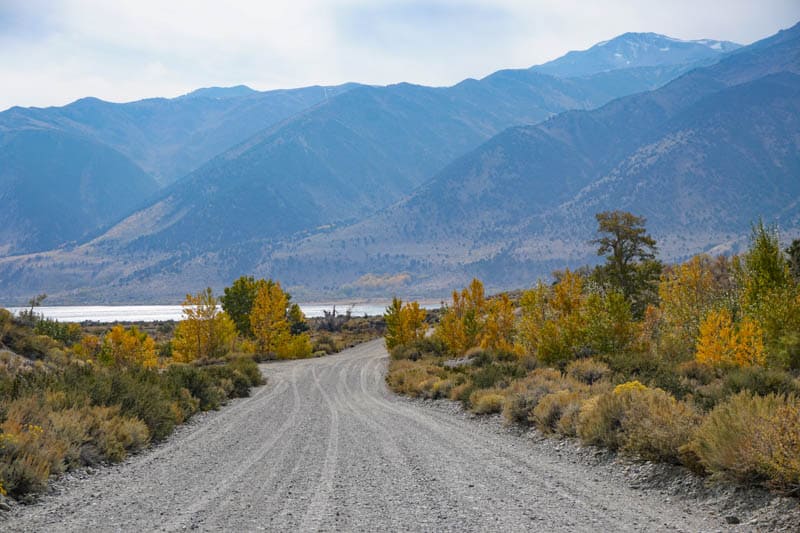 Roads and trails at the highest elevations, such as Tioga Road into Yosemite, and some wilderness areas such as parts of Lassen Volcanic National Park generally do not open until summer, so if those areas are high on your list, definitely plan on summer or early fall.
Summer is the most popular time to visit California. While it is a wonderful time to experience the wealth of attractions and sights in the state, know that accommodation prices will be higher, and there will be large crowds at popular places like the Disney parks and famous landmarks and beaches.
Weather wise, the only thing you have to watch out for in summer is the "June gloom" on the northern coast of California. The famous summer coastal fog can obscure views, but it generally burns off by noon and then rolls in again in the late evening.
Fall is definitely a fabulous time to road trip the Eastern Sierra, where the fall colors are gorgeous. And it's great weather in much of the rest of the state as well, with the northern coast largely free of fog. Hiking trails and beaches are less crowded after schools re-open in the first part of September.
But fall is also wildfire season in California, so you may encounter road closures or the inability to explore certain areas of the state if there are active fires.
Spring in California is extremely beautiful, with hillsides draped in green and wildflowers providing carpets of color. Temperatures are pleasant through much of the state, and accommodation rates tend to be lower than in summer.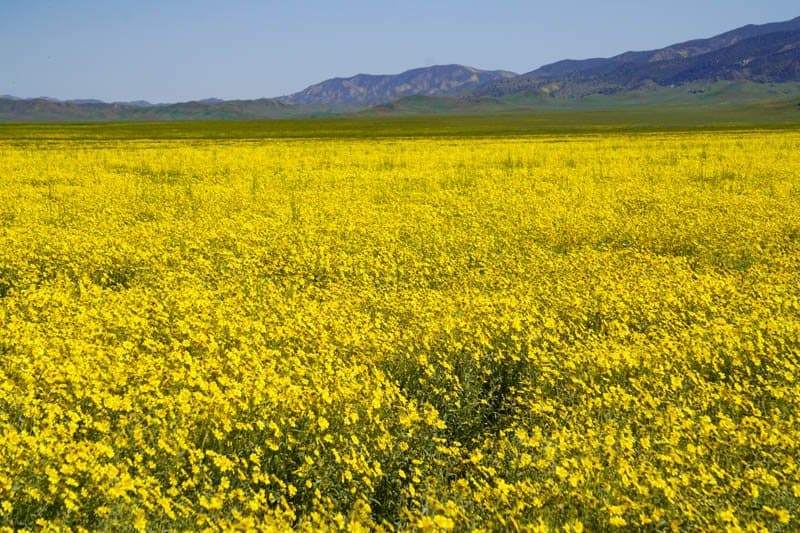 Spring is a terrific time to go on a road trip through most of California. Especially in a superbloom year, the deserts of southern California are awash in color in early spring: a must-visit!
While winter west coast sunsets are awesome and dry days are clear and beautiful, winter is also rainy season in California.
During very wet winters, roads along the coast may be closed due to storms or mud slides, and you may encounter snowfall at higher elevations in the Sierra Nevada mountains.
So if you plan to do this itinerary in winter, keep abreast of weather conditions and possible road closures.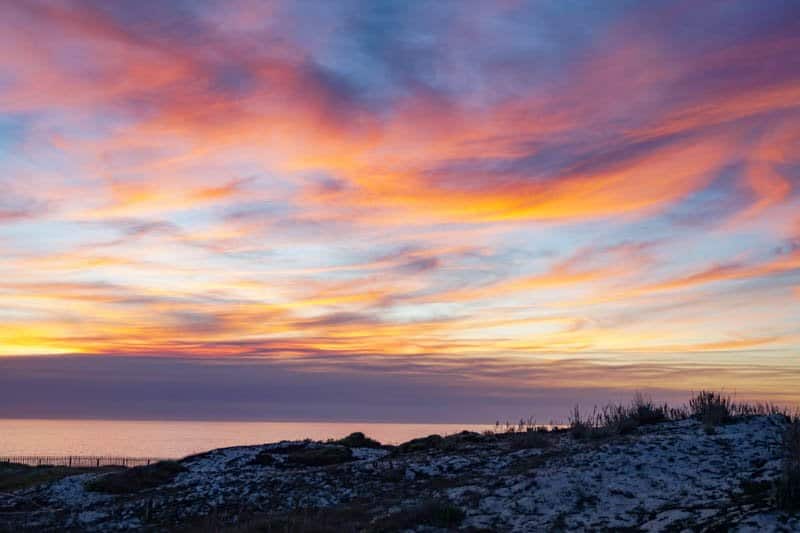 Winter is, however, a wonderful time to road trip southern California, especially the California deserts. Winter daytime temperatures in the desert are in the 70s, making for pleasant hiking and wandering about outdoors during the day.
Looking to explore California is smaller bytes?

Check out our favorite shorter California road trips, or, for mini road trips, our articles on the best weekend getaways from San Francisco or the best weekend road trips from San Diego.

We also have detailed day-by-day itineraries for a Highway 395 road trip, a Big Sur road trip, a California deserts road trip, and a Route 66 in California road trip.

We also have suggested routes for an LA-Vegas road trip.
Where should you start your California road trip?
Our itinerary begins and ends in San Francisco, but you could also do this road trip starting from Los Angeles or San Diego.
You can even start in Las Vegas in Nevada, and drive to Death Valley to begin the route, or in Reno in Nevada, from where you can drive to Lake Tahoe to start the trip.
Each of these large cities has an international airport, and it is easy to rent wheels right at the airport when you arrive. If you are driving into California from another state, simply start the itinerary at the point at which you arrive!
Considering renting a car for your California road trip? Discover Cars offers you the ability to compare availability and prices across many major car-hire companies. Pick the car that best meets your needs.
Check availability and book your vehicle now!
The Ultimate California Road Trip Itinerary (4 Weeks)
Days 1-3 – San Francisco
Begin your California road trip in San Francisco, the City by the Bay.
One of California's most well-known cities, San Francisco packs a lot into its just under 47 square miles: famous landmarks, diverse neighborhoods, world-class eateries, history, and culture.
Visit Golden Gate Park, with its many gardens and museums. Walk or bike the iconic Golden Gate Bridge. Tour Alcatraz, the prison that once held Al Capone.
Take in the views from the top of Coit Tower. Walk through Chinatown. Snap a photo of the Painted Ladies, the famous Victorian houses of Alamo Square.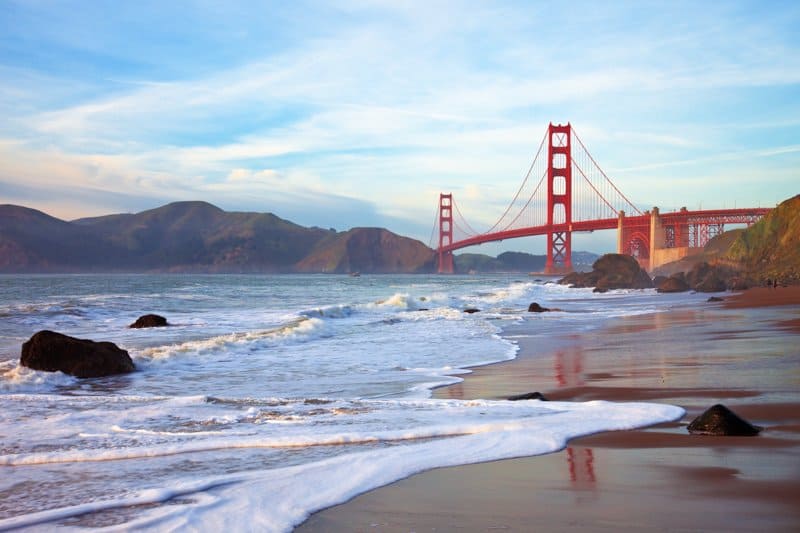 Take a ride on a historic San Francisco cable car. Stroll Fisherman's Wharf. Sample the goodies in the Ferry Building marketplace.
Visit the San Francisco Museum of Modern Art. Admire the beautiful Palace of Fine Arts. Eat at one of the many popular brunch spots in the city.
While 3 days in San Francisco is way short of the amount of time you'd ideally want to spend in this vibrant city, you can still check some items off your San Francisco bucket list in that amount of time.
Days 4-5 – Monterey Peninsula
From San Francisco, take Highway One along the water for the scenic route down the coast, or if you prefer to spend more time exploring at your destinations, take the freeway down to the Monterey Peninsula.
With loads of great restaurants, beautiful wineries, and sights and activities you cannot miss, the Monterey Peninsula offers tons of choices on what to do in your time here.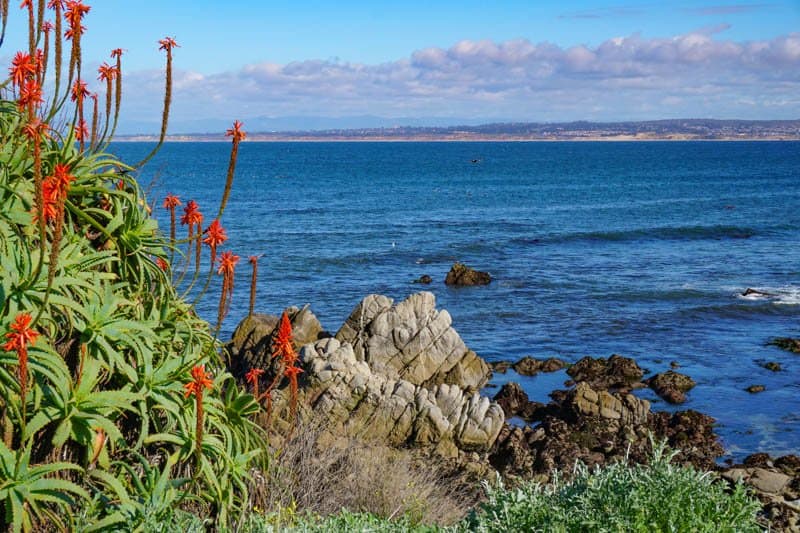 The pretty towns of Monterey, Pacific Grove, and Pebble Beach, the quaint seaside village of Carmel-by-the-Sea, the rustic but beautiful Carmel Valley, and the Salinas Valley, known as the salad bowl of the world, are all yours to explore in the peninsula.
Visit the world-famous Monterey Aquarium, stroll Cannery Row, and do a whale watching tour in Monterey. The Monterey Bay is one of the best places in the world to see seabirds and marine mammals. On one whale-watching tour, we saw more than 30 whales, fluking, breaching, and spouting.
There are many fun things to do in Carmel-by-the-Sea: walk the little village, admire the fairytale cottages and Spanish architecture, browse the many boutiques, and have a picnic at sunset on the beautiful Carmel Beach.
In nearby Carmel Valley, enjoy wine tastings with vineyard views.
Visit Point Lobos State Reserve, a jewel of a state park located just 3 miles from the village.
Many of the Point Lobos hiking trails are easy and offer superb ocean vistas. Try the short and spectacular Bird Island trail if you have limited time in the park.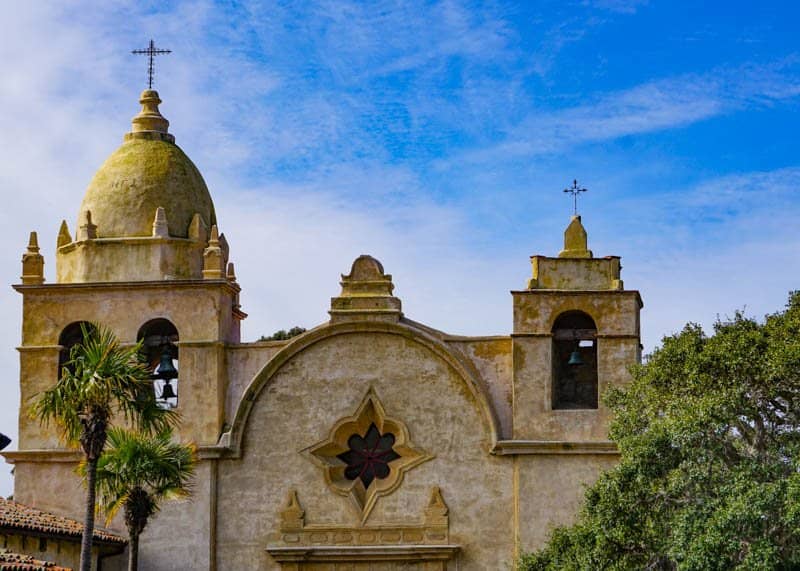 Do the famous 17-mile Drive in Pebble Beach. Watch seabirds and snap photos of the rocks at Asilomar in Pacific Grove. In Salinas, visit the National Steinbeck Center and drive around to see fields of lettuce and strawberries.
Day 6 – Big Sur Drive
Today is the day to enjoy one of the most iconic drives in California.
The Big Sur drive is rated one of the most scenic in the world, with spectacular water views along the entire route from Carmel down to just short of San Simeon, where the Central Coast begins.
Start early to maximize your sightseeing time. There are numerous pullouts along the road, and the views are so jaw-dropping that you'll likely want to stop at each one to take photos.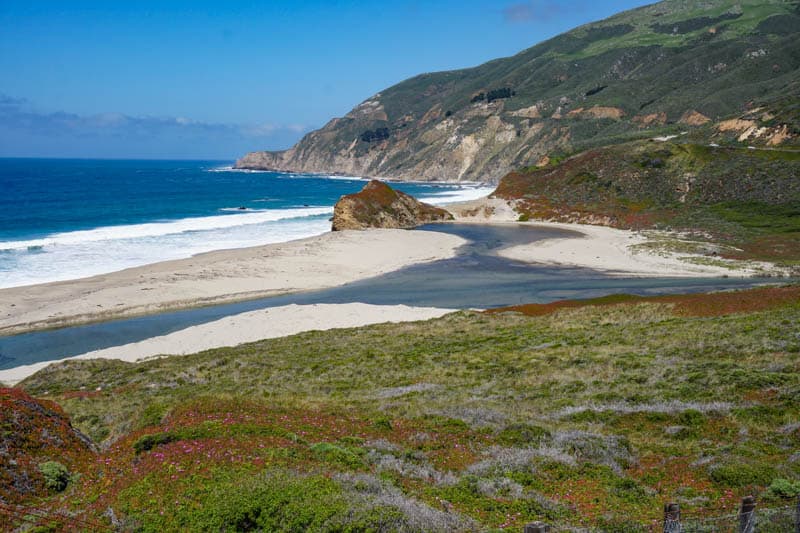 There are several must-stop spots along the drive. Garrapata State Park is a local favorite because of its wild beauty. Walk the short Garrapata Bluff Trail to admire the coastal flora or stroll Garrapata Beach.
Bixby Creek Bridge is an engineering marvel and a fabulous photo spot. Pfeiffer Beach has a gorgeous natural arch and purple sand!
Picturesque Point Sur Lighthouse stands atop a rock and offers gorgeous views of the ocean. McWay Falls, one of the prettiest waterfalls in California, is a scenic gem, with the water tumbling down onto the pristine beach below. It's the perfect picture postcard!
While you can view McWay Falls from the road, you can also walk a short trail in Julia Pfeiffer Burns State Park for a great view.
There are no less than seven beautiful state parks along the Big Sur stretch of the Pacific Coast Highway (including the Point Sur State Historic Park), if you want to squeeze a couple of short hikes into your day.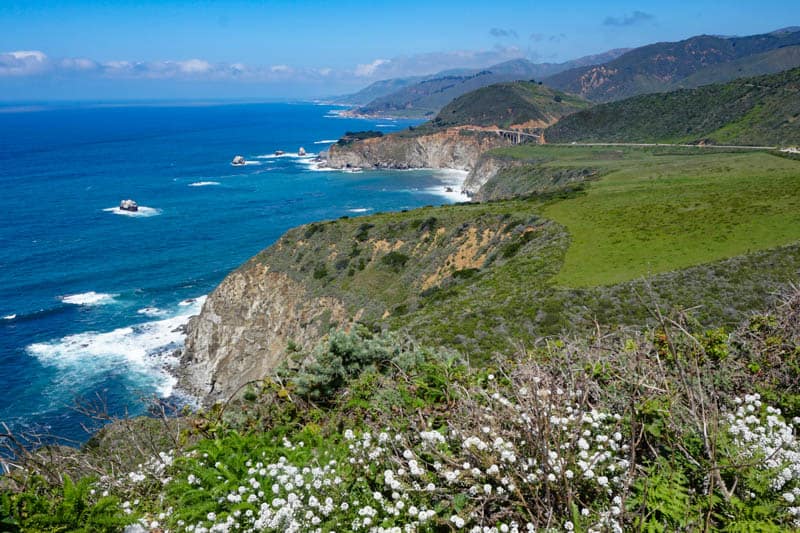 If you still have time at the end of the day, you can do a tour of the famous Hearst Castle in San Simeon, another of California's must-visit state parks. The former estate of publishing magnate William Randolph Hearst, the property offers a variety of guided tours.
Day 7 – Cambria, Morro Bay, and San Luis Obispo
The beach towns of Central California are charming, offering beautiful beaches and great food and wine options. With just one day to spend in the area, pick one or two places to soak in the vibe.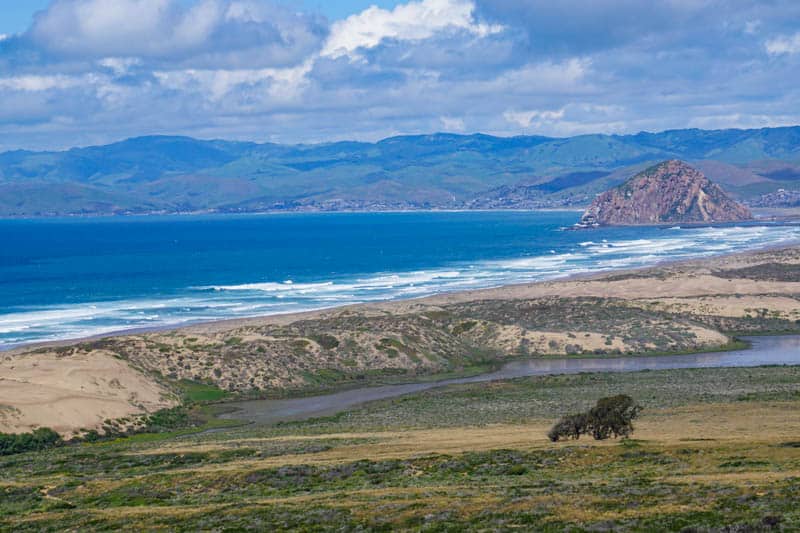 Cambria is a tiny coastal gem, with a couple of beautiful walks by the water. The Moonstone Beach Boardwalk Trail is both short and easy, as is the Bluff Trail at the Fiscalini Ranch Preserve. Cambria's main street is quaint and filled with boutique shops and galleries.
Harmony is a tiny community where you can enjoy tasting local wines, take pictures of quirky cow sculptures, eat delicious ice cream, and take a glass blowing class!
Cayucos has a laid-back vibe with a beautiful beach, colorful murals, and hiking in scenic Estero Bluffs State Park.
You can't miss the enormous Morro Rock, rising up from the water just off the coast. You can do a tour of the bay to get up close to the rock and to see marine life. Morro Bay has a couple of nice beaches and lots of excellent seafood places.
At Los Osos, walk the scenic Bluff Trail at the Montana de Oro State Park. An easy trail suitable for all levels of hikers, the trail offers spectacular ocean views and views of the coastline, as well as the opportunity to see wildlife.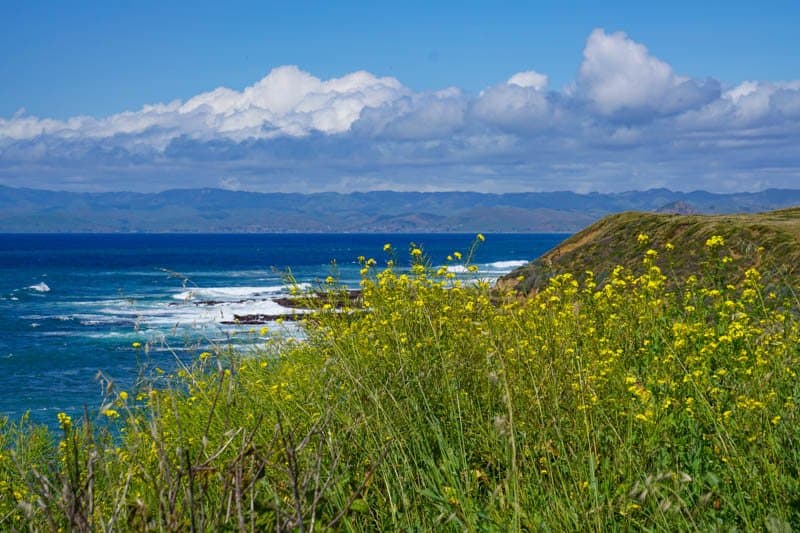 San Luis Obispo is larger, and a great place to spend the night. With a beautiful walkable downtown, a fabulous food scene, and a well-known wine district in Edna Valley just outside town, San Luis Obispo is just the place to spend the evening.
Or head just a little further south to Pismo Beach, where the beach is large and sandy and you can get a room overlooking the Pacific Ocean.
Day 8 – Santa Ynez Valley and Santa Barbara
Starting a little south of Pismo Beach, Highway One veers inland, passing through less scenic flat farmland, so take the faster freeway to Los Olivos in the Santa Ynez Valley.
Solvang is the most famous of the little towns in the valley. Unabashedly touristy, yet cute and charming, Solvang is known for its Danish architecture, wineries, and bakeries offering traditional Danish treats.
At Buellton, you can taste moonshine at one of its famous distilleries, or sample craft beer at one of several area breweries. Santa Ynez is known for its Old West facades and great eateries, and Los Olivos is famous for its wineries.
From the valley, do the scenic-but-a-tad-scary drive along the Chumash Highway (California SR 154) to Santa Barbara. With its red tiled roofs and tall palms lining the water, and its Mediterranean climate, Santa Barbara is known as the American Riviera.
Visiting Mission Santa Barbara is one of the top things to do in Santa Barbara: it is one of the most beautiful of the 21 California missions built in the state by the Spanish.
Take in the panoramic views of the city from the clock tower of the Santa Barbara County Courthouse. The interior of the courthouse has some lovely tile work.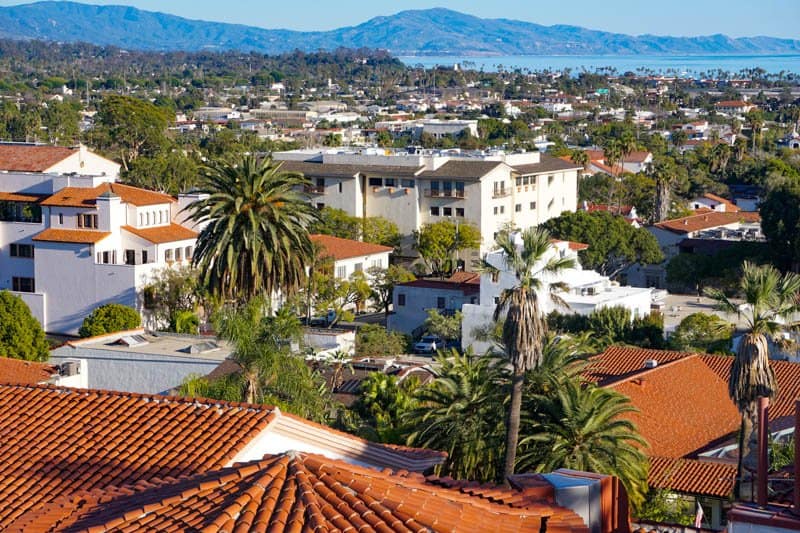 Visit the gardens at Lotusland, or the Santa Barbara Botanic Garden. Both gardens are among California's best botanical gardens.
Spend some time on the beach: pristine Butterfly Beach in Montecito is a great spot to watch the sun set. East Beach in Santa Barbara is a nice option as well.
Then stroll State Street in downtown Santa Barbara before winding down with some wine and a nice dinner.
Days 9-11 – Santa Monica and Los Angeles
The beachfront city of Santa Monica is known for its iconic Ferris wheel. While in Pacific Park, don't forget to admire the historic Looff Hippodrome Carousel: it's where Paul Newman worked when he acted in The Sting!
Santa Monica also features lots of shopping, several dozen museums and art galleries, and rooftop bars overlooking the water. And its farmers' markets are famous, worth browsing if one is happening when you are visiting.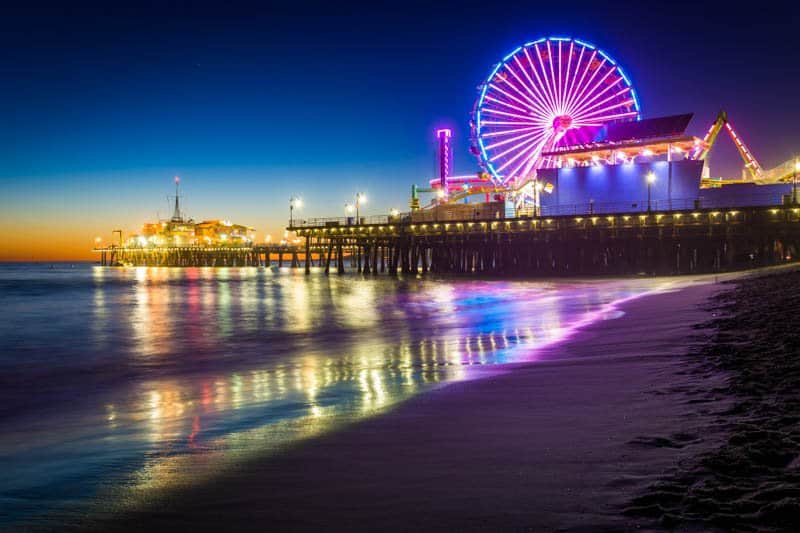 No visit to the area would be complete without a visit to Hollywood. Check out the Hollywood Walk of Fame and the TCL Chinese Theatre. Stroll Rodeo Drive, with its tony stores, or drive iconic Sunset Boulevard.
Love museums? A visit to the LA County Museum of Art (LACMA) is a must. The outdoor installations are stunning, as are the collections inside. Also tour the Getty Villa, with its gorgeous gardens, and take in the views from Griffith Observatory.
There are more than enough things to do in Los Angeles to keep you engaged for weeks, but if you wish, you can spend one of your days here doing a day trip to Channel Islands National Park, made up of 5 beautiful islands. Ferries leave from Oxnard, about an hour's drive from LA.
Day 12 – Disneyland
Whether you are visiting California with kids or not, a visit to Disneyland is a must. We've visited numerous times, and I would still go back in a heartbeat. The resort is made up of two parks: Disneyland Park and Disneyland California Adventure.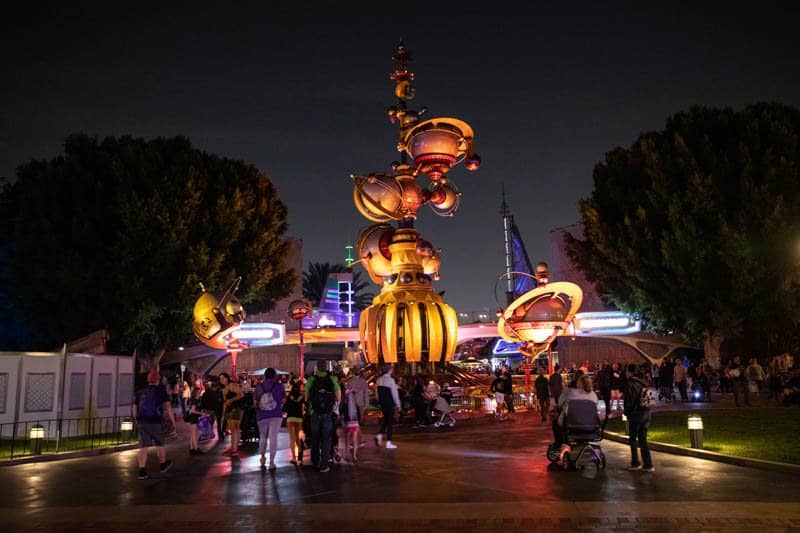 Both kids and adults can enjoy the rides, that range from the cute to downright thrilling. But there is so much more to see and do in Disneyland: shows, parades, fireworks and illuminations, shopping, and great photo spots.
And the food and drink options are both diverse and exciting. You can grab quick eats from stands or have a leisurely meal at one of the upscale restaurants in the resort. Try the Monte Cristo sandwich at Blue Bayou or the beignets at Cafe Orleans: yum!
Days 13-14 – San Diego
With miles of golden sand beaches, vibrant neighborhoods, and a plethora of must-visit sights and attractions, San Diego is a great year-round destination for all types of travelers.
Balboa Park, an incredible complex of gardens and museums, is located right in the heart of downtown San Diego. The Balboa Park gardens are a joy to wander, as is the complex, with its beautiful architecture.
Here you can also catch a performance at the Spreckels Pavilion, which features the largest outdoor organ in the world.
Visit Cabrillo National Monument, where you can hike, go tidepooling, and view Ballast Point, where Cabrillo's ship landed in September 1542. It was the first European expedition to land in California. For more history, head to Mission San Diego de Alcala, the first Spanish mission built in California.
The Maritime Museum of San Diego is home to the Star of India, a 19th century merchant sailing ship. Or visit the USS Midway, a 20th century American aircraft carrier and now a museum. Do a harbor cruise and stroll Seaport Village. Catch some rays at the gorgeous Coronado Beach.
La Jolla Cove to the north offers beautiful views and the opportunity to see seabirds and sea lions. The Village is a great place to browse boutiques and art galleries.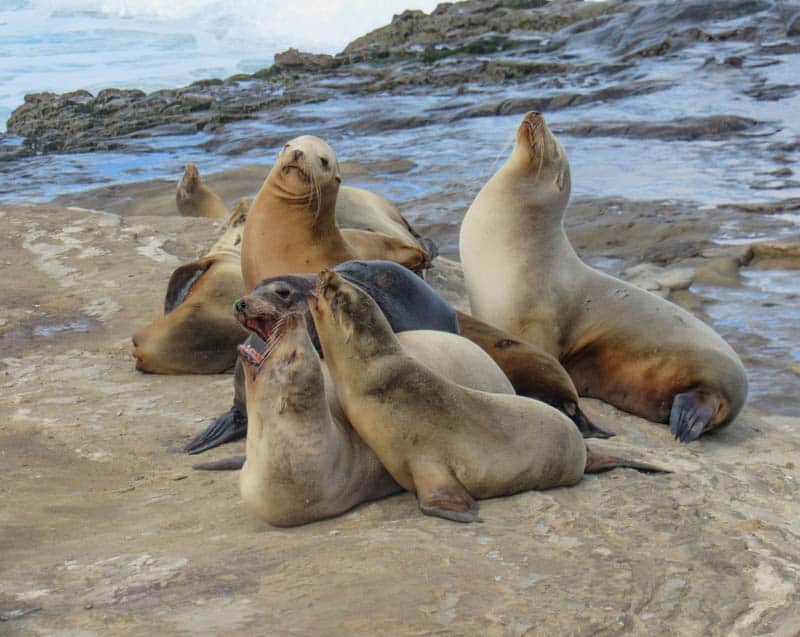 Hike the oceanfront trails at Torrey Pines State Reserve. Learn to paraglide or watch the gliders at the Torrey Pines Gliderport.
Days 15-16 – Palm Springs and Joshua Tree National Park
Palm Springs is home to gorgeous mid-century modern architecture, and numerous resorts and golf courses. The Greater Palm Springs area offers numerous desert hikes, lots of public art, hot springs, and strollworthy succulent gardens at Sunnylands.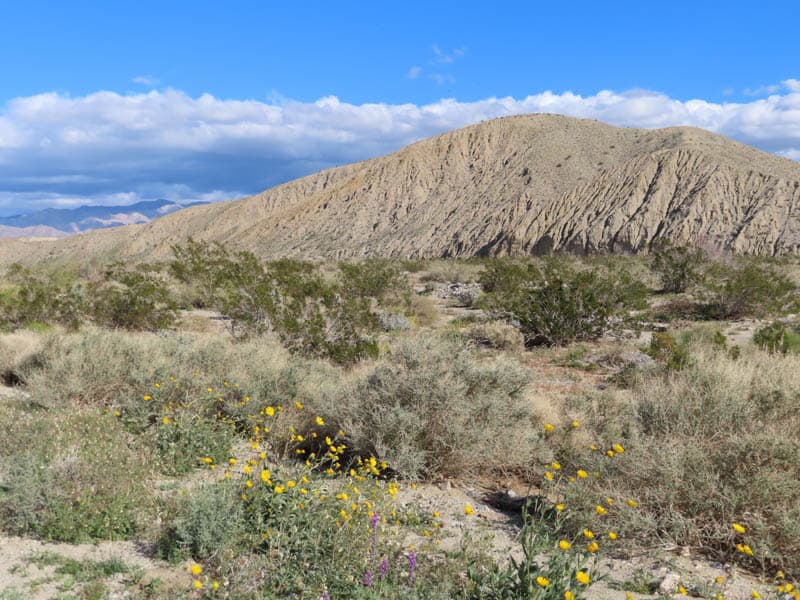 From San Diego, you can choose to go to Palm Springs via the Temecula Valley wine country and Idyllwild, then going down scenic California SR 74 to Palm Desert, or you can go via Julian, Anza-Borrego State Park, and along the shore of the Salton Sea. Both routes offer things to do along the way.
Joshua Tree National Park is just an hour's drive from Palm Springs, and a day trip to the famous desert park should definitely be part of your itinerary for the city. Or you can rent a home in the desert: you will find excellent options for places to stay in Joshua Tree.
Straddling two deserts, the park is home to unique rock formations and the namesake Joshua trees, a large cholla cactus garden, an ocotillo patch, and three fan palm oases.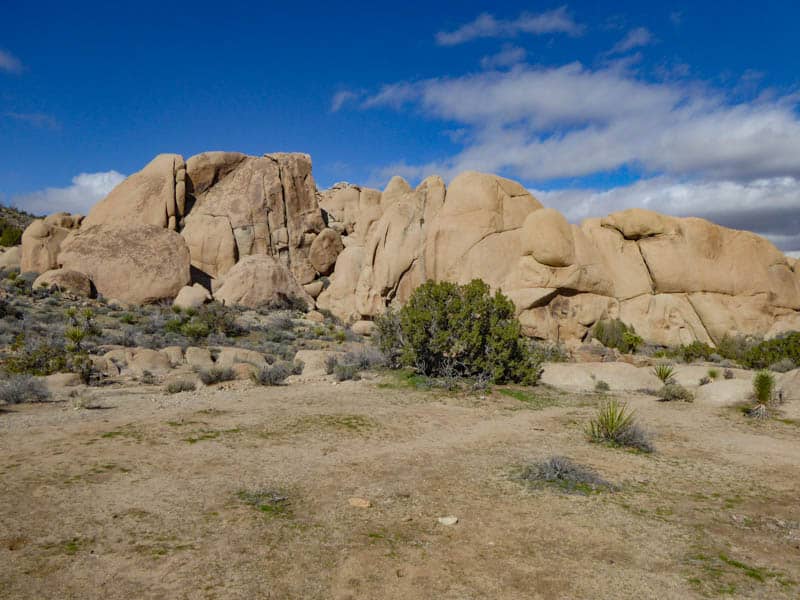 In one day in Joshua Tree NP, you can do the scenic drive through the park, hike the scenic Hidden Valley nature trail, admire the unique flora and fauna, do the Barker Dam hike, enjoy a bit of rock scrambling, and take in the sunset from Keys View.
Days 17-18 – Death Valley National Park
Today you'll head to another iconic California desert park: Death Valley National Park. Featuring epic desert landscapes, amazing hikes and stargazing, and beautiful viewpoints, Death Valley National Park is the highlight of a Southern California itinerary for anyone that loves nature.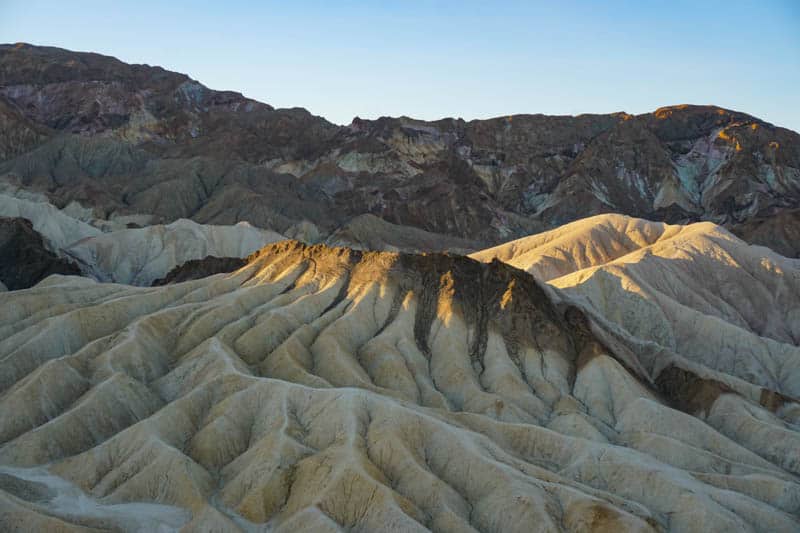 At 3.4 million acres, Death Valley NP is the largest national park in the contiguous United States. But even though the park is vast, many of the major sites are clustered within reasonable driving distance of one another.
Watch the play of light and shadow at Mesquite Flat Sand Dunes. Visit Badwater Basin, the vast salt flats that are home to the lowest point in North America. Hike Mosaic Canyon, with its natural marble and mosaic. Walking the salt flats is an epic experience. Admire the beautiful colors of the hills at the Artist's Palette viewpoint.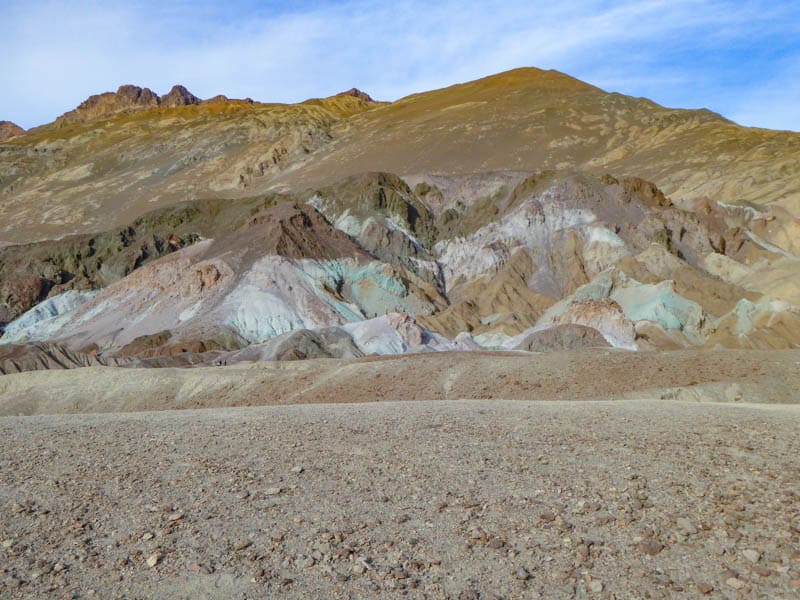 Be awed by the surreal views from Zabriskie Point. Drive up to Dante's View for panoramic views over the valley and beyond to the mountains. Join a ranger-led tour to discover local flora and fauna. Gape at the millions of stars in the dark skies at night if you visit on a clear no-moon or low-moon night.
Days 19-20 – Mammoth Lakes
Drive up scenic Highway 395 to Mammoth Lakes. The Eastern Sierra landscape is breathtaking, and you will be surprised that you are out of the desert and into the mountains in just a few hours!
With lots of beautiful sights and things to do on Highway 395, you'll not want for choices.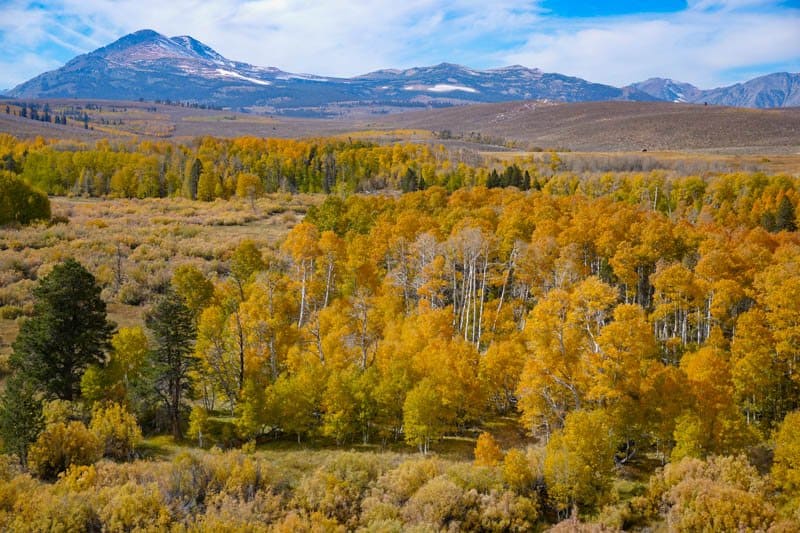 At Lone Pine, you can drive up Whitney Portal Road, which leads up to the trailhead for Mt. Whitney, the tallest mountain in the continental USA.
Also tour the rugged Alabama Hills, the location for hundreds of Western movies. At Bishop, take the detour to the Ancient Bristlecone Pine Forest, to see the oldest trees on the planet. Bishop CA is also home to several beautiful lakes.
Mammoth Lakes is a well-known winter ski resort, but it is beautiful in other seasons as well. Convict Lake, just a couple of miles outside town, is a favorite sunrise spot for photographers. Minaret Vista offers stunning panoramic views of the jagged peaks.
Devils Postpile, the national monument featuring tall columns of basalt, is another must-visit: here you can also hike to Rainbow Falls, one of the most majestic waterfalls in California when in full flow. The June Lake Loop, north of Mammoth Lakes, is a short but super scenic detour.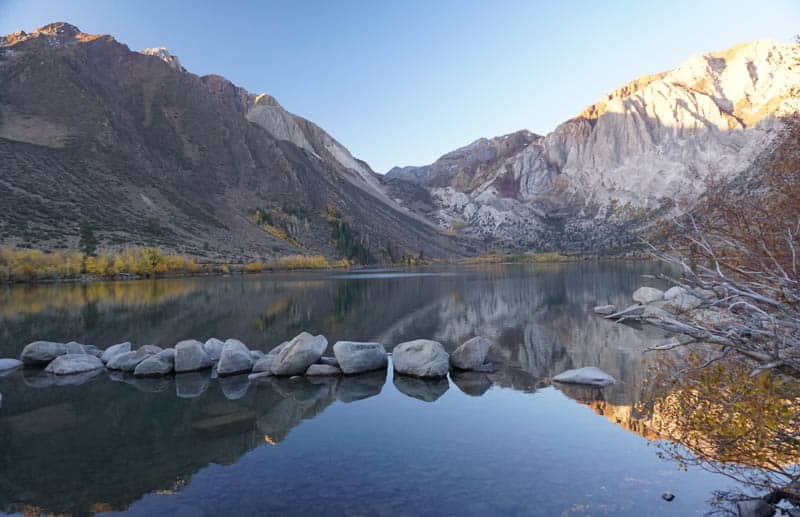 While US 395 is beautiful any time of year, it is particularly stunning in fall, when the changing leaf colors turn entire hillsides and the sides of lakes and roads to blazing yellow and orange.
Days 21-24 – Yosemite National Park, Sequoia and Kings Canyon National Parks
North of Mammoth Lakes, SR 395 continues on to Lee Vining, where you can take Tioga Road into Yosemite National Park. En route, make a quick stops to see the limestone tufas at Mono Lake, a saltwater lake that is home to millions of birds.
Now it is time to enjoy the spectacular landscapes of Yosemite National Park, with an optional day trip to see the giant trees in Sequoia National Park and Kings Canyon National Park, just a couple of hours south from Yosemite.
Having three of California's national parks within easy reach of one another is convenient, right?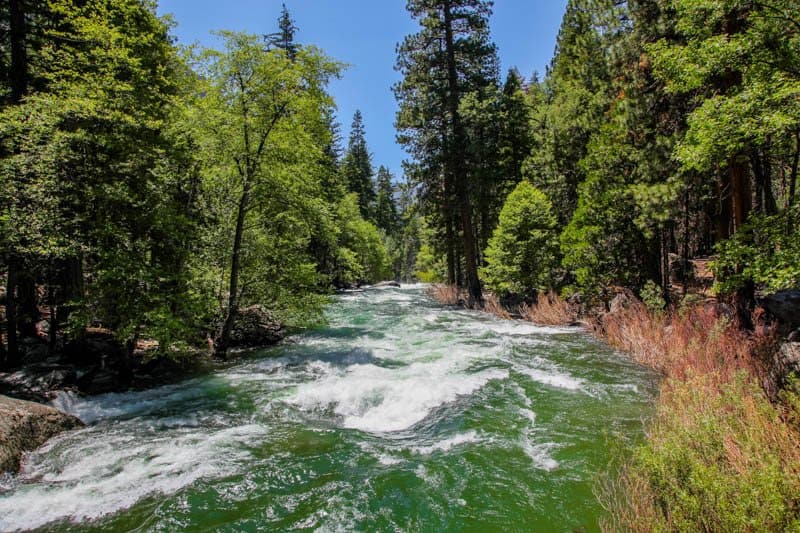 At Yosemite, drive to the viewpoints at Glacier Point and Tunnel View to see Half Dome and El Capitan. Explore Yosemite Valley, where you can learn about the history of the park. Walk among wildflowers at Tuolumne Meadows in late spring and early summer.
Hike to the iconic waterfalls in the park: along the popular Mist Trail, you'll get sprayed by the mist from Vernal and Nevada falls as you climb up the natural staircase to the top! Yosemite's waterfalls are best in late spring. At the south of the park, Mariposa Grove features mature sequoia trees.
For more epic outdoor adventures, spend one day in Sequoia and Kings Canyon National Parks, just a few miles from each other. There are numerous scenic hikes in both parks, of different lengths and difficulty.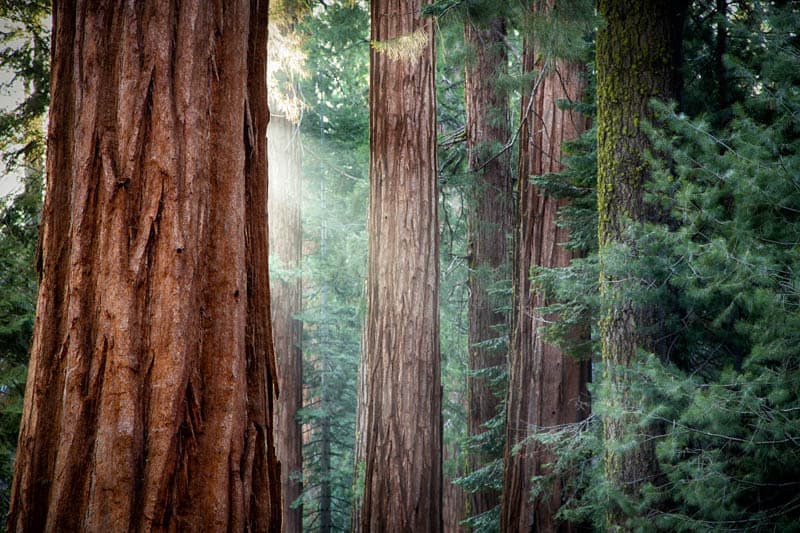 At Sequoia National Park, you can pose for a photo at the base of General Sherman, the largest tree on the planet. Its trunk measures 36 feet at the base!
In Kings Canyon, a short trail takes you to the General Grant Tree, also called America's Christmas Tree. Kings Canyon is also home to the deepest canyon in the USA.
Days 25-26 – Lake Tahoe
Straddling California and Nevada, Lake Tahoe is a gorgeous freshwater lake high in the Sierras. With its crystal clear water, beautiful beach areas and walks, and wonderful hikes, Lake Tahoe is one of the best lakes in California to visit.
Visit Emerald Bay State Park, one of the most scenic parts of the lake. From the lookout along the road, snap photos of the panoramic views. Look for Fannette Island, Lake Tahoe's only island. Visit Vikingsholm, a former summer home built in the Scandinavian style.
The drive along the shore of the lake is spectacular. At the north end of the lake, King's Beach is the go-to place for sunbathing and swimming. You can also take a boat out on to the water.
At the south end of the lake, take the Heavenly Mountain gondola to the top for stunning aerial views of Lake Tahoe. If you visit in the fall, do the 30-minute drive from South Lake Tahoe to Hope Valley for spectacular fall colors.
Do a leisurely cruise of the lake: cruises depart from Zephyr Coast, on the Nevada side of the lake. Also on the Nevada side, the boardwalk trail at Sand Harbor State Park offers up-close views of the giant boulders along the shore of the lake. It's a great place to see the sun set.
Days 27-28 – Napa and Sonoma
On your way from Lake Tahoe to the Napa Valley, you'll pass Sacramento, the state capital. If you get an early start, you may want to stop for a few hours to take in the sights in Old Sacramento, which recreates the Gold Rush era.
Northern California's top wine country destinations feature not just renowned wineries but also world-class restaurants, great shopping, and beautiful drives. There are so many exciting things to do in Napa Valley (and Sonoma) besides drinking wine!
Drive California SR 29 from the town of Napa, in the south of the Napa Valley, to Calistoga on the north end. Along the way, stop for tastings at the wineries of your choice. Some of Napa Valley's best wineries also feature great art and architecture and are worth visiting even if you don't want to do a tasting.
The town of Yountville has a strollworthy Main Street, especially beautiful in the fall, when both trees and vines change color. The walk also features beautiful works of art. Stop for a sweet treat at Bouchon Bakery, but be prepared to wait in line! In Yountville, you can also dine at The French Laundry, albeit with reservations made way before your visit.
Ride the Napa Valley Wine Train. Sample the goodies in the Oxbow Public Market in Napa. Enjoy mud baths in Calistoga. Have lunch at the Culinary Institute of America in St. Helena, and watch chefs do their magic in the large open kitchen. You can even take a class here!
In Sonoma, walk beautiful Sonoma Plaza, visit more world-class wineries, or drive to the coast to enjoy the trails at the Sonoma Coast State Park. If you visit in May, you might catch area lavender fields in peak bloom: they truly are a gorgeous sight!
Day 29 – Day Trip to Muir Woods or Point Reyes National Seashore
Back in San Francisco, head out for a relaxing day trip to one or both of the beautiful natural areas close to the city: Muir Woods National Monument and Point Reyes National Seashore.
Muir Woods is famous for its towering redwoods. Signposted walking trails wind among the trees. Located just 12 miles north of the city, the national monument is a hugely popular getaway, and reservations are mandatory.
In the Cathedral and Bohemian Groves in Muir Woods, you can view mature coastal redwoods, some of which are over 250 feet tall. The main paved trail is an easy and short walk, with lots of information on the flora and fauna in the park. You can also walk moderate longer trails in the park.
At Point Reyes National Seashore, just a one-hour drive from San Francisco, you can experience the wilder north coast of California. With miles of hiking trails, you have lots of options for exploring the shore.
Pose for a photo in the iconic Cypress Tree Tunnel. Snap a photo of the picturesque Point Reyes Lighthouse. Visit Drakes Beach, with its gorgeous sandstone cliffs. Photograph the famous Point Reyes Boat, a favorite of local photographers. Stop in at Tomales Bay Foods to sample Cowgirl Creamery's iconic California cheeses.
Day 30 – Say Goodbye to California!
You've completed the Great California Road Trip: congratulations! After four epic weeks on the road in California, exploring the best of what the Golden State has to offer, it's time to return home or move on to your next travel adventure.
4-Week California Road Trip Itinerary At A Glance
Days 1-3: San Francisco
Days 4-5: Monterey and Carmel-by-the-Sea
Day 6: Big Sur
Day 7: Cambria, Morro Bay, and San Luis Obispo
Day 8: Santa Ynez Valley and Santa Barbara
Days 9-11: Santa Monica and Los Angeles
Day 12: Disneyland
Day 13-14: San Diego
Days 15-16: Palm Springs and Joshua Tree National Park
Days 17-18: Death Valley National Park
Days 19-20: Mammoth Lakes
Days 21-24: Yosemite, Sequoia, and Kings Canyon National Parks
Days 25-26: Lake Tahoe
Days 27-28: Napa Valley and Sonoma
Day 29: Muir Woods National Monument and Point Reyes National Seashore
Day 30: Depart
Did you find this article informative? Pin it for later reference!