Mammoth Lakes is a year-round playground with plenty of things to do in every season. Offering exciting recreation opportunities in a sensationally beautiful setting, the Eastern Sierra resort town is a must-visit getaway for couples, families, and solo travelers alike.
Known for majestic Mammoth Mountain and the lakes of the Mammoth Lakes Basin, Mammoth Lakes is worth visiting for its spectacular natural scenery and several geological wonders. It is a magnet for outdoor enthusiasts, nature lovers, and landscape photographers.
Although you will not want for exciting things to do in Mammoth Lakes, it is also a place to just "be" in the incredible beauty of your surroundings.
Magnificent mountains, lovely lakes, and verdant valleys abound around the town, and you will find picture postcard scenes everywhere you look.
In this article, we've rounded up the best things to do in Mammoth Lakes: in the summer, and the shoulder seasons of late spring and fall. During this time, roads are generally open, lakes thawed, and a variety of activities are on offer.
Things to Do in Mammoth Lakes, CA
1. Step into the Mammoth Lakes Welcome Center
The Mammoth Lakes Welcome Center and Ranger Station makes a great first stop on your trip to Mammoth Lakes. Located on Main Street in the town of Mammoth Lakes, the center is open year round.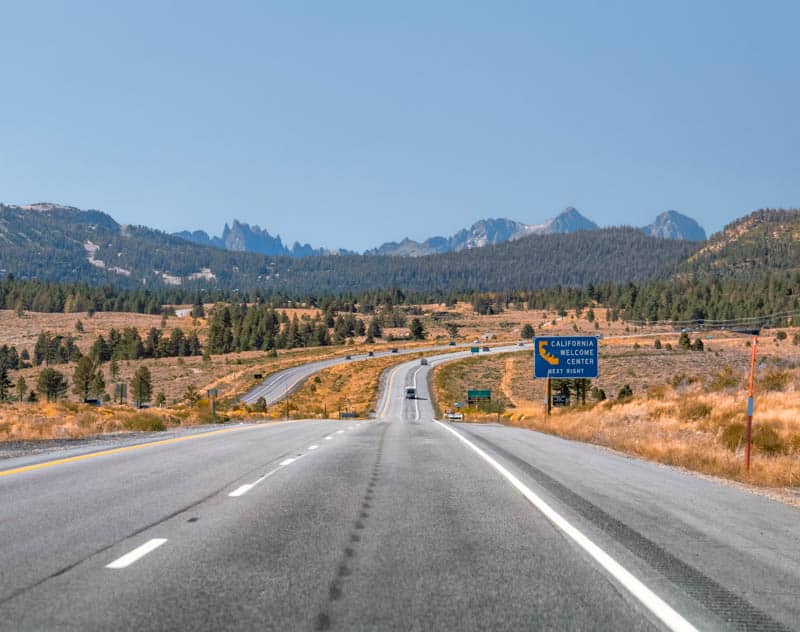 The Center is operated by the Inyo National Forest, Mammoth Lakes Tourism, the National Park Service, and the Eastern Sierra Interpretive Association.
At the Center, you can look for information material such as books, brochures, and maps, and browse gift items.
Staff is on hand to answer questions, offer suggestions on activities, and provide information on trail conditions and area closures or hazards.
You can also inquire about wilderness permits, obtain camping information, and rent bear canisters at the Welcome Center.
2. Visit Devils Postpile National Monument
Devils Postpile National Monument protects the stunning Devils Postpile formation and Rainbow Falls, and the beautiful scenery around the two natural wonders.
Exploring Devils Postpile National Monument is one of the best things to do in Mammoth Lakes!
The Devils Postpile formation is made up of tall columns of basalt, created by the cooling of lava about 80,000-100,000 years ago. While the columns used to be even taller, some of them are still about 60 feet tall. Others have broken and collapsed.
The Devils Postpile basalt columns are hexagonal in shape. You can view the formation from below, and then, if you like, you can walk up and view the tops of the columns as well. It is exciting to view this fine example of Nature's sculptural abilities!
Devils Postpile National Monument is only open to vehicular traffic a few months of the year, generally between June and October. If it is open when you visit, do not miss it!
There's a shuttle bus that runs during the season from the town of Mammoth Lakes, and if it's running, with very few exceptions, you have to ride the shuttle to arrive between 7 a.m. and 7 p.m.
3. Hike to Rainbow Falls
Also located in the Devils Postpile National Monument in Reds Meadow, Rainbow Falls is one of the most beautiful waterfalls in California. The waterfall, on the Middle Fork of the San Joaquin River, plunges 101 feet from the top of the cliff.
Rainbow Falls got its name from the rainbows that appear in the spray on sunny days. The waterfall flow is most powerful in the early summer, but we found it beautiful even when the flow was more muted, later in the year. And in some years, the flow stays powerful well into the summer.
You can hike to Rainbow Falls from the Devils Postpile formation, or from the Rainbow Falls trailhead, or from the John Muir and Pacific Crest trails.
You can follow the river beyond Rainbow Falls to also view the smaller Lower Rainbow Falls.
Take in the Views at Minaret Vista
Minaret Vista is a must-stop viewpoint on the road that leads into Reds Meadow and the Devils Postpile National Monument. The view of the jagged Sierra Nevada peaks from the viewing area is considered one of the most iconic in the Eastern Sierra.
The peaks of the Minarets are part of the Ritter Range. They form an arête, a rocky ridge that separates two valleys, and are the defining feature of the Ansel Adams Wilderness. Many of the Minarets are named, including Clyde Minaret, the tallest spire.
You will also see Mount Ritter, the highest peak in the Ritter Range, and Mount Banner. Walk around and read the interpretive plaques to identify individual peaks and to learn more about the range.
There is a parking area at the viewpoint. Visit on a bright clear day for the best photos. If you have the time, the Starkweather Trail, which starts by the ranger kiosk, and descends into the San Joaquin Valley, makes for a wonderful hike.
Ride the Mammoth Mountain Gondola for Panoramas
The gondola ride up Mammoth Mountain offers panoramic views, and at the top, 11,053 feet above sea level, the sensational 360-degree vistas will leave you awestruck.
You can ride the gondola both ways, or if you are up for some walking, you can ride up and walk down.
At the summit, you can have lunch or a drink at the Eleven53 Café, pose for photos by the summit sign, and browse the informative exhibits that showcase different aspects of the Sierra.
The Geography Station has a particularly stunning view over the Mammoth Lakes Basin, so do not miss the walk to the viewpoint!
Hike the 1-mile easy to low moderate Discovery Nature Trail, where you can learn about local flora and fauna, observe the plants that thrive at the high altitude, and look for birds and wildlife.
Tickets for the gondola can be bought in advance. Up to 2 kids (12 and under) ride free with each paying adult. It is much cooler at the top, even in the summer, so layers are a good idea.
Hike on Mammoth Mountain
Other than the easy Discovery Nature Trail, there are a number of moderate to strenuous trails at Mammoth Mountain. You can either take the gondola up and hike down, or hike both ways!
The Main Lodge Trail starts at McCoy Station, half-way up Mammoth Mountain, and descends down to the Main Lodge. It features great views and is rated moderate. This hike is two miles each way.
The Stanton Trail is 3 miles each way and rated moderate. This trail leads from McCoy Station, mid-way up Mammoth Mountain, to the Adventure Center at the bottom. The lower elevations of the trail feature gorgeous pine forests.
Mammoth Mountain Trail is five miles one way, and rated strenuous. Starting from the trailhead behind the Eleven53 Interpretive Center, you make your way all the way down the mountain to the Main Lodge via Red's Lake. The trail offers beautiful views!
The Twin Lakes Trail is 3 miles each way and rated strenuous. It is arguably the most scenic of the trails you can do at Mammoth Mountain. It connects the summit of Mammoth Mountain with the Lakes Basin and offers gorgeous views, plus beautiful flora and opportunities to see wildlife.
Visit the Inyo Craters
Among the many unique geological features around Mammoth Lakes, the Inyo Craters make for fascinating exploration.
Formed as a result of steam-blast explosions that took place about six hundred years ago, the Inyo Craters can be accessed via a moderate hike through Jeffrey pine forest.
Two of the three craters feature gorgeous aquamarine pools at the bottom, formed by snow melt and rainwater. The full loop is around 1.6 miles total, and there are views of the surrounding pine forest and the mountains beyond.
If you enjoy birding, be sure to bring your binoculars: you may see Steller's jays, mountain chickadees, woodpeckers, and dark-eyed juncos. At the pools, you may see migratory waterbirds.
The trailhead for the Inyo Craters loop can be found the end of an unpaved (somewhat rough) road that leads from the Mammoth Scenic Loop. Watch for the Inyo Craters sign!
There are two or three trailheads, but all of them eventually lead to the craters, where you can walk around them if you wish to extend your hike.
There is parking at the trailhead, as well as interpretive signs if you want to learn more about the craters.
Enjoy the Village at Mammoth
The Village at Mammoth is a great place to explore, with shops, cafes and restaurants, and events. In the evenings, when the lights are on, it makes for a fun stroll.
Rocky Mountain Chocolate Factory and Hugs Ice Cream offer sweet treats. Mountain Center offers mountain bike rentals, and there is a general store for produce and groceries if you are self-catering.
The Village Plaza hosts celebrations and events. Music festivals, fireworks, and food and drink events take place through the year, so be sure to check the schedule for your visit dates!
Marvel at the Hot Creek Geologic Site
Located just a few miles east of the town of Mammoth Lakes is Hot Creek Geological Site, a place of incredible beauty. Here you can see bubbling blue pools, fumaroles, and randomly erupting geysers, all in the shadow of majestic mountain peaks.
Hot Creek Geologic Site is one of the most famous photo spots in the Mammoth Lakes area, especially at sunrise. The interpretive site is open sunrise through sunset.
Take in the views from the parking area and stroll the walkway. Stepping into the water is forbidden.
Hot Creek Geological Site is accessed via a dirt road off US 395, just south of Mammoth Lakes. The unpaved portion of the drive is a little over 3 miles.
The dirt road is considered generally passable in a regular sedan, and we found it easy to drive in ours.
Admire the Beauty of Convict Lake
Also just south of the town of Mammoth Lakes is Convict Lake: a small gem of an alpine lake with an interesting history and a spectacular setting.
In our opinion, Convict Lake is one of the top Mammoth Lakes attractions: allow time to enjoy its serene beauty!
Legend has it that the lake got its name after a band of convicts and a local posse had a shootout here in 1871. Two members of the posse were killed. Most of the convicts were caught.
Convict Lake is a sought-after sunrise photography destination. The water is like glass most mornings, with fabulous reflections of the surrounding peaks. Go boating on the lake, or hike the shore, or fish. Fall colors here are gorgeous.
Convict Lake is super easy to access: the paved road that leads to the lake is right off Highway 395, and you can drive right up to the lakeshore.
Enjoy a Dip in Wild Willy's Hot Spring
The Eastern Sierra region is known for its many natural hot springs, and Wild Willy's Hot Spring, located a few miles east of the township of Mammoth Lakes, is one of the most picturesque options. It's also called Crowley Hot Spring.
There are two pools at the site, with one shaped like a heart. Somewhat developed, Wild Willy's features a boardwalk that leads to the water. The pools are shallow, with temperatures that generally vary between 95 degrees and 105 degrees.
The views are awesome, but on the flip side, the water can be murky at times, and watch for biting insects!
To avoid crowds, visit Wild Willy's Hot Spring earlier in the day, and during the week.
Go Kayaking, Canoeing, or Stand-Up Paddleboarding
There are many lakes at Mammoth Lakes, so you have access to a variety of options to get out onto the water, from boating to canoeing, kayaking, and stand-up paddleboarding. Five of the lakes in the Mammoth Lakes Basin are close to town.
Twin Lakes is the lowest lake in the Mammoth Lakes Basin, with a narrow neck marking the divide between the two parts of the lake. Twin Lakes General Store offers rentals of boats, canoes, and kayaks.
Lake Mary is the largest lake in the Mammoth Lakes Basin. The lake is beautiful, with great views from the water. You can rent boats and other water equipment at the marina, from pontoon boats to motor boats, kayaks, canoes, and SUP boards.
Lake Mary tends to be the busiest of the lakes in the basin, so if you prefer quiet and solitude, head to one of the other lakes.
Lake George is the highest lake in the Mammoth Lakes Basin that you can access in a vehicle. It offers stunning views of Crystal Crag.
You can go kayaking or canoeing at Lake George, for a tranquil morning or afternoon out on the crystal-clear water, or take out a row boat or motor boat. Rental options at Lake George are limited.
Horseshoe Lake has a nice swimming beach where you can chill by the water or bring a picnic to enjoy. No motor boats are permitted on Horseshoe Lake, but bring a canoe or kayak, or a SUP board, to enjoy the water.
There are parts of the shore with carbon dioxide warnings: heed all warning signs.
Mamie Lake is small, beautiful, and tranquil, perfect for boating. The views from the water are awesome, and you may see wildlife along the shore. Rowboats can be rented at Wildyrie Lodge. You can also bring your own kayak or canoe, or floats.
Go Fishing!
With so many alpine lakes, reservoirs, creeks, and streams, Mammoth Lakes is an Eastern Sierra trout fishing mecca. We aren't anglers, but we've seen numerous anglers at the lakes when we've visited.
You can fish from shore, from a boat, or from a float tube.
In the Lower Mammoth Lakes Basin, only Horseshoe Lake is not a fishing lake. The other six (Twin, Mary, Mamie, George, Convict, and Crowley) are all popular fishing destinations. You can snag rainbow trout, brown trout, brookies, and golden trout.
You will find supply stores at many of the lakes, and boat rentals at some of them. Backcountry fishing is also popular, if you want to combine angling with some exploration. And no matter where you choose to fish, the scenery is simply spectacular!
Hike to Crystal Lake
The Crystal Lake Trail is arguably the most popular hiking trail in Mammoth Lakes. And deservedly so, because it offers stunning panoramas of the Mammoth Lakes Basin! Go early in the day to beat the crowds.
The hike is a little over three miles out and back, and classed as moderate, due to the elevation gain of about 800 feet. Crystal Lake is beautifully serene, with Crystal Crag as a majestic backdrop.
The trailhead is located off Lake George Road, with free street parking. You can also arrive by tram from the town center. From the trailhead, you will climb steadily, via a series of switchbacks. Stop to take in the views of Lake George and Lake Mary.
At Crystal Lake, you can find some boulders on which to sit for a bit to savor the magnificent views. Have a snack or a picnic meal, and walk around and take photos, before retracing your steps. This trail is a great way to experience the Sierra highcountry on a day hike!
Enjoy Other Mammoth Lakes Hikes
If you enjoy hiking, there are numerous other trails you can hike when you visit Mammoth Lakes: in the Lakes Basin, at Devils Postpile National Monument and Reds Meadow, around town, at Mammoth Mountain, and at other places in the area.
Here are some Mammoth Lakes day hikes to consider putting on your itinerary:
The Coldwater-George Trail runs through beautiful forest in some places, with lodgepole, fir, and hemlocks. An optional detour well worth doing takes you to TJ Lake and back, for fabulous views of Crystal Crag and the Mammoth Crest.
Duck Pass Trail is long but you will see a number of spectacular alpine lakes on this hike: Arrowhead, Skelton, and Barney Lakes come up before you go over Duck Pass to gorgeous Duck Lake and Purple Lake.
You can go as far as you want, or you can do it as an overnight, if you do not want to do the entire trail in one day.
The Emerald Lake-Skelton Lake Trail starts at Coldwater Campground, where you take the Coldwater-George Trail up to the fork for Emerald Lake.
From the fork, you will hike in the Ansel Adams Wilderness to Skelton Lake before heading back to Coldwater via the Duck Pass Trail.
The Town Loop is a wonderful way to stroll the town of Mammoth Lakes. It is a combination of roads, paths, walkways, and bridges that help you explore the town and appreciate its spectacular setting from all angles.
The loop is especially scenic in the fall. You can walk as much or as little as you want!
Drive the Mammoth Scenic Loop
The 30-minute Mammoth Scenic Loop is a magnificent introduction to the beauty of the region. The drive winds through gorgeous stands of deep green Jeffrey and lodgepole pine and is very relaxing on a good weather day.
The Mammoth Scenic Loop Road is about 16 miles in length. It begins off Highway 203 just north of the town of Mammoth Lakes. Turn right and drive for about 10 miles to continue on to Dry Creek Road to the junction with US Route 395.
The road leading to the Inyo Craters comes up on this drive, and you will find trailheads for the popular Lookout Mountain and Obsidian Dome trails along the drive as well.
Drive Scenic Lake Mary Road
Lake Mary Road is another scenic drive you must do in Mammoth Lakes. The drive is about seven miles long and takes just about 20 minutes, but you will want to stop often for photos!
Start the drive in the town center, at the junction with Highway 203, and drive up all the way to Horseshoe Lake, before heading back. Along the route, you will get beautiful views of Lake Mary and Lake Mamie.
If you wish, you can stop off to tour the Valentine Reserve Ecological Study Area when it is open. The Reserve offers interpretive hikes and lectures.
View Twin Falls
Twin Falls drops 250 feet from Lake Mamie into Twin Lakes. Although the waterfall flows year round, the flow is best in the late spring and early summer.
For the best view of the falls, walk onto the bridge over Twin Lakes, from Lake Mary Road. Not only do you get a full frontal view of the falls, the lakes look stunning from the bridge as well.
You can also see (and hear!) the waterfall from the top, at the Twin Falls Overlook. Here, though, the aerial view of Twin Lakes is the star. The Twin Falls Overlook comes up off Lake Mary Road, at Lake Mamie.
Visit Earthquake Fault
Located along Minaret Road, Earthquake Fault makes for a great short stop for a stroll through the pine forest and a look at the fissure in the rock created by geological forces.
Believed to have been created just a few hundred years ago, Earthquake Fault cuts across several hundred feet of rock, and is more than 60 feet deep in portions.
The walk to the fissure and along the fissure is relatively short and easy, but there are a few steps to negotiate. The 0.3-mile trail is dotted with interpretive signs.
There are picnic tables if you want to enjoy a quiet meal amidst nature, restrooms, and plenty of parking. Earthquake Fault is free to visit.
Explore McGee Creek
Just about eight miles south of the town of Mammoth Lakes, you will find scenic McGee Creek, to the west of Highway 395. It is a beautiful area to explore in the summer and fall. Hiking, horseback riding, and climbing are popular activities.
McGee Creek Trail is an extremely popular trail for summer wildflowers such as Indian paintbrush and lupine. Fall colors here are also spectacular. Along the route, you get gorgeous views of Crowley Lake and the surrounding mountain peaks.
The challenging high-elevation trail is 10 miles round trip to Steelhead Lake and 14 miles round trip to McGee Lake, but you can hike in as far as you like before heading back, or make an overnight trip of it.
See the Crowley Lake Columns
Crowley Lake, south of the town of Mammoth Lakes, is a reservoir. You can admire its beauty from the shore: it comes up along Highway 395, or go fishing, boating, waterskiing, and wakeboarding. Crowley Lake is also a popular birding spot.
If you have the appropriate vehicle: a high-clearance 4X4, and if you are up for the adventure, you can drive to the far shore of the lake via rough dirt roads to view the Crowley Lake Columns, another of the many geological wonders in the area.
To get to the columns, head south on US 395 from Mammoth Lakes. Make a left on Benton Crossing Road, then turn right onto Owens Gorge Road.
Follow the road as it turns right at the lake and heads down into the parking area (see map). You can also park at the top and walk about one mile down to the columns.
Once at the columns, you can explore the beautiful towers and caves formed by volcanic forces, and take photos. Water levels may prevent you from being able to see the columns, so do your research prior to heading out.
Go Backpacking
Although you will not want for choice when it comes to day hikes at Mammoth Lakes, the region is also ideal for longer backpacking trips into the Sierra. Note that permits are required for overnight trips and backcountry camping.
Garnet Lake from Agnew Meadows is one of the most beautiful backpacking trips you can do here. Banner Peak, reflected in the still waters of Garnet Lake, is an iconic Eastern Sierra photo.
The trail is 14 miles round trip, out and back, with an elevation gain of about 2,000 feet. Parts of the trail past Shadow Lake offer stunning views of the Minarets.
Minaret Lake from Devils Postpile is another Mammoth Lakes backpacking trip with spectacular views and sparkling lakes.
The trail is 14 miles round trip, out and back, but if you have an extra day, you can add in hikes to Cecil Lake and Iceberg Lake. Minaret Lake itself is a stunning alpine lake with Michael Minaret overlooking it to form the perfect picture.
Go Horseback Riding, Mountain Biking, or Climbing
As an adventure paradise, Mammoth Lakes offers multiple ways to enjoy the breathtaking beauty of the region. While hiking is a wonderful way to get up close to the scenery and to look for birds and wildlife, you can also go mountain biking or horseback riding.
The Mammoth Scenic Loop is a popular road cycling route, suitable for beginners. The Lakes Basin Bike Path is more challenging, but offers stunning vistas.
You will also find many off-pavement biking trails in Mammoth Lakes, of varying length and difficulty. The loop around Horseshoe Lake is easy, or you can head to Mammoth Mountain Bike Park for more exciting options.
Pack outfits in Mammoth Lakes and Reds Meadow offer guided horseback rides. You can choose short one- or two-hour trail rides in the Mammoth Lakes Basin, or opt for a full day adventure or multi-day pack trips into the Sierra backcountry.
Summer and fall are the seasons for climbing in the Mammoth Lakes region. Climbers will find all types of routes, in places ranging from Rock Creek in the south to Matrimony Wall in the north. Local outfitters offer guided climbs.
Discover Local History at Mammoth Museum
To learn about local history, pop into the Mammoth Museum, housed in the historic Hayden Cabin. The museum is only open between Memorial Day and late September. It is free to enter, although a donation is suggested.
The museum houses photos, artwork, and artifacts that highlight the history of the region and offer fascinating glimpses into the Mammoth Lakes of the past. Exhibits can be found both outside and inside the cabin. Hayden Cabin is very photogenic!
Enjoy Birding and Wildlife Viewing
The Eastern Sierra region offers birders stellar birdwatching opportunities. Several hundred species, both resident and migratory, have been spotted here, from bald eagles to the ubiquitous Steller's jay.
Crowley Lake has been designated an important bird area by the Audobon Society. It is home to the southernmost colony of the bank swallow in California, as well as many other species such as the snowy plover, prairie falcons, and peregrine falcons.
As you hike, keep an eye out for local wildlife as well. During the day, you may see mule deer, bighorn sheep, or the occasional coyote, but the region is also home to black bear and mountain lions.
During our last visit to Mammoth Lakes, we had just finished taking photos at Mamie Lake and were about to start walking over the bridge when another visitor yelled out to us from a distance.
We stopped in our tracks as a big black bear, dripping water, lumbered up from the lake onto the path not six feet in front of us. We backed away slowly, but the bear casually ambled across the road without even looking at us!
It was both exciting and scary at the same time.
Read up on safety around wild animals before your visit, and always practice safe viewing.
Remember to bring your binoculars, and a camera with zoom lens if you enjoy wildlife or bird photography. We love our Celestron binoculars and our modest fit-in-your-pocket Panasonic digital camera with a big zoom.
Chase Wildflowers or Fall Colors (in Season)
Late spring and summer are prime wildflower viewing seasons in the Eastern Sierra.
In the Mammoth Lakes region, the Agnew Meadows Wildflower loop, the Mammoth Mountain Trail, the Sky Meadows Trail, and the McGee Creek Trail are wildflower hotspots, but you will see a variety of wildflowers on the shores of lakes and along other trails as well.
Yellow monkeyflower, purple (or white) lupine, purple larkspur, red Indian paintbrush, yellow hawksbeard, and white yarrow are some of the more prolific displays you may see, along with smaller quantities of many other varieties.
Fall is an equally spectacular season, with aspen, willows, and cottonwoods putting on a dazzling show of color from yellow to orange, rust, and red.
The Mammoth Lakes Basin, Convict Lake, and McGee Creek all offer great leaf peeping. At peak, you will see lots of color even as you walk around the town.
Things to Do Near Mammoth Lakes, CA
Mammoth Lakes is located centrally in the Eastern Sierra, making it the perfect base from which to explore to the north or the south, if you plan to spend a few days here.
North of Mammoth Lakes, you will find plenty of fun things to do in June Lake, a smaller resort community that oozes charm. Drive the scenic June Lake Loop, do the best June Lake hikes, and enjoy a variety of activities on the water.
Further north, explore the fascinating tufa towers of Mono Lake, peek into California's Gold Rush past at Bodie State Historic Park, or drive the spectacular Tioga Road through Yosemite National Park.
South of Mammoth Lakes, more exciting adventures await in the outdoor sports mecca of Bishop, CA. Here you will find world-class bouldering, and a plethora of lakes for fishing and boating.
You must also visit the Ancient Bristlecone Pine Forest to see the oldest living trees in the world!
Drive further south and you will find fun things to do in Independence, CA. The county seat of Inyo County is home to the fascinating Eastern California Museum and a garden featuring native plants. Don't miss the scenic Onion Valley Drive!
Even further south is Lone Pine, with its old west ambience. Here you can drive the scenic Whitney Portal Road, one of the most scenic drives in California, or summit Mount Whitney, the tallest peak in the lower 48.
The Alabama Hills National Scenic Area is a must-explore, with its gorgeous natural arches (Mobius Arch is a must-see!) and stunning rock formations.
Getting to Mammoth Lakes, California
Mammoth Yosemite Airport lies just south of the town of Mammoth Lakes. Flights to this airport tend to be limited, and some of them seasonal, occurring only in the winter.
Most visitors to Mammoth Lakes arrive by road. The town is located along US Route 395, a highly scenic route whether you come from the south or the north. LA to Mammoth Lakes is about 5 hours by road.
From Lake Tahoe to Mammoth Lakes is two hours and 40 minutes by road. You can drive from San Francisco to Mammoth Lakes in a little over six hours when Tioga Road (Highway 120) is open.
Mammoth Lakes is of course a must-stop if you are doing a Highway 395 road trip, whether you drive north to south or south to north, or on a California road trip.
Getting Around in Mammoth Lakes
You will require your own wheels to be able to explore the region. If you plan to drive mountain roads or dirt roads in the backcountry, you may want to arrive in a 4WD high-clearance vehicle.
Of course you can drive most roads in and around Mammoth Lakes in a regular sedan. Bring the vehicle most appropriate for the adventures you've planned for your trip!
Looking to rent a vehicle for your Mammoth Lakes CA trip? Discover Cars offers you the ability to compare availability and prices across many major car-hire companies, from brand to budget. Pick the car that best meets your needs!

Book your car with Discover Cars now!
Where to Stay in Mammoth lakes, CA
Hotels in Mammoth Lakes, CA
The Village Lodge offers condo units ranging from a studio to two bedrooms. Some units come with a full kitchen, while others have kitchenettes. The property offers a heated outdoor pool and several hot tubs. It is centrally located, with views of the mountains. Book a stay here!
The Westin Monache Resort offers suites in various sizes, equipped with kitchenettes. Some units have balconies and mountain views. The property features a heated outdoor pool and hot tubs. The onsite restaurant is highly rated. Book a stay here!
Sierra Lodge offers spacious rooms that come with kitchenettes. The hotel features a hot tub and barbecue facilities. The hotel is centrally located and offers free parking. Book a stay here!
Vacation Rentals in Mammoth Lakes, CA
This luxury condo is 1,100 square feet, with 2 bedrooms and 2 bathrooms. The well-appointed condo is located by the Sierra Star golf course, close to Mammoth Village. There is an outdoor jacuzzi and a gas grill. Wifi is fast! Book a stay here.
This charming studio is located on the ground floor, walking distance to shopping and dining. There is a fully-equipped kitchen, flat screen TV, and high speed internet. There are two spas, two saunas, and a seasonal pool in the complex. Book a stay here!
This 2-bed, 2-bath corner condo at the Village Monache has great views and sleeps up to 6 guests. The master has a king bed. The kitchen is fully-equipped. There are flat screen TVs in all rooms, and private high-speed internet. Book a stay here!
Camping in Mammoth Lakes
You will find several campgrounds in Mammoth Lakes, but reserve early. In the Mammoth Lakes Basin, there are five campgrounds, with amenities, and you will have convenient access to hiking trails and the lakes.
You can also find campgrounds in town, or in the Reds Meadow area. Campgrounds are generally open from late May or some time in June, until the fall. Reservations can be made at recreation.gov.
If you are arriving by RV, check out Mammoth Mountain RV Park, which has full RV hook-ups and many amenities. Regular campgrounds may allow for RV camping without hook-ups.
If you do not have an RV, but want to rent one, check out Outdoorsy: they do short term rentals of many types of RVs.
Where to Eat in Mammoth Lakes
Whitebark Restaurant, in the Westin Monache, is a well-reviewed fine dining restaurant. They have an eclectic menu, from sushi to steak, and a warm ambience.
Good Life Cafe is an excellent option for casual fare. They have both indoor and outdoor seating. The zucchini parmesan fries are delicious, and we love their sandwiches and their omelettes.
The Restaurant at Convict Lake is another fine dining option if you are okay with the short drive. They offer a variety of mains, as well as lighter soup and salad options.
The Stove is the place to go for breakfast. You can build your own omelette, or enjoy pancakes or breakfast burritos. They also serve lighter fare such as yogurt and oatmeal. Try the huevos rancheros!
Shea Schat's Bakery is a must visit for their sheepherder bread. They serve sandwiches and soups at lunch. Their cookies, pastries, doughnuts, and apple strudel are all delicious!
The Best Time to Visit Mammoth Lakes
Mammoth Lakes is a year-round destination.
In the winter you can enjoy skiing and other winter sports, and you can go mountain biking, climbing, hiking, fishing, and boating once the snow is gone.
Fall is a fantastic time to visit Mammoth Lakes, with many scenic drives in and around town for leaf peeping. It's an excellent base from which to check out the Eastern Sierra Fall colors show!
At peak, colors are spectacular along the June Lake Loop, in McGee Creek Canyon, and in Mammoth Lakes and the lake basin and Sierra backcountry.
Summer is an equally popular time to visit, with lots of wildflowers at higher elevations, and long hours of daylight to hike and enjoy the outdoors.
In the late spring, the mountains are still covered with snow, making for a superb setting in which to enjoy the trails and drives.
*****
Did you find this article informative? Pin it for later reference!