Tioga Road is a spectacularly scenic drive through Yosemite National Park. The drive should definitely be on your itinerary for Yosemite if you visit the park when the road is open.
Officially California State Route 120, the Tioga Road drive between Crane Flat and Lee Vining goes over Tioga Pass, the highest highway pass in California.
Tioga Road features diverse and beautiful landscapes, from granite cliffs and alpine lakes to expansive meadows and evergreen forests.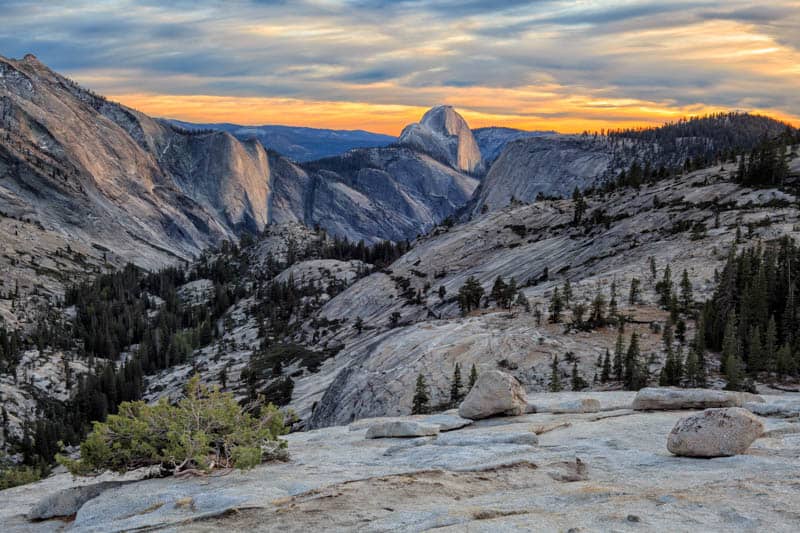 Some links on this page may be affiliate links. If you click an affiliate link and make a purchase, we may receive a small commission, at no extra cost to you. For more details, refer to our disclosure.
Originally built in the 1880s as a road to ferry ore, Tioga Road was improved and re-opened to the public in 1961.
Designed to show off the spectacular scenery of the High Sierra, Tioga Road is considered one of the most scenic roads in the US national parks system.
Considering the Tioga Road drive over Tioga Pass? Read on to discover what to expect, plus our tips for doing the drive.
What can you expect on the Tioga Road drive through Yosemite NP?
Tioga Road traverses a beautiful part of the Sierra Nevada mountains. Along the route, expect to see some jaw-dropping scenery, from panoramic vistas to beautiful meadows and lakes.
You will have the opportunity to stop at a number of points of interest, and, if you allow enough time, you can also explore a bit along the way.
We drove the route from the Big Oak Flat entrance to Yosemite National Park to Lee Vining, so that's how we've described it, but of course you can also drive it in the reverse direction.
1. Stop at Merced Grove or Tuolumne Grove to See Giant Sequoias
Mariposa Grove is the largest and most famous of the giant sequoia groves at Yosemite, but two smaller, less crowded groves lie along California SR 120.
If you love walking among giant trees, stop at one of the groves for a hike. Giant sequoias are the largest trees on the planet!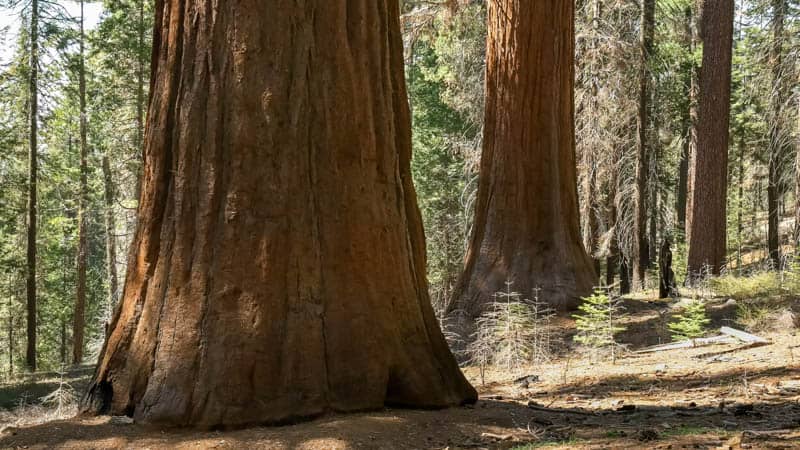 Merced Grove is small, with less than two dozen trees, and comes up soon after the entrance gate into Yosemite. The hike is about 3 miles round trip, uphill on the return.
Tuolumne Grove is located at Crane Flat, where the road turns on its way to the Sierra Nevada high country.
Tuolumne Grove contains several mature sequoias, and you can even walk through the trunk of one of them: a stump known as the Dead Giant. The hike to the grove is about 2.5 miles round trip, with an uphill return.
Tuolumne Grove makes better sense on a road trip along Tioga Road, as it is a shorter trail. You will see some color from deciduous trees in the fall, making it a particularly beautiful time to enjoy the grove.
2. Admire the Quiet Beauty of Lukens Lake
You will see several beautiful alpine lakes along Tioga Road, and Lukens Lake is worth the 1.6-mile round trip walk from the trailhead at the road. The lake offers beautiful reflections for photography, and the trail is serene.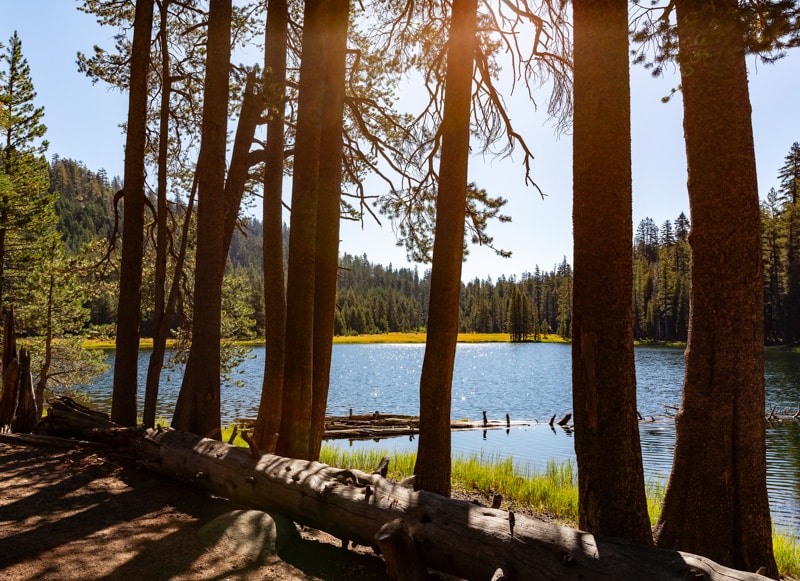 The less-visited lake is a lovely spot to explore on your drive, particularly if you visit when wildflowers are in bloom in the adjoining meadows.
Beautiful purple shooting stars, orange-red tiger lilies, white corn lilies with their sculptural leaves, lupine, monkey flower, and Indian paintbrush offer lots of color in early summer.
Looking for accommodations for your Yosemite National Park trip? Check out our curated list of Yosemite Airbnb rentals! We've picked cabins and homes that are not too far from Yosemite Valley, to maximize your adventure time.
3. Hike to Scenic May Lake
The hike to May Lake is longer, at about 2.5 miles round trip, and a little more challenging, but it comes with mountain views and the stunning vistas for which Yosemite National Park and the Sierra Nevada are known.
On clear days, the views of Mount Hoffman, the backdrop for the lake, are exceptional.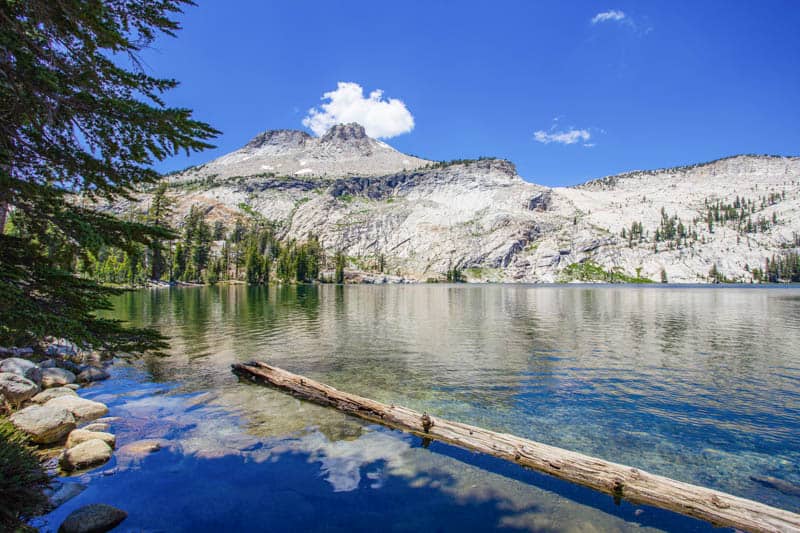 The trail to May Lake is uphill all the way, and if you are an experienced hiker, you can extend the hike even more by climbing Mt. Hoffman (six miles round trip, plus an additional 1,500 feet of elevation change!).
But even just the hike to May Lake is super scenic.
Looking back from May Lake, you can see all the way to Clouds Rest. From Mount Hoffman, the panoramas are even more spectacular.
The hike to May Lake is popular, so expect other visitors along this trail.
4. Take in the Panoramas at Olmsted Point
Olmsted Point is a roadside pullout that is a must-stop for anyone driving Tioga Road.
Just off the parking lot, you get magnificent views of Clouds Rest in the foreground and the north side of Half Dome far in the back, along with Tenaya Lake to the east, and the surrounding granite landscape.
The only spot along Tioga Road that offers panoramic views, Olmsted Point is also known for the "erratic" boulders strewn around the landscape.
Erratic rocks and boulders are transported from their homes and left behind at other spots by moving glaciers.
The views from the viewing area by the parking lot are stunning, but, if you wish, you can walk down the steps to the viewing area in front of the little dome you see to the south, for a more unobstructed view.
We also saw folks scrambling to the top of the dome for more views. The walk is about 0.25 mile round trip.
5. Enjoy the Stunning Beauty of Tenaya Lake
Tenaya Lake is a gorgeous alpine lake, one of the most beautiful lakes in California. When we drove Tioga Pass Road in early October, the shore was serene and we had it totally to ourselves.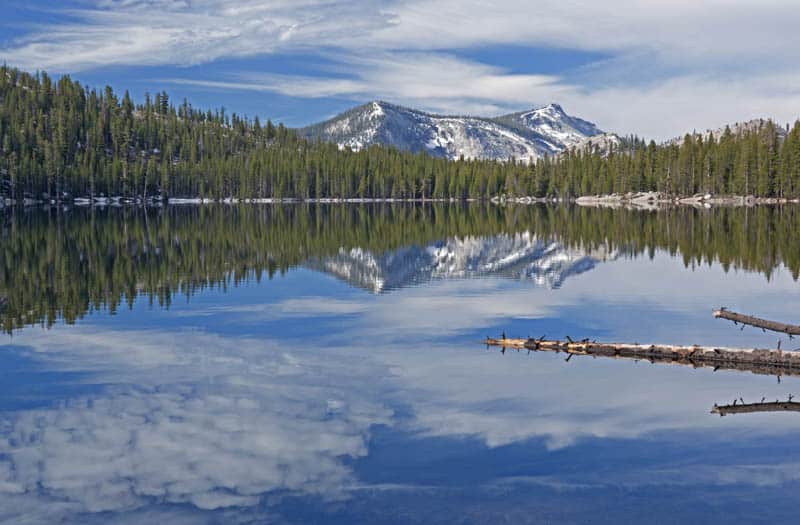 But Tenaya Lake's beaches are popular in the summer, when visitors swim or sunbathe here, so expect other visitors during the day in summer. During the warm weather months, you can take a kayak out onto the water as well, or picnic at the eastern end.
Tenaya Lake is about a mile long and has a beautiful setting, surrounded by granite peaks except for the side that abuts Tioga Road.
Pullouts along the road make for great photo stops if you do not want to explore, with trees along the far shore reflected in the grey-green waters.
But if you want to walk the shore, the flat Tenaya Lake Trail, shaded by pine trees, runs along the south shore of the lake, connecting the beaches on the east end to the picture postcard views at the west end.
6. Admire the Vast Expanse of Tuolumne Meadows
Located at over 8,500 feet above sea level, Tuolumne Meadows will leave you awe-struck by its vast expanse.
Tuloumne Meadows is one of the largest high-altitude meadows in the Sierra Nevada, but also one of the most beautiful, because of the surrounding mountains.
Tuolumne River meanders its way through the meadow. In the summer, you will see lots of wildflowers here, from clusters of purple shooting stars and pussy toes to white asters and the bright yellow alpine goldenrod.
In the spring and early summer, the meadow is lush green, and may even have standing water from snow melt.
There are several day hikes that start in the Tuolumne Meadows area, but most of them are several miles round trip. We've described the shortest and easiest hike below: as a bonus, the trail is also great for wildflower and wildlife viewing.
7. Do the Easy Hike to Soda Springs and Parsons Lodge
The easy trail to Soda Springs traverses Tuolumne Meadows, and features many varieties of wildflowers in season. Keep an eye out for deer and birds as you walk! The full hike is 1.5 miles round trip.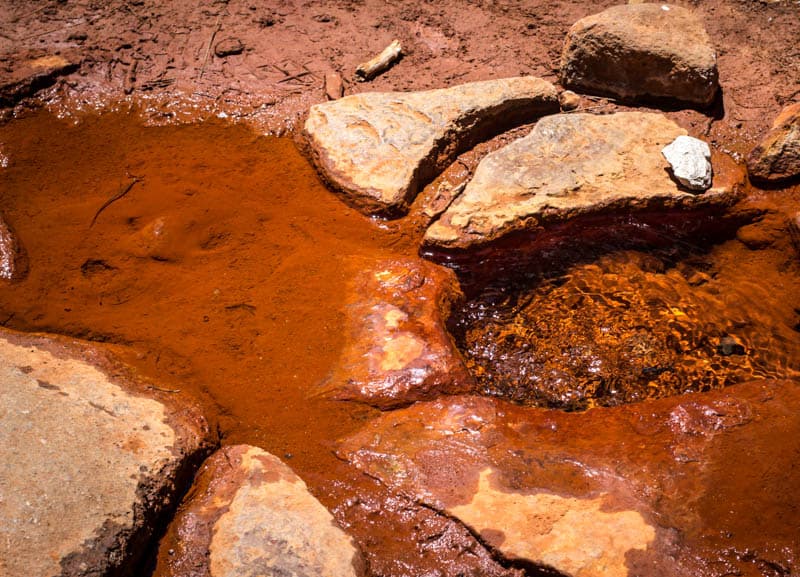 Soda Springs are protected by a log enclosure. Cold carbonated water bubbles out of the ground here and makes for a curious sight. Minerals in the water color the surrounding ground various shades of pink, red, and orange.
You can turn back at this point, or visit historic Parsons Memorial Lodge, if it is open, and beyond to a pretty bridge and the Tuolumne Meadows Visitor Center, where you can find restrooms. The trail is pleasant, but popular.
8. Photograph Lembert Dome…or Climb It!
Right opposite the center of Tuolumne Meadows, on the other side of Tioga Road, is Lembert Dome. The striking granite formation is not iconic, like Half Dome, but picturesque all the same.
If you are a reasonably experienced hiker/climber, the hike to the top of the dome is rated moderate, with an elevation gain of 900 feet. The round trip hike is just under 3 miles.
From the top, you get spectacular views of Tuolumne Meadows and the surrounding mountains. The final scramble up the rock face can be slippery, so watch your step.
You do not have to climb Lembert Dome to enjoy it. View the beautiful granite hulk from below, walk around a bit at the bottom, and take lots of photos!
9. Snap a Photo of Dana Meadows and Mammoth Peak
Dana Meadows comes up a little bit before you come to Tioga Pass. The meadows look stunning, with Mammoth Peak rising up behind.
Especially in the spring, when the meadows are green and there is still snow on the mountain, this is a must-stop photo spot.
Mammoth Peak is over 12,000 feet tall, but it is only the sixth tallest peak in Yosemite. Dana Meadows are the highest elevation meadows at Yosemite. There is no trail through the meadows, so it's a quick stop.
10. Stop at Tioga Pass
At 9,945 feet above sea level, Tioga Pass is the highest highway pass in the Sierra Nevada.
The pass serves as the eastern entrance into Yosemite National Park, so if you are driving the route from east to west, here's where you have to pay the park entrance fee.
The America the Beautiful National Parks Pass is accepted at Yosemite National Park.
Do you have your National Parks Pass yet? Valid for one full year from the month of purchase, the America the Beautiful National Parks Pass costs USD 80.00 and offers admission (one vehicle or 4 persons) to over 2,000 Federal recreation sites, including national parks, national forests, and more!
Right before the steep descent into Lee Vining is a beautiful vista point, where you get expansive views of the valley. Also here is the California Civil Engineering Landmark plaque.
11. Admire the Beauty of Tioga Lake
Beyond the pass, the route continues to offer beautiful scenery and must-stop sights. Tioga Lake comes up soon after you leave the pass.
With a stunning setting against the backdrop of Mount Dana, the glacial lake makes for a picture postcard scene in every season and especially in the spring, when there's snow on the peaks.
There is a picnic area at Tioga Lake, as well as a campground.
Birdwatchers will enjoy Tioga Lake: it is a prime birding spot, especially for raptors such as red-tailed hawks and falcons. Wildlife may also be seen around the lake, since it is a less visited spot.
Fishing, wildflower viewing in season, and picnicking are popular activities at Tioga Lake. Or you can make a brief stop to just savor the views.
12. Walk the Serene Nunatak Nature Trail
The Nunatak Nature Trail is a short interpretive stroll right beside the road, suitable for most visitors to the park. The loop trail is just 0.5 mile long, and the plaques along the road offer a wealth of information.
The paved trail wraps around two ponds, and the ambience tranquil. It's not one of the well-walked trails, so you will likely not encounter too many other people.
Birdwatchers should bring their binoculars, because you will see birds and hear birdsong all along the walk. Some even let us get close enough to take long-ish videos!
The trailhead comes up between Tioga Lake and Ellery Lake, so keep an eye out for the sign about 0.3 mile east of Tioga Lake.
13. Snap a Photo of Ellery Lake
Your last stop along the drive before you descend to Lee Vining is Ellery Lake, yet another beautiful alpine lake. Stop and take some photos, and soak in the beautiful views.
There isn't an official trail at Ellery Lake, but you can stroll a bit along the shoulder of the road to see the lake from different perspectives.
We saw anglers at the shore, but we weren't confident of being able to get down safely, so we stayed in the parking area.
14. Stop at Lee Vining
At the bottom of the road, you will come to the small community of Lee Vining. Here you will find majestic Mono Lake, a large saltwater lake that is millions of years old.
The Mono Lake tufas are a must-see. There are several good spots for viewing the limestone formations. The lake is also known for the many birds you can see here.
Also, in Lee Vining, stop for a meal at Whoa Nellie Deli, where the portions are large and the flavors delicious. It's a gas station that's famous for its food!
The restaurant offers wonderful views of Mono Lake as well.
15. Don't Forget to Enjoy the Drive Itself!
While each of the best stops along Tioga Road through Yosemite National Park is gawk-worthy, the drive itself is superbly scenic as well.
Every bit of the road features photogenic scenery, and the descent from the pass is nothing short of spectacular.
In our opinion, Tioga Road through Yosemite National Park is one of the most scenic drives in California!
So if all you do is simply drive Tioga Road, without stopping anywhere, you will still have had a bucket-list experience!
Essential Facts About Tioga Road (Ca Highway 120) Through Yosemite National Park
Tioga Road, between the Big Oak Flat Information Station and the junction with US Route 395 in Lee Vining, is 72.2 miles long. It is fully paved and generally a well-maintained road.
As the highest road in Yosemite National Park, at an elevation of about 10,000 feet above sea level at its highest point, Tioga Road is closed during the winter season due to snowfall.
While exact opening and closing dates vary by year, the road is generally closed from some time in early November until some time in May or even June. Check here for road closure information.
The road is a reasonably-wide one lane in each direction, and there are pullouts and overlooks along the way for visitors to stop and safely enjoy the views. Interpretive plaques at many viewpoints offer information on what you are viewing.
Tioga Road is curvy and winding, and some sections have steep drop-offs. There were no guard rails when we drove it.
Note that weather in the mountains is very unpredictable and poor driving conditions can make the road a challenge to drive. Allow plenty of time.
There are a couple of places where you can still drive the old Tioga Road, as it was prior to being improved: the 5-mile section that goes down to Yosemite Creek at White Wolf, and the 2-mile section that traverses Snow Flat to the May Lake Trail Junction.
While trailers are not prohibited on Tioga Pass Road, know that the portion between Tioga Pass and Lee Vining is very steep. The park has tips for pulling a trailer over Tioga Pass here.
If you suffer a breakdown along Tioga Road, help may be a long time arriving, especially early and late in the day. Go prepared with a plan for if you break down.
Planning to rent a car for your Tioga Road Drive? Check out Discover Cars for your car rental. They scour multiple providers to get the best price and find one with the lowest one-way rental surcharge (if there is one).
Which direction is best for the Tioga Pass Road drive?
If you are worried about the drop-offs, we suggest driving east to west. Going east to west, you are on the inside lane, closer to the mountain face rather than the cliff drop-off.
Climbing the steep and scary section rather than descending it (it is a steep descent!) will likely be easier on the nerves.
The scenery is stunning no matter which direction you drive, but you can only enjoy it as a passenger while on the move. The road requires the full and undivided attention of the driver.
Again, allow plenty of time so you can make stops often and the driver can enjoy the views as well.
If you like the sun behind you as you drive, drive east to west, starting early in the morning.
Tips for Driving Tioga Pass Road
Make Reservations if you Plan to Tour the Park
At the time of writing, Yosemite National Park requires advance reservations if you visit between late May and September, unless you have a reservation for a campground, lodging, or a vacation rental inside the park, or you have a Half Dome or wilderness permit.
A reservation will be required to drive into or through Yosemite National Park, for those driving into the park between 6 a.m. and 4 p.m.
Reservations can be made at Recreation.gov.
Choose a Good Weather Day
Even when Tioga Road is open, you may run into snowfall or even a blizzard early or late in the season, with the need for snow tires and chains in poor weather conditions.
Not only is Tioga Road a challenging drive in bad weather, you won't be able to enjoy the signature views or take good photos if it is greay and raining or snowing.
Check the weather forecast and pick a day when the weather is dry, sunny, and clear. We drove the route on a good weather day in early October, and the drive was beautiful.
drive the Route during the Day
Tioga Road is curvy and mountainous. Drive it when you have good visibility, during daylight hours, not only for safety but also because the primary reasons to do the drive for fun are the views and hikes, best enjoyed in daylight.
Fill Up Before You Start the Drive
You will find gas at Lee Vining on the eastern end of Tioga Road. Approaching from the west, fill up in Groveland, about 15 miles from the Big Oak Flat Information Station, for lower prices. You will also find gas in Crane Flat, in Yosemite Valley.
Bring Food and Water
Bring a cooler, so you can carry an adequate supply of drinking water and other beverages, and bring snacks and a packed lunch to eat along the way.
Allow plenty of time
Give yourself more time than you think you will need. You can drive Tioga Road between the Big Oak Flat Information Station and Lee Vining in about 2.5 hours with no stops, but, trust us, you will want to stop often and explore.
We suggest giving yourself the entire day for the Tioga Road drive. If you plan to drive it in only one direction, you can spend more time doing hikes or exploring along the way.
If you plan to drive from one end to the other and back, you will have less time for hiking, but it should still be doable in a day if you start early.
You can also spend a night along the road and spread the drive in one direction over two days, which will allow you time to do some longer hikes and enjoy the beauty of the High Sierra at leisure.
Tuolumne Meadows Lodge offers rustic seasonal accommodation (tent cabins), and there are campgrounds along the route as well.
Expect Other Visitors
While Tioga Road is nowhere near as crowded as Yosemite Valley in high season, you will still encounter traffic along the road and other visitors, especially at viewpoints off the road and short easy trails.
Within the season, early summer is extremely popular, because the road is probably at its most scenic then, with lush green meadows, tons of wildflowers, and snow lingering on the mountains.
Early summer also tends to be high season for Yosemite in general, because the waterfalls are flowing well at this time.
We've driven Tioga Road both in the fall and in the summer.
In the fall, while there were other visitors at places like Olmsted Point, it was still quite tranquil, and we were able to walk in relative solitude on a number of trails.
It was more crowded in the summer, mainly because the valley gets extremely hot in the summer and many more visitors to Yosemite gravitate towards the more pleasant temperatures of the higher elevations. But it was still not as crowded as the valley can get in season.
Dress in layers
Layers are a must on the Tioga Road drive if you plan to get out of the car and explore. A waterproof windcheater or light jacket will come in handy even in the summer, especially early and late in the day.
We recommend wearing long pants and long-sleeved tops on hiking trails. Closed-toed hiking boots or sturdy shoes, with good grip, are essential for hiking and climbing.
Wear Sun Protection and Bug Repellent
A sun hat, sunglasses, sunscreen, and SPF lip balm are recommended if you plan to hike or spend time exploring along the drive. Bug repellent is crucial if you plan to hike, especially by the Tuolumne River or other streams.
Don't Count on Cell Reception
Cell phone reception may be spotty to non-existent along Tioga Road. Download trail maps and any other information you need prior to your trip.
A GPS Smartwatch will be useful, not just in Yosemite National Park but in other parks and wilderness areas as well. Check out this premium Garmin Fenix 6 (you can buy it on Amazon or you can buy it on REI), or the more affordable Garmin Instinct (buy on REI or Amazon).
A backup navigation and communication resource is handy if you often visit parks and other wilderness areas. With a satellite subscription, the InReach Mini enables you to send and receive texts when there is no cell phone reception. It weighs only 3.5oz, and has tracking and SOS capabilities as well.
Buy it on REI | Buy it on Amazon
Bring your camera and binoculars
We use a little Panasonic Lumix DC-ZS70 when we hike, because it fits into a jacket pocket but takes great photos. It has a 30X zoom and Leica lens, and takes decent shots of birds and small creatures.
If you enjoy birding, bring your binoculars along on the Tioga Road drive. We love our Celestron Trailseeker compact binoculars: they are not too heavy, and they are waterproof.
Map of Attractions on Tioga Road
*****
Planning to explore more of California's natural beauty? Check out some of our other articles!
Did you find this article informative? Pin it for later reference!