California's epic Big Sur coastline begs to be explored on a road trip. On a Big Sur road trip, you will revel in spectacular views of the Pacific Ocean, and explore the ruggedly beautiful coastline, one of the most beautiful places on the planet.
Wandering through redwood groves. Strolling picturesque coastal bluffs. Touring a historic light station. Walking on a purple sand beach. Chasing beautiful waterfalls. Snapping endless photos from scenic overlooks. If a Big Sur road trip isn't already on your bucket list, it should be!
We have made countless visits to Big Sur, and we never tire of returning. One of California's best road trips, the Big Sur coast will bewitch you into returning again and again once you visit!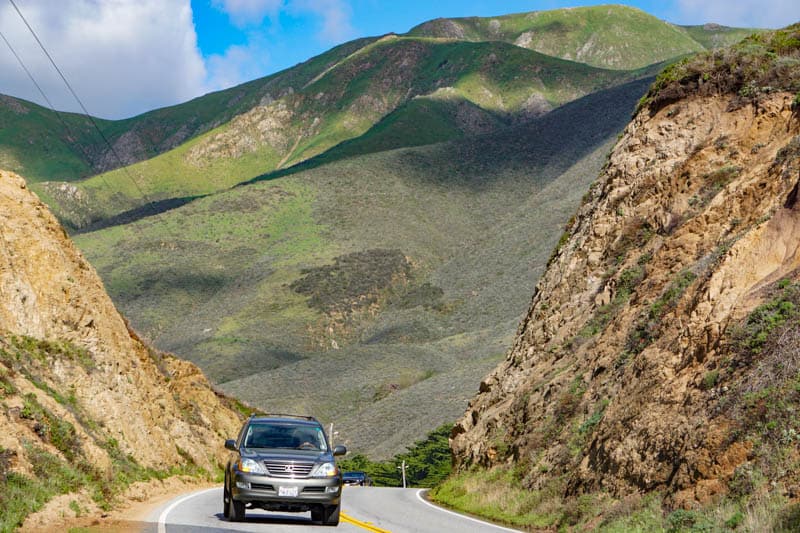 Some links on this page may be affiliate links. If you click an affiliate link and make a purchase, we may receive a small commission, at no extra cost to you. For more details, refer to our disclosure.

How long does it take to drive Big Sur, CA?
Stretching from Carmel in the north to San Simeon in the south, the Big Sur coast is not a long distance.
At just 91 miles along California Highway 1, the Big Sur coast can be driven end to end in a couple of hours, with no stops.
But there is so much to see and do in Big Sur that you should plan on at least 2 days for your Big Sur road trip. If you have just one day, or part of a day, don't despair, because you can pick from the many sights to craft your itinerary for the time you can spend here.
When is the best time of year to do the Big Sur road trip?
You can do a Big Sur road trip any time of year, since the California coast has mild weather all year long.
But late spring is, in our opinion, the very best time of year to drive Big Sur. The Big Sur coast looks beautiful in spring, with emerald green hillsides and lots of wildflowers.
In fact, Big Sur is one of the best places to visit in California in April!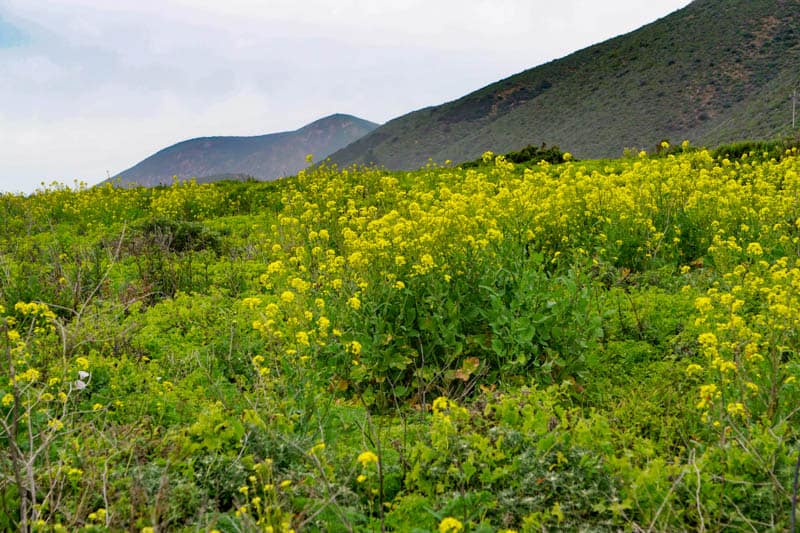 That said, spring through fall is high season in Big Sur. Note that the marine layer may obscure views through much of the summer, and even at other times of the year. But it generally burns off by mid day.
We love the wisps of fog curling about the cliffs, but the water looks best when the weather is bright and sunny. Summer does offer long days, so you can see and do more!
Fall offers nice sunny days, many of them free of fog, but fall is wildfire season in California. If there are wildfires in the area, parks and roads may be closed.
Even in winter, the wet season in California, you will get nice days on the Big Sur Coast, with lots of sunshine. As long as you have a patch of dry weather and California Highway 1 is open, you can do the Big Sur road trip in winter.
Winter west coast sunsets are amazing!
In which direction should you do the Big Sur road trip?
If you drive north to south, you will have unobstructed views of the Pacific Ocean as you drive. When the coast is as spectacularly beautiful as Big Sur is, you will want those views!
So if at all possible, arrange to start your Big Sur road trip in Carmel.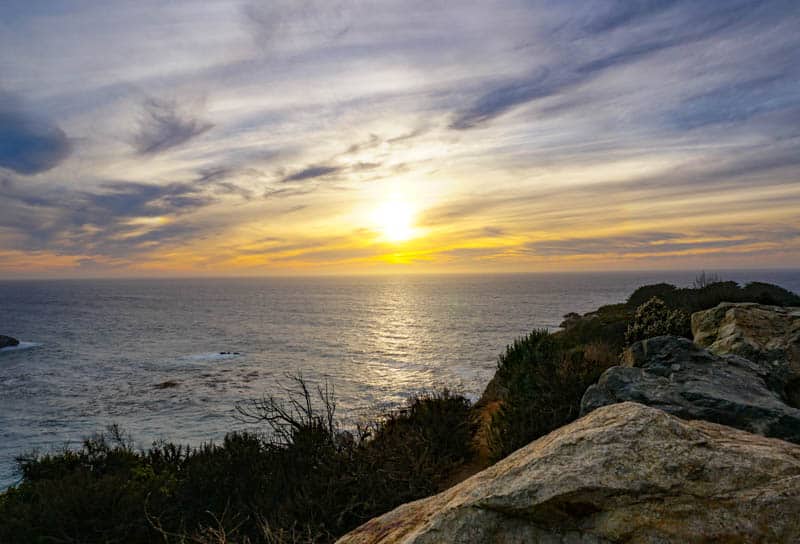 That said, you can drive it south to north as well, if that is more convenient. There are pullouts all along the Big Sur coast, and you can stop to admire the views as often as you wish.
We have described the Big Sur drive north to south in this article, but it works in reverse as well.
How do you get to Big Sur, CA?
From San Francisco to Big Sur
The distance from San Francisco to Big Sur (the tourist information center, called Big Sur Station), is about 143 miles along CA Highway 1, a drive of about 2 hours and 30 minutes.
We recommend you arrive in Carmel-by-the-Sea the evening before, so you can start your Big Sur road trip nice and early on the morning of day one.
Carmel-by-the-Sea is about a 2-hour drive from San Francisco, and you will find lots of accommodation and dining options in the village.
Tradewinds Carmel is a boutique hotel offering elegant spacious rooms just a couple of blocks from the village, or you can spend the night at the Hyatt Carmel Highlands, along Highway 1.
From Los Angeles to Big Sur
From LA to San Simeon, the southern end of our Big Sur road trip itinerary, is 231 miles, a drive of a little under 4 hours via US 101 North.
We suggest you arrive in Cambria the evening before, to get an early start on your Big Sur road trip. Cambria is a good base if you choose to arrive even a day earlier in order to explore San Simeon.
Cambria, CA, is about 3 hours and 45 minutes from LA by road. The cute coastal village offers lots of choice for accommodation and dining. The French Corner Bakery is open early for coffee and a pastry before you start your Big Sur drive!
In Cambria, Blue Dolphin Inn is located right on Moonstone Beach, overlooking the Pacific Ocean, as is Moonstone Landing, where rooms have a full or partial ocean view.
Tips for Your Big Sur Road Trip
Before we get started on the Big Sur road trip itinerary, here are some other things to know before you go!
Go during the week rather than the weekend
Big Sur is one of the most popular weekend trips from San Francisco and the SF Bay Area, and you will likely share scenic viewpoints and hiking trails with many other visitors if you plan your Big Sur road trip for the weekend, especially from spring to fall.
If you can, go during the week for a more peaceful driving experience and more enjoyable visit overall.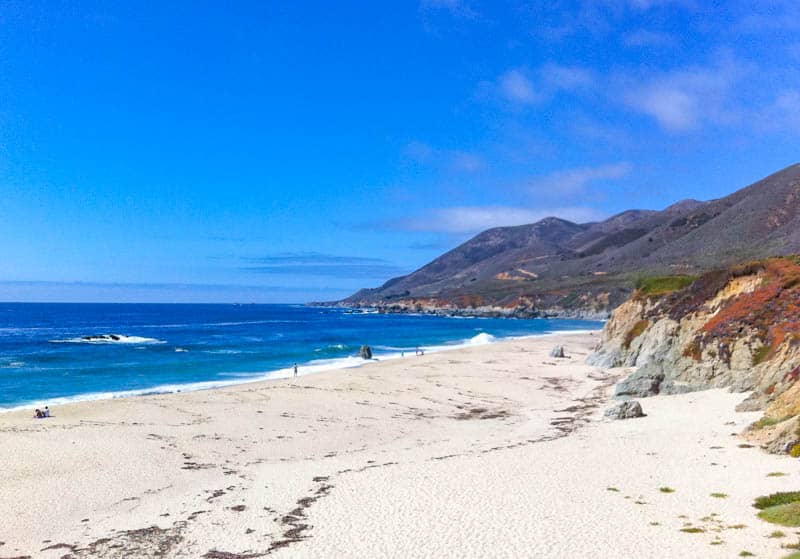 Carry a cooler with water and food
Big Sur is largely unspoiled wilderness, and there are only a few restaurants along the drive. We suggest packing a cooler with lots of drinking water and picnic fixings for lunches. Also carry non-perishable snacks: we love these bars!
Download Maps and Brochures prior to Your Road Trip
Cell reception is poor to non-existent in much of Big Sur. Download all maps and brochures you need on the drive before you start the road trip. To be safe, make paper copies as well and keep them handy!
We love this guide to Big Sur day hikes. If you plan to do some hiking on your trip, it is a great resource!
You may also want to download the tide schedules for the days of your trip if you plan to walk the beaches, so you are aware of the timing of incoming tides.
Dress in layers
Even on summer days, it can be cool and breezy along the bluffs of Big Sur and by the water if you go down to the beaches. Dress in layers, with a light warm jacket.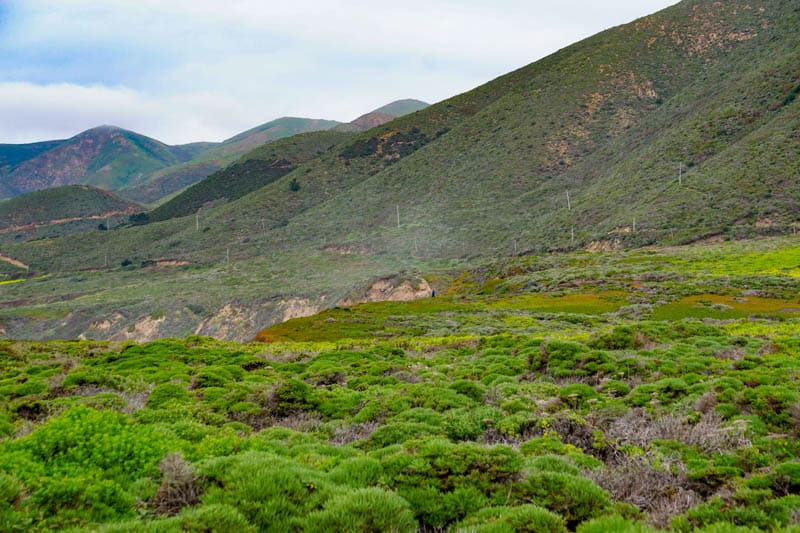 We recommend long-sleeved shirts and long pants. You will find lots of poison oak along the trails (leaves of three, let them be!), and keeping your arms and legs covered is a good idea.
Wear appropriate footwear for hiking
Sturdy, closed-toed walking shoes or hiking shoes or boots are a must if you plan on hiking more than short nature trails. Bring water shoes if you plan to dip your feet in the water at creeks, rivers, or waterfalls.
Rent the right vehicle for your Big Sur road trip!
While driving Big Sur in a convertible with the top down sounds super romantic, we recommend passing on a convertible.
With usually breezy conditions and changeable weather (think fog to sun to clouds to fog again, all in the same day!), you will be spending lots of time putting the top up or down.
Driving with the windows rolled down is plenty exciting, and you can take all the photos you want, without the hassle of dealing with a soft-top.
Also consider renting a low clearance vehicle for greater stability on the winding and narrow California Highway 1. And, pick automatic!
(Only the Old Coast Road, an optional 12-mile dirt road detour between Bixby Creek Bridge and Andrew Molera State Park, would be better done in a high clearance 4WD.)
Ready to rent a car for your Big Sur road trip? Discover Cars offers you the ability to compare availability and prices across many major car-hire companies. Pick the car that best meets your needs!

Book your car with Discover Cars now!
We've seen folks do the Big Sur road trip in an RV. There are numerous campgrounds in the region, many with RV hookups.
But know that the road is narrow and winding, and there are tight turns. Plus there are some roads where you can't take an RV, such as the road to Pfeiffer Beach.
You may plan on renting an RV for a more extensive California road trip of which Big Sur is a part, but if you are going to do the Big Sur road trip on its own, rent a car!
Remember your camera and binoculars
If you have a smartphone with a good camera, bring it. But it's worthwhile bringing your camera on the Big Sur road trip, because the vistas are just so out-of-this-world beautiful and you will want to capture them the best you can.
A zoom lens is useful if you enjoy photographing birds or wildlife. Also bring compact binoculars to observe birds and wildlife and to scan the ocean for whale spouts!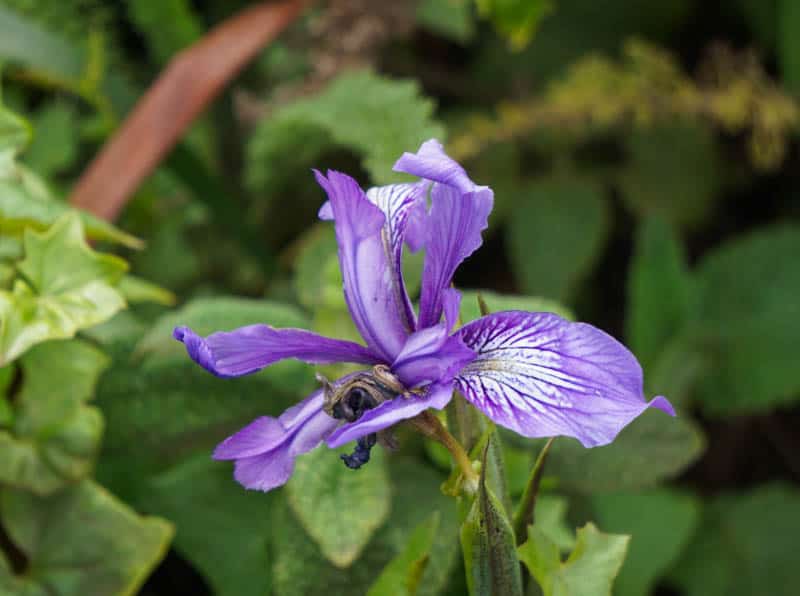 Note the Big Sur Ranger Station contact information
The Big Sur Ranger Station is located at 47555 Hwy 1, Big Sur, CA 93920. Rangers are generally available from 9 a.m. until 4 p.m. in the event you have questions or need information on hikes, road conditions, camping, and more.
There are public restrooms at the station and cell service is generally available.
Park and ocean safety information and information on operating hours and fees, trail closures, and park closures can be found on the websites of the individual state parks. Read the safety guidelines and recommendations before you begin your trip!
You can call the toll free hotline at (888) 836-0866 for traffic and road conditions between Carmel and Cambria.
Big Sur Road Trip Itinerary
In this article, we've described a 2-day Big Sur itinerary that starts in Carmel-by-the-Sea and wraps up in San Simeon.
If this is your first visit to the region, you may want to add a day at each end, to explore each of those two places.
Carmel-by-the-Sea is a really charming California coastal village with lots to do, and San Simeon has a pair of must-visit attractions: Hearst Castle, in our opinion one of the top visit-worthy California state parks, and the Piedras Blancas Elephant Seal Rookery, where you can see literally thousands of the pinnipeds in some months of the year.
If you have just one day for the Big Sur drive, you can still do quite a bit of this itinerary. Pick a few short hikes (we've offered some suggestions in this article) and enjoy the sightseeing and photo stops!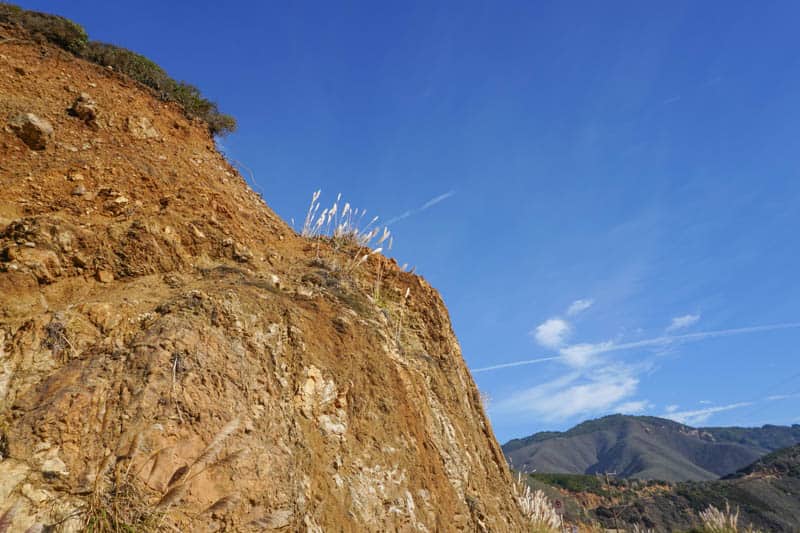 And if you have 3 days (or more!) for your Big Sur road trip, check out our article on unmissable Big Sur attractions for more ideas on exciting things to do in Big Sur. From hikes to waterfalls and beaches, there is a lot to discover here!
You can also incorporate this Big Sur itinerary as is or modified if you are planning a longer California coast road trip or a California road trip.

Day 1 of Big Sur Itinerary: Carmel to Pfeiffer Big Sur State Park
Driving distance and time: 33.9 miles, about 1 hour and 5 minutes
Start your day early with coffee and a pastry at Carmel Bakery. Then head to California Highway 1 to begin your Big Sur road trip!
Day one highlights include hiking in beautiful Point Lobos State Natural Reserve and Garrapata State Park, and photo ops at iconic Bixby Creek Bridge and Pfeiffer Beach.
There are expansive water views all along this stretch of the Big Sur drive, and lots of places where you can pull over to enjoy the views and take photos. If you are like us, you will want to stop every few yards!
Look for sea and land birds, wildlife, and marine life all along the Big Sur coast. You may see California condors roosting at the tops of eucalyptus trees, other raptors, and a variety of sea and land birds.
Animals are less visible during the day, but we've seen foxes, deer, and rabbits. Look for harbor seals, otters, and sea lions, and, in season, gray whales on their migratory path.
In the spring, you will see lots of wildflowers on the slopes of Big Sur. In a good year, you can come across big dramatic swathes of orange California poppies or purple lupine.
But keep a watch as you are hiking for less prolific but no less beautiful varieties such as the purple wild iris. Wildflowers generally peak at Big Sur in April.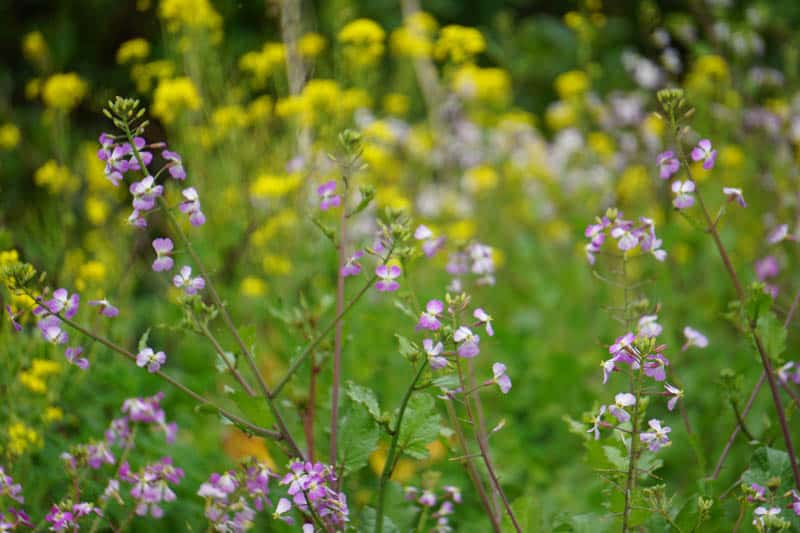 Also in the spring, the hills and slopes of Big Sur are a lush bright green, a beautiful contrast to color from wildflowers and the blue of the Pacific Ocean.
Remember to stay on designated trails, to protect the fragile ecosystem of Big Sur, and to avoid brushing up against poison oak.
The rest of the year, the hills and cliffs of Big Sur are the color of a lion's mane, and wild grasses provide floral interest. We love the tan of the cliffs against the blue of the water! Big Sur is beautiful no matter when you visit.
Stop at Point Lobos State Park
Your first stop of the day is Point Lobos State Reserve, just about 4 miles south from the village of Carmel-by-the-Sea.
Described by a visiting landscape artist from Australia as "the greatest meeting of land and water in the world," Point Lobos will truly take your breath away.
We have written a whole article describing the best Point Lobos hiking trails, but suffice is to say that walking these super scenic trails is one of the best things to do in all of Big Sur.
None of the interlinking ocean view trails at Point Lobos is difficult: they should be doable for most visitors to the park.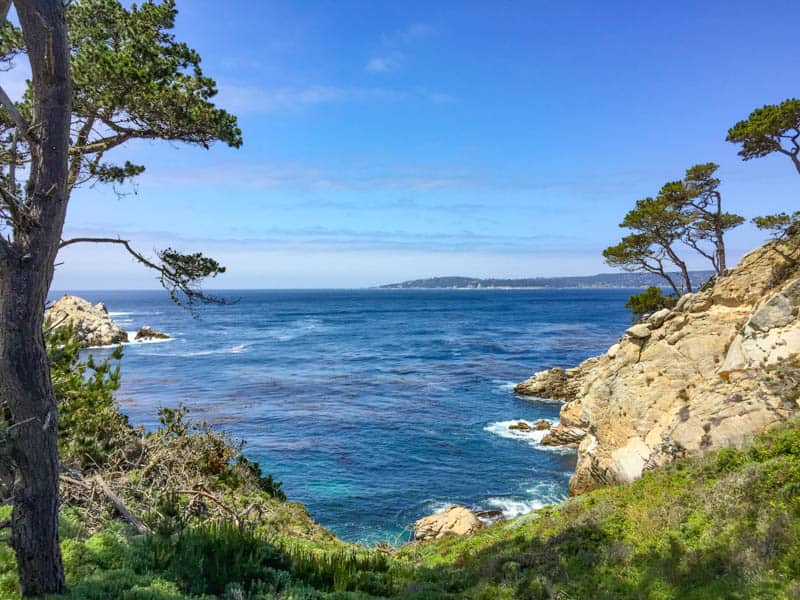 From the trails, you can snap photos of the Pacific Ocean, the rocky shoreline, and the ancient Monterey cypresses for which the park is known.
Other than wildlife, birds, and marine life, the park's flora is beautiful, and in spring and summer the park is flush with wildflowers.
The rocks at the coastline are picturesque as well, and jade-colored China Cove and navy-blue Gibson Beach on Bird Island Trail make for fabulous photos.
If you choose to walk several ocean view trails, (and we suggest you do!), you will need about 3 to 4 hours at Point Lobos State Park. There are picnic tables at Point Lobos if you want to have a meal before you hit the road again.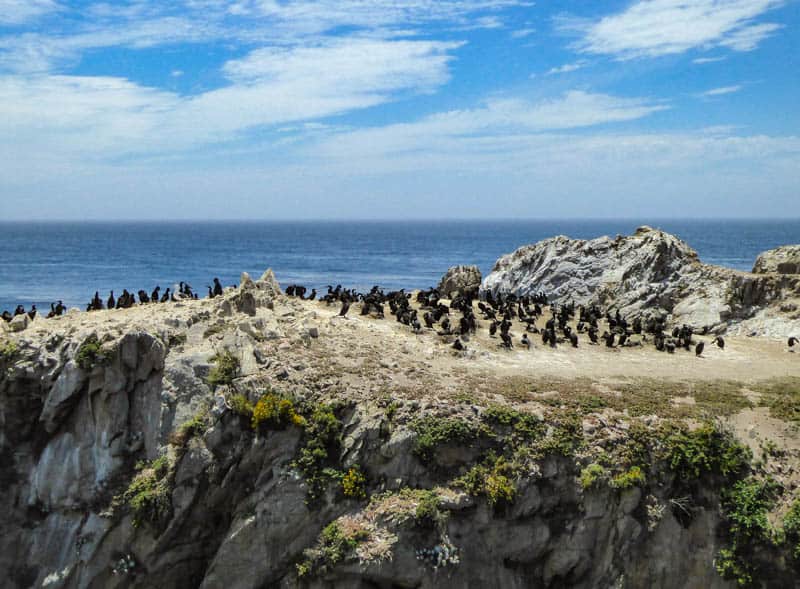 Good to know: There is a fee to park inside Point Lobos. Parking lots get full early, but since you will arrive first thing in the morning, you should have no trouble getting a spot.
The day fee per car is valid for the other Big Sur state parks until sunset, so save the ticket on your dashboard!
Folks also park on the shoulder of California Highway 1 and walk into the park for free.
Stop at Soberanes Point in Garrapata State Park
Garrapata State Park is gorgeous: its untamed wilderness is quintessential Big Sur.
The Soberanes Point area of Garrapata has a couple of super scenic viewpoints for photos.
There are coastal trails here as well: Garrapata Bluff Trail, on the coastal side, is a short loop, 0.6 mile long and offers fabulous views, and you can hike to Soberanes Point on a loop trail.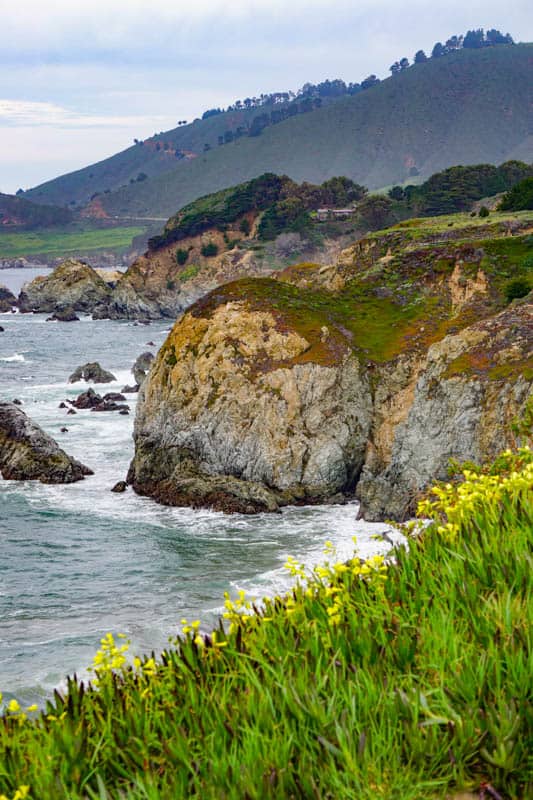 Soberanes Point is one of the most photographed spots in Big Sur, so be sure to get your own photos! With red ice plants and lichen covering the cliffs, the area is very beautiful. You can peek down at the little pristine coves below.
Good to know: There isn't a lot of signage in Garrapata State Park. Numbered mile markers from 1 to 19 are used to indicate points of interest in the park. The coastal trails at Soberanes Point are at mile markers 8 and 9.
Parking is on laybys by the side of the road, which are narrow. You will have cars whizzing past and pedestrians walking around, so exercise extreme caution when parking, getting out, and walking outside at points along California Highway 1.
There is no fee for Garrapata State Park.
Stop at Garrapata State Beach
At mile markers 18 and 19, you can access Garrapata State Beach.
We generally go down the steps at mile marker 19, where you arrive at the far south of the beach, which you can then stroll. Before you head down the stairs, you can walk the promontory for great views over the ocean.
Garrapata Beach is sandy, with rocks and cliffs providing a dramatic backdrop. You can't swim here, but the walk is beautiful.
At the south end, you may see Garrapata Creek flowing into the ocean. As you walk towards the north end, look for Doud Creek as it carves a path through the sand into the ocean.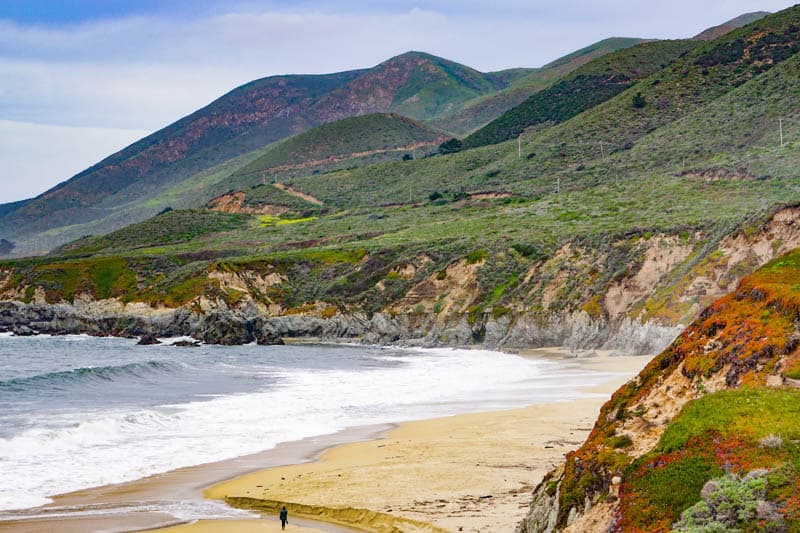 In the spring, a spectacular display of white Calla lilies lights up the shores of Doud Creek in the valley through which the creek flows before it emerges onto the beach.
Good to know: There is no fee for Garrapata State Beach.
Stop at Bixby Creek Bridge
As you drive south from Garrapata Beach, the views continue to be beautiful, and you can make quick stops at Notleys Landing and Rocky Creek Bridge for photos before you arrive at Bixby Creek Bridge, one of the most popular stops on the Big Sur Coast drive.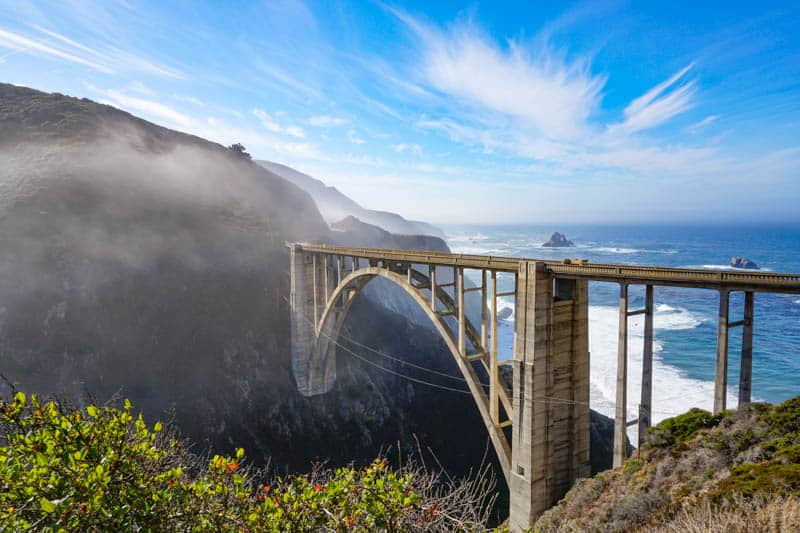 The single-arch bridge hangs over the canyon, at the very edge of the ocean. It opened in 1932, and its graceful lines and gorgeous setting make Bixby Creek Bridge one of the most photographed spots on California's coast.
You can park on either side of Highway One at the north end of the bridge.
Stop at Scenic Overlooks
Just after Bixby Creek Bridge, the road crests a hill. Starting at the top of the hill, there are a few scenic overlooks with dramatic vistas that you should not miss.
Hurricane Point View, right at the top of the hill, is our favorite Big Sur scenic overlook. The overlook offers expansive views of the stunning Big Sur coastline against the Pacific Ocean.
If you've seen photos of Big Sur with curved bays stretching all the way to the horizon, this is the viewpoint where the photos were likely taken.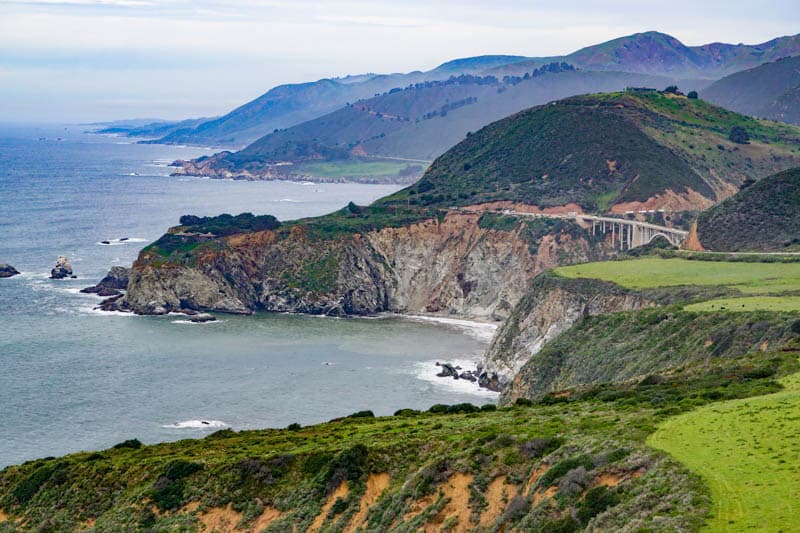 Going south, the Sea Otter Refuge Viewpoint and the Little Sur River Viewpoint are both great photo spots and places from where to look for whales in season.
Also look for the historic Point Sur Lightstation, perched on a volcanic rock off shore. If you have a zoom lens, you can snap photos of the picturesque lighthouse from the road. The lighthouse can only be visited on guided tours. You can also tour the nearby former Point Sur Naval Facility.
Stop at Andrew Molera State Park
Andrew Molera State Park has a long flat sandy beach that is perfect for walking. Driftwood on the beach makes for beautiful photo compositions.
On this itinerary, you will have time for one hike. All the trails run parallel to the ocean, and you can walk as far as you like before you retrace your steps.
Choose either the walk along the sandy main beach, or the walk along the bluffs above the beach: either is one of the best Big Sur hikes to put on your itinerary.
If you choose the bluffs, don't miss the short Spring Trail spur, where, if you scramble over the boulders, you will find a small pristine beach.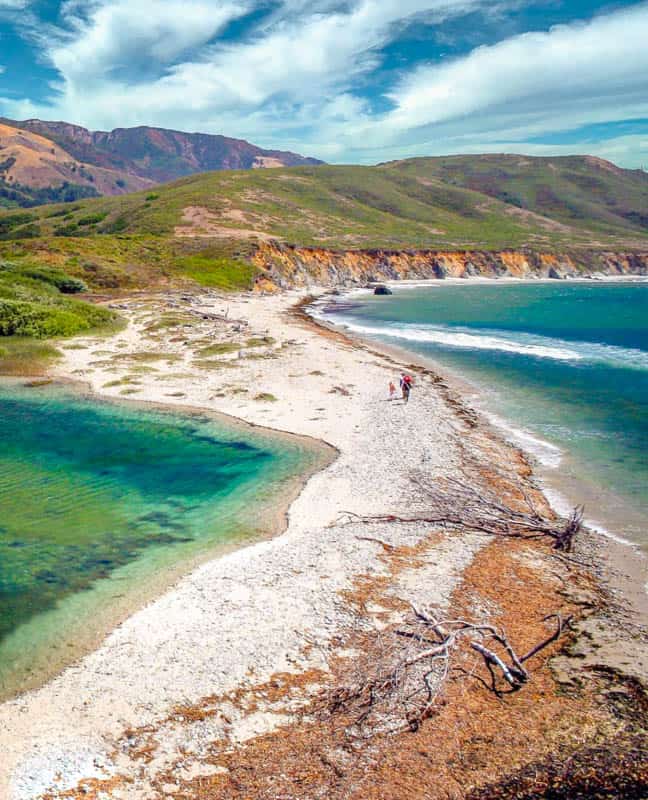 If you are up for the challenge, you can choose the Ridge Trail, which runs parallel to the beach and the bluffs trails, at a higher elevation. You will climb about 1,000 feet for superb panoramas over the water.
The trail from the parking lot to the beach (or the bluffs), runs parallel to Big Sur River and you can see the mouth of the river as it enters the ocean. There are photo ops all along these walks.
Good to know: There is a parking fee at Andrew Molera State Park, but the fee you pay at one park is valid at all the parks on that day. Display your receipt on your dashboard.
If you are unsure of the tide schedule, stick to the Bluffs Trail or the Ridge Trail. You could get trapped by incoming tides if you walk south on the beach without being aware of high tide times.
Visit Pfeiffer Beach
Pfeiffer Beach is the last sightseeing stop for day one of your Big Sur road trip. Accessed via a somewhat narrow and windy road, Pfeiffer Beach is managed by the Los Padres National Forest.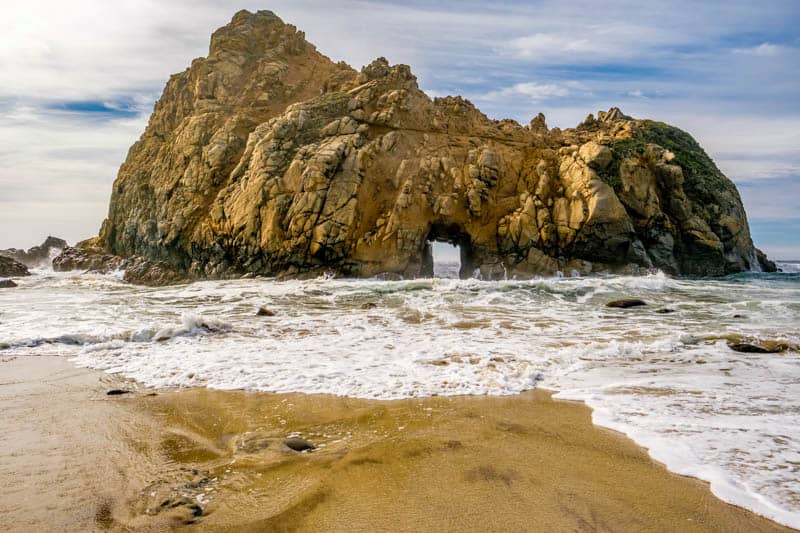 The Purple Sand Beach is one of the most popular spots along the Big Sur coast. Manganese garnet deposits in the surrounding hills are washed down to the beach, creating purple specks in the sand. The purple can be less or more intense at different times.
Pfeiffer Beach is stunning any time of day, but it is just spectacular at sunset.
Keyhole Rock, a large natural arch, stands just offshore, creating a picture postcard scene. A stroll along Pfeiffer Beach, watching waves dash against the rocks and arches, is the perfect way to end your first day in Big Sur.
Good to know: There is a fee to park at Pfeiffer Beach, and your national parks pass, if you have one, will not work here. Also, parking spots at the beach are limited.
In the evening, your chances of finding parking are generally good, but know that there is always a small likelihood of being turned away if parking lots by the beach are full.
Dine and Sleep near Pfeiffer Big Sur State Park
Spend the night in or around Pfeiffer Big Sur State Park. Here you will find several lodging and camping options, plus a number of nice places to have a leisurely dinner.
We have listed accommodation options in a separate section to help you plan. Check out Big Sur glamping!
Most hotels and lodges in Big Sur have onsite restaurants. For a special treat, book a table for dinner at Sierra del Mar, the restaurant in Post Ranch Inn, even if you choose to stay elsewhere. The menu is fabulous, and the view spectacular.
Nepenthe is another option nearby for dinner. The restaurant boasts superb water views and the food is good.
Day 2 of Big Sur drive: Pfeiffer Big Sur State Park to San Simeon
Driving distance and time: 62.9 miles, about 1 hour and 35 minutes
Again, we recommend starting early, because there is just so much to see and do in Big Sur!
Day two highlights include hikes in Pfeiffer Big Sur State Park and Limekiln State Park, and photo ops at several beautiful Big Sur waterfalls!
Big Sur Bakery, just south of Pfeiffer Big Sur State Park, is a great place to grab coffee and breakfast to go.
If you can wait for a bit to have breakfast, Café Kevah is another great option: you can take in the views from Nepenthe Restaurant as well while you are here!
Hike Pfeiffer Big Sur early and then stop at Café Kevah on your way south. If you need to replenish your food supply, Big Sur Deli and General Store opens early in the day and is on the way to Nepenthe Restaurant.
As on day one, your day two drive is very picturesque, with numerous scenic overlooks along the way. Pull over at designated laybys or parking areas to take in the views and snap photos. Be on the lookout for birds and wildlife!
Explore Pfeiffer Big Sur State Park
Pfeiffer Big Sur State Park doesn't have a coastal presence.
Instead, its focus is Big Sur River, for a different ambience altogether. Walking along the banks of the river among the redwoods, sycamores, oaks, and other mature trees, while listening to the sound of the water, is super relaxing.
We suggest picking one other hike, apart from walking by the river.
Valley View is moderate to challenging and takes you up the hills for a beautiful panoramic view of Big Sur Valley. On your return, you can do the other fork of this trail for a view of Pfeiffer Falls. The falls may not always be full, so check with a ranger before choosing this trail.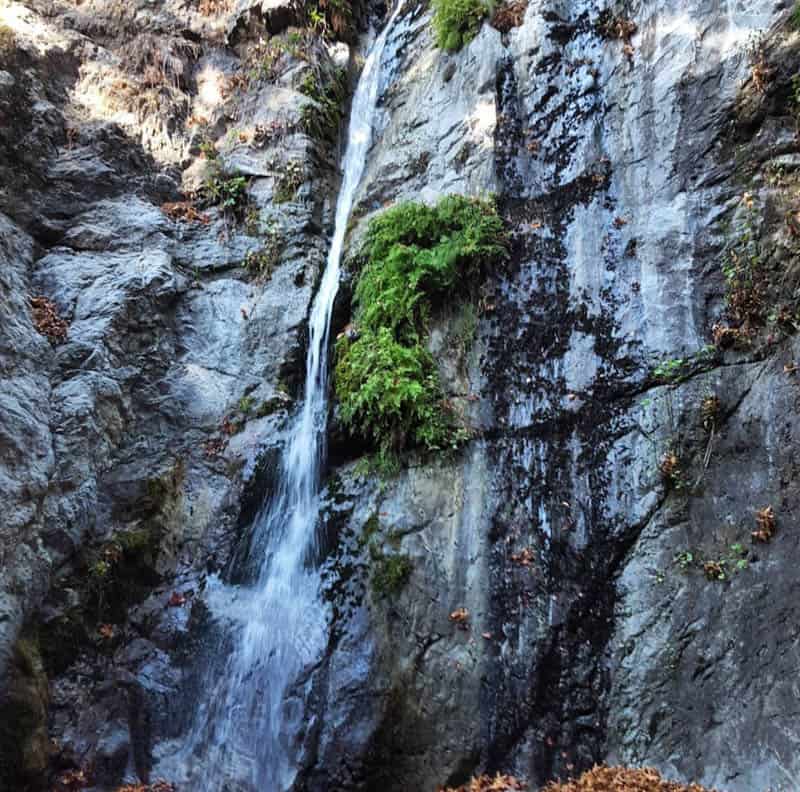 Buzzard's Roost is the other popular trail in Pfeiffer Big Sur. It involves a moderate to challenging climb, for gorgeous views of the Pacific Ocean and the Santa Lucia Mounains. Plus, you get to walk past the river and the redwoods on this hike. This is our favorite hike in Pfeiffer Big Sur State Park.
Good to know: There is a parking fee for Pfeiffer Big Sur State Park, but the fee you pay in one park is valid at all parks for the day. Save your receipt and display it on your dashboard, since you will be stopping at other state parks on this day.
Stop at Julia Pfeiffer Burns State Park
Julia Pfeiffer Burns State Park is home to the famous McWay Falls (one of the most beautiful waterfalls in California!) and a number of scenic trails.
While you can view McWay Falls from the highway, it is worth doing the short trail to the overlooks for unobstructed views of the 80-foot ribbon of water tumbling onto the beach at low tide and into the ocean when the tide is in.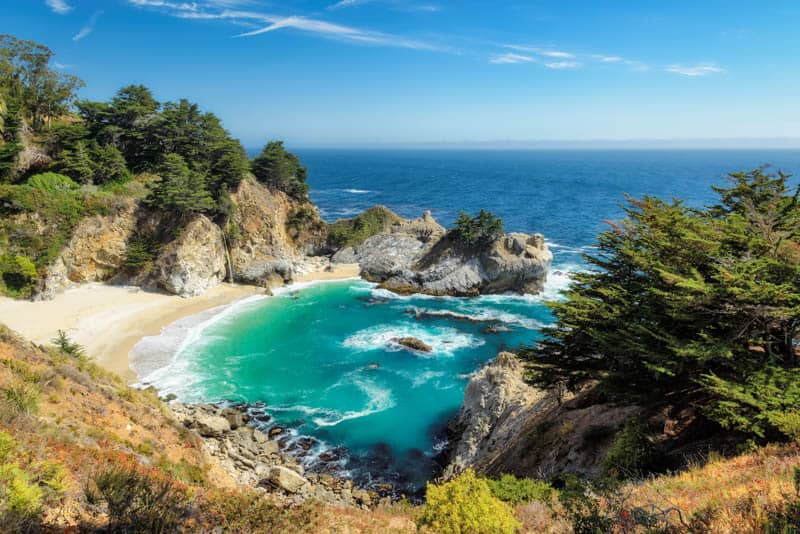 The McWay Falls Overlook Trail is a good place to be on the lookout for California condors.
You may see them roosting on the eucalyptus trees along the trail. If you are lucky, you may see one fly off as you are watching: the wingspan of the California condor, at 9.5 feet, is enormous. California condors are considered critically endangered.
The Ewoldsen Trail is a 5-mile hike that involves a steep climb, but the payoff is a stunning view of the coast. The trail goes through towering old-growth redwoods. If you are up for the challenge, this hike is fabulous.
Alternatively, try the Partington Cove Trail, a 1-mile round trip hike that goes down to the ocean: one fork leads to a small beach and the other to an overlook.
Good to know: There is a parking fee for Julia Pfeiffer Burns State Park, but the fee you pay in one park is valid at all parks for the day.
There is no access to the beach at McWay Falls, or to the falls. People have had to be rescued or have had accidents attempting to access one or both. Please heed park guidelines.
Relax at Esalen and Slates Hot Springs
For a super special experience, book a massage at Esalen. The massage is heavenly and you get to arrive one hour before your treatment and stay one hour after your treatment.
Before or after your massage, enjoy a deeply relaxing soak in the mineral waters of the Esalen hot springs. Located right above the ocean, the hot springs offer magnificent views as you soak. (Note: the hot springs are clothing optional.) You can also walk the grounds and enjoy the gardens and views.
Good to know: Book your Esalen treatment online ahead of your visit to ensure you get the time slot you want.
Other than booking a massage, the only way to enjoy the hot springs is to book a slot during the night public bathing times between 1 a.m. and 3 a.m.
Explore Limekiln State Park
The southernmost state park in Big Sur, Limekiln State Park features beautiful hikes through mature redwoods.
A trio of short, moderately easy trails takes you to three scenic canyons within the park, and they are some of our most favorite Big Sur hikes. We suggest doing all three trails!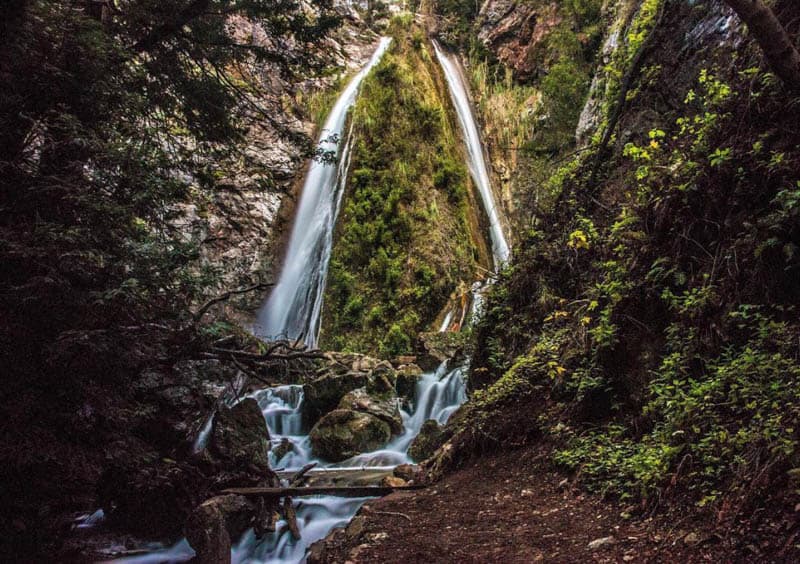 The Hare Creek Trail meanders by the creek in the shade of the redwoods. There isn't any scenic endpoint to this trail, so it's all about the journey, which is pleasant and relaxing.
The Limekiln Trail gently climbs until it ends at the four historic lime kilns. The towers have rusted, but they are reasonably well preserved.
The Limekiln Falls Trail requires some wading through the stream, or hopping over stones, and ends at Limekiln Falls, a picturesque waterfall that tumbles down a cliff face. The waterfall is likely to be at its fullest in spring or early summer.
The three trails total less than 3 miles round trip. Note that the falls trail does require some agility.
Good to know: There is a parking fee for Limekiln State Park, but the fee you pay in one park is valid at all parks for the day.
Stop at Sand Dollar Beach
The longest beach in Big Sur, Sand Dollar Beach can be accessed via stairs. It is a great place to go beachcombing, although you may not find any sand dollars. Tidepooling is another popular activity. Sand Dollar Beach is the best place in Big Sur for surfing.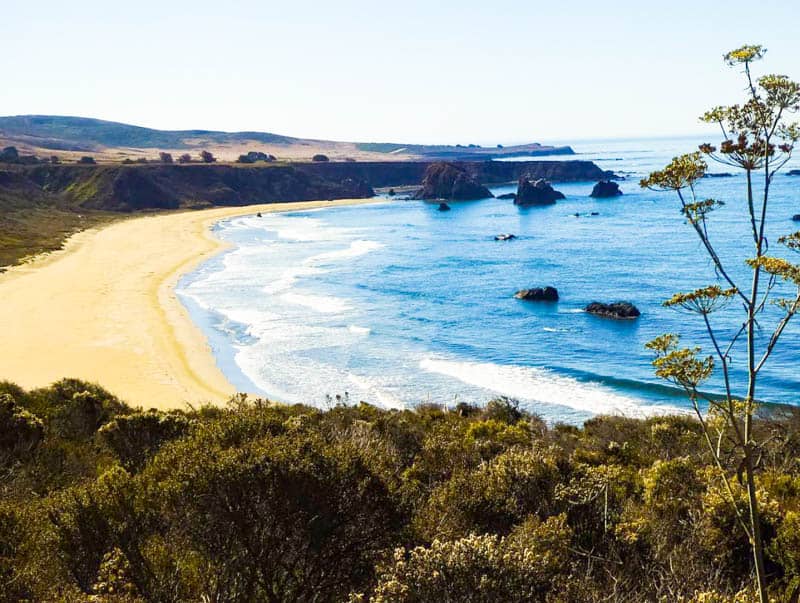 We've never actually gone down to Sand Dollar Beach, but it is on our list! You can park at an overlook for great photos of the beach if you do not wish to spend time at the beach.
Good to know: Sand Dollar Beach is managed by Los Padres National Forest and there is a parking fee, separate from the parking fee for Big Sur state parks.
Stop at Salmon Creek Falls
A short hike that leads to a beautiful waterfall, the Salmon Creek Falls Trail is a must-do if you are okay with some wading and muddy parts. The waterfall tumbles 120 feet down the cliff face, and is most powerful in the spring.
The trailhead is right off California Highway 1. Parking is available by the trailhead. You will hear the waterfall as you start walking the trail! There are some boulders that block the view of the base of the waterfall, but you can still view the falls, and the setting is beautiful.
We've seen folks scramble over and around the boulders to get to the base of the falls, but we've been content to view the cascade from the endpoint of the trail.
Stop at Ragged Point
Ragged Point is your final sightseeing stop on the Big Sur road trip. From the overlook, you get beautiful top down views of the water. Stop in at Ragged Point Restaurant for a drink and perhaps something to eat as well.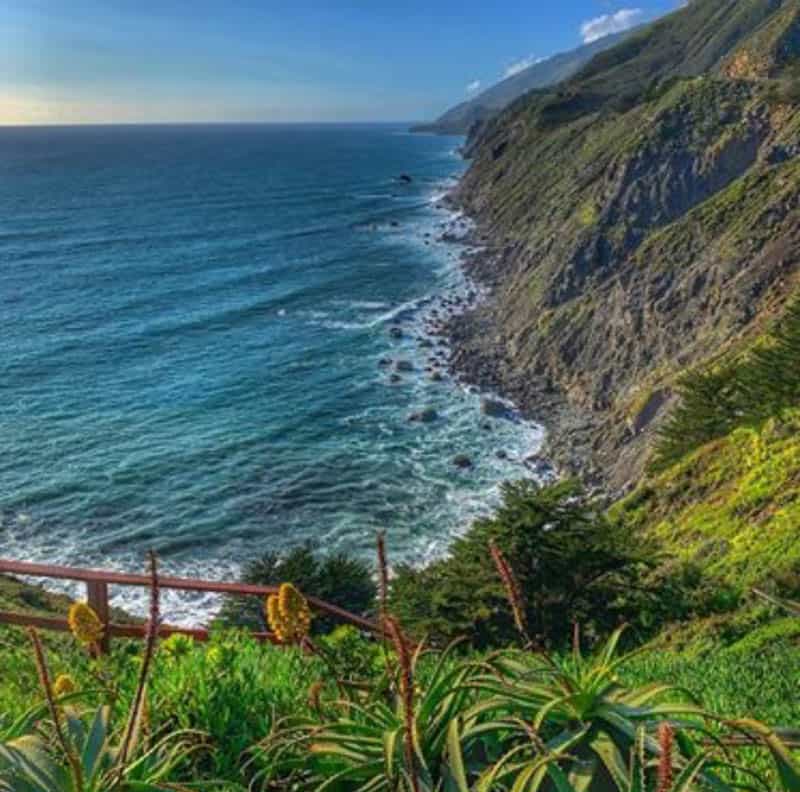 Just south of Ragged Point, hike one last easy trail if you have the time. The San Carpoforo Creek Trail is flat and short (just one mile out and back) and follows the creek to a beach where it meets the ocean.
Wrap up your Big Sur Road Trip
Back in your car, drive the final scenic stretch of the route into San Simeon to complete your Big Sur road trip. Cambria, just a few miles south of San Simeon, is a great place to have dinner and spend the night.
As we mentioned earlier, if you can spare another day, San Simeon has some unmissable sights.
Hearst Castle, set on top of a hill overlooking the Pacific Ocean, is a must-visit. Its architecture, gardens, and art can be admired on a variety of guided tours.
The Piedras Blancas Elephant Seal Rookery has a boardwalk trail from which to gape at the masses of seals that cover the beach. And the historic (and picturesque) Piedras Blancas Light Station can be visited on a guided tour.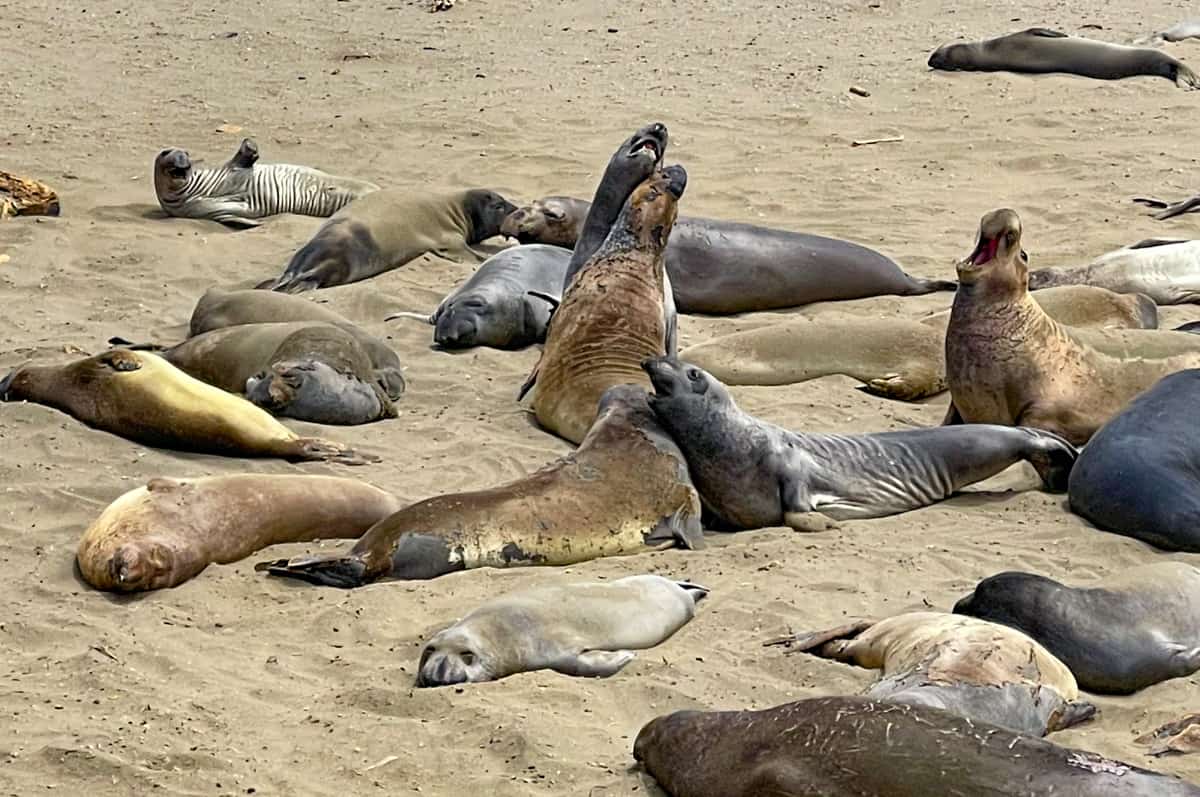 To return by road to San Francisco from Cambria, take CA Highway 46 East to US 101 North.
Where to Stay in Big Sur
On this itinerary, you will spend one night in or near Pfeiffer Big Sur State Park.
Here you will find different types of accommodation, from super upscale hotels to more modest lodging, as well as camping options.
While most hotels in Big Sur are not easy on the average pocketbook, they offer gorgeous settings and superb rustic-upscale experiences.
Big Sur Hotels
Ventana Big Sur is a luxury adult-only resort close to Pfeiffer Big Sur State Park. Located on a hilltop on over 160 acres, the hotel overlooks the Pacific Ocean. Boasting two heated pools and a Japanese hot tubs, Ventana Big Sur offers spacious rooms and suites. There is a well-reviewed onsite restaurant. Book a stay here!
Big Sur River Inn is also located close to Pfeiffer Big Sur State Park. Comfortable rooms feature wood accents and white linens. There is a seasonal outdoor pool, and an onsite restaurant offering American fare. Book a stay here!
Big Sur Lodge is located inside Pfeiffer Big Sur State Park. Nestled amidst the redwood trees in the park, Big Sur Lodge offers a variety of comfortable cottage style rooms and an onsite restaurant. Book a stay here!
Glamping and Camping
Glamping is a great option for your one night in Big Sur. Near Pfeiffer Big Sur State Park, Ventana Resort offers beautiful tent cabins with custom-designed mattresses and luxury linen, and instant hot and cold potable water with sink.
Ventana also offers regular camp sites at the Ventana Campground. You can also camp in Pfeiffer Big Sur Campground: reserve well in advance. Both tent and RV camping sites are offered. For a little upcharge, you can get a site right by Big Sur River!
Day-by-Day Map for the Big Sur Road Trip

We hope you found some ideas here to help you plan your own Big Sur road trip. It is a spectacular road trip and we know you will enjoy it! If you have questions, let us know in the comments!
Planning to explore more of the Golden State? Check our other day-by-day itineraries for California road trips!
Did you find this article informative? Pin it for later reference!