Planning a California desert road trip?
The California deserts are a spectacular part of the state, and a road trip in the cooler months between late fall and spring is the ideal way to experience their powerful raw beauty.
On this California deserts road trip, you will explore landscapes from sand dunes to salt flats, enjoy outdoor activities from hiking to rock scrambling, and exclaim over dark night skies filled with millions of stars.
If you think that deserts are drab, you will be pleasantly surprised when you visit California's desert parks.
From colorful canyons in Death Valley National Park with hues ranging from pink and rust to lavender, blue, and green, to fields of Joshua trees in Joshua Tree National Park that look like they've stepped out of a Dr. Seuss book, you will find diverse and astonishingly beautiful landscapes to admire.
If you enjoy local history, you will find many interesting sites to explore on a road trip through the California deserts: ghost towns on the periphery, the remains of mines from the Gold Rush times, ruins of old cattle ranches, and small museums that preserve bits of local history.
Some links on this page may be affiliate links. If you click an affiliate link and make a purchase, we may receive a small commission, at no extra cost to you. For more details, refer to our disclosure.
Wildlife and birding enthusiasts can look for a plethora of local species from pupfish to desert foxes. Photographers can chase colorful desert sunrises and sunsets. Nature lovers seeking respite from urban stressors can take a deep breath and savor the silence and serenity.
A visit to the Golden State isn't complete unless you've experienced the stunning beauty of its deserts. We've roadtripped them several times now, and would not hesitate to return!
In our opinion, a deserts road trip is one of the best California road trips you can do if you plan to visit in the cooler months of the year.
We have the California deserts as part of our larger 2-week California road trip guide and our epic 4-week California road trip itinerary, if you are considering longer road trips through the Golden State.
We've described a California deserts itinerary that starts and ends in LA, but you can do the trip from Palm Springs or San Diego as well, modifying the route to account for the different starting point.

California Desert Road Trip Tips
Before we detail our California deserts road trip itinerary, here are some tips for an enjoyable trip!
The Best Time to Do the Road Trip through the California Deserts
Any time between late fall and spring (November through March) is a good time to do the California deserts road trip.
You can expect daytime temperatures to be in the mid 70s to low 80s in November and March, and in the 60s from December through February, making it perfect for exploring outdoors.
In spring and fall, you will have more daylight hours, making it possible to do more each day than in winter.
Note that winter nights in the desert can be super cold, so pack warm clothing if you plan to be out early and late in the day.
Stargazing, sunrises and sunsets, and moon rises and sets can be truly spectacular in the desert, so packing smart will enable you to bundle up and enjoy these bounties of nature. We recommend warm jackets, beanies, scarves, and gloves!
Spring brings wildflower bloom to the desert. In good bloom years, the deserts on this itinerary show off stunning carpets of color, from yellow to pink to white to purple.
It can be a beautiful time to visit, but expect more people around peak bloom time, especially in superbloom years. Cacti and succulents bloom in the spring as well, generally between March and May.
If you plan to visit around wildflower bloom time, this website offers updates on bloom in the various desert regions in California and beyond!
Download maps and other information ahead of your road trip
Cellphone reception is poor to non-existent in much of the desert.
Download all the maps and brochures and directions you need for the trip ahead of your departure. To be safe, print hard copies and carry them in a folder, or carry purchased hard copy maps.
A couple of gadgets that may come in handy on this trip (or other road trips through wilderness areas) and otherwise if you hike a lot: a GPS smartwatch and a device to send messages to family or to ask for help when you can't use your phone.
The Garmin Fenix 6 is a premium model GPS watch, with all the functionality you could ask for in terms of mapping, GPS, music, and monitoring.
Buy it on REI | Buy it on Amazon
Or check out the Garmin Instinct, a more affordable option, on REI or Amazon. It features GPS, heart rate monitoring, and a 3-axis compass. The construction is solid and it has a good battery life.
The affordable InReach Mini functions as a great backup resource for navigation. With a satellite subscription, it enables you to send and receive texts when there is no cell phone reception. It weighs only 3.5oz, and has tracking and SOS capabilities as well.
Buy it on REI | Buy it on Amazon
Carry your National Parks Pass!
The America the Beautiful National Parks Pass will save you money if you plan to visit 3 or 4 national parks or other federally managed recreation areas during the 12 months following purchase.
Once you have your pass, remember to display it in your vehicle for the duration of your trip. It's hassle free and will save you time at the national parks on the itinerary.
Rent the right vehicle for your California Deserts Road Trip
You can do this California deserts road trip itinerary in a regular sedan. We've driven through these deserts in a rented regular sedan or in our own little Honda Civic.
That's because except for a few short excursions, which we will detail , you will be traveling on paved roads. We've found the paved roads in the California deserts in excellent condition when we have visited.
But if you want to include a few dirt road adventures on your trip (and they make for exciting drives through the less-traveled parts of the parks), we recommend renting a high clearance 4WD.
The Mojave Preserve, in particular, and many off-the-main-tourist-trail parts of Death Valley National Park, require such a vehicle, plus experience and skill. Having to be towed if you are stuck in the desert is a super expensive affair, plus you will face long delays before help arrives.
Check out Discover Cars for your car rental. They scour multiple providers, from brands to budget, to get the best price and find one with the lowest one-way rental surcharge if there is one.
If you enjoy touring in an RV, the California deserts road trip is a great RVing opportunity! We've seen many folks visiting Joshua Tree National Park or Death Valley National Park in RVs.
There are numerous campgrounds in the desert parks, many with RV hookups. You should be able to visit most areas of the parks in an RV.
One notable exception would be Dante's View in Death Valley National Park, but there are many other places to enjoy the gorgeous landscapes in the park.
If you don't own an RV but would like to tour the California deserts in one, check out Outdoorsy or Escape Campervans to find the perfect vehicle for your trip!
Pack your camera and binoculars!
If you enjoy landscape photography, you will definitely want to bring your gear on this road trip.
The vast desert canvases, with their subtle colors and textures, and the interplay of light and shadow early and late in the day, offer superb photo ops.
Plus, the dark skies offer opportunities to capture the Milky Way at night.
Even if you aren't a serious enough photographer to want to carry a DSLR and multiple lenses on your road trip, consider a small digital camera with a powerful zoom lens for those times when you are lucky enough to spot birds or wildlife.
Whether it's a coyote slinking down the road in Death Valley, or bighorn sheep drinking water at Barker Dam in Joshua Tree, the Panasonic Lumix DC-ZS70 takes great photos, while being small and light enough to fit in your jacket pocket. We never leave home without our little camera!
Our go-to binoculars: the compact Celestron Trailseeker, waterproof and great in low light.
Other Things to Know
Drinking Water: On a desert road trip, make sure you always have a couple of days' supply of drinking water in the trunk of your car. Carry hydration bags or water bottles to have enough drinking water when you are on foot, hiking or exploring.
Food and Snacks: Stock your car with non-perishable snacks, and bring a cooler where you can store perishable food. Some days, lunches will be picnic meals, so you need to be able to buy food and store it safely.
This is especially the case if you have special dietary needs or restrictions.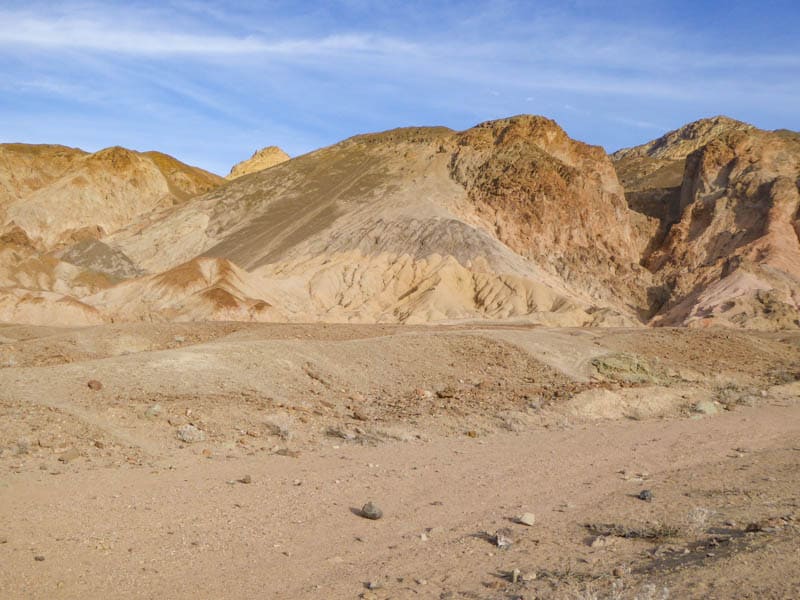 Gas: Make sure you fill up when you see a gas station so you are never low. Death Valley National Park has gas at Furnace Creek and Stovepipe Wells, even if it is a little pricier than you can find outside the park.
There are no gas stations inside Joshua Tree National Park or Mojave National Preserve, but gas is available in nearby towns: fill up before you enter.
Weather: We do not advise doing this road trip in the warmer months, unless you just plan to drive through: it is just too brutally hot to be enjoyable.
Check the weather forecast before you head out on your trip, to become aware of any potentially adverse weather events.

Thunderstorms and flash floods can create problems even in the dry desert. Speak with rangers to get advice on hikes and other activities on a given day.
Call ahead for information on road closures and road conditions, especially is you plan to do backroad driving.
California Deserts Road Trip Itinerary At A Glance
Here is a quick look at the California Deserts road trip itinerary.
Read on for a day-by-day detailed route description, with suggestions for top sights and activities along the way, best places to stay, and places to eat.
At the end of the article, we have included a map with all our suggestions, for easy reference.
| Days 1-6 | To-From |
| --- | --- |
| Day 1 | LA-Furnace Creek |
| Day 2 | Furnace Creek |
| Day 3 | Furnace Creek to Joshua Tree |
| Day 4 | Joshua Tree to Palm Springs |
| Day 5 | Palm Springs to Borrego Springs |
| Day 6 | Borrego Springs to LA |
| | |

Day 1 of California Desert Road Trip: LA to Furnace Creek
Driving distance and time: 319 miles, about 5 hours and 10 minutes
We suggest departing Los Angeles as early in the day as you can. Early in the day (think dawn!), you can avoid the worst of the LA traffic, plus you will have more time for all the fun sightseeing planned for the day.
Today's highlights are Red Rock Canyon State Park, the Alabama Hills, and a part of Death Valley National Park.
Stop at Red Rock Canyon State Park
The dramatic red rock cliffs and scenic buttes in Red Rock Canyon State Park in Cantil make for a great first stop on your California deserts road trip.
In our opinion, this park is one of the best California state parks to visit.
The scenery is spectacular, but the park has a rich history as well, as a stop on the Native American trade route and later the stagecoach route west.
In spring, you will see carpets of color from wildflowers.
Stunning rock formations rise up on either side of the road, but park and walk some easy trails to admire the cliffs from up close.
Ricardo Campground Nature Trail, Red Cliffs, and Hagen Canyon are all great options. If you have a 4WD, there are dirt roads to drive as well.
The park is open from sunrise for day use. There is a modest fee to park, $6.00 at the time of writing.
Explore Alabama Hills
The Alabama Hills are nestled at the foot of the Sierra Nevada mountains, just west of Lone Pine.
If the landscape calls to mind the dramatic canyons and gullies from Western movies, it's because the Alabama Hills have served as the location for hundreds of movies and TV shows.
Drive Movie Road (you've probably seen photos of this famous road on Instagram!), do some short hikes, scramble up some of the rock formations, and admire the local flora and fauna.
In winter and early spring, you will see snow on the mountains, and perhaps even a dusting on the hills, and in the spring, the area is awash with colorful wildflowers.
There are numerous photogenic arches in the Alabama Hills, and Mobius Arch, the most picturesque of them all, is definitely worth the short hike.
From the correct angle, the arch perfectly frames Mount Whitney, the tallest peak in the contiguous US. It also frames Lone Pine Peak.
Good to know: Movie Flat Road is a graded dirt road generally suitable for sedans, but call to verify conditions right before your visit.
Tip: Get lunch to go from Alabama Hills Cafe & Bakery in Lone Pine before you start exploring, so you can enjoy your meal with a view when you get hungry. They also have awesome pies!
Stop at Father Crowley Overlook
Coming into Death Valley National Park from the west on California Highway 190, the Father Crowley Vista Point is a great place to stop and get a taste of the dramatic vistas in store for you in the park.
From the parking lot, head east on the short dirt trail to enjoy the panoramic vista over Rainbow Canyon and Panamint Valley.
Lore has it that Father Crowley, who lived in Lone Pine, would stop here on the way to or from visiting members of his parish that lived in Death Valley, to admire the views.
Stop at Mesquite Flat Sand Dunes
Your last sightseeing stop for the day, Mesquite Flat Sand Dunes are a fun playground for adults and kids alike.
If you time your arrival for about an hour before sunset, you can walk the dunes while there is light. As the sun begins its descent, enjoy the fascinating interplay of light and shadows on the dunes.
Sunset is a great time to snap photos of the dunes: the light is mellow and the shadows gorgeous. If there are colorful skies after the sun has gone down, you can get more beautiful photos before you head to your accommodation.
Enjoy stargazing in the desert
After you've settled into your digs and had dinner, if you are up for it and you have a clear moonless night, you can head out for some stargazing.
Death Valley National Park is a gold tier Dark Skies Reserve, and one of the best places in the country for stargazing.
Mesquite Flat Sand Dunes and Harmony Borax Works are great spots for night sky watching, and located close to hotels in the park.
Good to know: You may want to check out ranger-led night sky events if you'd rather be guided by an expert, or you can even just enjoy the night sky from a terrace or patio at your hotel if you do not feel comfortable venturing out after dark.
There will be some light pollution, of course, but you will still see tons of stars.
Where to stay in Death Valley National Park
There are two hotels in Furnace Creek and one in Stovepipe Wells Village. You will also find campgrounds at Furnace Creek and Stovepipe Wells.
The Inn at Death Valley is a beautiful historic inn located off California SR 190 at Furnace Creek. You can pick from rooms in the main building or standalone casitas. Pricey but a wonderful stay with a pool and terrace. You will find onsite restaurants here.
Book a stay here
The Ranch at Death Valley is a more affordable option in Furnace Creek. Also featuring onsite dining, and a pool, the Ranch makes for a comfortable stay in a super convenient location in the park.
Book a stay here
The Stovetop Wells Village Hotel is an Old West style hotel with an onsite restaurant and saloon. Rooms are comfortable and some rooms feature views of the Mesquite Flat Sand Dunes.
Read reviews on Tripadvisor
The Furnace Creek Campground and Stovepipe Wells Village Campground both have several dozen campsites and feature amenities like fire rings, drinking water, flush toilets, picnic tables, and a dump station.
Both campgrounds have RV hookups. You can reserve online for Furnace Creek Campground.
Day 2 of California Deserts Itinerary: Furnace Creek
Today you will explore the major sights in Death Valley National Park.
We've included one hike in our itinerary, but if you do not wish to hike, you can drive north to explore other sights like Ubehebe Crater, or Rhyolite, the ghost town just outside the park.
Or just spend more time at each of the sights we've described below.
Hike the Golden Canyon Trail
The Golden Canyon Trail to Red Cathedral is one of the most beautiful hikes in Death Valley National Park. Rated moderate, it involves some light scrambling over rocks towards the end.
The 2.9-mile out-and-back trail takes you through the canyon to beautiful views of the badlands, followed by a short trek uphill to see Red Cathedral, one of the most famous rock faces in the park.
The trailhead for the Golden Canyon hike if off Badwater Basin Road.
Stop at Devil's Golf Course
A sea of jagged sea salt crystals, the Devil's Golf Course is accessed via a short drive on an unpaved road off Badwater Basin Road.
While it is a short detour and a quick stop, this is the sight we would skip if we were concerned about running out of daylight hours.
Be careful if you walk out onto the crystals, because they are sharp and have jagged edges.
Some of the crystals are quite tall. If you bend down and listen carefully, you can hear the salt crystals pinging and popping.
Admire the Expanse of Salt Flats
Further down Badwater Basin Road, you will come to the parking area for the Death Valley salt flats.
Here you can pose for a photo by the sign that tells you that you are 282 feet below sea level, the lowest point in North America.
Walk out onto the flats to admire the enormous expanse of white with its cool diamond pattern: it is one of Death Valley National Park's signature landscapes.
Enjoy Artist's Drive and Artist's Palette
On your way back from the salt flats, turn right onto Artist's Road to do the scenic 9-mile one-way loop drive. Visiting Artist's Drive and Artist's Palette is one of our favorite things to do in Death Valley National Park.
Here you will see some of the most colorful mineral deposits in the park.
At Artist's Palette viewpoint, you can park and walk out onto the rocks to see the colors up close. Descend into the wash below the parking lot and then walk the little canyons to admire the colors: burgundy, pink, lavender, yellow, blue, and green.
Good to know: Artist's Drive is winding and dips and rises quite a bit, so vehicles over 25 feet in length are not permitted.
Gaze in Awe at the Vistas from Dante's View
From Badwater Basin Road, make a right onto CA 190 and head to Dante's View, a viewpoint that is 5,476 feet above sea level. The drive is beautiful, with a few sharp switchbacks as you reach the top.
From the viewing area at the top, you can look down upon Badwater Basin, which you just visited.
Look closely and you will see the ribbon of road you just drove. On a clear day, you can see Mount Whitney, the tallest peak in the lower 48 states, from here.
You can hike the ridge at the top to more views if you have the time.
Good to know: Vehicles over 25 feet in length are not permitted on the last 5.5 miles of the road.
Drive Twenty Mule Team Canyon
After you descend from Dante's View, head back on CA 190 the way you came, but take the 2.8-mile detour through Twenty Mule Team Canyon.
The road is unpaved but is considered passable for sedans unless it has rained recently. It is a bit bumpy in a regular car, so be prepared.
Although twenty mule teams didn't really use this route, the drive is beautiful, with colorful eroded badlands on either side. There is one pullout along the route where you can stop to take photos and explore a bit.
Star Wars fans may recognize the canyon from Star Wars Episode VI: Return of the Jedi.
Admire the Badlands around Zabriskie Point
Arguably the most spectacular (and the most visited) vista point in Death Valley National Park, Zabriskie Point offers expansive views of the otherworldly ridges and valleys of the surrounding badlands.
Time your day so you can be here at sunset, for the best photos.
Looking towards the Panamint Mountains to the west, you can see Red Cathedral towards the right, and Manly Beacon, another famous rock formation. To your left, admire the ridges called the Elephant's Foot.
The fantastic shapes and subtle colors of the ridges will hold you spellbound.
Sleep in Death Valley National Park
Spend the night in Death Valley National Park. If you are up for it, you can do some stargazing before you turn in. Death Valley's star-studded dark night skies and deep quiet are precious experiences!
Day 3 of California Deserts Road Trip: Furnace Creek to Joshua Tree
Driving distance and time: 290 miles, about 5 hours and 15 minutes
Today you will drive through the Mojave National Preserve, which features spectacular desert scenery. There are only a few paved roads through the preserve, but our route will take you to some of the best parts that can be viewed from paved roads.
Stop in Tecopa to pick up food for a picnic later in the day. .
Drive Cima Road
Cima Road features some of the densest stands of Joshua trees you can see anywhere.
Watch for desert tortoises crossing the road: they are more likely to be out and about when it is warmer. And in the spring, you will love the colorful wildflower blooms along the route.
Some places along the route worth a stop include Valley View Ranch (accessed via a short drive on a dirt road) and the trail to Teutonia Peak. The hike is 3.2 miles round trip and classed as moderate. The final stretch involves a climb (to the peak). The views from the top are beautiful.
Stop to view Mojave Cross, built by WW1 veterans, before you arrive in Cima, where you can view the remains of old buildings. From Cima, make your way to Kelso Dunes.
Stop at Kelso Depot Visitor Center
Kelso Depot, which now functions as a Visitor Center for the Mojave National Preserve, is a restored historical train depot. The building is beautiful, and it is worth stopping to tour the inside, where you will find exhibits detailing its history.
You can watch a film about the area as well, and shop for souvenirs. Rangers on duty can answer questions. You can buy bottled water here, and snacks, and use the restrooms.
The railway is still used to transport freight from Long Beach, so you may see trains passing through!
Explore Kelso Dunes
The Kelso Dunes are generally accessible in a regular car, and one of the most visited spots in Mojave National Preserve.
Covering an enormous area of about 45 square miles, the dunes rise majestically from the desert floor, with the tallest dune reaching about 650 feet in height.
Access to the trailhead for the dunes is via a 4-mile dirt road. Drive slow as you may ecounter potholes.
From the parking lot, you can walk to the bottom of the dunes. If you are up for the challenge, you can trek to the top, but the climb is not easy because of the loose sand.
Stop at Amboy Crater
One of the natural attractions along historic Route 66 in California, Amboy Crater is a volcanic cinder cone that rises about 250 feet above the desert floor. The symmetrical cylinder cone is a National Natural Landmark.
You can hike up to the rim of Amboy Crater for panoramic views over the Mojave Desert. The hike is steep and can take about 2-3 hours, and should only be attempted when temperatures are reasonable.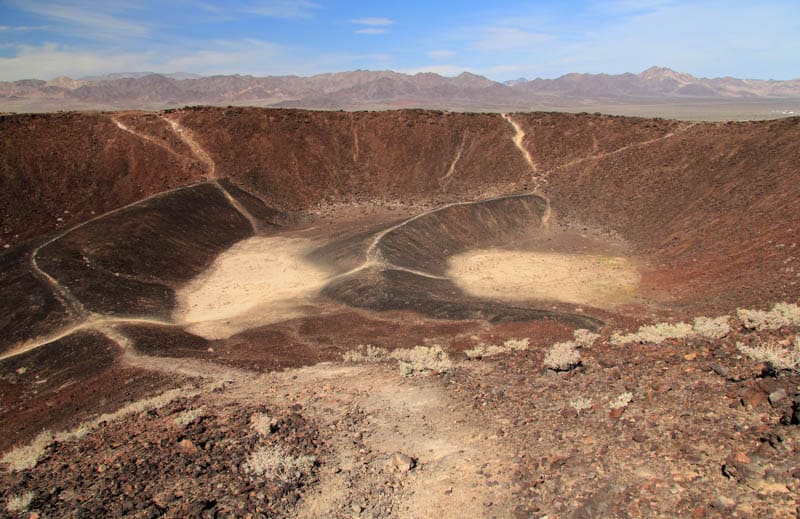 Or you can just view the landmark from the shaded viewing area, and stretch your legs on the flat part for a bit.
The area is particularly scenic in spring, with tons of wildflowers, but it has a stark beauty at other times as well.
Sleep in Joshua Tree
Joshua Tree National Park doesn't offer lodging, but it does offer several campgrounds, some with RV hookups. If you plan to camp, then you can make your way to your campsite to spend the night. You will find quality stargazing in Joshua Tree as well!
Lodging is available in the towns of Twentynine Palms and Joshua Tree, both located to the north of the park. We've detailed several options in our article on accommodation options around Joshua Tree National Park, but here are a few to get you started on your search:
The Full Moon, Joshua Tree is a two-bedroom house located under 2.5 miles from the park. The property features a hot tub and sauna and offers a seasonal outdoor swimming pool.
Book a stay here!
Sacred Sands is a stunning architectural gem. Located close to the park entrance, the property offers desert and mountain views. Rooms are beautifully appointed, and each of the two units comes with an outdoor soaking tub.
Book a stay here!
Located less than 2 miles from the Oasis Visitor Center at Joshua Tree National Park (North Entrance), Campbell House is a charming and historic desert inn. The highly rated B&B offers suites and several independent cottages that sleep from 2 to 4.
Book a stay here!
Casa de Frank offers clean but basic accommodation near the park. The home has three bedrooms that are rented out individually. One has an en suite and the other two share a bathroom. Rooms are cleaned everyday, and there is a kitchen.
Book a stay here!
You can reserve your spot at one of several campgrounds in Joshua Tree NP if you plan to visit between September and May. There are also some that are first come, first served. RV hookups are available at several campgrounds.
Both Joshua Tree and Twentynine Palms have several quality restaurants and you can find everything from pizza and burgers to vegan sandwiches and wraps.
Day 4 of California Desert Itinerary: Joshua Tree to Palm Springs
Driving distance and time: 33.7 miles, about 45 minutes
Today you will explore California's second great desert national park, Joshua Tree National Park. We've included a few short nature trails in our itinerary. Plus, you should make time for some fun rock scrambling!
Joshua Tree NP has two entrances on its north side: the north entrance at Twentynine Palms and the west entrance at Joshua Tree. We recommend you begin at the north entrance and work your way west through the park.
Pack a picnic lunch before you head into the park so you don't have to drive out to eat, unless you would rather have a break and a sit down meal, in which case you can try another of the eateries north of the park.
You may have long waits at lunch time, though.
Stop by the Oasis Visitor Center
One of the reasons to enter through the north entrance to Joshua Tree is the Oasis Visitor Center. It was established all the way back in 1950, when Joshua Tree was a National Monument.
Here you can pay park dues if you do not have a pass, and ask rangers for advice and recommendations.
Don't miss the short Oasis of Mara trail. Joshua Tree is home to a number of California fan palm oases, and this is the only one you will see on this itinerary. Also enjoy the other native flora along the easy walk, and look for birds and wildlife.
Visit the Cholla Cactus Garden
Drive down Pinto Basin Road to visit the lovely Cholla Cactus Garden, one of the unique places in the park. A boardwalk trail enables you to meander among the cacti, while appreciating the backdrop of mountains. The trail is scenic, flat, short, and easy.
The cholla cactus needles are painful to remove if they pierce your skin, and they can "jump" onto your clothes, so stay well in the center of the trail as you walk!
Hike Arch Rock Trail
You will spend the rest of your time in the park taking in the sights in the Mojave Desert portion of Joshua Tree NP. Start with the beautiful Arch Rock, which can be viewed on a short nature trail that also features Heart Rock.
Along this scenic trail, you will see some of the many Joshua Tree boulder masses that invite you to scramble, spiky yucca plants, and maybe a rabbit or two if you are lucky.
Drive Park Boulevard
Park Boulevard is the main east-west road that runs through the northern part of Joshua Tree National Park. It is a beautiful drive, offering vistas of the large boulders and the Joshua trees that are the park's signature features.
We've highlighted a few must-stop places below, but you will want to stop often along this drive! The fully paved road is well signposted, and there are pullouts where you can park for quick photo stops and parking areas if you want to go rock scrambling.
Admire Skull Rock
Skull Rock is visible from Park Boulevard and it is one of the most photographed rock formations in Joshua Tree National Park. It really does look like like a skull with its two "eye" sockets.
The rocks in the area are easy to scramble, so expect lots of other visitors to be around. We've seen lots of families with kids enjoying this part of the park and scrambling up to pose at Skull Rock.
Hike Hidden Valley Nature Trail
In our opinion the most scenic of the short nature trails in Joshua Tree National Park, Hidden Valley Trail is a must even on the shortest trip to the park. The boulder masses and native flora along the trail, from yucca and Joshua trees to the occasional pinyon, are outstanding.
Known to be a hideout for cattle rustlers in days past, the valley is hidden in a ring of tall boulders. The trail is a loop that you can walk in either direction.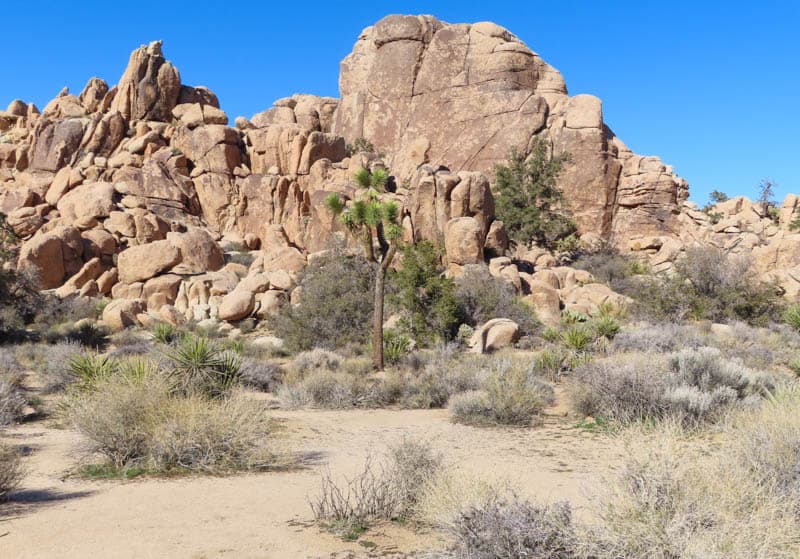 Hike Barker Dam Trail
Very near Hidden Valley, you will find the parking lot for the hike to Barker Dam. Another superb short hiking trail that leads to an old cattle reservoir and a cave with petroglyphs, the Barker Dam hike will especially appeal to birders and wildlife enthusiasts.
If you've made good time, or you are visiting when there are more daylight hours, you can also do the Wall Street Mill Trail, right next door.
This trail comes with a colorful history that includes a Wild West duel, and the payoff is the well-preserved mill from Joshua Tree's mining days. It is one of the most interesting Joshua tree hikes!
Enjoy the Panoramas from Keys View
One of the best places to watch the sun set at Joshua Tree National Park, Keys View offers panoramic views of the Coachella Valley and the San Andreas Fault.
You can see Salton Sea shimmering in the distance, and Mount San Jacinto and Mount San Gorgonio, their tops sometimes covered with snow.
While the parking area offers plenty beautiful views, you can walk the short trail to the viewing area at the top of the ridge for more fabulous views. On a really clear day, you can see all the way south to Mexico from here!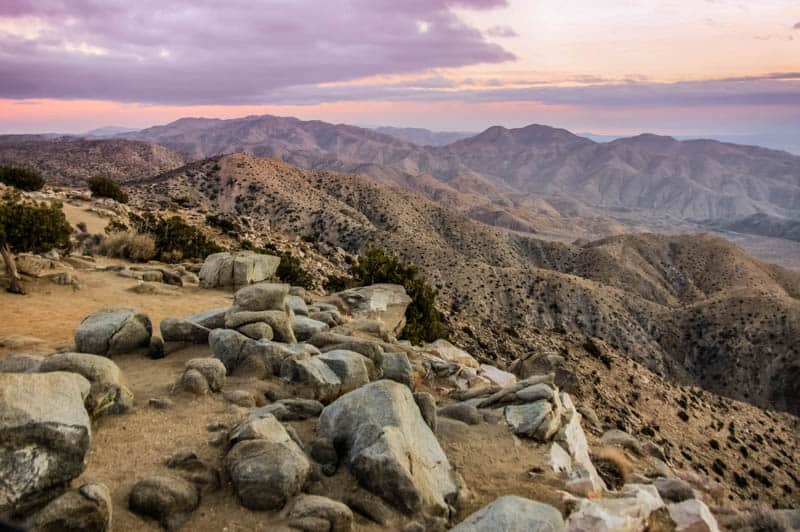 Sleep in Palm Springs
Palm Springs is a beautiful desert city, famous for its mid-century modern architecture. Long a getaway for Hollywood celebrities, the city has any number of resorts and hotels from which to pick.
If you are planning to do this trip in an RV, you will find several RV parks in Palm Springs as well.
Palm Springs has several lovely vacation rentals, but they generally require a minimum of 2 nights or more. If you opt for such a stay, you can visit Anza-Borrego Desert State Park as a day trip from Palm Springs before heading back to LA.
Casa Cody is a delightful place to stay in Palm Springs. The oldest operating hotel in the city, Casa Cody is walking distance from downtown Palm Springs. Rooms are very well-appointed, and the property offers two pools.
Book a stay here!
Alcazar Palm Springs is located in downtown Palm Springs, right in the heart of shopping and dining. The contemporary hotel has an outdoor pool with a patio and hot tub. Rooms are spacious, quiet, and comfortable.
Book a stay here!
Sparrows Lodge is an adult-only resort located in the heart of Palm Springs. The restored 1950s retreat has beautifully furnished modern rustic studios, an outdoor fire pit, garden, and pool with hot tub.
Book a stay here!
Palm Springs has a wide choice of eateries of every kind, so you will be spoiled for choice. Whether you choose Italian at Il Giardino or Mediterranean at Miro's or tapas at Tac/Quila, you will enjoy dining in Palm Springs!
Day 5 of California Deserts Road Trip: Palm Springs to Borrego Springs
Driving distance and time: 85.9 miles, about 1 hour and 30 minutes
Today you can explore the charms of Palm Springs, from art and architecture to shopping and spas, or follow our suggestions below to explore the natural areas around the city.
Hike to Tahquitz Falls
The hike to Tahquitz Falls is somewhat strenuous, because it features steep-ish stone steps , but it is less than 2 miles to the falls and back.
Featuring beautiful desert scenery and wildflowers in season, this hike is a great way to start your day if you visit when the falls are flowing.
Or Hike Indian Canyons
At Indian Canyons, there are several beautiful trails from which to choose. Several trails feature mature fan palms and lots of other local flora.
Murray Canyon Trail, about 5 miles long, is a moderate hike where you may see mule deer or bighorn sheep, and lots of birds. It ends at a waterfall too!
The Andreas Canyon Trail is shorter and rated easy, and features the second largest oasis of California Palms on the planet. Photographers will enjoy the many photo ops along this beautiful walk.
Enjoy a late breakfast or brunch
Enjoy a leisurely breakfast or brunch at one of the popular spots in town. Farm has a France-inspired menu and we love their Brioche French toast and baked brie!
Norma's at The Parker Palm Springs is another popular breakfast spot, and on weekends you will find many choices for delectable brunches.
Or check out JW Marriott's Rockwood Grill, or Azucar at La Serena Villas, or Chi Chi at The Avalon.
Ride the Aerial Tram to Mount San Jacinto State Park
Spend the afternoon high above the desert floor in Mount San Jacinto State Park, where hiking trails offer panoramic vistas. Views from the aerial tram are extraordinary as well.
Note that the temperature at the upper tram station and in the park will be 20 degrees cooler than at the bottom, sometimes more. Make sure you are bundled up during the cooler months of the year.
You may even see snow on the ground at the top, an exciting change from the toasty desert!
Book tickets for the Palm Springs aerial tram here!
If the cooler temperatures at the top are not appealing, you can drive the Palms to Pines Scenic Byway (check to make sure the road is open if you visit in winter), or you can explore more of the desert at Coachella Valley Preserve: the oases trails are lovely.
Sleep in Borrego Springs
At the end of the day, drive to Borrego Springs to spend the night. Borrego Springs has a more secluded and in-the-desert feel than Palm Springs, but you can find a range of accommodation options here.
Anza-Borrego is famous for its dark night skies, so take the opportunity to enjoy some stargazing!
There are several campgrounds inside Anza-Borrego State Park. Palm Canyon Campground and Tamarisk Grove Campground have RV hookups and great amenities, and you can reserve a spot in advance.
La Casa del Zorro is a beautiful resort about a 10-minute drive from Anza-Borrego Desert State Park. Rooms feature either a balcony or a patio, and there are several outdoor pools on the property. There is an onsite restaurant and bar.
Book a stay here!
Borrego Springs Resort and Spa offers spacious accommodations. Rooms and baths are well-appointed. The property features a pool as well as an onsite spa, a restaurant, and laundry facilities.
Book a stay here!
You will find several quality eateries in Borrego Springs. Red Ocotillo serves American cuisine, and Carmelita's Mexican Grill has fresh-made guacamole and a choice of Mexican dishes.
Day 6 of California Deserts Road Trip: Borrego Springs to LA
Driving distance and time: 151 miles, about 2 hours and 45 minutes
Today you will explore some of California's largest state park.
Anza-Borrego Desert State Park can easily keep you engaged for several days, so if you extend your trip, you can enjoy this beautiful wild landscape at leisure. But in one day, you can enjoy quite a few highlights.
Anza-Borrego Desert State Park is a popular wildflower viewing destination in the spring. Especially in superbloom years, you may find lots of other visitors in the park at peak bloom time.
Hike Borrego Palm Canyon
Arguably the most popular trail in the park, Borrego Palm Canyon features a beautiful oasis and opportunities to see bighorn sheep and other wildlife. You will see lots of wildflowers here in the spring.
The trail is a short walk from the Anza-Borrego Desert State Park Visitor Center. The loop is about 3 miles in length. The fan palm oasis is one of the largest in California, and it was the intent to protect this oasis that led to the creation of the park.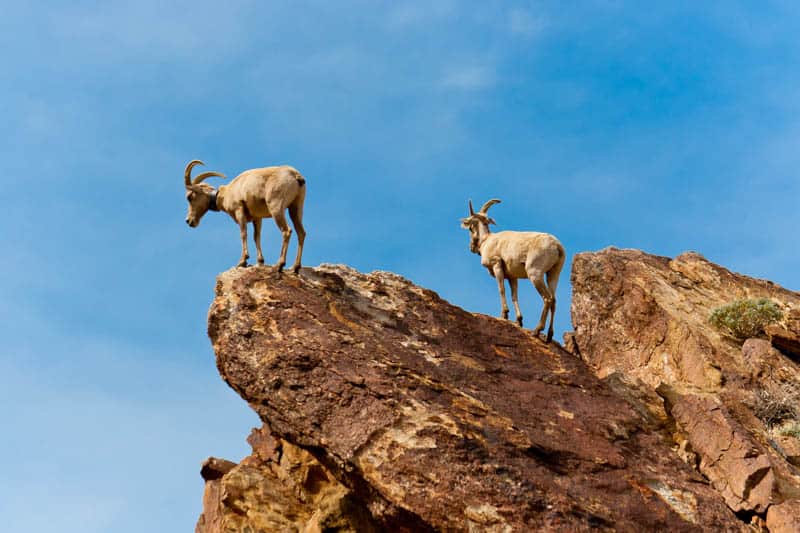 Hike Cactus Loop Trail
Cactus Loop Trail is short and easy, and a wonderful trail to observe local flora, from ocotillos to beavertail cacti and cholla cacti. It is an especially beautiful trail to hike in the spring, when the cacti are in bloom and lots of wildflowers add color.
This trail is an excellent birding trail as well, so bring your binoculars! The trailhead can be found across the road from Tamarisk Grove Campground.
View the Borrego Springs Sculptures
Ricardo Breceda's gigantic metal sculptures are scattered about the desert around Borrego Springs. Drive around to admire the enormous creations and to snap photos.
From prehistoric creatures like dinosaurs to tortoises, snakes, and sheep, the sculptures make for great photo ops. There are several dozen of them, so you can spend a couple of hours discovering them if you enjoy outdoor art.
Drive Erosion Road
The one-way, 21-mile Erosion Road driving tour is a great way to take in the badlands scenery in the park. From the Anza-Borrego Visitor Center, the route goes east along S-22. The drive takes about one hour.
While S-22 is paved and suitable for all cars, the dirt roads leading off S-22 may only be suitable for 4WD vehicles. So check with park rangers before venturing onto dirt roads in the park.
Other Hikes
If you came in a 4WD, you can do the awesome slot canyon hike in the park. The Slot features gorgeous rock formations with exciting narrows. This trail, like other hiking trails in the park, is best hiked in the earlier part of the day, when you will have shade.
The Wind Caves Trail is a longer hike, and features badlands, beautiful rock formations and arches, and spectacular desert vistas.
Return to LA
After your day in Anza-Borrego State Park, depart the California desert and drive back to LA.
Congratulations on the successful completion of your epic road trip adventure through the California desert!
Map of Day-by-Day Itinerary for the California Deserts Road Trip

*****
We hope you found some ideas here to help you plan your own road trip through the California deserts. It is a spectacular road trip and we know you will enjoy it! If you have questions, let us know in the comments!
Looking for more California road trip ideas? Check out some of our other day-by-day California road trip itineraries!
Did you find this article informative? Pin it for later reference!