Considering a visit to Joshua Tree National Park? If you plan to spend a few days exploring the park, you have many options for where to stay near Joshua Tree.
Joshua Tree National Park is a gorgeous desert national park in Southern California, famous for its massive boulder formations and the unique namesake Joshua trees. There are many fun things to do in Joshua Tree, from hiking the best Joshua Tree trails and bouldering to stargazing and observing the flora and fauna.
While you can visit Joshua Tree National Park as a day trip from the Los Angeles area, or spend a day in the park as part of a California road trip, you can also easily spend several days exploring all there is to see and do in the park at leisure.
Good to know: Late winter through spring is the most popular time to visit Joshua Tree National Park, because the weather is great for hiking and sightseeing, plus you have the chance to see wildflower bloom and succulent bloom in the park. In good years, the wildflower show can be a showstopper.
If you plan to visit Joshua Tree National Park between late February and mid May, lock in your accommodations early to avoid disappointment!
Where to Stay When Visiting Joshua Tree National Park
When visiting Joshua Tree National Park, you can choose to stay inside the park, or north of the park in the towns of Joshua Tree or Twentynine Palms, or west of the park in Palm Springs, Palm Desert, or Indio.
North of Joshua Tree NP: Twentynine Palms and Joshua Tree
North of the park, the small but colorful communities of Twentynine Palms and Joshua Tree offer lodging, dining, and shopping.
You will find chains here, as well as boutiques and bed-and-breakfast properties, and a number of nice vacation rentals.
You'll want to stay in the communities north of the park if you want to be close enough to pop in to see a desert sunrise or do an early morning hike, or visit after dark to stargaze without a long commute after.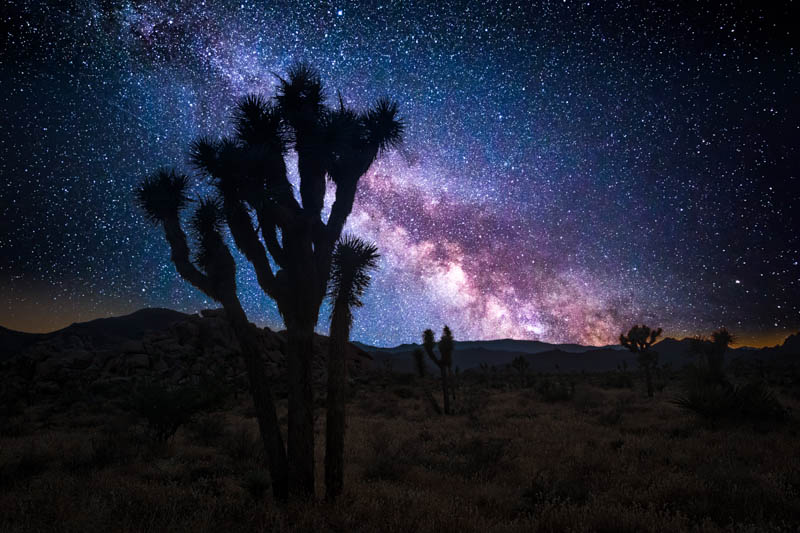 Joshua Tree National Park is generally open 24/7 (but call or visit the park website to confirm before you visit). So it's easy to go back into the park at night for astrophotography, or to visit an oasis early or late to look for birds or wildlife.
Staying in or around the smaller communities near the park also makes you feel like you are in the desert, without the need to camp.
The towns are super small and quirky, and, even better, you can even pick a place that is away from the towns and really secluded.
A little further from the park are Yucca Valley and Pioneertown. They are good options if you plan to split your time between exploring Joshua Tree National Park and the cities of the Greater Palm Springs Area.
Yucca Valley is a larger town and you will find grocery stores and other shopping here as well. Pioneertown has a wonderful Wild West movie set vibe and its restaurants, especially Pappy & Harriet's, make for fun dining.
West of Joshua Tree NP: Indio, Palm Desert, and Palm Springs
West of the park, you can stay in one of the desert cities of Greater Palm Springs, but these cities are further away from the park, so you would have a commute each morning and evening.
From Palm Springs, the drive to the west entrance to Joshua Tree takes just under one hour. From Indio, the drive to the south entrance is just 30 minutes, and from Palm Desert, the south entrance is about 45 minutes.
You'll want to stay in one of the larger cities west of the park if you like to hike and enjoy outdoor activities during the day but want a plethora of dining and entertainment options in the evenings. Or if your time in the region is limited and you will visit Joshua Tree just for one day.
Inside Joshua Tree National Park: Camping
There is no lodging available inside Joshua Tree National Park.
If you want to stay in the park, camping is the way to go. There are many campgrounds from which to choose. Reserve well in advance, especially in you plan to visit for the weekend in high season.
And if you have your heart set on camping but the sites in the park are full, there are privately-run campgrounds outside the park.
Our Experience
We have not camped in the park (although renting an RV and spending a few nights inside Joshua Tree National Park is on our wish list).
But we have stayed in the town of Joshua Tree, in Palm Desert, and in Palm Springs on the three occasions we have visited the area. Joshua Tree NP is one of the easiest and most popular day trips from Palm Springs and the surrounding desert communities.
We visited Joshua Tree National Park on all three trips. From Palm Desert, we drove to the park via the south entrance, which is great for viewing wildflowers in early spring and for hiking in the Cottonwood Spring area.
From Palm Springs, we drove to the west entrance, which took us about one hour each way. While this makes sense if you are doing a day trip, it is too long of a commute for multiple day visits.
Best Places to Stay North of Joshua Tree National Park
Campbell House, Twentynine Palms
Located less than 2 miles from the Oasis Visitor Center at Joshua Tree National Park (North Entrance), Campbell House is a charming and historic desert inn perfect for solo travelers, couples, and families.
With spacious grounds featuring fan palms and gardens, the highly rated B&B has a main house with a couple of suites, other suites (some pet friendly), and several independent cottages that sleep from 2 to 4. Book a stay here!
Fairfield Inn & Suites
This Marriott property is located about four miles from the entrance to Joshua Tree National Park. The hotel offers a 24-hour market, laundry and dry cleaning facilities, a gym, and a whirlpool. Rooms are spacious and comfortably furnished. Book a stay here!
Cabin on Border of Joshua Tree National Park (VRBO Vacation Rental)
This 1,100-square-foot cabin bordering the national park has one bedroom and one bathroom, with a sleeper sofa and futon. It's a dreamy getaway for two, but can sleep up to four guests.
The bedroom features a super comfy Earthing king-sized bed with a down comforter. The living room is spacious, with comfortable seating. There is a full kitchen.
The property also offers a seasonal swimming pool and a year-round hot tub, and the property features gorgeous desert views.
Rancho Deluxe, Twentynine Palms (VRBO Vacation Rental)
A beautiful retro retreat in the desert, just 10 minutes away from Joshua Tree National Park, Rancho Deluxe offers space to spread out, beautiful furnishings, and a hot tub!
A fully-stocked kitchen allows you to cook if you so choose, and the living room features a pullout with a memory foam mattress if there are four of you. The master bedroom has a queen bed.
The outdoor dining area has a fire pit and a charcoal grill, and the grounds offer room to walk around. Board games, books, and Netflix make for a fun stay!
Sacred Sands, Joshua Tree
Under 4 miles from the Joshua Tree Visitor Center at the West Entrance to Joshua Tree National park, Sacred Sands is a very highly rated guesthouse offering two luxuriously furnished rooms with private patios.
Relax in an outdoor tub, enjoy the rain shower in the bathroom, admire the desert sunrises and sunsets, and relax in the quiet seclusion of the property!
Sacred Sands is definitely one of the best places to stay in Joshua Tree. It's not inexpensive, but you will love your stay here!
La Luna Azul, Joshua Tree (Plum Guide Vacation Rental)
Just a few minutes' drive from the entrance to Joshua Tree National Park, La Luna Azul is a highly rated secluded property surrounded by boulders.
The 2-bedroom home has tons of windows to let in the light and views of the desert. Enjoy the outdoor hot tub, barbecue grill, and fire pit.
Inside you will find a bright living area, fully stocked kitchen, a master bedroom with a king bed, and a second bedroom with a queen bed.
Bould Over, Joshua Tree (Plum Guide Vacation Rental)
A 2-bedroom 2-bathroom home on the edge of the national park, Bould Over is a secluded property is set in the midst of five acres of desert, with boulders scattered about just like inside the park.
With a relaxed decor that takes inspiration from the landscapes outside, the home features high ceilings and large windows. The spacious bedrooms offer super comfy beds and there's a full kitchen and games room.
Outside, you'll find a hot tub and a cowboy-style soaking tub, as well as a fire pit an outdoor shower and barbecuing facilities. Enjoy spectacular desert sunsets and stargazing!
Desert Wild, Joshua Tree (AirBnB)
A 2-bed, 2-bath upscale property in Joshua Tree, Desert Wild is located a mere 10-minute drive from the West Entrance to Joshua Tree National Park, and a 5-minute drive from Joshua Tree Village.
With a pool to cool off after a day in the park, and a hot tub set outside to allow for stargazing while you soak, this property will allow to experience the desert in peace and quiet. Up to four guests are permitted on the property at any one time.
The Nest in the Boulders, Yucca Valley (Airbnb)
This beautiful bungalow with 2 bedrooms and 2 baths accommodates 6 guests. It has a spectacular location, with expansive views. You can enjoy the desert without even leaving the house! The outdoor hot tub is perfect for stargazing.
Inside you will find comfortably furnished and spacious living and dining spaces, and a full kitchen. The two bedrooms each have a comfortable queen bed. The home is about a 10-minute drive to the town of Joshua Tree or to Pioneertown.
The Pioneer House in Pioneertown (Airbnb)
This beautiful retreat for two is located on the edge of Pioneertown with immediate access to the desert. There is a seasonal outdoor hot tub for stargazing, and a hammock and hanging chair to enjoy the views.
The interior is beautifully furnished, with a modern rustic vibe, with all the mod cons including good wifi, Netflix, and Hulu for entertainment. There is a full kitchen as well as an outdoor barbecue grill. Pioneertown is a 5-minute drive.
Best Places to Stay West of Joshua Tree National Park
The Westin Desert Willow Villas, Palm Desert
We stayed at the Westin Desert Willow Villas on one of our trips to the region. The units are super spacious, with lots of room to spread out, and our bed was very comfortable.
A full kitchen allows you to cook if you so choose, and the units feature full washers and dryers. There are hiking trails adjoining the property. Shopping and dining are just a few minutes away.
The Oasis, Palm Desert (AirBnB)
If you are looking to rent a house for your Palm Desert stay, check out The Oasis, a 2-bedroom house near the El Paseo shopping area. It features a pool and a quiet backyard.
With bright colorful furnishings, memory foam mattresses, and a stocked kitchen, the house is perfect for up to 4 guests.
Kimpton Rowan Palm Springs Hotel, Palm Springs
The Kimpton Rowan is a hip contemporary hotel in the center of Palm Springs. The hotel features a year-round outdoor rooftop pool and spacious, well appointed rooms.
Relax on the sun terrace, which has mountain views. Enjoy the free use of bicycles for the duration of your stay.
The Dream Home, Palm Springs (AirBnB)
Rent the colorful little Dream Home to have the perfect retreat for your Palm Springs stay! Bright colorful walls, hip art, and contemporary furnishings make for an inviting space.
The one-bedroom property accommodates 2 guests and features a backyard pool to soak up the sun. Bikes are available to use during your stay. A fully stocked kitchen allows you to cook if you so choose.
Staying Inside Joshua Tree National Park
There are currently eight campgrounds inside Joshua Tree National Park, with a total of 500 campsites.
Campgrounds are scattered through the park, so you can decide where you wish to base yourself. Water and flush toilets are available only at select campsites, such as Black Rock and Cottonwood. For more detailed information on each campground, visit the park website.
From September to May, the busy season for the park, you can reserve a campsite ahead of time. Reservations are highly recommended because the sites tend to get full on weekends during this time, and full all through the week in the spring (February through May). You can reserve at recreation.gov.
Between May and September, individual campsites are first come, first served. Some campgrounds may be fully or partly closed during this time, so call ahead to confirm before you arrive.
RVs and trailers are allowed on some campgrounds at Joshua Tree National Park. Renting an RV to stay inside the park is on our wish list! If you would like to rent an RV, check out Outdoorsy!
Outdoorsy is an RV rental marketplace where you can find the perfect vehicle for your trip. Enjoy all the mod cons while you camp out in the desert!
If you can't find a campsite inside Joshua Tree National park for the dates you wish to visit, check out privately-run campgrounds north or south of the park.
Note: As an Airbnb associate, we may earn when you book through qualifying links.
Did you find this article useful? Pin it for later!