Charming Cambria is one of our most favorite Central California Coast destinations. There are plenty of fun things to do in Cambria, (and around Cambria), to keep you engaged, but it's also the perfect place to just unwind and relax.
Located along California Highway 1, about four hours by road from either San Francisco or Los Angeles, Cambria makes for a wonderful weekend getaway from either place.
As a bonus, you can drive to Cambria along California Highway 1, the scenic coastal route!
Cambria is worth visiting for its beautiful Moonstone Beach, beachfront and bluff trails, charming main street and village, and great food and drink options. It is also close to the spectacular Hearst Castle and the elephant seal rookery.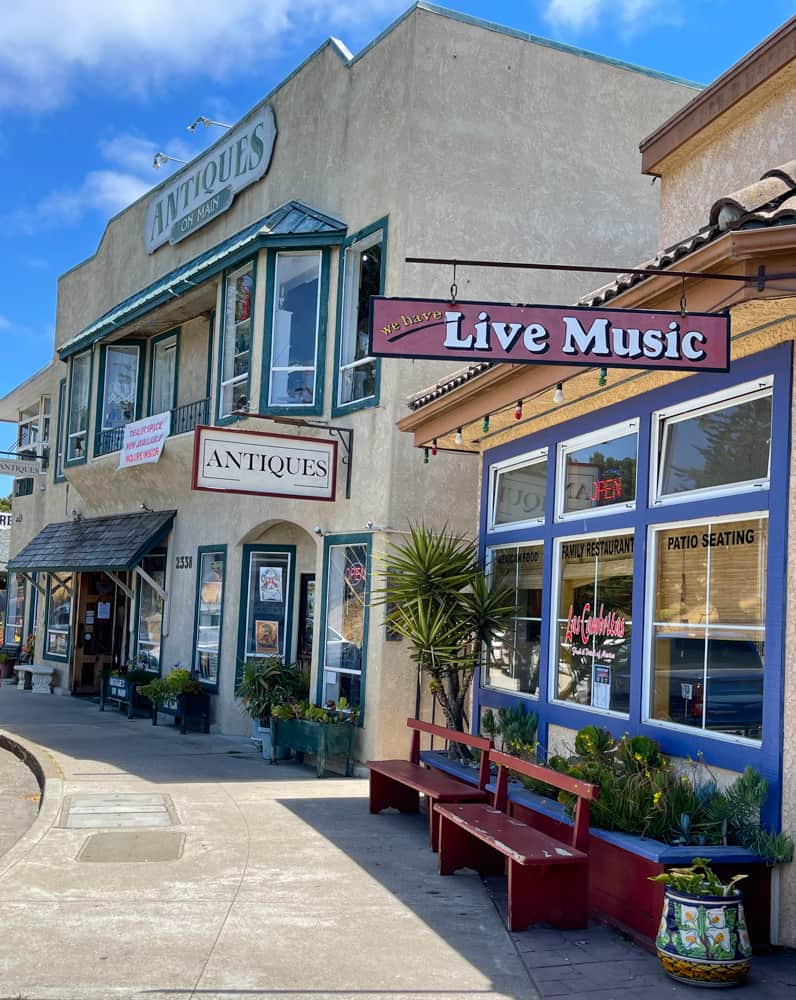 Whether you visit for a few days of oceanfront relaxation, or make Cambria a quick stop on your California coast road trip, the little village will captivate you.
Plus, Cambria makes a great base from which to explore other places in San Luis Obispo County.
Considering a visit to this charming village by the sea? Read on to discover the best things to do in Cambria, California!
Best Things to Do in CambriA
1. Stroll the Moonstone Beach Boardwalk in cambria!
About 1.4 miles each way, the out-and-back Moonstone Beach boardwalk trail is one of the top must-do Cambria activities.
Offering scenic water views, and opportunities to spot birds, wildlife, and marine life, the walk is flat, and easy for most visitors.
Running parallel to Moonstone Beach Drive, the boardwalk hugs the ocean for its entire length.
There are places where stairs run down to beautiful Moonstone Beach, if you wish to walk on the sand for a bit.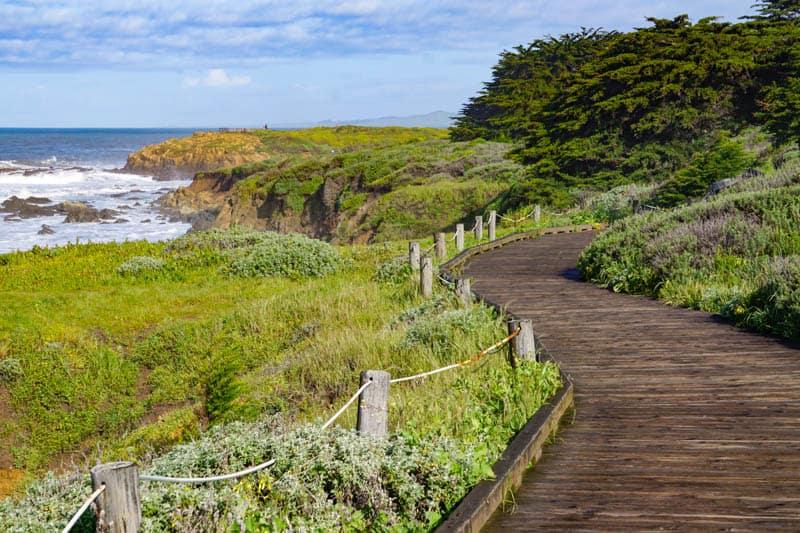 In spring, the sides of the trail are flush with wildflowers in yellow, red, and purple.
Waves crash against the interesting rock formations on the shore, and you can hear sea gulls call as they fly around overhead. You may even see whales spouting or fluking offshore.
The Moonstone Beach boardwalk is a great place to experience a spectacular west coast sunset. There are benches where you can sit and take in the views.
Bring your binoculars to look for sea otters playing in the water.
You can start the walk at the south end, at the start of Moonstone Beach Drive, or at the north end, at Leffingwell Landing.
Dogs are permitted on the trail, but must be leashed. Dogs are not allowed on the beach. There is no fee for this trail.
2. Go Beachcombing at the Beach in Cambria!
Moonstone Beach is gorgeous. This Cambria black sand beach just might be one of the most beautiful beaches in Central California!
Moonstone Beach is named for the smooth round stones, honed and polished by the sea, that can be found here. Some of them feature beautiful patterns and subtle colors.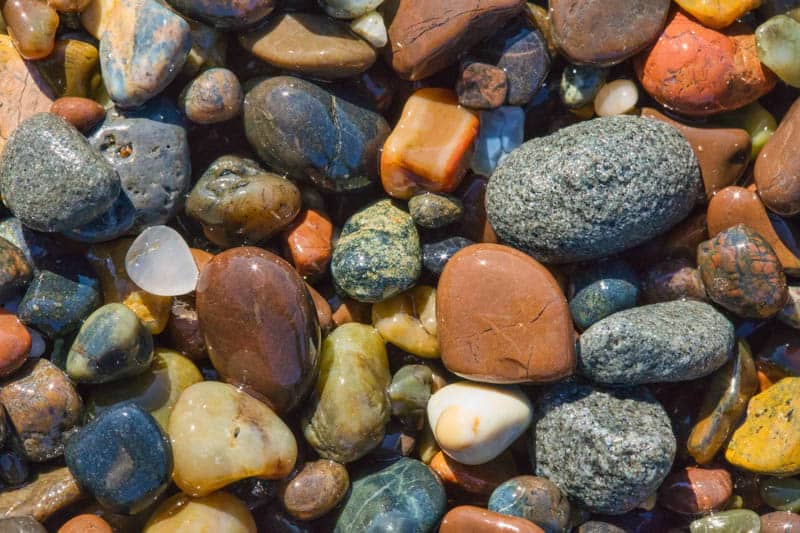 While they aren't really moonstones, they still look pretty. You may also see agate, jasper, jade, and other stones here.
You'll also find lots of picturesque driftwood on Moonstone Beach for photos.
3. Go Tidepooling in Cambria
Strolling Moonstone Beach and beachcombing are popular things to do in Cambria, but tidepooling is also popular here.
Although you'll find rock pools at many places along the Moonstone Beach walk, where you can go tidepooling at low tide, the best tidepooling locations in Cambria are at the northern end of Moonstone Beach Drive.
Whether you are visiting with kids, or you enjoy looking for little sea creatures yourself, you will definitely want to include the tidepools at Moonstone Beach on your list of things to do in Cambria.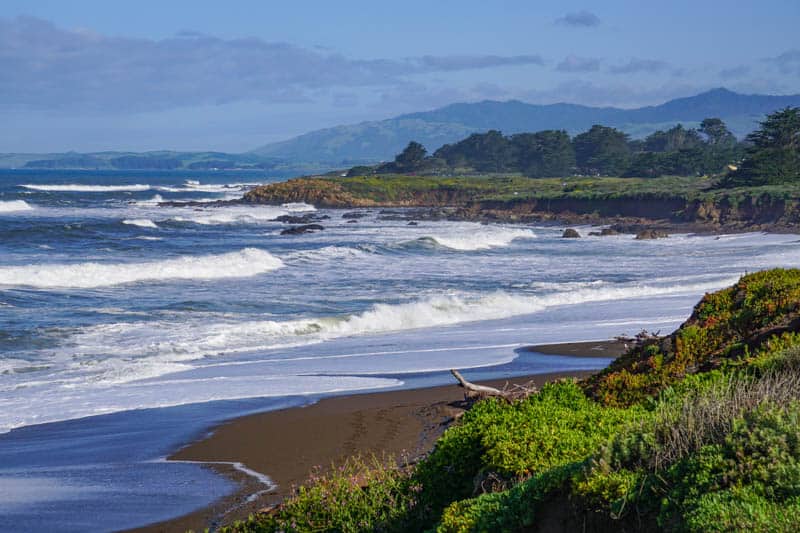 About one mile from the start of the boardwalk trail at Moonstone Drive, look for a set of steps going down to the rocks.
You'll see pools in the rocks, where you can look for a wide variety of creatures, from mussels and barnacles to snails, crabs, and sea anemones.
4. Walk the Bluff Trail at Fiscalini Ranch Preserve
Fiscalini Ranch Preserve is one of the most beautiful places to visit in Cambria, if you enjoy the outdoors.
Fiscalini Ranch Preserve is criss-crossed by a network of trails, and all of them are fun to walk (and free!).
But the most scenic trail in the preserve, and the most popular, is the Bluff Trail, slightly under a mile in length one way.
The trail winds its way along the bluff high above the water, offering beautiful views every step of the way. There are benches to sit and soak in the views and the sound of the waves.
As you walk, look for land and sea birds, marine life, and wildlife. Squirrels, rabbits, and deer are common. You may see otters frolicking in the water, and whales spouting out in the distance.
Look up to see soaring raptors. Land birds you may see include the acorn woodpecker with its red crown, the California blue jay, the American robin, the Western bluebird, and different types of sparrows. Enjoy wildflowers and butterflies in season.
The boardwalk and gravel trail is accessible, with a very mild elevation gain. Dogs on leashes are allowed.
If you have the time, walk some of the other trails in the preserve, to admire the coastal flora. You'll see many different types of coastal grasses and scrub.
Many of the trails offer water views. Some involve climbing, so download a map and plan your route based on your comfort level.
Nature lovers will want to allow plenty of time to explore Fiscalini Ranch Preserve. Bring your binoculars and spend a few hours basking in the beauty of your surroundings and looking for birds and wildlife, but watch out for poison oak.
If you enjoy scenic bluff trails, and you have the time, drive a few miles south and walk the beautiful bluff trail at Montana de Oro State Park! The drive is about 45 minutes.
5. Stroll (and Shop!) Downtown Cambria
Cambria's Main Street is fun to walk, with lots of one-of-a-kind stores and galleries. If you enjoy antiquing, or looking for unique gifts, you will love browsing the stores here.
Strolling Cambria's East Village and West Village (together they make up Cambria's walkable downtown) is one of our most favorite things to do in Cambria.
Spellbound Herbs, on Burton Drive, just off Main Street, has lots of scented home and body care, and their garden is a joy to wander and photograph.
Ephraim Pottery has beautiful ceramics created by local artists. The unique creations here make for wonderful gifts!
Amphora Gallery is another fine gallery that also offer works by local artists.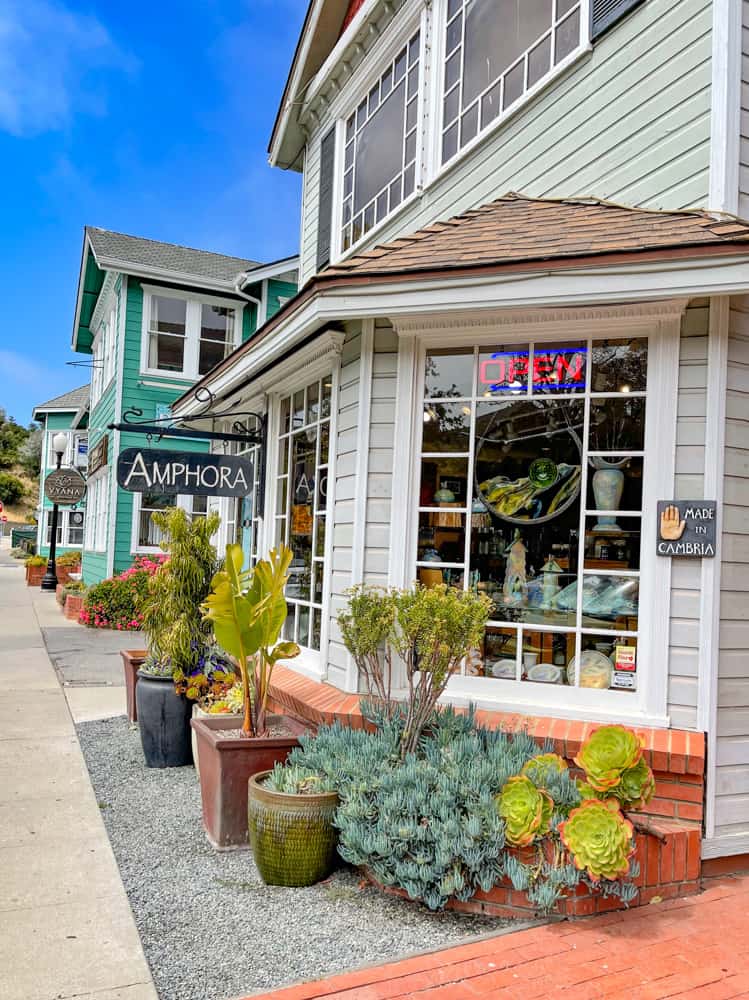 You'll find several antique stores in Cambria, with cute names like Granny had One! Look for furniture, collectibles, jewelry, and more.
Step into Linn's Easy as Pie Cafe for a slice of olallieberry pie with a scoop of vanilla ice cream. You can also get other olallieberry treats here to take home: preserves, sauces, tea, syrup, honey, and spreadable fruit.
The olallieberry, in case you were wondering, is a cross between a blackberry and the youngberry. It tastes tart and sweet, like a blackberry, and you have to try it when you visit Cambria!
6. Visit the Cambria Historical Museum in Downtown Cambria
Housed in the historic Guthrie-Bianchini House, one of the oldest houses in Cambria, the Cambria Historical Museum can be found in East Village in downtown Cambria.
The home was originally built in 1870. Today, the little building is listed in the National Register of Historic Places.
Inside, you can browse photos and other exhibits that explore the town's history. Stroll the gardens, which are gorgeous during bloom season (late spring into early fall).
Antique roses, bright California poppies, and other flowers offer lots of color.
If you enjoy historical tours, grab a map from the museum for a self-guided tour of over two dozen historical sites in the village, from a Catholic chapel to a Chinese temple.
7. Enjoy wine tasting in Cambria
If you enjoy wine, you'll find some wonderful tasting rooms in Cambria.
Fermentations, on Main Street, offers gourmet food and wine tasting and a selection of wines and foods for purchase. Black Hand Cellars, also on Main Street, has several Central Coast wines for tasting.
You can also tour area vineyards. If you really enjoy wine, you may want to consider the Pacific Coast Wine Trail, which has several wineries you can tour, in and around Cambria.
If you just want to visit one or two area vineyards, consider Bassetti Vineyards on Green Valley Road. They offer tastings by appointment, and their Syrahs are well known.
Other than grapes, the estate also has olive trees, pomegranates, Meyer lemon, blood orange, pear and apple trees, lavender, herbs, and figs.
Another option is Stolo Family Vineyards, on Santa Rosa Creek Road in Cambria. You can visit their tasting room by appointment.
Enjoy tastings of their Pinot Noir, Syrah, Chardonnay, Sauvignon Blanc, or Gewürztraminer, in their pet-friendly meadow.
8. Snap a photo of Nit Wit Ridge in Cambria!
One man's 50-year labor of love, Nit Wit Ridge (also spelled Nitt Witt Ridge) is worth putting on your Cambria itinerary for its uniqueness.
Nitt Witt Ridge is a California Registered Historic Landmark and definitely ranks as one of Cambria's most unusual attractions.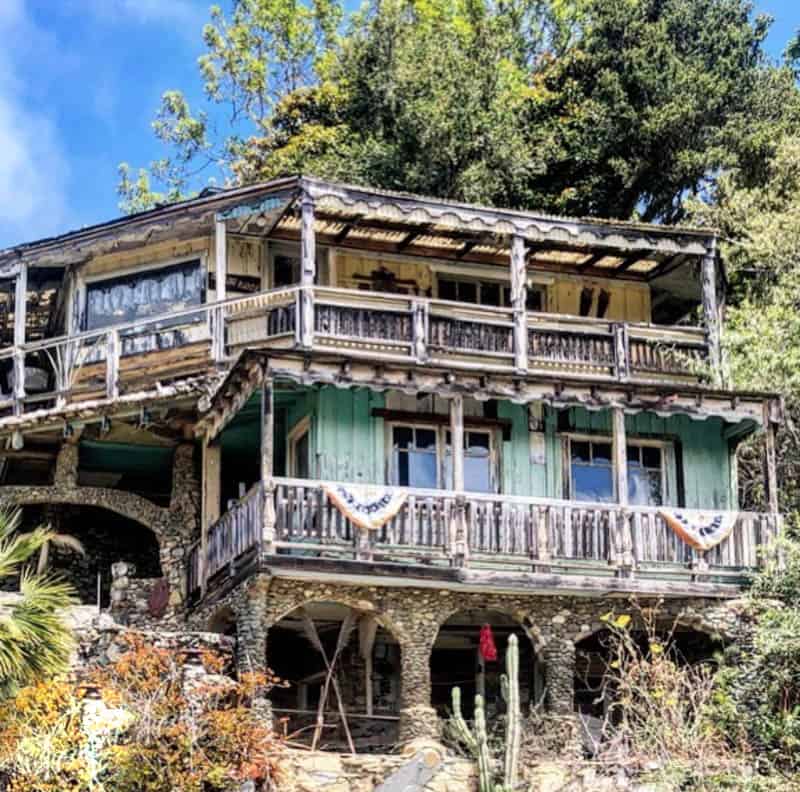 Arthur Harold Beal bought the hillside property in 1928, and started constructing on the ridge, using only hand tools. The structure is made entirely of collected and found materials, except for cement.
Wooden frames were adorned with everything from abalone shells and toilet seats to glass and scraps of metal.
Beal worked as a garbage hauler for several decades. He was apparently employed for a period of time by William Randolph Hearst, whose Hearst Castle is nearby.
Beal used some materials discarded during Hearst Castle's construction in his own "castle on the hill." Beal lived in Nitt Witt Ridge until three years before his death in 1992.
The building is sadly in a state of disrepair today, although it still stands, and limited tours are offered by the current owner by appointment.
Nittwitt Ridge is located in a residential neighborhood with very limited parking, so please be mindful of the neighbors when you visit for photos.
9. Tour Hearst Castle
Located a few miles north of Cambria in San Simeon, Hearst Castle sits high up on a hilltop. It is a must-visit on a trip to Cambria!
Called La Cuesta Encantada (the Enchanted Hill), the gorgeous estate was built over a period of several years by William Randolph Hearst, the publishing tycoon and owner, with Julia Morgan, his architect.
The main house, called Casa Grande, boasts twin towers, modeled after the towers of the Church of Santa Maria La Mayor in Ronda, Spain.
Other than the main house, the property features three guesthouses, and beautiful gardens. The two pools are simply stunning. And Hearst even had a private zoo!
Hearst was an avid art collector, and filled the castle with art and antiquities acquired from all over the world.
Although many works were sold when Hearst was in financial trouble, you can still see many treasures when you visit, from tapestries to paintings and sculptures to antiquities.
Orson Welles is said to have based Citizen Kane on Hearst, with Xanadu being inspired by Hearst Castle.
In the 1920s and 1930s, many luminaries, including Calvin Coolidge, Charlie Chaplin, Charles Lindbergh, and Winston Churchill, were guests of Hearst and his companion, Marion Davies, at Hearst Castle.
Today Hearst Castle is managed by the California State Park system. You can only see Hearst Castle on a guided tour, and there are a number of Hearst Castle tours from which to pick. We've done a couple of them, and both were superb.
After a tour, you can wander the gardens, which look beautiful in bloom.
And don't forget to look for zebras roaming on the grounds as you drive up or down!
10. Visit the Piedras Blancas Elephant Seal Rookery
Also in San Simeon, stop by the Piedras Blancas Elephant Seal Rookery. The rookery is located along California Highway One, and is free to visit.
While you will see seals here any time of year, you will find the highest populations, running into the thousands, in January, April, and October.
Birthing and breeding occurs in January and February, so those are great months to visit.
While births generally happen at night, you may be lucky and witness an exception. Pups, which weigh 60 pounds or so at birth, are ready to leave for the sea in March or April.
Adult northern elephant seals are huge, and heavy. Adult males can weigh north of 3,300 pounds!
Boardwalks at the Piedras Blancas Elephant Seal Rookery enable you to observe the seals from a safe distance.
You can see them hauled out on the beach, lumbering in and out of the water, and pouring sand over their backs to cool themselves.
Occasionally you may see two seals spar with each other. And you'll hear their barking and bellowing. It is quite the show!
As a bonus, the boardwalks also offer spectacular coastal views. Bring your binoculars and your zoom lens and walk both boardwalks if you have the time: each is about 0.25 mile in length. Docents are available to answer questions.
11. Tour the historic Piedras Blancas Light Station
Just north of the Elephant Seal Rookery is the Piedras Blancas Light Station Outstanding Natural Area. The historic Piedras Blancas Light Station started operating in 1875.
An earthquake in 1948 damaged the upper portions of the lighthouse, and the watch room, top landing, and lantern were removed the following year. The lighthouse is still active.
Other than the lighthouse itself, the area is a sanctuary for flora and fauna, with several dozen plant species, lots of sea birds, and seals, otters, and sea lions. You may see whales spouting in the ocean in season.
Bring your binoculars and a zoom lens to view and photograph birds and marine life!
The grounds, and the light station, can only be visited on a guided tour. The guided tour lasts about two hours, and requires walking about 0.5 mile over easy terrain. Docents offer a wealth of information on the tour.
There is a gift shop if you want to pick up souvenirs. Proceeds go towards restoring and maintaining the property.
Please visit the light station website for tour information.
12. Enjoy Birdwatching in Cambria
California's Central Coast offers fabulous birdwatching, and Cambria and its surrounds are no exception. So if you enjoy birding, pack your binoculars and zoom lens, and allow for time to visit some of the birding spots in the area.
Moonstone Beach is a good spot to see a number of sea and land birds. While you will see lots of gulls, also look for sandpipers, sanderlings, terns, plovers, and grebes.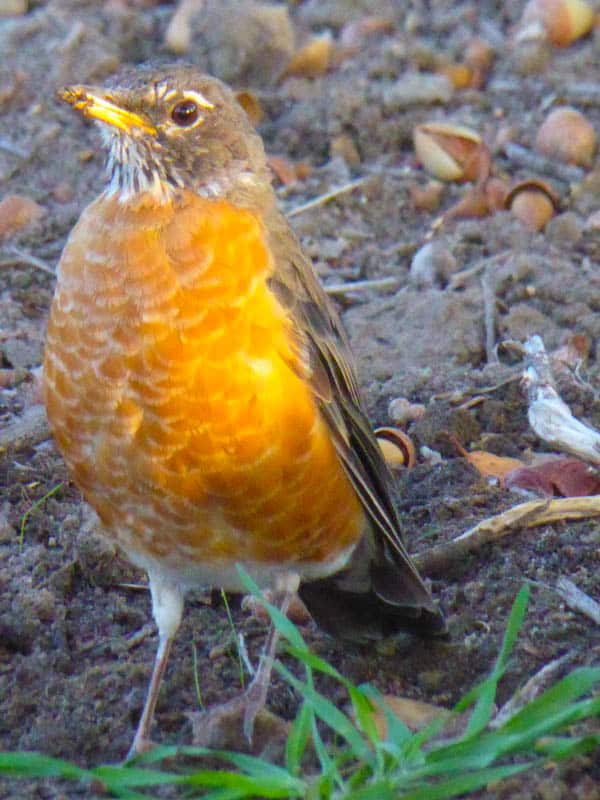 On land, you may see sparrows, scrub jays, swallows, warblers, and finches.
Santa Rosa Creek is one of the best birding spots in Cambria. Near the mouth of the creek, you may see water fowl and sea gulls.
If you walk the trail that runs along the creek, you may see land birds such as warblers. Other trails in Fiscalini Ranch Preserve also offer good birdwatching.
North of Cambria, in Hearst San Simeon State Park, walk the interpretive loop trail (a little over 3 miles) that winds its way through a variety of habitats and offers great opportunities to spot sea and land birds.
Look for endangered Western Snowy Plovers on the beach, raptors flying overhead, and warblers and thrushes in the vegetation.
A few miles south of Cambria, Morro Bay has some excellent birdwatching spots as well. The Audobon Society lists Morro Bay as an important birding location, because migrating birds stop here twice a year.
13. Visit the tiny hamlet of Harmony
South of Cambria along California Highway 1, you will find Harmony, CA, a tiny hamlet with a population of just 18 people in the valley. It used to be home to the Harmony Valley Creamery, which closed in 1955.
Today it is an artist's enclave, and draws visitors with its charm and quaintness.
Walk the little town and snap photos of the charming chapel and other buildings. Browse the creations of local artists at Harmony Glassworks or Harmony Pottery Works. You may even catch a glassblowing demonstration!
Enjoy outdoor wine tasting at Harmony Cellars.
At Harmony Headlands State Park, hike the beautiful 1.5-mile trail through the grasslands to the ocean. You may see deer, rabbits, and birds, and you have spectacular water views at the end of the trail. Enjoy wildflowers in the spring. This trail is best early or late in the day, as there is no shade.
14. Go vineyard touring on California Highway 46
The stretch of California Highway 46 that links Cambria to Paso Robles is a beautiful drive, whether you enjoy wine or not. If you drive it in the spring, you will see lots of pretty wildflowers along the road.
Just after you get on to Highway 46 from Cambria, watch for turnouts on the right. The views from the turnouts (there are two or three parking areas) are spectacular, going all the way to the ocean.
You can even see Morro Rock in the distance. In the spring, when the hillsides are a fresh green and there are lots of wildflowers, you will definitely want to stop to take photos!
If you enjoy wine, there are numerous vineyards on this section of CA 46. Bring a picnic lunch to enjoy outdoors at one of the vineyards, and enjoy tastings of local wines.
Many of the wineries have patios or terraces with views, and gardens that you can wander. Tastings may require advance reservations so plan your wine tasting itinerary ahead of time.
Like the idea of a guided tour? Check out this hop-on, hop-off wine tasting tour from Cambria and San Simeon! The tour offers 70 wineries from which to choose, with 40 minutes at each stop. No worries about driving: hotel transfers are included.
Book this tour now!
Things to Do Near Cambria, CA
We've already mentioned a few top things to do near Cambria, but the village makes a great base from which to explore the Central Coast and Big Sur.
To the north of Cambria, drive past San Simeon to the southern gateway to the Big Sur coast. Ragged Point, at the south end of Big Sur, features many exciting hikes, and fantastic views.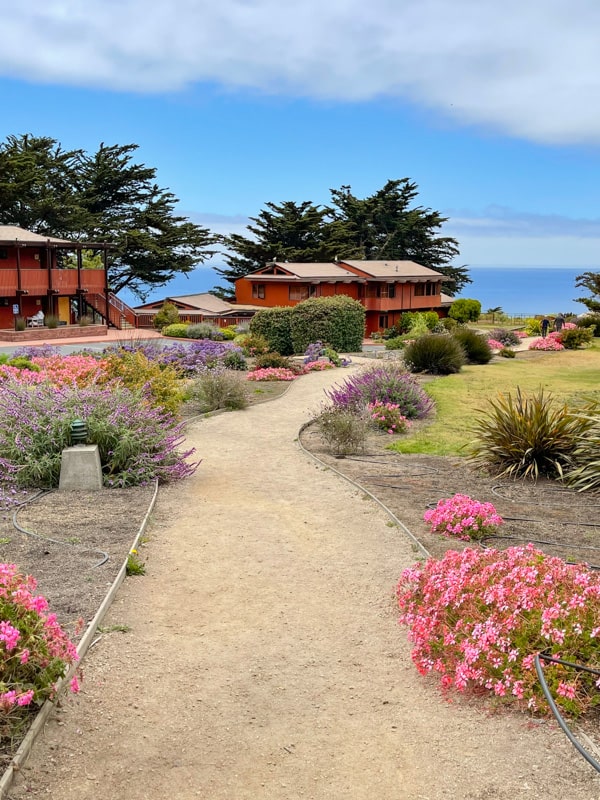 Or you can make a day of it and drive the entire length of Big Sur to Carmel-by-the-Sea and back. Stop at scenic overlooks, take in the beauty of McWay Falls and Pfeiffer Beach, and enjoy a hike or two.
To the south of Cambria, tiny Cayucos offers a laid-back feel and a beautiful beach.
Even further south, enjoy a variety of outdoor pursuits in Morro Bay and Los Osos. Don't forget to watch the otters play in Morro Bay!
And Pismo Beach is an outdoor lovers' paradise, with dunes to hike, and a variety of water sports to enjoy. At Oceano Dunes State Vehicle Recreation Area, you can drive a vehicle on the beach!
San Luis Obispo offers museums and a lovely Spanish mission, and a lively downtown filled with topnotch eateries, breweries, and wine tasting rooms.
Getting to Cambria, CA
The airport closest to Cambria is the regional airport in San Luis Obispo, about a 45-minute drive in normal traffic. You can fly into SLO Regional Airport from San Francisco, Los Angeles, or San Diego, and from a handful of other major cities in the western US.
Driving is the most popular way to arrive in Cambria. Cambria lies on the super scenic coastal route between Los Angeles and San Francisco, and makes for a great stop on a California road trip itinerary.
If you choose the faster freeways, you can drive to Cambria from either San Francisco or Los Angeles in about four hours in normal traffic. Cambria is a popular weekend getaway from both metro areas!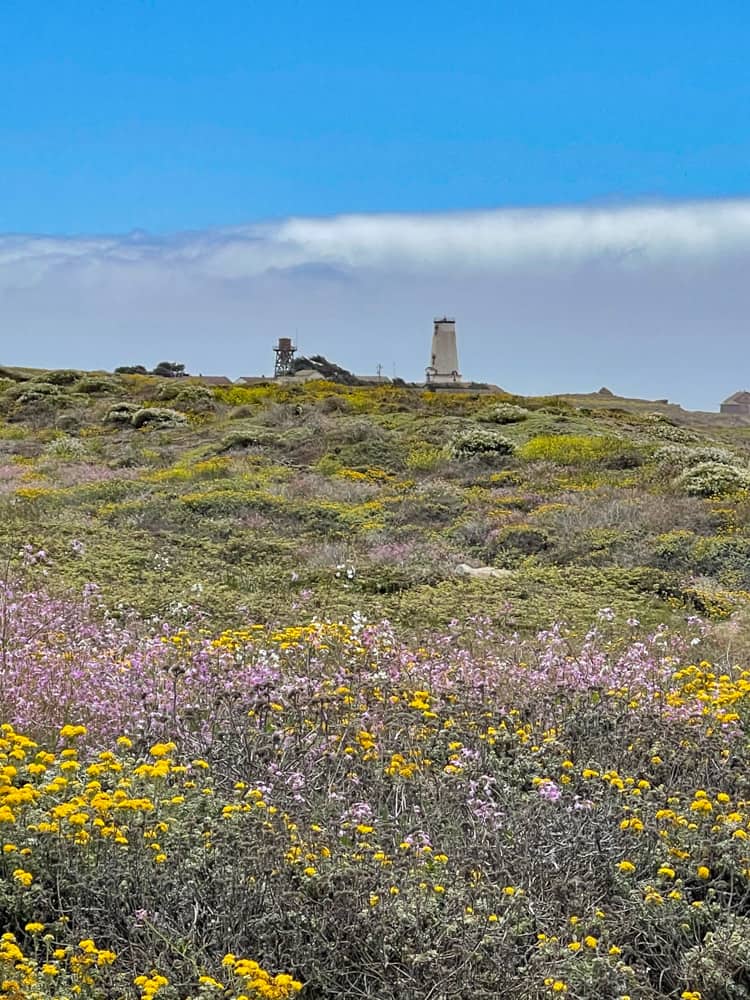 If you visit Cambria on a weekend trip from San Francisco by road, it is definitely worth taking the slower California Highway 1, to enjoy some of the many Big Sur attractions en route.
Looking to rent a car for your trip to Cambria? Discover Cars offers you the ability to compare availability and prices across many major car-hire companies. Pick the car that best meets your needs!
Book your car with Discover Cars now!
Where to stay in Cambria, CA
Vacation Rentals in Cambria, CA
This charming and romantic cottage is the ideal escape for two. The cottage is surrounded by Monterey pines and features a beautiful garden. The wood interior is furnished to be cozy yet elegant. The large garden deck is perfect for outdoor relaxation. The cottage is walking distance to Cambria Pines Lodge, East Village shops, restaurants, and the Fiscalini Ranch trailhead. Book a stay here!
This beautiful home with ocean views is the perfect retreat for one (or two!) couples. There are two bedrooms with king beds and attached baths. Living spaces are comfortably furnished. You will find outdoor seating and a fire pit for relaxation and trails are just a few minutes away. Book a stay here!
Or consider this well-reviewed cottage in the heart of Cambria. With two bedrooms and two bathrooms, it can sleep up to five. Each bedroom has a Smart TV. There is a fully-stocked kitchen, and a propane grill for outdoor cooking. Relax in the hot tub! Prior guests have commented that the home is immaculately appointed. Book a stay here!
Visiting as a family or a group? Consider this wonderful 4-bedroom home on Moonstone Beach! It sleeps up to 8 guests. The master suite features a jacuzzi with ocean view, a gourmet kitchen, well-furnished living spaces, and a balcony from which to watch the sun set. Conveniently located. Book a stay here!
Planning a couples getaway? This unique antique cabin dates back to the time of William Randolph Hearst! Beautifully restored, the cabin is located near a pine forest, just a few blocks from the beach. Inside, warm up by the wood-burning fireplace! Book a stay here!
Cambria Hotels
Blue Dolphin Inn has an incomparable location: right on Moonstone Beach, overlooking the Pacific Ocean. Fall asleep to the sound of the waves! Rooms are spacious, with bright furnishings, fireplaces, and full or partial water views. Beds are rated super comfy!
Book a stay here
Hotel Moonstone Landing is also located right on the water. The steps to the beach are close by, as is the boardwalk. Rooms are spacious and feature fireplaces and full or partial views of the ocean. Moonstone Bar & Grill is nearby, and rooms have refrigerators and microwaves if you want to dine in by your fireplace.
Book a stay here
The Squibb House is charming bed and breakfast located right in the village of Cambria. Squibb House dates back to 1887 and offers five rooms with private baths and fireplaces. If you are looking for a cozy place to stay in Cambria, this is it.
Book on expedia.com | Book on booking.com
Where to eat in Cambria: Best Restaurants in Cambria, CA
The French Corner Bakery is a great little breakfast option, with lots of baked goods, pastries, and coffee. They also sell loaves of fresh-baked bread (many varieties!) so be sure to pick up a loaf to take home with you. They have a convenient location at the corner of Main and Burton.
Mojo's Village Bean is another option for coffee and freshly prepared baked treats. And make sure to return later in the day for a scoop (or three!) of Doc Bernstein's decadently rich and creamy ice cream. Doc Bernstein's Ice Cream Lab is a Central Coast icon, and you will find locations all over the region.
One of our most favorite Cambria restaurants is Robin's, which features a menu of international dishes with a twist of local. If you enjoy salmon, their signature salmon bisque is delicious. Their menu changes, but we've tried many different starters and mains here and never once been disappointed.
Plus, Robin's has a gorgeous outdoor seating area, set amidst gardens. On a nice weather day in season, it's so full of color and charm that you will be captivated.
Linn's is another Cambria institution. Both the savory and the sweet pies at Linn's Easy as Pie Cafe are a must-sample when in Cambria. We've also eaten at Linn's Restaurant, which serves beef raised at nearby Hearst Ranch and their signature chicken pot pie.
Black Cat Bistro offers lots of great choices. We love their baked polenta (cheesy goodness with lots of veggies!) and their crispy Brussels sprouts. Their wine pairings often feature Central Coast wines.
Madeline's, on Main Street, offers outside dining, and they are open for both lunch and dinner (reserve ahead for dinner). Their food is fabulous, but their desserts are divine. Definitely save room for dessert!
If you enjoy beer, definitely pop into 927 Beer Company. The family-owned nanobrewery offers a variety of small batch brews. You can get bottles to go.
The Best Time to Visit Cambria
Cambria is a year-round destination, so you can plan a getaway to Cambria whenever you wish. Daytime temperatures are generally in the high 50s to mid 60s, no matter when you visit.
Mornings and evenings tend to be cooler, so bring layers. And while the coastal fog can drift in and obscure views, there are also plenty of sunny days.
We love visiting in the spring, because the trails are lined with wildflowers, and the grasses are green. In a good bloom year, you will see entire hillsides draped in yellow or purple.
March and April are also northern migration time for California gray whales, and you may spot them spouting or fluking from shore.
If you want to see the elephant seals at the Rookery in San Simeon during their birthing and breeding time, visit in January or February. You may see pups into March and April, but in late January you can see smaller babies.
Also, California gray whales migrate south between late December and early February.
In October, Cambria has a colorful Scarecrow Festival. The outdoor displays are fun to admire and photograph. In December, Cambria generally hosts a Christmas market.
*****
Looking to explore more of Central California? Check out some of our other articles on fun Central California coastal towns and cities!
Did you find this article informative? Pin it for later reference!