Looking for the best day trips from Santa Barbara? There's lots to do in the city on a Santa Barbara weekend getaway, but if you plan to visit on a long weekend, or, even better, if you plan to spend a few days here, you will definitely want to set aside some time to explore the beautiful places around Santa Barbara.
Savor tastings of local wines and farm-to-table California cuisine. Chase waterfalls and wildflower bloom. Ride the waves. Stroll the streets of laid back little towns.
Tour historic homes, museums, and gardens. Enjoy scenic driving tours or opt for epic hikes. There are lots of options when it comes to getaways for the day from Santa Barbara!
In this article, we've rounded up the destinations that make for fun day trips from Santa Barbara, from coastal parks to beach towns and garden and museum complexes to epic outdoor areas.
We've noted the driving distance and time for each destination (per Google Maps) and provided a map at the end for easy look-up.
Excited? Let's get started on discovering the best day trips from Santa Barbara!
Solvang
Want a taste of Europe in California? Solvang is a pretty town with a rich Danish heritage and part of the picturesque Santa Ynez Valley.
Solvang is touristy, but it is cute all the same, with its many windmills, half-timbered houses, and pretty flower boxes brimming with color. Walking the streets in downtown Solvang is one of the top things to do here.
Stop by one of the many Danish bakeries in town for pastries before you begin exploring the town. Admire the Danish architecture, browse the souvenir stores, and enjoy wine tasting at one of many tasting rooms in town.
Visit Old Mission Santa Ines, one of California's Spanish missions, for some California history, or check out the Elverhøj Museum of History & Art to learn about Solvang's Danish roots.
Driving distance from Santa Barbara
34.4 miles, 40 minutes
Santa Ynez Valley
There are several pretty little towns to explore in the Santa Ynez Valley. While you can drive around from one town to another, you can also rent bikes and cruise around the valley for a more active day!
With rolling hills, lush vineyards, and pastoral countryside, Santa Ynez Valley is super scenic.
Check out the Old West look of Los Alamos and Santa Ynez, browse galleries and boutiques and sip wine in Los Olivos, enjoy the historic charm of tiny Ballard, or visit an ostrich farm in Buellton.
There are little museums to visit and festivals happen through the year, so check to see what's on tap when you go!
Driving distance from Santa Barbara
34.2 miles, 40 minutes
Ojai
A lovely small city known for its spas and galleries, Ojai makes for a wonderful day trip from Santa Barbara. Enjoy the many scenic trails in the surrounding countryside on foot, or rent a bike or go horseback riding.
Drive around to see the beautiful citrus orchards and olive groves: Ojai's Pixie tangerines are famous!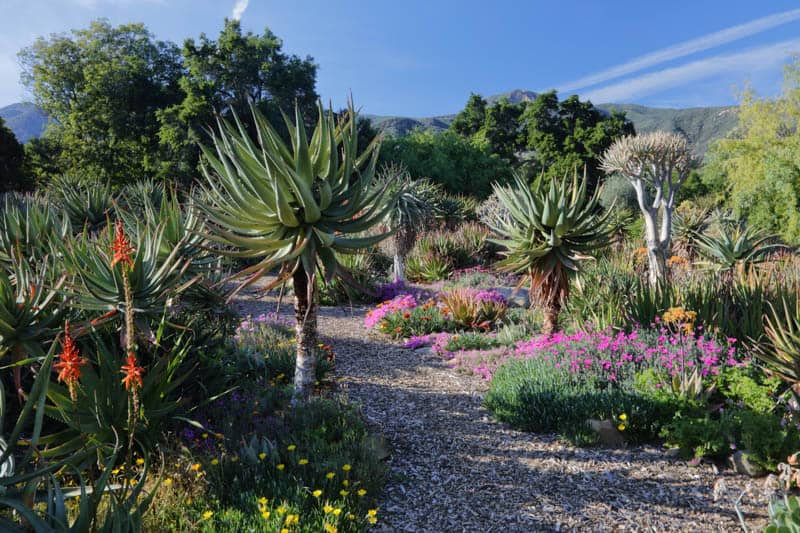 Visit local art galleries and chat with the artists, luxuriate in a pampering spa treatment, enjoy wine and olive oil tastings, and shop at the cute boutiques in Ojai Village.
On your way back, stop at pretty Lake Casitas: you can rent a boat and enjoy some time on the water!
Driving distance from Santa Barbara
41.2 miles, 47 minutes
Channel Islands National Park
Located just off the shore of Southern California, the Channel Islands offer unparalleled opportunities for enjoying nature.
Five of the eight islands form Channel Islands National Park, one of California's nine incredible national parks. Visit one or two of them by ferry (from Ventura or Oxnard) on a day trip from Santa Barbara!
Anacapa and Santa Cruz are popular day trip choices. Enjoy beach time and water activities like kayaking, or hike inland (and uphill!) for spectacular views over the water.
Admire the wildflowers, look for rare endemic plants, go birdwatching, and look for marine life: dolphin, seal, sea lion, and whale sightings are common.
Driving distance from Santa Barbara
Ventura: 27.4 miles, 29 minutes (+ ferry time)
Oxnard: 36.4 miles, 41 minutes (+ ferry time)
Cachuma Lake Recreation Area
Framed by the beautiful Santa Ynez Mountains and the San Rafael Mountains, Cachuma Lake is one of California's most beautiful lakes.
It makes for one of the easiest and most idyllic day trips from Santa Barbara.
Cachuma Lake is located off California Highway 154, famous for its stunning views.
Cachuma Lake is a drinking water supply, so swimming and other body contact sports are not allowed, but you can rent boats, from kayaks and paddle boats for slow relaxed outings to speed boats that zip across the water. Or take a naturalist-guided lake cruise!
Also make time to hike some of the trails surrounding the lake.
Driving distance from Santa Barbara
23.1 miles, 27 minutes
Lompoc
An underrated destination to the north of Santa Barbara, Lompoc is a must-visit when its flower fields are in bloom, generally between April and September.
You'll see acres of stock, delphinium, larkspur, and sweet peas in a multitude of colors, scattered throughout the Lompoc Valley. In spring, wildflowers add to the riot of colors.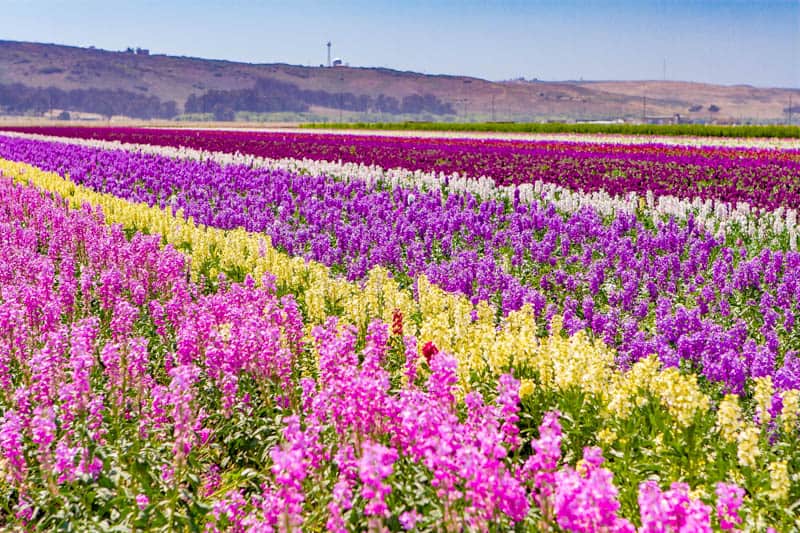 Visit La Purisma Mission, admire the many murals of Lompoc, wander Old Town Lompoc and browse the stores and galleries, sip your way through the tasting rooms in Lompoc Wine Ghetto, and enjoy hiking, biking, and skydiving.
Driving distance from Santa Barbara
55.1 miles, 56 minutes
Los Padres National Forest
The Los Padres National Forest is huge, with ten wilderness areas. But from Santa Barbara, you can do a scenic driving tour along the Jacinto Reyes Scenic Byway (California Highway 33).
You will enjoy spectacular vistas all along the short road trip, with gorgeous up-close views of rock formations and cliffs.
Must-stop spots on the route include Wheeler Gorge, Bellyache Springs, Piedra Blanca (stunning white sandstone formations!), Sespe Gorge, and Pine Mountain Ridge.
While you can hike or climb in the region, even just the drive makes for a wonderfully relaxing day trip. The National Scenic Byway extends from mile marker 12 to mile marker 49.
Driving distance from Santa Barbara
33 miles, 44 minutes to the start of the scenic drive in Ojai
Pismo Beach
A charming Central Coast town with long sandy beaches and a beautiful pier, Pismo Beach makes for a relaxing or an active and exciting getaway, depending on your preference.
On good weather days, you will definitely want to stroll the beach in the evening, when brilliant sunsets light up the sky.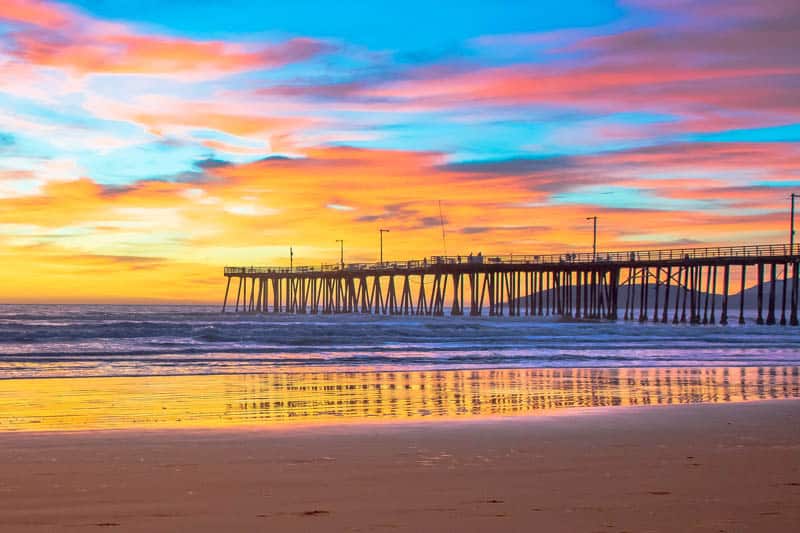 If you are looking for adventure, ride a four-wheel ATV on the famous sand dunes at Pismo Beach. Go horseback riding, mountain biking, or hiking in Pismo Preserve.
Enjoy a plethora of water activities from surfing to body boarding. Dine on fresh seafood at oceanfront restaurants and sip wines from area wineries.
Driving distance from Santa Barbara
82.9 miles, 1 hour and 23 minutes
Montaña de Oro State Park
Outdoor enthusiasts and nature lovers will definitely want to consider a day trip from Santa Barbara to Montana de Oro State Park.
This Central Coast gem, in our opinion one of California's best state parks, is known for its spectacular scenery.
Its very name means "Mountain of Gold," after the yellow and gold wildflowers that cover its hillsides in spring.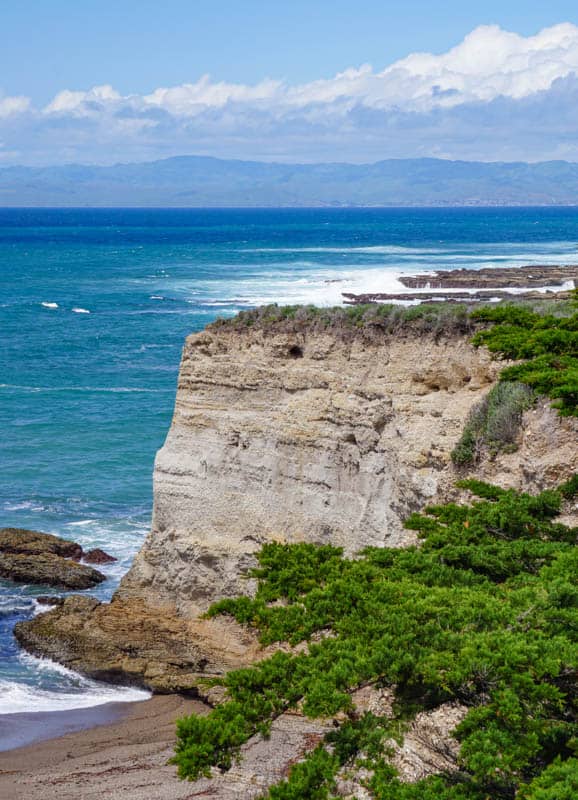 There are hiking trails at the park to suit every skill level, from the easy and extremely scenic Bluff Trail to the challenging climb to the top of Valencia Peak.
Bring a picnic lunch and spend some time at beautiful Spooner's Cove.
Go tidepooling, scuba diving, or snorkeling, and enjoy wildlife viewing and birding.
Driving distance from Santa Barbara
107 miles, 1 hour and 55 minutes
Morro Bay
With its laid back fishing village feel, Morro Bay invites you to relax and enjoy the beauty of your surroundings.
Dominated by the massive Morro Rock, the coastal town is great for strolling, gorging on lots of fresh seafood at waterfront eateries, and exploring the beautiful state parks and beaches.
Morro Bay is a prime birding and marine life viewing location. You will see lots of sweet little otters playing in the water! Take a cruise to enjoy the rock, and the wildlife, from the water.
Go kayaking, canoeing, or stand-up paddleboarding, and enjoy the pristine beaches edged with dunes and vegetation.
Driving distance from Santa Barbara
108 miles, 1 hour 50 minutes
Paso Robles
Located in Central California's laid back wine country, Paso Robles is charming and unpretentious.
Tasting rooms, microbreweries, and quality eateries abound in downtown Paso Robles, and on either side of town, vineyard-lined scenic California Highway 46 makes for a beautiful drive (or tasting tour!).
Visit Mission San Miguel Arcángel, a National Historic Landmark. Go hiking, biking, or horseback riding, or play a round of golf. Enjoy hot air balloon rides. Go antiquing in downtown Paso Robles.
Shop for artisanal foods and olive oils: downtown Paso Robles is an eclectic mix of boutique shops, art galleries, and tasting rooms.
Driving distance from Santa Barbara
126 miles, 2 hours 5 minutes
San Luis Obispo
Known for its relaxed (yet fun) vibe, San Luis Obispo has a little bit of everything, from a lively downtown brimming with top-notch restaurants, cute boutiques, and artisanal food stores, to a wine district with beautiful vineyard views, and a historic mission located right in the heart of town.
The San Luis Obispo Creek runs right through downtown SLO, and you can enjoy it on the San Luis Creek Walk.
Take a photo at Bubblegum Alley, visit the SLO Railroad Museum, or hike Bishop Peak, the tallest of the Nine Sisters (Morros) that stretch from Morro Bay to San Luis Obispo.
Driving distance from Santa Barbara
95.2 miles, 1 hour and 36 minutes
Cambria
The coastal village of Cambria is tiny. But there are many fun things to do in Cambria, making it the perfect day trip destination.
Downtown Cambria is a joy to stroll, with cute shops, antiquing, and numerous art galleries, many featuring works by local creators. Don't forget to taste olallieberry pie!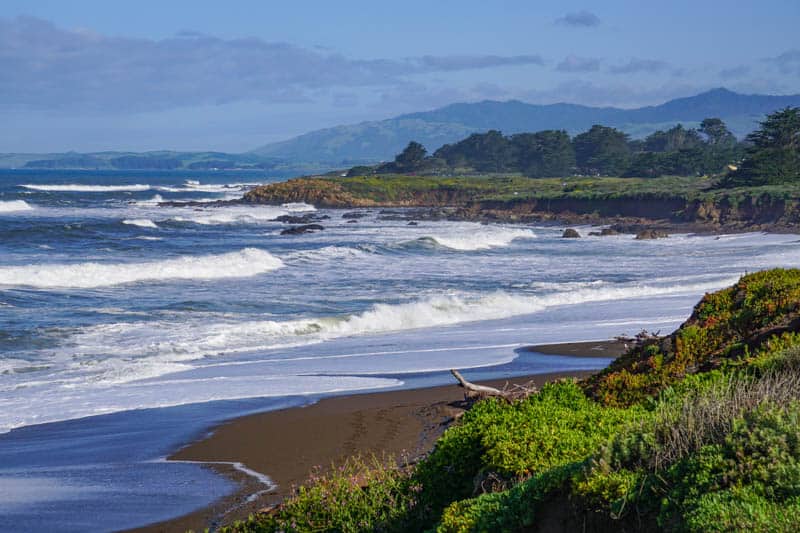 Outdoor lovers can enjoy beachcombing and looking for "moonstones" at the black sand Moonstone Beach, or walk the scenic Moonstone Beach boardwalk trail along the bluffs.
Nearby Fiscalini Ranch Preserve also offers hiking, wildlife viewing, and birding, with a super scenic bluff trail with spectacular views of the Pacific Ocean.
Driving distance from Santa Barbara
129 miles, 2 hours and 10 minutes
Hearst Castle
If you enjoy touring beautiful historic homes, put Hearst Castle on your list of day trips from Santa Barbara!
The former estate of publishing magnate William Randolph Hearst, the spectacular hilltop complex was designed by San Francisco architect Julia Morgan and features the Casa Grande, two guesthouses, and lush gardens.
Enjoy the Spain-inspired architecture and tour the lavish interiors to see paintings, sculptures, textiles, and antiquities amassed by Hearst.
Snap photos of the Neptune Pool and the Roman Pool. On your way to and from the castle, keep your eyes peeled for zebras, elk, and bison, from the zoo Hearst kept on the ranch.
Driving distance from Santa Barbara
137 miles, 2 hours and 20 minutes
Point Mugu State Park
Located in the Santa Monica Mountains National Recreation Area, Point Mugu State Park makes for a serene getaway for the day if you enjoy the outdoors.
The park looks especially beautiful in the spring, with lush green hillsides, flowing waterfalls, and carpets of wildflowers.
Point Mugu's scenic shoreline includes sandy beaches where you can swim or body surf. Snap a photo of picturesque Mugu Rock!
The park offers over 70 miles of hiking trails, with diverse landscapes from rocky bluffs to river canyons. Mugu Peak is a popular (and beautiful!) moderate trail.
Driving distance from Santa Barbara
47 miles, 48 minutes
Malibu
Malibu, known for its celebrity homes, stretches along the Pacific Ocean and offers miles of drop-dead gorgeous beaches.
From Surfrider Beach, one of the world's best known surfing spots, to Zuma Beach, perfect for sunbathing, and El Matador Beach with its lovely photo spots, you will be spoiled for choice in Malibu!
Go hiking at Point Dume (look for whales in season!) or at Malibu Creek State Park. Browse the boutiques and art galleries at Malibu Country Market.
Tour beautiful Adamson House and its gorgeous gardens. Enjoy lunch at Malibu Farm, right by the pier, and end your day with dinner at Nobu!
Driving distance from Santa Barbara
66.6 miles, 1 hour and 14 minutes
The Huntington
Love gardens? Plan on a day trip from Santa Barbara to The Huntington, one of the best botanical gardens in California!
A complex of 16 themed gardens laid out over 120 acres, The Huntington also houses a library with rare manuscripts, including a Gutenberg Bible, and an art collection with notable paintings, sculptures, and china.
Visiting the Huntington (near Pasadena) is an all-day affair, because there is so much to see!
From the Desert Garden, with one of the largest collections of succulents on the planet, to the Japanese Garden with its moon bridge, and the Rose Garden, which looks stunning in bloom, the gardens make for great wandering.
Don't miss afternoon tea by the Rose Garden, with strawberries and cream!
Driving distance from Santa Barbara
101 miles, 1 hour and 45 minutes
The Getty Center and The Getty Villa
Get your art and culture on with a day trip to this pair of world-class museums in the LA area.
Located just 13.5 miles apart, the Getty Center and the Getty Villa offer an immersive experience into art, architecture, and gardens at its two complexes.
At the Getty Center, view European art up to 1900 in a building famous for its stunning contemporary architecture, enjoy modern sculptures outdoors, and take in magnificent views of LA.
At the Getty Villa, admire the recreation of the Villa dei Papiri and its gardens: the original in Herculaneum, Italy, was destroyed by the eruption of Vesuvius.
Both complexes offer dining choices, and you can enjoy "Tea by the Sea" at Getty Villa, with a menu that features vegetables, fruits, and herbs grown in the gardens at the villa.
Driving distance from Santa Barbara
82.3 miles (to The Getty Villa), 1 hour and 30 minutes
Map of Day Trip Destinations from Santa Barbara

Did you find this article informative? Pin it for later reference!