There are so many beautiful wineries all over Sonoma County that you will have a difficult time deciding which ones to visit.
While all of the Sonoma wineries in our round-up offer excellent wine, they also offer other reasons to visit, from great architecture or history to gorgeous gardens or exceptional views.
The best Sonoma wineries are diverse: you'll find grand castles and charming chateaus in Sonoma just like in neighboring Napa Valley, but you will also find unabashedly unpretentious operations that focus on the land and on existing in harmony with their surroundings. Many Sonoma wineries are certified sustainable.
Sonoma County has several hundred wineries from which to pick, but you can't go wrong with the Sonoma wineries on our list, especially if you are planning your first visit to this exciting Northern California wine region.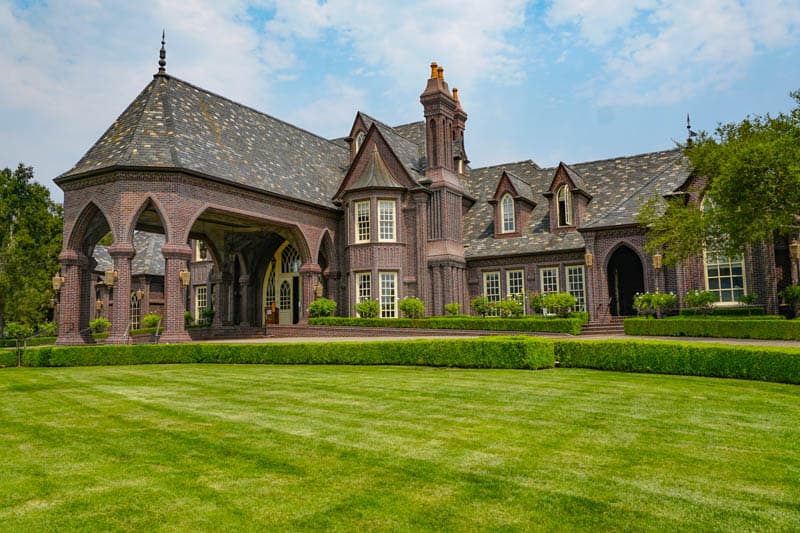 Best Sonoma Wineries
Some of the Sonoma County wineries in our round-up are worth visiting even if you are not a huge wine drinker.
We sometimes visit just to stroll the gardens in peak bloom or to catch fall colors, even if we do not have a wine tasting booked. (We generally limit tastings to two on any given day.)
If you do go without a wine tasting or experience reserved, know that you may not have access to all parts of the winery, especially interiors. Grounds and gardens are generally free to visit when open.
If you are planning a visit to Sonoma County, touring area wineries should definitely be on your itinerary, since it's one of California's premier wine regions. But you'll find many other exciting things to do in Sonoma as well.
And if you'd rather opt for a tour than visit independently, consider this private tour that allows you to customize your itinerary if you wish, so you can pick some of the wineries on this list. Book this tour now!
Or choose this combination tour of both Sonoma and Napa from San Francisco. The full-day tour takes you to three boutique wineries for tastings, and insightful commentary as you drive the beautiful countryside. Book this tour now!
Here, then, are the best Sonoma wineries to put on your itinerary for the region!
Ferrari-Carano Vineyards and Winery (Healdsburg)
Ferrari-Carano Vineyards and Winery is located in Dry Creek Valley, just outside Healdsburg, and it is a must-visit, whether you enjoy wine or you enjoy beautiful gardens or both.
The winery building, Villa Fiore, is pretty in pink, with a gorgeous terrace overlooking the estate vineyards, an impressive driveway, and an eye-catching water feature in front of the main entrance.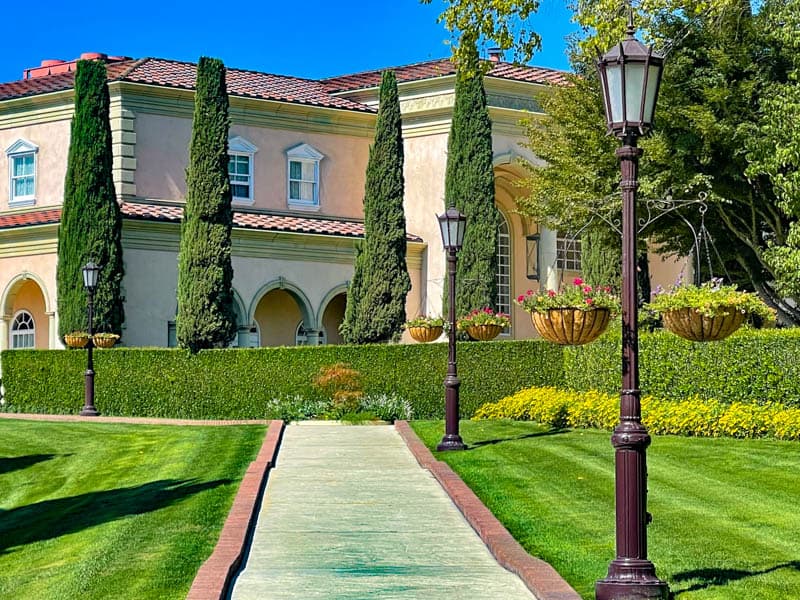 But without a doubt, the gardens at Ferrari-Carano are the star attraction.
We would go to Ferrari-Carano just to stroll through the lush gardens, taking in the color from flowers in bloom and enjoying the green serene ambience offered by mature trees and manicured grassy areas.
The tulip displays in the spring are especially gorgeous.
Strolling the gardens here is one of the best things to do in Healdsburg, outside of the square!
Allow plenty of time to stroll the winding little pathways. Fish ponds, little bridges, and small waterfalls add to the beauty. Visit in the spring to enjoy the breathtaking display of thousands of tulips and daffodils.
The terrace, where you can enjoy wine tastings, looks out onto a long drive lined with skinny cypresses, reminiscent of the Val d' Orcia in Tuscany.
Just off the terrace, inside the villa, you will find the wine store, where you can pick up some of their fumé blanc or chardonnay. Their dessert wines are great too!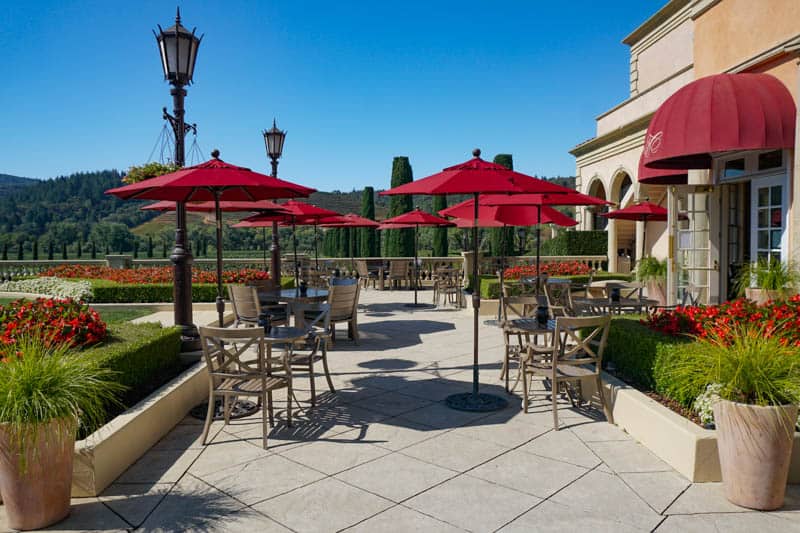 Limited release and reserve wine tastings are offered in the cellar underground by appointment. Sunday brunch is also offered: reservations are mandatory. Terrace wine tastings are offered daily by appointment.
More information: Ferrari-Carano Vineyards and Winery
Francis Ford Coppola Winery (Geyserville)
Another iconic Sonoma County winery, Francis Ford Coppola Winery is not just about the wine. It's a great destination for the whole family, with fabulous food and fun activities. Allow lots of time, because you won't want to leave!
At Francis Ford Coppola Winery, you can browse an extensive collection of movie memorabilia in the Movie Gallery, lounge by two fabulous pools (or frolic in the water), and dine at Rustic, which features fresh ingredients from the garden on the property.
Plus, there are four bocce courts, along with other board games to play.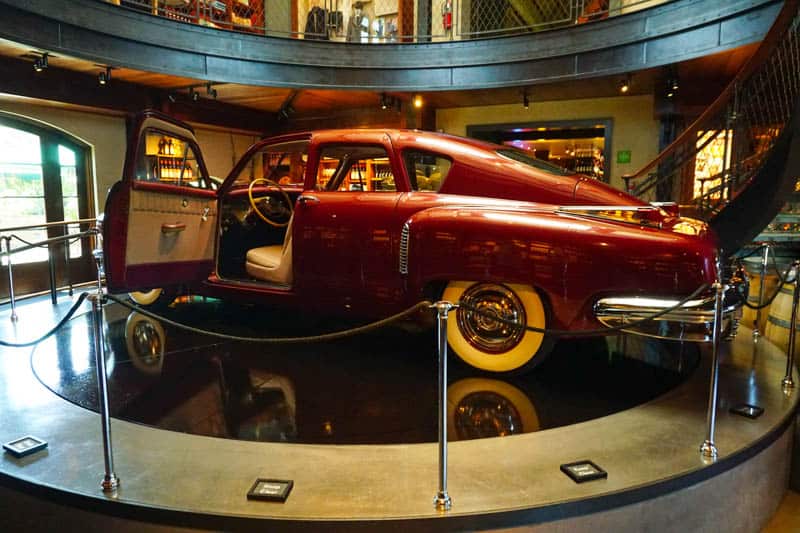 The Movie Museum is a must for cinema buffs. Admire Don Corleone's desk from The Godfather, gawk at the deep red Tucker car from Tucker: The Man and His Dream, view Duvall's hat and boots from Apocalypse Now, and admire Coppola's many Oscars.
The two lovely swimming pools are fringed by lounging chairs with views of surrounding vineyards. You can rent a private cabin for the day, for changing and showering. The pools are especially enticing if you visit on a warm weather day!
Planning a wine tasting trip to Sonoma County or Napa Valley? Check out the Priority Wine Pass for potential savings! They also offer a concierge service, useful especially if it's your first visit.
We had lunch at Rustic, and our pizzas featured ingredients at the peak of their flavor. The menu features Italian favorites, but you will also find recipes scoured from other countries around the world.
And don't miss the extraordinary collection of olive oil tins from Italy. The casual Pool Cafe offers a selection of pizzas and sandwiches.
Wine tastings are offered by prior appointment, and the winery also hosts special experiences, so check to see if something is being offered when you plan to visit: reservations are mandatory.
More information: Francis Ford Coppola Winery
Chateau St. Jean Winery (Kenwood)
Chateau St. Jean is known for its red blends: their flagship wine, Cinq Cepages, routinely garners accolades from wine critics. But the winery is a must-visit even if you aren't a wine lover — Chateau St. Jean is a stunning Sonoma County wine estate with great photo ops.
The 1920s chateau is undoubtedly the star attraction here, with its beautiful tower. Restored in the 1970s, the gracious building is listed in the National Trust for Historic Preservation.
You can tour the interior if you enjoy historic spaces, or just enjoy it from the gardens.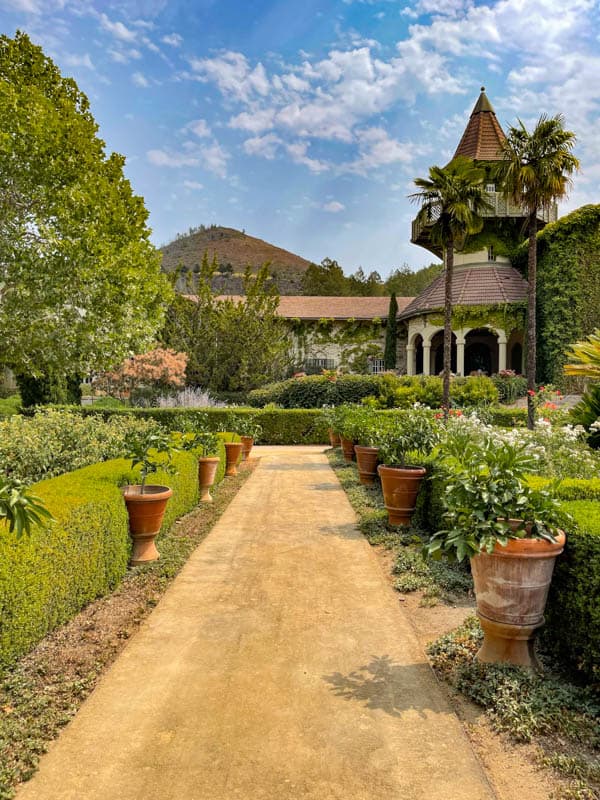 The gardens at the chateau blend a variety of plants with sculptures, pots in various shapes and sizes, and water features for a pleasing display. When we visited in the summer, roses were in bloom, and offered bright color in the midst of relaxing greenery.
At the back, picnic tables offer views of redwoods and vineyards. Bocce courts offer the opportunity to enjoy the outside with friends or family as you experience a tasting. The redwood grove is gorgeous.
Chateau St. Jean offers a wide variety of tasting experiences (most by appointment) that show off the historic chateau, lush gardens, and beautiful grounds. Food and wine pairings are offered on the Friday – Sunday.
More information: Chateau St. Jean Winery
Jordan Winery (Healdsburg)
Jordan Winery, located a few miles north of Healdsburg, is known for its fabulous winery experiences, so allow plenty of time and opt for a tasting experience that includes a tour of the beautiful vineyards.
The experiences, available by appointment, are often touted as some of the best in the country.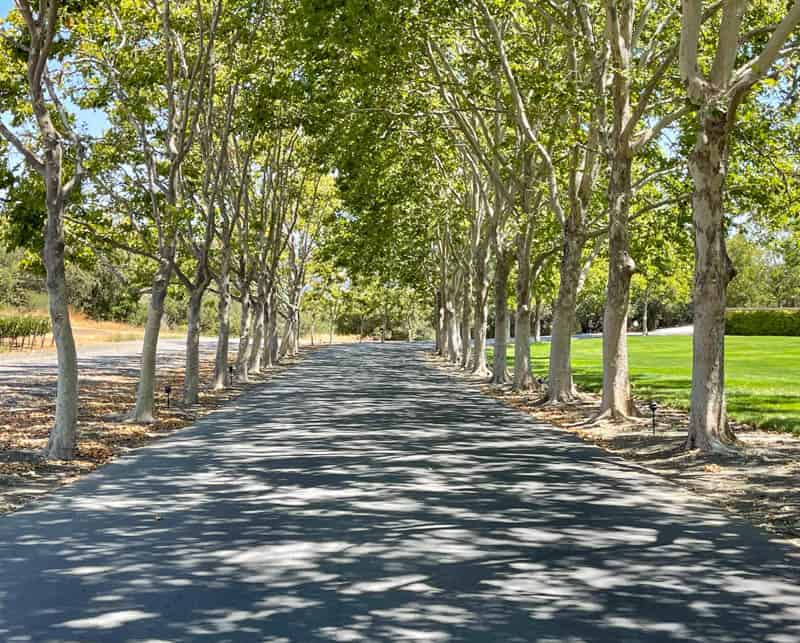 The 3-hour estate tour by vehicle allows you to explore the vineyards and open spaces and is stunning in every season. You will enjoy food and wine pairings as you admire the beautiful Sonoma County countryside. You will even enjoy a tasting of an estate olive oil!
Don't have three hours to spare? Opt for a hilltop tasting (in season), or the shorter walking tour and tasting. Whichever way you choose to enjoy Jordan Winery's beautiful location and chateau, you won't be disappointed.
The chateau, draped in greenery, forms a stunning centerpiece for the estate, and offers great photo ops, especially between spring and summer, when flowers are in bloom, or in the fall, when vines and leaves on trees change color. The drive, lined with mature trees, is also photogenic.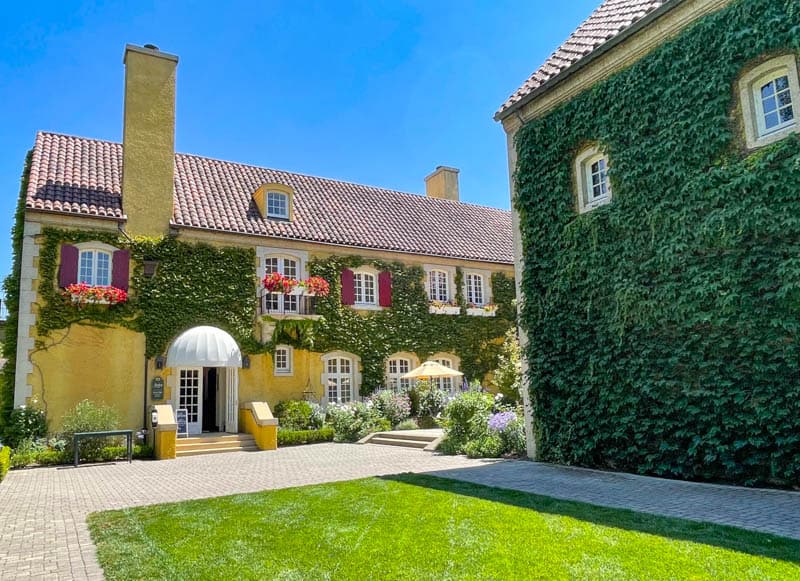 Jordan Winery hosts special events throughout the year, so if you enjoy vineyard hiking, or you plan to visit over the holidays, check their website prior to your visit.
More information: Jordan Vineyard & Winery
Scribe Winery (Sonoma)
Located just a few miles from historic Sonoma Plaza in Southern Sonoma County, Scribe Winery is hugely popular with visitors that come up for the day from San Francisco or the SF Bay Area. But it should also be on your list on a longer trip to Sonoma County.
The hacienda at Scribe Winery is the stuff of picture postcards. The gracious 1920s building, beautifully restored, is set in the midst of vineyards and fringed by tall palms.
Olive trees, and nut and fruit trees, dot the property. It's difficult to believe that the property was a tattered turkey farm not too long ago!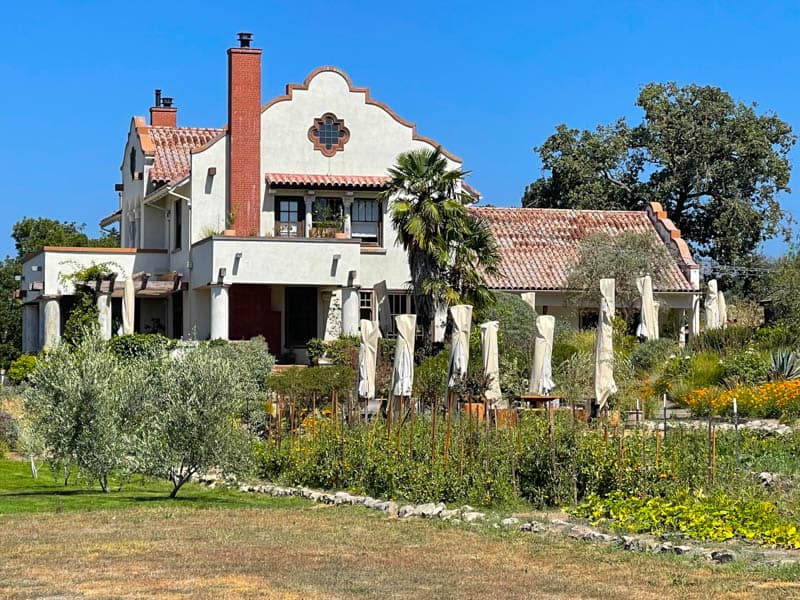 The ambience at Scribe is much less formal than you will encounter at many Napa and Sonoma wineries. Wine tastings happen on blankets spread out on the grass or at picnic tables on the patio, and you'll see kids playing and dogs frolicking nearby.
Although the wines at Scribe are fabulous (they are known for their pinot noir and chardonnay, although they produce other varietals as well), food is a big part of the draw of Scribe Winery.
Dinners at the hacienda, with communal seating, are much-anticipated events. The onsite farm produces vegetables and herbs that feature in food offerings at Scribe.
More information: Scribe Winery
Matanzas Creek Winery (Santa Rosa)
Known for its sauvignon blanc and merlot wines, Matanzas Creek Winery is located near the city of Santa Rosa. Although the winery should be on your itinerary for Sonoma County no matter when you visit, it is a spectacular sight in June, when the lavender field is in full bloom.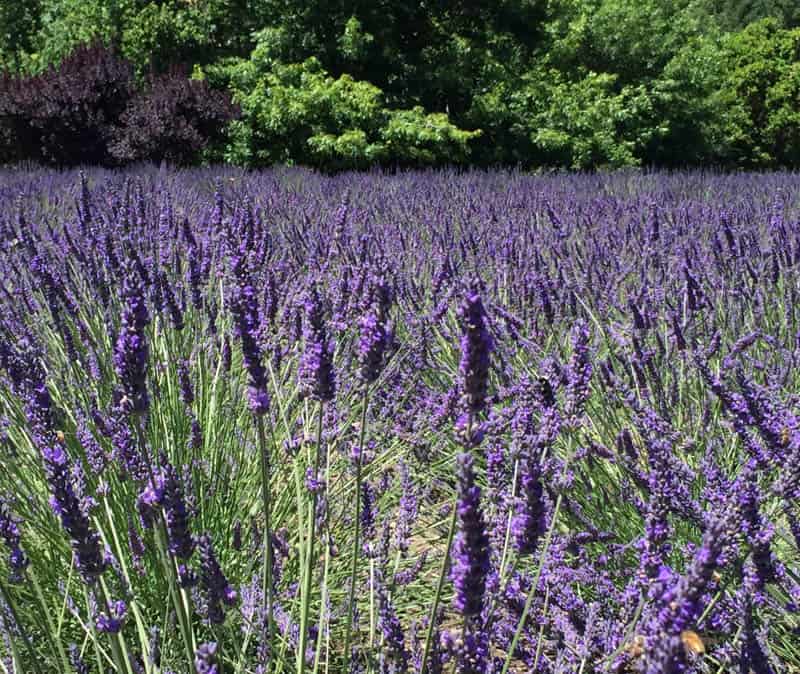 The terraced lavender gardens at Matanzas Creek are a feast for the eyes and the nose, so allow lots of time to enjoy the sea of purple. You can also shop for lavender products at the lavender market at the winery: the lavender grown here is organic, and you will find bath and beauty items for men and women, and home products showcasing lavender.
Even not counting the lavender field, Matanzas Creek has a beautiful setting, and you can enjoy tastings with views of rolling vineyards or in the shade of mature oaks. Opt for a picnic tasting to enjoy the outside, especially if you visit on a nice weather day.
At Matanzas, you can also enjoy the koi pond, other gardens, and a wisteria-covered arbor that looks heavenly when in bloom. There are bocce ball courts, if you wish to enjoy a game with family or friends.
Appointments are required for tastings and for visits to the lavender garden.
More information: Matanzas Creek Winery
Saint Francis Winery (Santa Rosa)
The first thing you notice as you drive up to Saint Francis Winery is the stunning mission-style bell tower. It rings the hour, and we were just in time to hear the bell peal sonorously at noon.
The architecture of the building is gorgeous, with a beautiful tiled water feature and a little garden featuring a statue of St. Francis. This winery is a popular Sonoma County wedding venue, and no wonder, because it is very romantic!
Walk through the passageway to the back, where a green lawn expanse is fringed with flowers in season. Large wind spinners and lights add to the beauty, and you'll look out at the one of the estate vineyards from the patio and the green lawn.
You can even go for a vineyard hike here if you wish to stretch your legs and enjoy the ambience.
Saint Francis Winery & Vineyards offers a variety of experiences, ranging from veranda tastings to trolley tours.
The seasonal wine and food pairing menu, hosted indoors, offers the best of Sonoma farm products with the winery's award-winning wines: it's definitely worth the money if you have the time.
Many of the wines offered by Saint Francis are fruit-forward and full-bodied. We enjoyed the cabernet sauvignon and the old vines zinfandel. The cab we tried tasted of blackberries and bittersweet chocolate: yum!
Reservations are currently required for all tastings and experiences at Saint Francis Winery.
More information: Saint Francis Winery & Vineyards
Ledson Winery & Vineyards (Kenwood)
If you are looking for a grand wine castle in Sonoma County, look no further than Ledson Winery. The Gothic, French-Normandy structure is 16,000 square feet in size and complete with turrets, balconies, slate tile roof, and an elegant brick exterior.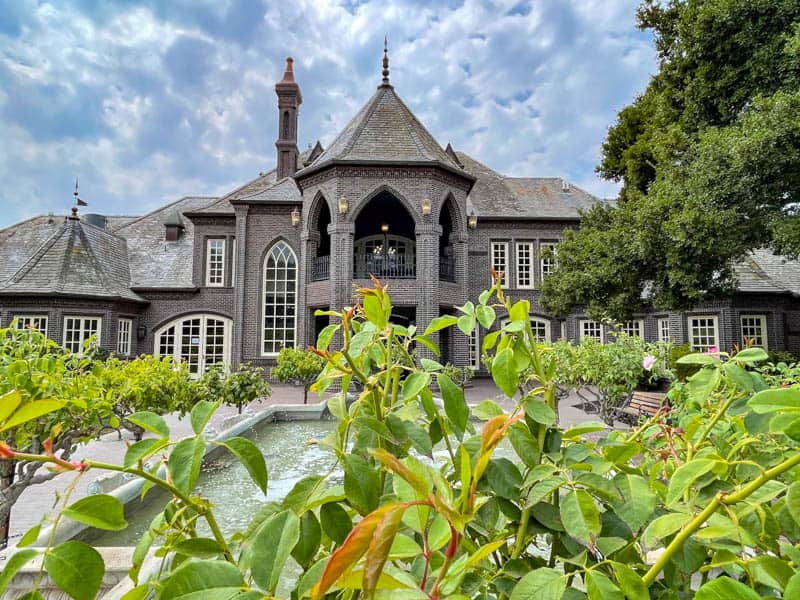 Originally built as a family residence for Steve Ledson, the castle's lack of privacy eventually led to its conversion to a winery. The castle is surrounded by beautiful grounds.
Formal gardens grace the front, with a show-stopping fountain as the centerpiece. The rose gardens were in bloom when we visited in the summer.
The inside is just as gorgeous, with grand staircases and fireplaces, cathedral windows, and multiple wine bars. The coffered ceilings are stunning. Be sure to stop by the Marketplace, where you can buy wines and fine foods.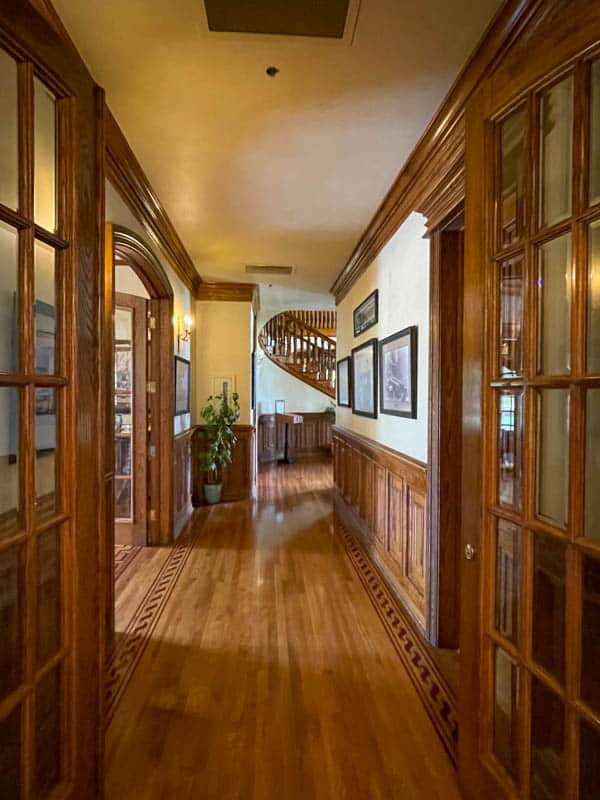 At the back of the building, picnic tables looking out onto the beautiful vineyard and countryside offer the opportunity for a more casual wine tasting experience, and a place to hang out if you are visiting with children.
Although Ledson started with merlot, today it is famous for a wide variety of wines, from chardonnay to sauvignon blanc, cabernet sauvignon, pinot noir, zinfandel, petite syrah, and sangiovese.
Ledson Winery offers a variety of tasting experiences, some of which require reservations.
More information: Ledson Winery & Vineyards
Korbel Winery (Guerneville)
You've likely enjoyed Korbel California Champagne at a celebration: Korbel is not only a favorite at presidential inaugurations, it's also popular at weddings, special brunches, and New Year's Eve toasts.
If you are planning a visit to Sonoma County wineries, you now have the opportunity to stop by Korbel Winery in Guerneville and see where it's made! Located along scenic River Road, Korbel Winery is a must visit Russian River winery.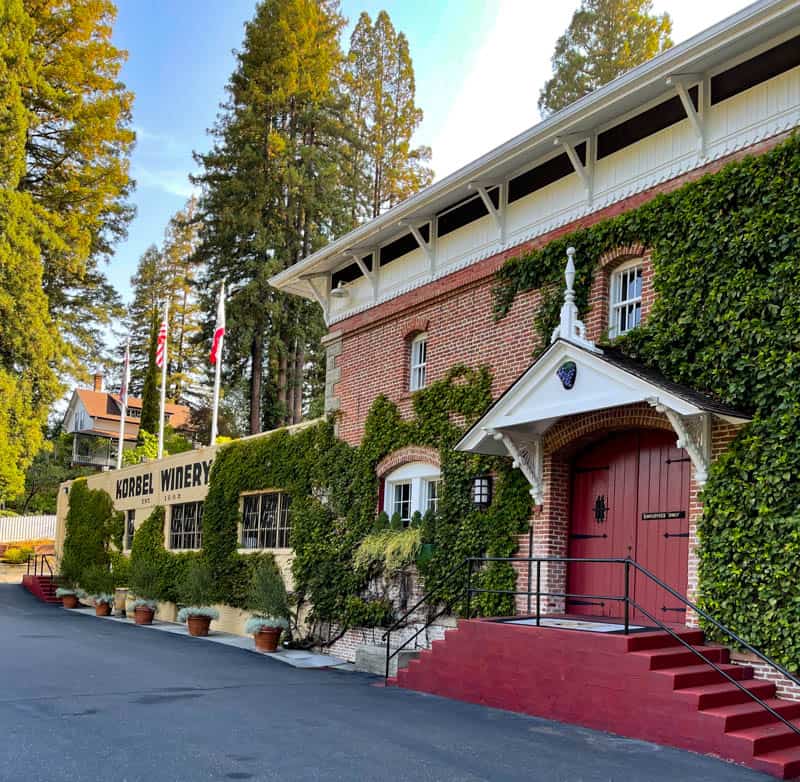 Towering redwoods abound at the property, and even if you're not a great fan of sparkling wine, the winery makes a great place to stop and get up close to the enormous trees. You will see redwoods by the parking area and around the winery.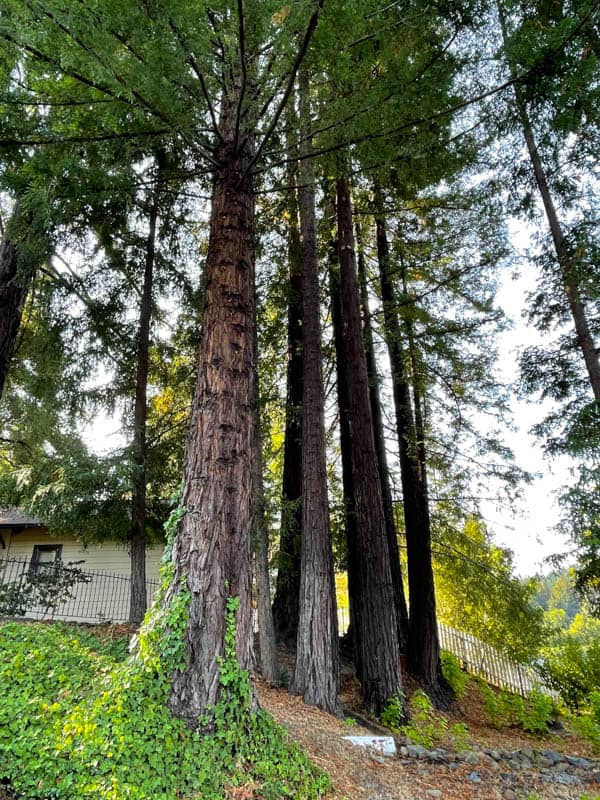 The antique rose garden is a must-visit if you visit during bloom season. Many varieties are showcased in formal beds bordered by box hedges. The garden is surrounded by redwoods and other mature trees. There's also a museum on site if you want to enjoy a bit of history.
Korbel's deli is well regarded, so if you visit around lunch, be sure to try some of their offerings! We enjoyed our sandwiches here: a cheese melt and a grilled beef tri-tip. You can also pick up foods to go from the deli and marketplace. Sparkling wine tastings are offered in outdoor settings.
More information: Korbel Winery
Truett Hurst Winery (Healdsburg)
Wandering the biodynamic gardens at Truett Hurst is one of our favorite things to do in Healdsburg. Located in Dry Creek Valley a few miles from town, Truett Hurst Winery is charming, unpretentious, and laid back, making a visit here a wonderful Northern California experience.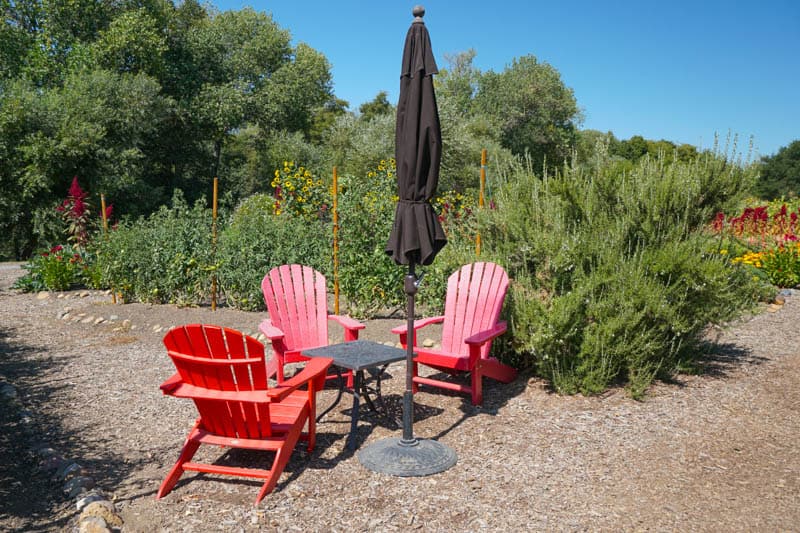 If you love gardening, whether it be flowers, herbs, or vegetables, you will want to spend some time touring the five acres of gardens at Truett Hurst. We visit in the summer to marvel at the color provided by sunflowers and amaranth, and to admire the bounty on the plants.
Observing the farm animals at Truett Hurst is great fun. The goats, especially, provide lots of entertainment, and they'll pose for photos! There are sheep and chickens as well.
You can also visit tranquil Dry Creek, which provides a refuge for young chinook, coho, and steelhead.
Truett Hurst zinfandel is famous, but they also have other wines such as petite sirah and red blends.
The winery offers several tasting experiences in beautiful outdoor settings, such as the patio, or the picnic tables by the lawn. You can also bring a picnic to enjoy in the more secluded olive grove.
More information: Truett Hurst Winery
Cline Family Cellars (Sonoma)
Certified as a California sustainable vineyard, Cline Cellars uses a large herd of sheep and goats to make short work of weeds in the vineyards.
From composting to cover crops and solar energy, Cline is a great place to learn about sustainable farming, and you can meet the two miniature donkeys that call Cline home.
Located in the Carneros region of Sonoma Valley, Cline Cellars is an easy drive up from San Francisco or the SF Bay Area. During the summer, roses in different colors line the driveway, making for a delightful entrance. There are over 5,000 rose bushes on the property.
If you enjoy roses, we highly recommend visiting during bloom season, which, fortunately, is an extended one in California!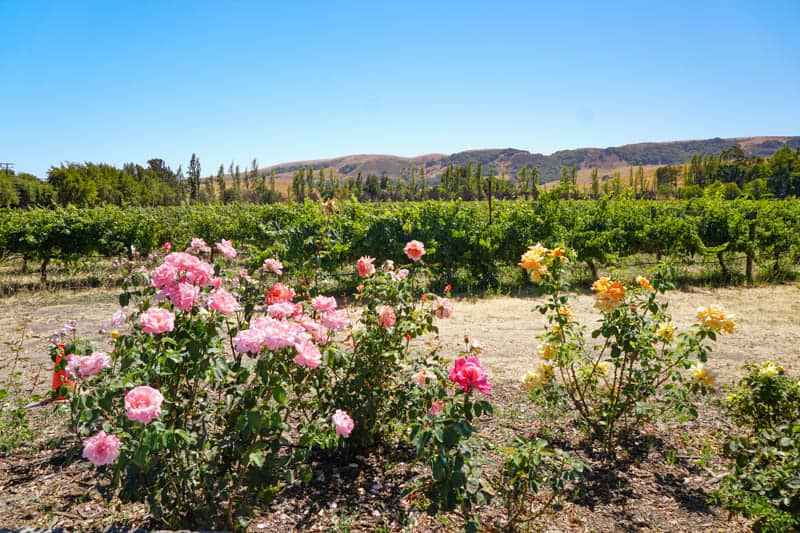 The grounds at Cline Cellars are gorgeous. There are five spring-fed ponds on the property, beautiful willow trees and other mature plantings, and, of course, the lush vines. The winery building is charming.
Cline Cellars offers outdoor tastings, so you can enjoy both the wine and the views. Although reservations are highly recommended, they are not required.
More information: Cline Cellars
Iron Horse Vineyards (Sebastopol)
Iron Horse is famous for its sparkling wines, but you should also visit for the spectacular views from the outdoor tasting venue. The views of the rolling hills of Sonoma County, covered in lush vines, are breathtaking, especially in the summer or fall.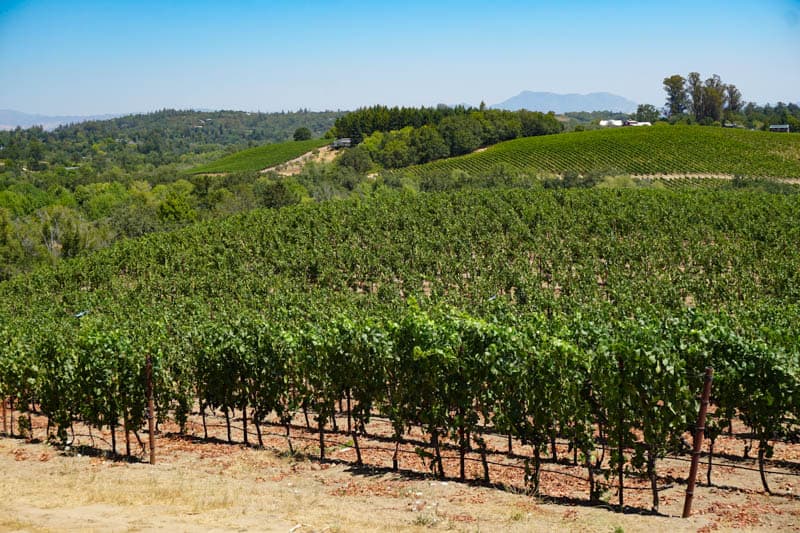 The winery is located at the end of a winding, tree-lined, one-lane road in Green Valley, part of the Russian River Valley. It's a beautiful drive.
But the last stretch was not paved when we visited, and may be a little bumpy if you are driving a sedan, especially if you visit in the winter or early spring, which is rainy season in California.
Admire the rustic barn-style buildings and stroll the terrace to arrive at the tasting bar. On clear days, you can see Mount St. Helena in the distance!
Other than sparkling wines, Iron Horse also offers chardonnays and pinot noir. But it's the sparkling wines, made using the champagne method, that are a must-try here. Reservations are required.
Pro tip: When you plan a visit to Iron Horse Vineyards, make sure you allow for time to explore charming Sebastopol: from souvenir shopping to junk art and an experimental farm, the town is well worth a visit.
More information: Iron Horse Vineyards
Buena Vista Winery (Sonoma)
A California Historic Landmark, Buena Vista Winery was founded in 1857 by Agoston Haraszthy de Mokesa, an immigrant from Hungary who traveled to California originally in search of gold.
The "Count," as he styled himself, was known for exploring innovative techniques and practices in viticulture.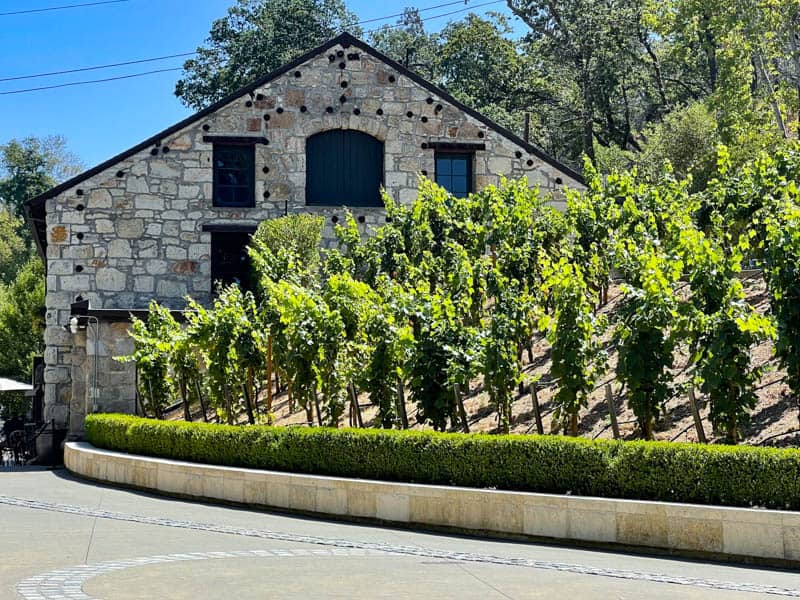 After his death, the property passed to the Johnsons, who built a luxurious home on the property but were not interested in wine-making. But they did keep the original winery and press house intact!
In 2011, historic Buena Vista became part of Boisset Family Estates, with a commitment to restore and expand on the legacy of the Count. The Champagne Cellar has been renovated, and the grounds are gorgeous (and home to many informational signboards).
Buena Vista offers a variety of tastings. You can enjoy a tasting in the historic Press House, an 1862 structure, in one of the caves, or outdoors. A tasting and tour option allows you to tour the renovated Champagne Cellar.
For a fun and active experience, consider this segway tour from historic Sonoma Plaza. The highly-rated small-group tour includes a picnic lunch. Book this tour now!
More information: Buena Vista Winery
Gloria Ferrer Caves & Vineyards (Sonoma)
Gloria Ferrer Caves & Vineyards is one of Sonoma County's famous sparkling wine makers. Conveniently located in the Carneros region in the south of the county, the winery is easily accessed on a day trip from the SF Bay Area. It is the first winery to make sparkling wine in Los Carneros.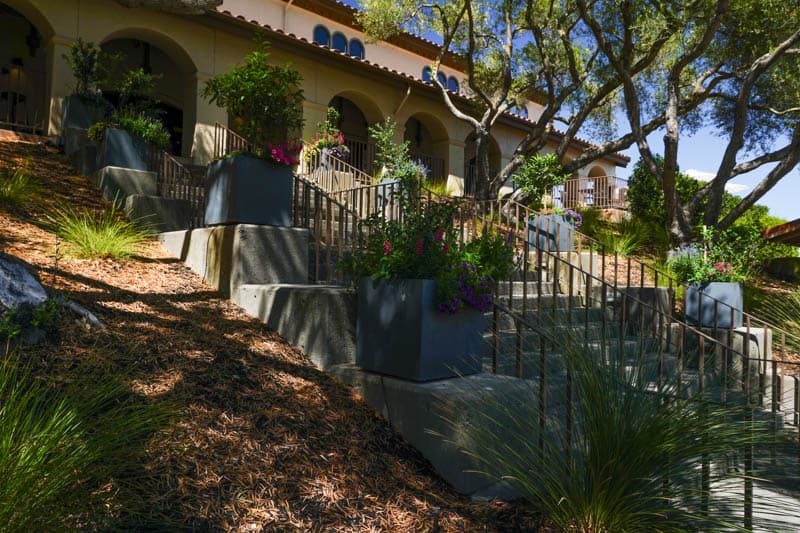 The Ferrers came to Carneros from Barcelona, Spain, in the 1980s. They planted pinot noir and chardonnay, and started making sparkling wine, backed by generations of Spanish sparkling wine-making experience.
The winery building is elegant and the grounds beautiful, with mature trees and flowers in season. The winery offers a variety of experiences and tastings, many of which require advance booking.
An outdoor tasting option offered on some weekdays allows you to take in beautiful sweeping views of the Carneros region as you sip.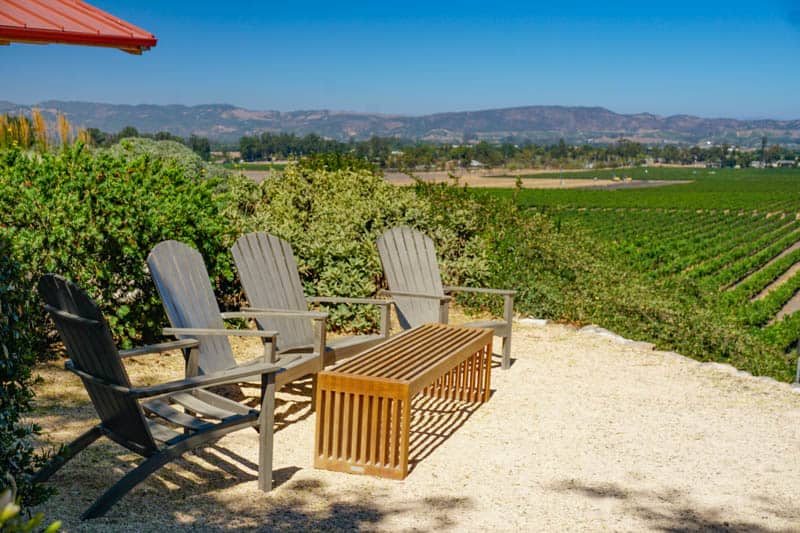 Lunch on the terrace, again with stunning views, is another option: the three-course meal showcases local seasonal ingredients. There are other food and wine pairings to try as well.
More information: Gloria Ferrer Caves & Vineyards
Map of the Best Sonoma County Wineries

Did you find this article informative? Pin it for later reference!