Planning a California fall colors trip? You can see fall foliage in California in many places, and it's a wonderful time to visit the Golden State.
While you may not associate California, known for its beautiful coastline, sandy beaches, and tall palms, with fall leaf-peeping, California is actually blessed with a long and lovely fall foliage season. You just have to know where to go!
From the stunning Eastern Sierra to Southern California's mountains and the vineyards of the Napa and Sonoma Valleys, many places in California offer incredible fall foliage viewing.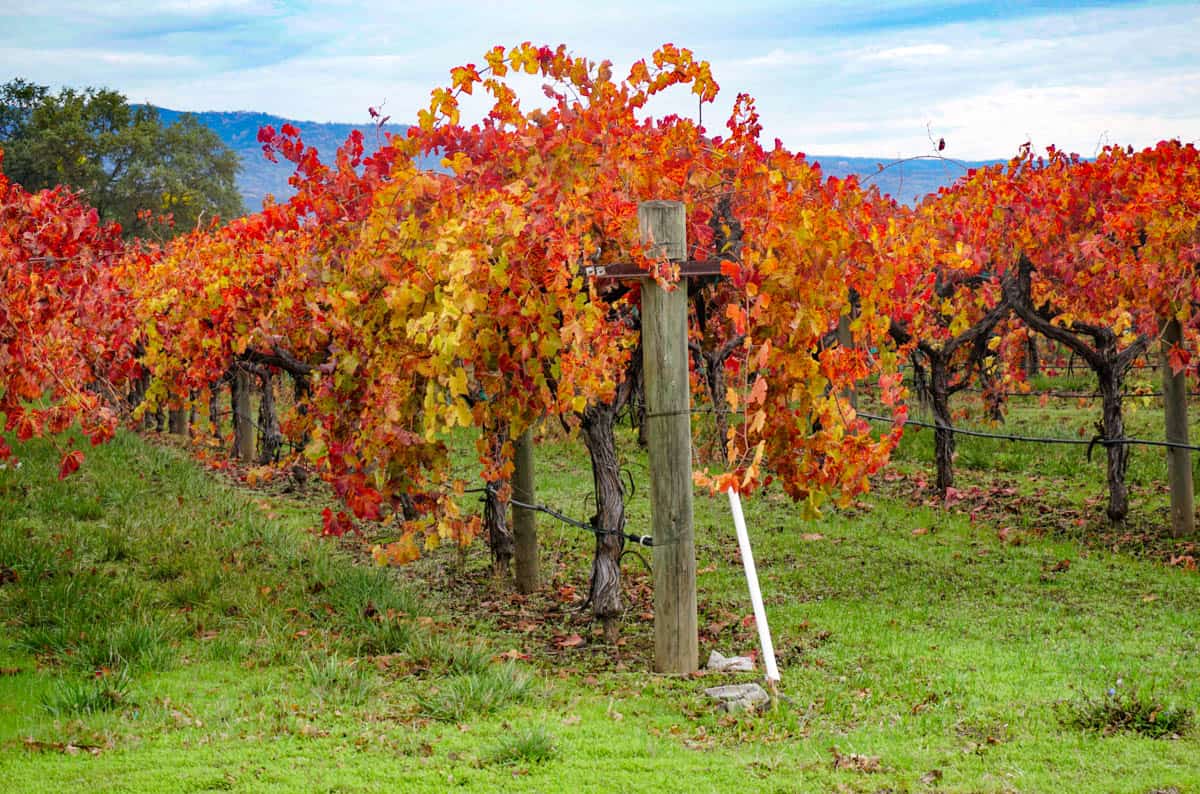 Add in pumpkin patches, apple picking, and fall food and wine festivals in many towns and cities, and you've got yourself a great Golden State autumn getaway!
We've rounded up the best California destinations for fall colors in this article. While we've mentioned when you can likely expect peak fall colors in each place, you'll want to check in with the local tourism website to get current fall color status, since every year can be different.
Excited? Let's get started discovering the best places for California fall colors!
California Fall Color
1. Bishop
The high desert of the eastern Sierra Nevada region can experience sweltering summer temperatures, so visiting Bishop in the fall is a great option to enjoy the abundant outdoor activities without being drenched in sweat.
The fall colors in California in this region are truly breathtaking. Entire mountainsides are covered in bright reds, oranges, and yellows for a stunning effect. It's no wonder that photographers flock to Bishop in the fall to capture the landscape!
Fall color starts here at higher elevations in early September and progresses downwards. You will see color at lower elevations well into October.
Visit North Lake, South Lake, and Lake Sabrina for magical fall colors reflected in the waters of the lakes. At peak, North Lake is a picture postcard. You'll also see color along Bishop Creek, which runs right by Highway 168 West, the route to the lakes.
Later in the season, the cottonwoods at lower elevations put on a fiery display. You can see brilliant pockets of color right along Highway 395, the main road through the Eastern Sierra.
Bishop is also a popular rock climbing and bouldering destination and fall is a pleasant time to try climbing at Buttermilk Boulders.
Thanks to the cooler temperatures, fall is a great season for hiking in Bishop, and there are plenty of places from which to pick.
Inyo National Forest, Bishop Creek Canyon, and the Ancient Bristlecone Pine Forest are all super popular among hikers. Later in the season hike Lower Rock Creek to still see fall colors!
Want to relax in one of the famous hot springs in the area? Book time at The Inn and Benton Hot Springs, or at Keough's Hot Springs!
Fly fishing is another big attraction in Bishop, and fall is perhaps the best season to cast a line. The lakes and streams are typically open until mid-November, and without the fishing crowds of summer, it's much easier to relax and enjoy your time appreciating the fall colors of California. Intake 2 Reservoir is a popular fishing destination.
Where to Stay: Check out this charming vacation rental cottage with a well-stocked kitchen and good wifi.
Or stay at the comfortable Holiday Inn Express on Main Street.
2. June Lake Loop
The June Lake Loop is one of the most popular scenic drives in California, and during the fall this stretch of road is particularly eye-popping.
It's a great day trip from Mammoth Lakes, and the perfect place to appreciate fall in California.
About 16 miles in total, the drive might not be super long, but it certainly holds tons of opportunities for sightseeing, hiking, and adventuring.
The route passes by no less than four pristine lakes, all of which are surrounded by trees that show off fabulous
California fall colors. There are a lot of aspen trees in this region, and the bright yellow leaves light up the mountains at peak.
Gull Lake features excellent reflections of the yellow and orange leaves in the blue-green water, making for excellent photo ops. Boating here is one of the best things to do in June Lake!
You can view the colors at June Lake from the road, or go down to the beach for water-level views.
Hiking is a great way to explore the June Lake Loop and get an even better appreciation for the natural beauty of the area.
The Parker Lake hike is one of the best hikes in June Lake. It is a delightful moderate hike with lots of fall color and beautiful views.
Experienced hikers might want to check out the Fern Lake Trail. A little less than 4 miles in total, this loop offers panoramic views, including June Lake, Horsetail Falls, and Silver Lake. In the fall, aspen add beautiful yellow color to the views.
Although you'll see some color along June Lake Loop in early September, visit between mid-September and mid-October for the best chance of catching peak.
Where to Stay: The Double Eagle Resort and Spa offers rooms and cottages. It's located right along the June Lake Loop.
Or try this romantic log cabin for spectacular views and a nice outside deck!
3. Hope Valley and Lake Tahoe
As the rush of summer tourist traffic comes to an end, fall brings with it not only the brilliant autumn colors but also a more tranquil atmosphere in the Lake Tahoe region.
Hope Valley is located just a short drive from the southern end of Lake Tahoe and is renowned for its magnificent fall beauty, with roads lined with mature aspen trees and meadows with colorful shrubs.
Photographers love the area, but you certainly don't need to be a professional to bring your camera and capture the fall scenery of California.
Fall is a great time to look for wildlife or go fishing in Hope Valley. Animals tend to be a bit more active during this season as they move around more to forage for the last food of summer and find a place to spend the cold mountain winters.
Fall in Lake Tahoe is also salmon running season at Taylor Creek. It generally happens in early October.
Hiking is excellent in Hope Valley and Lake Tahoe in the fall since it's not so hot, and with fewer tourists, you can enjoy the popular trails to yourself.
If you're not keen on hiking, there are also excellent drives to appreciate fall in California from your car. Highway 88, Highway 89 up to Monitor Pass for panoramas, and Highway 4 to Ebbetts Pass are all excellent choices for fall foliage viewing.
In addition to nature activities, fall also brings with it fun festivals including Halloween events, harvest fests, and musical concerts.
Fall colors in the region usually peak in the first part of October, although you'll see some color before and after because of the different elevations.
Even though fall is an "off" season compared to the crowds of summer tourists and winter skiers, it's still recommended to make your reservations for accommodation in advance, since spots fill up quickly.
Where to Stay: We love staying at The Landing in South Lake Tahoe: it's right by the water, and you can watch sunset from the terrace.
Or consider this lovely chalet that's walking distance to Heavenly Village for dining.
4. Yosemite National Park
Yosemite is one of the most famous places in California and is absolutely incredible to visit during the fall.
Summer is when most people make a trip to Yosemite, and once the summer season winds down, you can enjoy a quieter park, along with the beautiful fall scenery in California.
Plus, the weather is usually better since you won't need to deal with the harsh heat of summer or the bitter cold of winter: but keep an eye on the forecast for the dates of your visit.
It's excellent hiking weather, usually cool and fresh, giving you even more reason to get out and enjoy the fall colors. And most popular hiking trails will be less crowded than in the late spring or summer.
Yosemite Valley offers beautiful fall foliage viewing, with bigleaf maples, oaks, dogwoods, and cottonwoods offer splashes of yellow, pink, orange, and brown. Be sure to snap a photo of the non-native sugar maple at Yosemite Chapel: it turns a bright red at peak.
Not only are trees colorful here, but you'll see many colorful shrubs and grasses as well, making for spectacular photo ops.
Look for pretty yellow from aspen at Glacier Point, and gorgeous yellows, oranges, and reds from shrubs and grasses at Tuolumne Meadows. Tioga Road is a magnificent drive in any season, and the colors add to the beauty in the fall.
The only possible downside to visiting Yosemite in the fall is that the waterfalls might not be as big as they are during spring or early summer when they are fed from melting snow run-off.
All areas of the park are usually open through October and even into November depending on the weather. Watch out for temporary road closures due to snowstorms, though.
Fall colors in the park are usually best around the middle of October.
Where to Stay: This charming cabin is located inside Yosemite National Park, just a 15-minute drive from the valley floor.
Or splurge on a stay at The Ahwahnee, a historic hotel right in Yosemite Village.
5. Convict Lake
The blue-green waters of Convict Lake (near the resort town of Mammoth Lakes in the Eastern Sierra) are beautiful, and during the fall, the vibrant yellow and gold autumn hues of aspen and willow create a spectacular contrast.
If you're visiting the Mammoth Lakes region of California in the fall, then an excursion to Convict Lake is an
excellent option.
Of course, you can also make Convict Lake a tranquil base for exploring the Highway 395 corridor. Convict Lake Resort offers cabins as well as lodges, and there's a campground by the lake as well.
Hiking the Convict Lake Loop Trail is a great activity, and during the fall the cooler temperatures make hiking much more enjoyable than during the summer. The trail offers lovely views of the lake and you can get up close to the fall colors as well.
Trout fishing is one of the main attractions of Convict Lake, and fall is the perfect season to get out on the water and reel in some fresh fish. Plus, from a boat, you'll get some awesome views of the aspen trees and willows on the shoreline.
Convict Lake's small marina remains open typically through the end of October, and even if you are not into fishing, it's very worthwhile renting a pontoon boat and getting out onto the lake for the views.
End your day with dinner at the Convict Lake Restaurant. It's one of the most touted restaurants in Mammoth Lakes and the food was excellent the two times we've dined here.
Fall colors at Convict Lake usually peak in the first half of October.
Where to Stay: If you will base in the town of Mammoth Lakes, plan a stay at The Village Lodge, close to dining and shopping.
6. Napa Valley
Fall in California means grape harvest season in Napa Valley! This is one of the most magical seasons to visit California's famed wine country, as the grapes are harvested from the vines and the wine-making process begins.
During fall, there are a variety of crush events and wine-making classes you can participate in during your visit. Plus, not only are the grapes harvested during fall, but lots of other fresh produce means that farm-to-table cuisine is better than
ever!
In addition to the delicious bounty that fall brings, the landscape and scenery are also amazing. Just like trees, grape vines also change color during the fall, and the vineyards become painted in reds, oranges, and yellows for a picture-perfect effect.
With so many beautiful wineries in Napa Valley, you'll find lots of spots to take those colorful fall photos. And don't forget to stroll the charming Napa Valley towns to pick up some souvenirs and enjoy the public art and fall colors.
Fall colors start in Napa Valley in September and continue to turn into November.
Napa in November is lovely. Early November is peak color time in Napa Valley most years, but we visited at Thanksgiving once and still found excellent fall foliage viewing, so each year is different.
If you want an even better view of the spectacular landscape, take a hot air balloon ride over Napa Valley. The panorama of the countryside is unbeatable, and the mild weather makes the ride all the more enjoyable. It's one of the most exciting things to do in Napa Valley!
Where to Stay: The Archer Hotel in downtown Napa is elegant and comfortable and walking distance to dining and wine tasting in town.
Or check out this Spanish bungalow in downtown Napa, close to dining and wine tasting rooms!
7. Sonoma County
Napa Valley's wine-making neighbor Sonoma County is another incredible place to visit in the fall. While Napa Valley is landlocked, Sonoma County has both countryside and coastline, so there's a great variety of places to explore.
Fall weather in Sonoma County is about as close to perfect as you can get. With clear sunny skies along the coast, it's a great time of year to go on hikes with ocean views, enjoy scenic drives, or have picnics on the beach while watching the sunset.
Inland, the vineyards are covered in bright red and yellow from the grape leaves, and the grape harvest brings with it fun festivals and delicious seasonal cuisine.
While Sonoma Plaza in the city of Sonoma is beautiful when dressed up in fall colors, you can also visit some of the many lovely wineries in Sonoma Valley to snap photos of the fall colors and stroll the pretty grounds.
Sonoma also has a botanical garden that is gorgeous in the fall, with Japanese maples and other trees putting on a brilliant fall color display. The garden offers fall foliage walks that are free with admission.
Fall is apple season, and you'll find many farms in Sonoma County where you can pick your own apples. Pick up bags of apples at local farm stands, and look for apple pies in area bakeries as well. You'll also find numerous pumpkin patches if you plan to visit in October.
Healdsburg Plaza in the charming town of Healdsburg holds a fall crush event in mid October. You can enjoy tastings of wine from several dozen area wineries along with local food and live music. The Sonoma County Harvest Fair is another fun fall festival to attend.
For the best fall foliage viewing, visit in late October or early November, when colors usually peak in Sonoma Valley.
Where to stay: With several charming towns, you have lots of choice when it comes to a base in Sonoma County.
Try the Ledson Hotel, located on the historic Sonoma Plaza, or consider this lovely cottage overlooking vineyards in Carneros!
8. Julian
The small town of Julian in San Diego County is one of the places listed as an official California Historical Landmark. This special little town is known for its charming and cozy atmosphere, along with a beautiful setting in the Cuyamaca Mountains.
Julian is well known for something else that makes it an amazing place to visit in the fall — apple orchards!
As the days grow shorter, the tantalizing scent of crisp, ripe apples fills the air around Julian and each fall brings with it the much-anticipated Apple Days festival.
You can go and pick your own apples, try out what might be the best apple pies in the country, and sip on freshly-pressed apple cider.
Apple Days festival isn't the only fall festival Julian is known for. During October, Julian has a huge Oktoberfest celebration complete with singing, dancing, and amazing traditional German beer in the heart of the town.
The historic downtown area of Julian bustles with activity in the fall. You can take a horse-drawn carriage ride for a romantic activity or check out one of the local shops selling handmade artisan goods in a historic building.
In addition to the apple trees, Julian also has many oaks and maples, both of which turn brilliant colors during the fall. Lake Cuyamaca offers nice colors, as does the cemetery on the outskirts of town.
Going for a hike in Cuyamaca Rancho State Park in Julian is a great way to get out to enjoy the pleasant weather and fall colors in California.
Late October or early November is generally a good time for peak fall colors in this area.
Where to Stay: The Julian Gold Rush Hotel offers a garden and a terrace. Rooms are comfortable and come with free wifi.
9. Big Bear Lake
An ideal place to see the fall scenery in southern California, Big Bear Lake is a perfect alpine retreat. The pristine waters of the lake combined with the forests of gold, amber, and orange light up the landscape.
Aspen, oak, and cottonwood trees in the area change colors, with evergreens providing a great green backdrop for the autumnal show. The village features maples that turn to brilliant red.
Fall is probably the best season for going hiking in Big Bear Lake, since the days are typically sunny, comfortably cool, and the scenery is downright gorgeous.
There are plenty of trails from which to pick, like the easy Town Trail, which is good for walking or biking,
or the slightly more strenuous Castle Rock Trail, which takes you to the spectacular lookout point at Castle Rock.
Castle Rock Trail is great for fall foliage viewing. Also look for fall colors along Mill Creek Road, and the Pine Knot Trail.
If you're road-tripping in California in the fall, then Big Bear Lake has some great drives like the famous Rim of the World Scenic Byway. As the name might suggest, you'll feel like you're cruising along the very edge of the world as you make your way through the mountains!
Every fall, residents and tourists alike look forward to the annual Big Bear Lake Oktoberfest celebration. Although it might not be quite the same as an authentic German Oktoberfest, the mountain setting and traditional Bavarian drinks and food
certainly come close!
Fall colors in the area generally peak around mid October to early November.
Where to Stay: Lakewood Cabins offers units with a kitchen and free wifi. The cabins are located just a short walk from the lake.
10. Nevada City + Grass Valley
The neighboring towns of Nevada City and Grass Valley are popular historic destinations in the Sierra Nevada foothills. They are two of the top gold rush towns in California and set just 4 miles apart, perfect for visiting together.
Also nearby is Empire Mine State Historic Park, where you will find lovely fall color and walking trails.
It's a perfect time of year to stroll around the historic downtown areas, characterized by classic Victorian architecture and unique shops selling handmade crafts and local treats.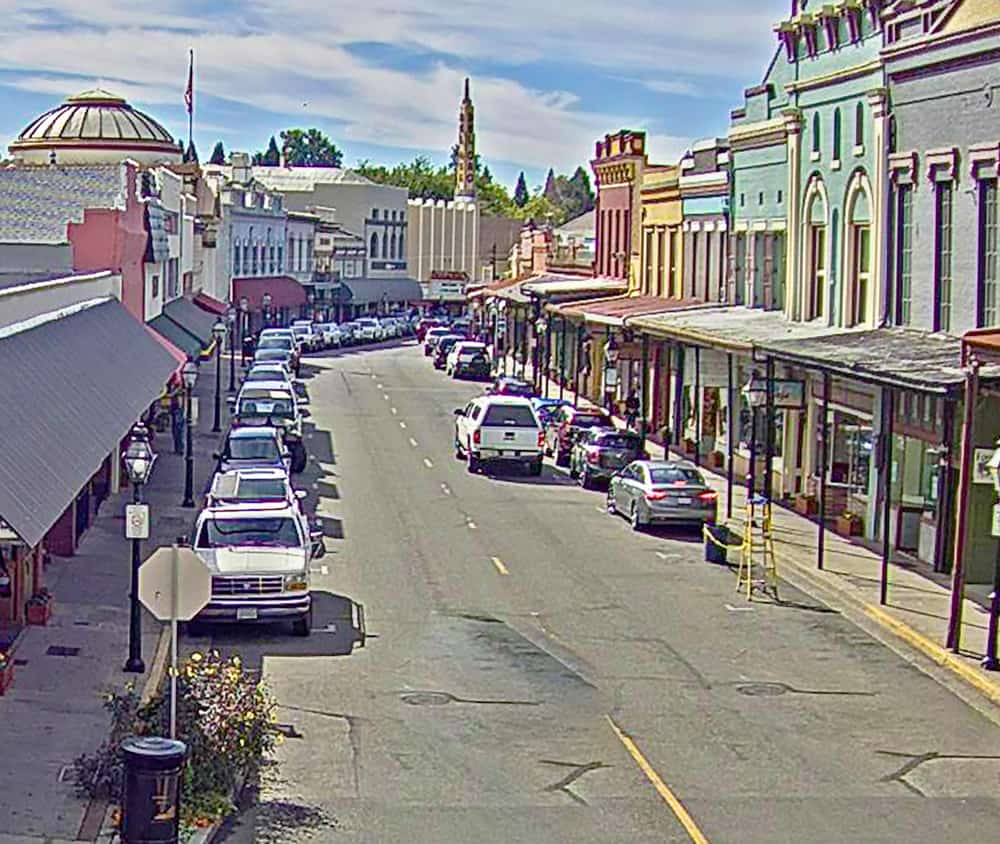 Be sure to pick up a treat like a freshly made slice of apple or pumpkin pie!
This region of the state has lots of maple and oak trees, which transform the landscape into a beautiful wash of orange, gold, and bright red, making it perfect for photographers or sightseers looking to witness the fall scenery in California.
Outdoor activities are at their prime, with excellent hiking trails along the South Yuba River, or scenic drives to nearby Scotts Flat Lake or Rollins Lake for picnics, boating, and fishing.
Both towns have excellent fall-themed festivals like the Draft Horse Classic and Harvest Fair in Grass Valley.
There are also numerous wineries in the area, with wine-tasting events or fun autumn-themed activities like pumpkin patch hunts, hayrides, and other seasonal adventures.
To see fall colors at their peak, visit in the second half of October or early November.
Where to Stay: Gold Miners Inn in Grass Valley offers comfortable accommodation just a short distance from Empire State Mine State Historic Park. The hotel is walking distance to downtown dining.
In Nevada City, stay at the National Exchange Hotel, a beautifully decorated historic hotel on Highway 49. It features a garden and terrace, and well-reviewed onsite dining.
11. Redding
The city of Redding makes for a great base from which to do leaf peeping in northeastern California. You'll find colors in the Shasta-Trinity National Forest, Lassen Volcanic National Park, and other parks in the area.
You can find bright splashes of yellow, orange, and red in Lassen Volcanic National Park, even though most trees here are evergreen. Other than deciduous trees, grasses and bushes also offer splotches of color.
Fall is a great time to hike in Lassen Volcanic National Park, whether you choose an easy stroll around Lake Manzanita (great for leaf peeping!) or you opt for a strenuous summit climb.
If you enjoy chasing waterfalls, do a day trip to see lovely Burney Falls! The loop trail is easy and the waterfall flows year round. Framed by fall foliage, Burney Falls makes an even prettier picture!
McCloud Falls is another wonderful day trip option. There are three waterfalls on the McCloud River you can see. The McCloud River Trail, 4 miles round trip, will take you past all three falls. You can also drive and view the waterfalls without hiking.
There are many other scenic drives in the area. The Trinity Scenic Byway (Highway 299) offers lots of fall foliage viewing. Bring a picnic meal to enjoy! The Trinity Heritage National Scenic Byway (Highway 3) offers fall color viewing plus views of Trinity Lake.
While in the area, be sure to take in the majesty of Mount Shasta, which may even have snow on its peak in the fall.
Plan to visit between mid October and mid November for a high likelihood of catching fall colors in the region at their peak!
Where to Stay: The Sheraton Redding Hotel at the Sundial Bridge offers comfortable rooms along with an onsite restaurant and bar.
12. Conway Summit and Virginia Lake
One of the best spots for fall colors in the Eastern Sierra is Conway Summit, and you can see the foliage show right from the side of the highway.
Conway Summit is the highest point along Highway 395 in California, at 8,143 feet above sea level.
There is a wide pullout where you can park and view the colors on the hillsides adjacent to the road. At peak, the display is sensational, with yellows, oranges, and reds from aspen in varying degrees of turn.
You'll also find the Mono Lake lookout here, from where you can get a great view of the lake shimmering below in the distance.
Virginia Lakes Road starts right near the summit viewing area and leads to a group of lakes. You will see pretty colors from aspen all along the drive to Big Virginia Lake.
There are trails here that you can hike to many different lakes in the area.
Hike to Blue Lake, Cooney Lake, and Frog Lakes along one trail. The moderate hike is about 3.3 miles round trip and considered moderately difficult.
Fall is an excellent time to hike in the region, with pleasant weather and colors everywhere! Fall colors usually peak in the area in the first part of October.
Where to Stay: If you want to overnight here, Bridgeport makes a great base. Stay at the Virginia Creek Settlement lodge, which features an onsite restaurant and free wifi.
Map of Best Places to Go for California Fall Colors
Did you find this article informative? Pin it for later reference!